Service of a different kind
Comfort Farms in Milledgeville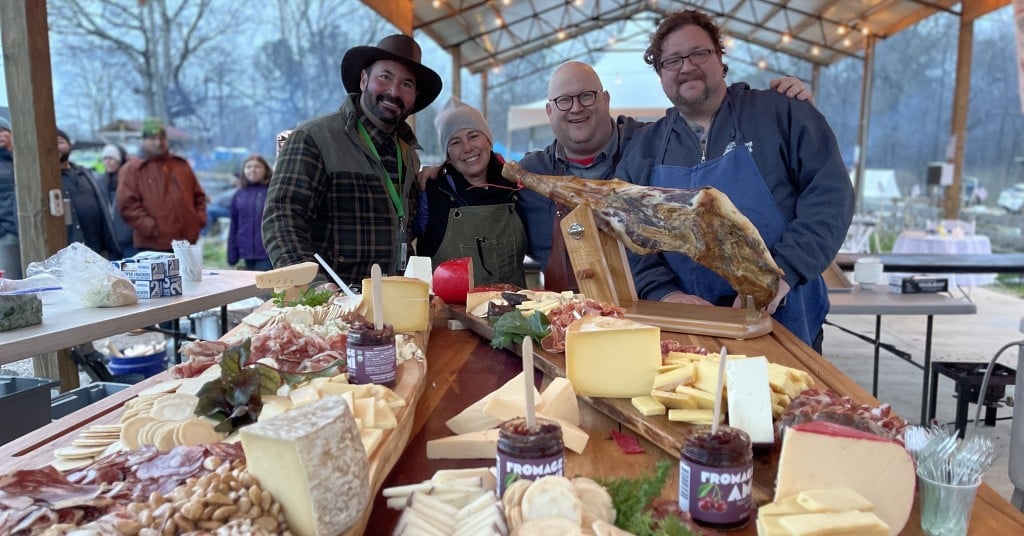 When you dine at a trendy restaurant, you may not think of army veterans in middle Georgia. But a group of vets may have grown the heirloom tomatoes or raised the pork that's on your plate. For them, working the land has not only helped provide quality food, but also helped ease some of their trauma of their military service.
Former Army Ranger Jon Jackson was inspired by his own experiences and loss of a close friend in the line of duty to start the non-profit, STAG Vets (Strength to Achieve Greatness) and Comfort Farms. The 35-acre agricultural center promotes healing even as it helps vets gain experience in the sustainable production of food. It's agriculture therapy, including hands-on education about sustainable and organic practices for growing produce and heirloom crops and raising livestock.
"My main goal is to get our veterans to be active and serve the community again," says Jackson. He shares his knowledge of urban farming with the help of grants from U.S. Department of Agriculture, Farm Service Agency and Natural Resources Conservation Service.
Jackson says that personally, once he started learning about African farming and seed preservation methods, he felt more empowered and closer to his cultural roots. "Being a black farmer in Milledgeville is awesome! I get to farm and serve people from all cultures and backgrounds," says Jackson.
While Comfort Farms already hosts public events, workshops and a farmers market, Jackson is working on nearly two dozen new projects. These include creating a responsible hog forest, planting a fruit tree orchard and building camping platforms to unplug in nature.
Here are some fun experiences you can have at Comfort Farm through the year:
Farmers Market
Every Saturday starting in March, Comfort Farms has a weekly farmers market where you can purchase local, seasonal and organic produce, such as beans, greens, herbs, onions, peppers, potatoes, squash and tomatoes. The farm also raises hogs, chickens, turkeys and ducks, so you can buy fresh meat, poultry and eggs. And if you are looking to grow a backyard garden, there are heirloom seeds available.
Order ahead of time online and pick up at the farm.
Workshops
Most of Comfort Farms' programs center around providing sustainable small-farm and agriculture training to military veterans. But starting with a Southeastern homesteading event in March, the farm is hosting ongoing public events (in person and virtual) where you can learn all about urban farming and beekeeping. "We have to break our ideas of what you think farming is. You need not purchase huge plots of land, but just need a porch to start," Jackson says, adding that we all can learn to grow our food and be better land stewards.
Chef's Plate
Chef's plate dinners resume on Saturdays in the spring, with a series of chefs featuring farm-raised products. In the past, diners enjoyed South Carolina chef Dave McCluskey's roasted pork shoulder basted in bourbon and sweet sorghum jus with Corn Mafia longhouse hominy grits, end of season squash, and greens.
Le Pied du Mont Boucherie
The annual two-day festival gathers over 300 renowned chefs and growers by invitation only. You can purchase tickets to sample sips and bites, and to watch culinary demonstrations by butchers, farmers and chefs. The sixth Le Pied du Mont Boucherie is scheduled for January 2023.
Also, look for pumpkin patches, BBQ competitions and benefit concerts.
Want to make a difference? Stag Vets is always looking for volunteer and donations.
Photos provided by Jon Jackson. Shown are friends of the farm with charcuterie board at Le Pied du Mont Boucherie, top, and Jackson
Do you follow us? Find us on Linkedin, Facebook, Twitter and Instagram.