2022 Legislative Guide: Shepherding Legislation
There's a lot going on under the Gold Dome in an election year and the campaign season will undoubtedly be a factor.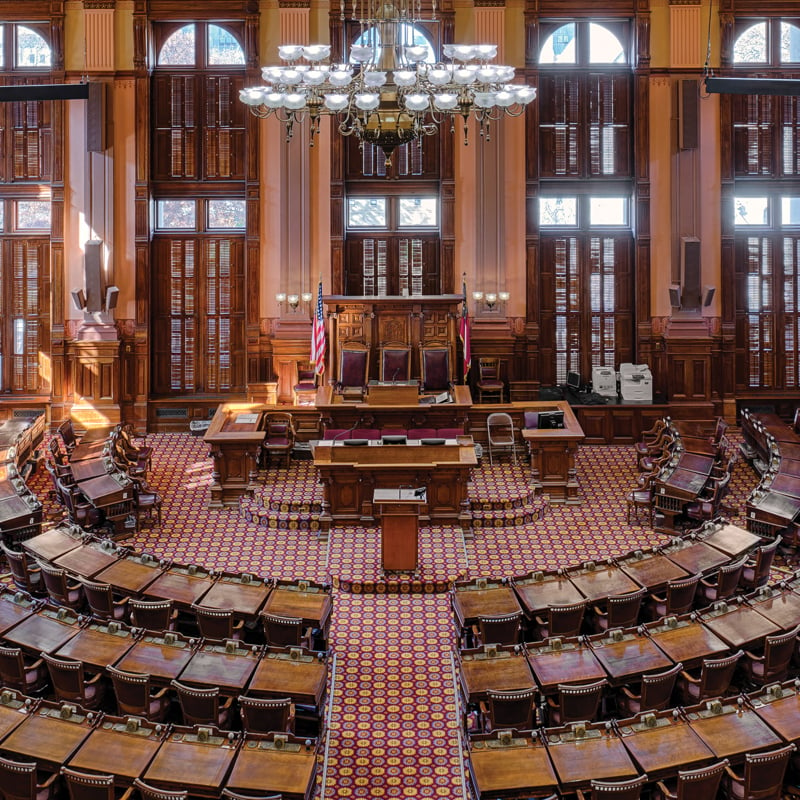 The 2022 General Assembly convened Jan. 10 to shepherd Georgia through a legal maze of budget approval and unfinished initiatives. Our 2022 Legislative Guide will help you navigate who covers what territory with an updated list of our 180 representatives, 56 senators, state leaders and congressional delegation.
While the FY2022 budget, which started in July, included around 4% in cuts from pre-pandemic levels, the government reported a $2.2-billion surplus in September, so Governor Kemp has proposed restoring some of the cuts to education and healthcare in crafting next year's budget.
The state could also reverse its austerity cuts, which eliminated 1,000 state jobs in the mid-year FY2020 budget in response to pre-pandemic tax shortfalls. Cuts to the FY2022 budget from 2020 pre-pandemic funding levels also included $416 million to pre-K through 12, $145 million to higher education, $44 million to health services and $244 million to other agencies. Around $849 million total was cut in the 2022 budget versus 2020 levels, during a time when services were strained past capacity.
The state budget has benefited from an infusion of federal COVID recovery cash that has helped fill the gaps in public services funding. State agencies like the Department of Education received direct funding from federal pandemic response legislation, but the federal funding is not permanent, and it will be up to our lawmakers to reverse this backward course or we will have to make do with fewer services for a growing population.
In addition to wrestling with the budget, the legislature will have two controversial bills pertaining to local jurisdiction, one in Atlanta and one in Gwinnett County. As of this writing, there are competing bills addressing plans to allow Buckhead, a North Atlanta neighborhood, to split off and form its own city; and in Gwinnett County, one lawmaker will introduce plans to significantly alter local government by doubling its commissioners and other measures.
Pressure is on the General Assembly to expand federal waivers for Medicaid, extend the rural jobs credit, increase funding for a Georgia Public Safety Training Center and for crime labs, and legalize online betting for professional sports. Broadband supporters will seek to amend SB6, which passed in 2021, so that it no longer repeals the tax exemption for high-tech companies and to change wording that could inadvertently make it more expensive for companies to expand broadband in Georgia.
There are additional opportunities to improve rural resiliency through Georgia's expanding tech sector, leveraging new federal infrastructure resources to increase potential for data processing centers as well as the reshoring of advanced manufacturing in large undeveloped areas around the state.
This is a lot to take on in an election year, and a lot to figure out before March 31 when the session concludes. The ongoing and upcoming campaign season will also factor in. God speed and good luck.
Click HERE to view in Digimag