Deep Roots
Small and urban farms are flourishing after helping Georgians weather the COVID storm.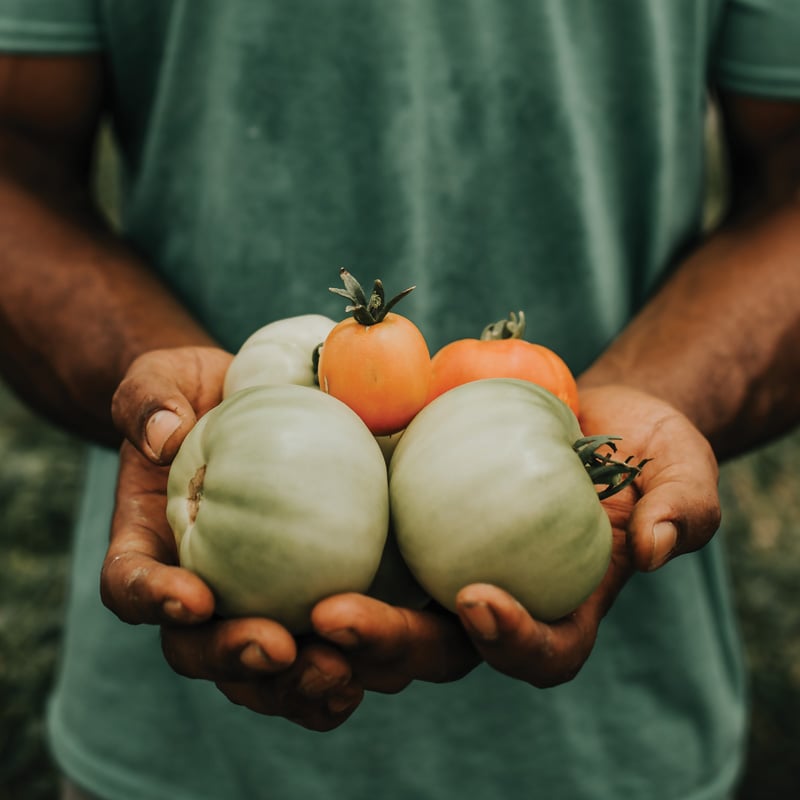 Georgia is blessed with an almost year-round growing season – one reason that agribusiness routinely ranks as the state's No. 1 industry. With almost 10 million acres of farmland, the Peach State has a long history of agriculture. Anyone who's been to a farmers market in Atlanta or Savannah or pulled over on the side of a two-lane road in the summer to check out a farmstand can attest to the state's bounty. Yet still it may surprise you to learn that out of Georgia's 42,439 farms, about half are under 70 acres. Some, nestled in little spots of undeveloped land in the midst of big cities, are even tinier – just a few acres.
Georgia's small and urban farms are a growing part of the way we shop and eat, if you'll pardon the word choice. And as COVID disrupted, well, everything, many people turned to them to have enough to eat. Some joined CSAs (community supported agriculture – the fruit and vegetable "boxes" you sign up to get every week), while others depended on programs offering locally grown produce to literally keep food on the table while they were out of work.
COVID put a spotlight on supply chains and "the need to really think about where your food comes from and how you want to access food," says Kate Conner, executive director of Food Well Alliance, an organization that works to offer resources and support to local growers, community gardens and urban farms in Metro Atlanta in order to build healthier communities.
Food Well, started in 2015 by Bill Bolling (founder of the Atlanta Community Food Bank) and Jim Kennedy (chair of Cox Enterprises) works with 35 urban farms and more than 120 community gardens in the five core metro counties of Fulton, DeKalb, Cobb, Gwinnett and Clayton. The organization found itself pivoting in the midst of the pandemic, shifting from large-scale grantmaking to more immediate concerns about "what do people need right now to truly get food into the ground?" Conner says. That could mean delivering seeds, compost, labor, tools – anything needed to get crops planted (and as a byproduct, help keep farm workers employed.)
As they weathered this different kind of storm, Georgia's growers and the organizations that help them emerged grateful for the support of existing customers and new ones, and more cognizant than ever of the need for local food.
---
Community-based Agriculture
Many small farmers cultivate relationships in their communities as carefully as they cultivate their crops. "My line has always been, we're trying to shift agriculture from a conventional-based model to a community-based model," says Alice Rolls, president and CEO of Georgia Organics. She's led the organization, which provides direct support to small organic farmers, since 2004 and estimates there were about nine farmers markets across the state back then and maybe over 150 now. Around Atlanta, where Georgia Organics is headquartered, "you see community gardens or some urban farms," she says. "You see people growing food in their yards. That was not the case 15, 20 years ago."
Deep relationships are essential to small farms, and the people who work the land talk about it as a calling. "It does feel like this type of work has a mission, a community aspect and a human significance," says Julia Asherman, who grows organic vegetables and cut flowers on three acres at her Rag & Frass Farm in Jeffersonville (about 20 miles southeast of Macon). "And also an environmental impact, because we get to steward the land and do it in a way that is in line with our beliefs and mission, especially in light of climate change."
Asherman, who grew up in Boston but knew she wanted to live in a rural place, says she moved to Central Georgia and learned to farm as a tenant before buying her own land 10 years ago. As she describes her work, she sounds like an entrepreneur with a startup business. "You have to wear all the hats," she says. "When I started farming, I thought it was just going to be a big garden. I didn't realize I'd be doing bookkeeping and payroll and didn't realize I'd be marketing and also the delivery driver." And there's not a lot of work-life balance. "You can't not water something," she says. "If you have animals, you can't not fix a fence."
Like many small farmers, Rag & Frass sold direct to consumers at three farmers markets in Macon, Milledgeville and Atlanta. COVID forced some changes as one market closed and the other two required social distancing (meaning customers couldn't walk up and touch the produce). The farm lost its restaurant sales temporarily, too. But a newly created online store promoted pre-orders that people could pick up at the markets. Asherman says the response was strong initially and has leveled off as things reopened. Still, she says, "I think we will maintain it forever. It's now just the new way that we sell."
Hearts of Harvest Farm also relied on farmers markets to sell organic produce grown on four to five acres outside of Athens. "It's a relationship business, because so much of our product is direct to consumer," says Paul Sorah, who owns the farm with his wife, Lindsey, and another partner, long-time friend (and former bandmate) Mark Golden and his wife, Stephanie. "There's this beautiful symbiotic relationship of the community investing in a local business that's also [re]investing in the community through our food and our employees," he says. "You get to see the circle completed."
But when COVID broke the circle, Hearts of Harvest faced the loss of one of its main revenue streams. Plus, they had planted about 14,000 strawberry plants for a planned u-pick. "We had fields full of produce ready to hit the market," Sorah says. "And then our insurance company didn't feel comfortable at the beginning of the pandemic writing a policy for u-pick stuff. Everything we had planned was now gone."
Sorah says while he fretted, Lindsey came up with a plan to create vegetable boxes and offer them through a drive-through pickup on Saturday mornings. "It literally saved our business for six weeks," he says. "We had crazy local support." Collective Harvest, a CSA aggregator that features produce from Hearts of Harvest and six other Athens-area farms, saw a jump in orders and that helped, too, says Sorah.
Meanwhile, the strawberries were waiting. Sorah called Georgia Organics and asked for help. Within a week, he says, the nonprofit told him it would buy them all – thanks to a grant, it was packing up produce boxes to distribute to laid-off restaurant workers. "It seemed like every terrifying obstacle we met, there was community-driven support that countered it," Sorah says. That's allowed Hearts of Harvest to stay on track with expansion plans to increase production to 20 to 25 acres this year.
Love is Love Farm is expanding, too, thanks to a unique venture called the Working Farms Fund – part of the national nonprofit Conservation Fund – that enables tenant farmers to buy their own land to farm. That's important because although tenant farmers pour time and money improving the soil so their crops can grow, they can lose that investment because they don't own the land. The program launched a pilot in Atlanta and Love is Love was one of the first to benefit from the fund, which purchases land and uses a conservation easement to restrict its use to farming. It then leases the land to farmers while helping them save money to buy it, assisted by the promise of local food purchases from big institutions (Emory University is a partner in the effort). Providing opportunities for minority and first-time farmers are also goals of the program. Global Growers, an Atlanta collective of refugee and immigrant farmers, was the second to lease acreage through the fund.
At the end of last year, Love is Love Farm relocated from a couple of acres in Decatur to 70 acres in Newton County. Judith Winfrey, one of the owners (the farm is now established as a co-op), says the goal is to get 20 acres in cultivation in the next four years. "Our farm, like a lot of small organic farms, sells mostly direct to the consumer – it's one of the ways we make the numbers work," says Winfrey. "We have a large CSA and we hope to expand that significantly over the next couple of years." They also hope to ramp up wholesale offerings, through Emory and other institutions and by working with aggregators like The Common Market Southeast, which works with restaurants, retailers, schools and other organizations.
The promise of owning their own land allowed Winfrey and her husband Joe Reynolds to pursue another dream: creating a new kind of "family farm," one centered around young people who join the farm as employees first and then become worker-owners in the co-op. "Hopefully, we're setting up a farm that could go on in perpetuity," Winfrey says.
---
Crops in the City
Think of it as hyper-local farming: cultivating fruits and vegetables on tiny spots of land surrounded by development. Urban farms are even more closely tied to their communities – their very neighborhoods – and for many of them, growing food is a mission as much (or more) than an enterprise.
Bobby Wilson bought the five acres that make up Metro Atlanta Urban Farm (MAUF) in College Park after retiring as a University of Georgia extension program director. "We continued to provide the same resources to marginalized and underserved communities that we did when we were working for the University of Georgia," he says. That means in addition to producing crops, the organic farm includes community gardens and programs to educate the community about growing food.
Wilson says about three-quarters of an acre is devoted to community garden plots, rented out at $10 a month. The American Community Gardening Association makes its home at MAUF. "Some of our folks come out for the therapeutic value of what they get out of the garden," Wilson says. "It becomes a way of meeting new people and developing new friendships." And, he adds, there's also the therapeutic value of helping people eat healthier with fresh, chemical-free produce.
The shutdowns caused by COVID were "both a blessing and a curse" for MAUF, says Wilson. Production at the farm increased (in part because Wilson wasn't travelling to other states to do workshops) and MAUF partnered with the Atlanta Community Food Bank to feed more than 25,000 families in Metro Atlanta, according to Wilson.
"Some of those folks that have been coming to get food here, some of them decided they wanted to learn how to grow their own," says Wilson, who believes education leads to healthier food choices. Acknowledging the food deserts that plague many areas of Atlanta – especially in minority and underserved communities – Wilson says one answer is to learn to grow your own in the backyard or even in a container. "I think the field is wide open for folks like me to work in these communities and teach people how to do that," he says.
At Food Well Alliance, Conner calls it "community-building using food as a tool." Urban farmers, especially, are motivated by helping communities get healthier. "Every farmer we work with [wants] to provide food to those who need it most," she says.
In Albany, Fredando "Farmer Fredo" Jackson would agree that food can change the world. The urban agricultural arm of the Flint River Soil and Conservation District, Flint River Fresh's goal is to make locally grown produce affordable for community members, whether that's by teaching people how to grow food in their own backyards, establishing small urban gardens or connecting consumers with local growers. Jackson, the executive director, was inspired to start growing food after looking through his grandmother's cookbook. And though his role now is a broader one, he's still out on a fall morning harvesting sweet potatoes at one of the organic urban farms Flint River Fresh helps run.
For Jackson, it's more about "let's grow for a community and feed people first and foremost, and not looking at it from economics," he says. "People got a need to eat. We need to feed them. If we can showcase how we grow and create a space where people can come visit and learn how to grow sustainably, using conservation practices as well, then it has a long-term effect. And if people know where to go to get some good, healthy, seasonal food, that's beneficial for everybody."
When COVID hit Albany early and hard, Flint River Fresh had to suspend its work with Dougherty County schools and turned to supporting front-line workers by delivering fresh produce and meals from local restaurants, Jackson says. "That helped showcase what could be done by growing in a small space," he says.
Through workshops, partnerships with schools and other organizations, and community outreach, Jackson says that Flint River Fresh focuses on creating dynamic growing spaces – even if that space is just the five-gallon bucket given out at the workshops. "I'm always thankful … how people come back and they're proud to say, 'I'm a farmer because of Flint River Fresh. I'm a farmer because of Farmer Fredo,'" he says.
---
"We Got to Grow"
In a way, EliYahu Ysrael has the best of both worlds: a city farm and a country farm. He runs Atlanta Harvest, an urban farm and market in Metro Atlanta, while his father, Asa, runs the 40-acre organic family farm – Local Lands in Dublin. That combo helped them survive the pandemic.
Father and son have been farming in Dublin since 2010 when Asa bought the land and moved to Georgia from New York City. "We started from scratch and now we're farming about 16 acres," says the younger Ysrael. "We raise our own animals, cows and goats and chickens." At first they sold through farmers markets, with EliYahu driving back and forth four days out of five. Then they found Atlanta Harvest, an urban farm created as an experiment by Georgia Tech students that had dwindled to just growing lettuce but was "a gem in the sidewalk," EliYahu says. The urban farm took off after relocating to Jonesboro and setting up a farmstand (with the support of Food Well Alliance).
When the restaurant orders that had become a mainstay of the Dublin farm disappeared during COVID, the farmstand was a life saver. "We got a ton of local support," says EliYahu, who describes orders as "skyrocketing." So did a CSA that could expand almost infinitely, thanks to the bounty of produce from Dublin (some other CSAs struggled with increased demand and had waiting lists).
The farmstand business grew so much that Atlanta Harvest moved again, in fall 2021, to a bigger space in Ellenwood where EliYahu can set up a market stand offering fruits and vegetables not just from the family farm but from other farmers across Georgia and even the Carolinas. "A hyper-local grocery store," is how he describes this food hub.
"We're trying to close a gap," he says, noting plans for a barn that will house the market and "really be a location where people can rely on getting fresh local food, but also a hub that we can use to …. do outreach in the communities and do popup markets and really try to fulfill our mission of providing better access to fresh fruits and vegetables." As part of that mission, Atlanta Harvest delivers food boxes to families in need and holds classes on growing your food as a way to foster self-sustainability, says EliYahu.
As for moving in the middle of a pandemic, he says it was "almost divine" how it worked out, although it was bittersweet to leave the Jonesboro location. But, he says, "Anywhere we go, we got to grow." Farmers everywhere would agree.