Scholars Who Mean Business
Georgia is home to scientific innovation that leads to entrepreneurialism.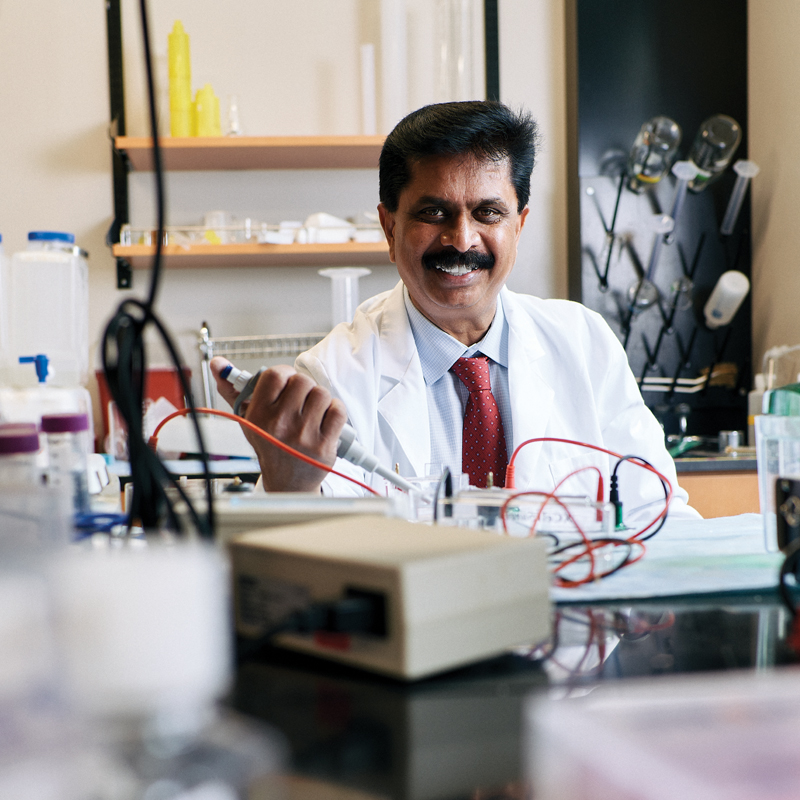 Research at Georgia's universities isn't what it used to be. And that's by design. A generation (or two) ago, elite scientists may have shunned the market side of research and technology, says Susan Shows, president of the Georgia Research Alliance (GRA). "That was like going over to the dark side – you wanted to stay true to academia," she says. "But young people are wired differently and know that entrepreneurialism is a good thing. They want to figure out ways to get their discoveries out so they can be useful to people as quickly as possible."
That's the GRA's mission: bring government, business and academia together to expand and further university research in the state and to help grow startup companies around those discoveries. GRA eminent scholars and distinguished investigators hold endowed chairs at Georgia universities, funded by the state and private matching dollars. And though like every other entity in the state the GRA had to do things differently after COVID hit, the past year has been a stellar one, from helping recruit a true research rock star to be the inaugural John H. "Johnny" Isakson Chair for Parkinson's Research at the University of Georgia (UGA) to leading and administering a grant itself (the first time the organization has done that in its 30-year history).
---
On the Parkinson's Path
Parkinson's disease was first identified more than 200 years ago, yet there's still no treatment that stops the disease from progressing, just medications to help relieve symptoms. There's not even a way to diagnose it early on, which is critical both for patient care and for developing new drugs that could slow it down or even stop it. Instead, it's usually diagnosed after there is substantial damage to the brain's neurons and symptoms are already affecting patients' daily lives.
"The etiology [cause] is pretty complex," says Anumantha Kanthasamy, Ph.D., an internationally known scientist who joined UGA this fall as the first person to hold the chair in Parkinson's research named after Georgia's former U.S. Sen. Johnny Isakson, who retired in 2019 due to health problems from the disease. "If you know the etiology, you can really understand the disease. [But] we don't have any good biomarkers or diagnostic assays to detect the disease. And then we also don't have a good treatment to slow down the progression."
Kanthasamy, a GRA eminent scholar, will establish a new research center for brain science at UGA and recruit interdisciplinary scientists who study neuroscience, epigenetics (how behaviors and the environment can affect the way genes work) and bioinformatics. That interdisciplinary approach is crucial for a complex disease like Parkinson's. "One person cannot solve the problem," Kanthasamy says. "You need a team approach."
He will focus on furthering his research into biomarkers and potential new drug treatments, the "two major gaps" in the field right now. His work on biomarkers includes groundbreaking research on whether skin biopsies can detect a misfolded protein (called alpha- synuclein) that builds up in Parkinson's patients. "We cannot biopsy the brain, so we need to have some peripheral markers," Kanthasamy says. A skin biopsy might be able to diagnose people in the earliest stages of Parkinson's, when they could start treatment to prevent symptoms from getting worse. Organizations from the National Institutes of Health (NIH) to the Michael J. Fox Foundation are lining up to fund this work.
Biomarkers can also help clinicians and pharmaceutical companies recruit people in early stages of Parkinson's for clinical trials to test any new potential drugs. "Once you understand the neurobiological mechanism, then we can intervene at various steps," Kanthasamy says. Finding a "druggable node" means that you might be able to target the misfolded protein early on, for example, and keep it from building up and causing damage. And cutting-edge tech including mRNA- based technologies (like those used in some COVID vaccines) might be able to develop a vaccine for the protein. In addition, CRISPR, a genetic engineering technique, might be used for new treatments.
Kanthasamy has started two companies to work toward the commercialization of drug candidates and biomarkers coming from his research, and he has received NIH Small Business Innovation Research grants to support their efforts. He says he's excited about working with UGA to move his research from bench to bedside. "A lot of researchers at UGA have done this before, and they put some technology into a real benefit to society," he says. Both UGA and the GRA are experienced at advancing research to market, he says.
"Science is just a slow process," Kanthasamy says. "Most of the neurological diseases are very complex. That means the progress can be slow, but every time we're laying stones on our path."
---
Stopping Scars
You probably bear at least one scar from a bike ride gone bad when you were a kid – it's the body's way of healing itself. But it's one thing when a cut on your skin heals. It's another thing entirely when it happens inside the body, as we get older.
Louise Hecker, Ph.D., associate professor of medicine at Emory University and a GRA distinguished investigator, is studying how and why aging affects the injury repair process. She likes to surprise people by telling them that almost half the deaths in the U.S. each year are related to scar tissue.
"People say, 'What are you talking about? I don't know anyone who died of scar tissue,'" she says. "Because when they think scar tissue, they think skin. Scar tissue is a process that happens to almost every organ." If you have a heart attack, for example, the heart develops a scar where it lost blood flow. The scar persists even if you have stents put in to restore circulation. "All we can do is manage the complications of that," says Hecker. As the scar grows, it causes the opposite side of the heart to swell, often leading eventually to end-stage heart failure.
Hecker began studying regenerative biology and then focused on aging. "Scar tissue is a mechanism we've evolved to have – we can't survive without it – but for whatever reason it tends to go awry in aging and leads to progressive disease," she says.
It also happens in the lungs, which is Hecker's specialty. She studies pulmonary fibrosis, a rare and fatal disease where lung tissue becomes scarred and stiff. Current treatments are limited and only slow down the progression of the disease. Hecker's lab is focused on the role of Nox4, an enzyme that makes free radicals (or oxidants). The body needs oxidants to work properly, but too much leads to oxidative stress that can cause damage. "You need a bit of oxidants to deal with scar tissue," says Hecker. In a normal repair, Nox4 turns on and then turns off. "But what we see in aging is that Nox4 turns on and stays on, and starts cranking out high levels of oxidants, leading to oxidative stress."
Hecker is evaluating potential new drug treatments that inhibit Nox4, and her team just had a paper accepted by the European Respiratory Journal, one of the major publications in the respiratory field. Her biotech company, Fibronox, holds the licenses for several of the potential drugs. Being an entrepreneur as well as a scientist comes naturally to her. "My family is all restaurant owners," she says. "I think I just have it in my blood to be an entrepreneur in some way." What gets her excited about science, she says, is similar – "bringing something to patients" (AKA translational research, or bench-to-bedside). Hecker says the GRA's support for academic entrepreneurs is "amazing" and that she's never seen anything quite like it.
It's not likely to appear in a lung journal, but Hecker has started another company since she joined Emory in 2020: Doc Hecker Designs, which is developing prototypes of more "fitted, fashionable and functionally improved" lab coats. "I love my job," Hecker says. "I think being a scientist is the most glamorous profession in the world … but we need a way to bring people into science and show them that it is glamorous." That's especially true for women and girls, she says. And, she confesses, there's even a more pressing reason: She has to wear a lab coat every day, too.
---
Teaching AI New Tricks
Larry Heck was an entrepreneur before he became a Ph.D. – technically speaking, if you'll forgive the pun. While a grad student at Georgia Tech in the late 80s, he built a speech recognizer. And his studies at Tech laid the foundation for a career in artificial intelligence (AI), speech and language processing that put him at the center of just about every major development with AI virtual assistants, including founding Microsoft's Cortana and Google's Deep Dialogue group (the research team behind Google Assistant) and most recently leading the development of Samsung's AI digital assistant Bixby.
When Georgia Tech President Ángel Cabrera asked him what was the big breakthrough that made speech recognition work – why can we all talk to Alexa now? – Heck answered like a true engineer: There wasn't one, really. People just kept working the problem.
"I think it was more of a long, hard slog with incremental improvements over a 30-year period that finally led to this point where speech recognition worked," says the man who helped pioneer the field. "That's my perspective for a lot of the different technologies that were required, especially in the personal assistant space. They just kind of all came to maturity at the same time."
Now Heck has come home to serve as a professor in the School of Electrical and Computer Engineering at Georgia Tech, and the Rhesa "Ray" S. Farmer Distinguished Chair of Advanced Computing Concepts. In his lab at Tech Square, he'll work across disciplines and with the Georgia Tech Research Institute (GRTI) on projects that push the future of voice, AI and personal assistants. One example: Heck says everyone has encountered the limitations of Alexa, Siri or Cortana when you ask them to do something out of the ordinary – get front-row seats to the new Marvel movie, for example, or even "plan an anniversary party" for the truly ambitious and time-challenged.
Or take what happened to Heck a few years ago, when he was trying to check his son's grades on the high school's website, a process that involved about seven steps. "I thought, this is kind of crazy. I'm working on these personal assistants – why can't I just ask it to check his grades?"
The answer: Because right now your virtual assistant will reply, sorry – I can't do that. "For those concepts that are unknown, the assistant simply abandons the conversation and says, 'I don't know how to do that. I'm still learning. Goodbye,'" says Heck. "End of conversation."
But what if that wasn't the end – for either you or Alexa/Siri/Cortana? What if instead of saying goodbye they said, "I don't know how to do that – can you show me? And then I'll be able to do it next time." Heck's been working on approaches that would use these moments of uncertainty as learning opportunities, "where the human user becomes the master and the AI assistant is the apprentice," for about seven years and plans to accelerate the research at his aptly named AI Virtual Assistant lab (AVA for short).
In his quest to help AI assistants learn more, Heck is focusing on giving them a body so they can explore – but he says he's not a roboticist (there are plenty at Georgia Tech) so he's going the other way: Having humans enter the virtual world to meet the AI assistant. "In the virtual reality, the AI can be embodied and experience the world, albeit simulated," Heck says. "Our goal is to create a 'digital human' with capabilities of holding conversation [and which can] interact with that environment, and invite the human users to join them in that virtual environment."
Heck is happy to be back at his alma mater and credits the leadership at Georgia Tech and the GRA for bringing him to the place he thinks could be the next center for AI: Atlanta, where Microsoft and Google are about to have big footprints and Georgia Tech is encouraging both research and entrepreneurship. "A lot of times you hear hyperbole about 'this is going to be the next Silicon Valley' but in this case I think there's some reality," he says. "I thought, 'You know, I want to be a part of this. I want to see if I can help and give back.'"
---
Taking Research Risks
Faced with the COVID pandemic, Shows says the GRA team started to ask itself, "What are we going to do different during COVID" but then started asking, "What are we going to do different – period?"
"We want to be risk-takers, without being skydivers," is how Shows puts it.
Among GRA's four new projects is the coordination of efforts and grant administration to establish the National Science Foundation AI Institute for Adult Learning and Online Education (ALOE). "The idea that GRA could serve as the prime contractor on a research grant was something new – we've never done that before," Shows says.
Headquartered at Georgia Tech, ALOE will include academic partners Arizona State University, Drexel University, Georgia Tech, Georgia State University, Harvard, University of North Carolina at Greensboro; and the Technical College System of Georgia. Business and industry partners involved are Boeing, IBM, IMS Global and Wiley. The collaborative effort will develop ways that artificial intelligence can transform adult learning in science, technology, engineering and math (STEM) fields. AI can personalize instruction and deliver education at scale to train as many students as needed, making learning new skills affordable and available to potentially hundreds of thousands of adult students.
Project No. 2 is creation of the Calvin Smyre GRA Eminent Scholar Chair in sickle cell research, named after state Rep. and "dean of the house" Calvin Smyre (D-Columbus), who has been nominated as U.S. ambassador to the Dominican Republic. Modeled partly on the Isakson chair in Parkinson's research, the Smyre chair will be created at Morehouse School of Medicine, Emory University and Children's Healthcare of Atlanta, which is the nation's largest pediatric sickle cell disease program. It's part of GRA's five-year initiative to advance research into sickle cell disease, including new treatments, therapies and diagnostics.
Greater Yield – project No. 3 – is an effort to launch and grow more startups in agriculture and food technology by connecting university researchers and food producers through a virtual incubator and accelerator. Started in 2020 with six university projects, the program is getting ready to launch its second cohort.
Finally, a pilot program called GRA Student Scholars involved 10 students from Georgia universities who worked alongside some of the state's leading scientists and engineers (many of them GRA eminent scholars) during the summer. The program focuses on minority and first-generation college students who are underrepresented in STEM fields.
Above all, says Shows, the GRA wants to showcase Georgia as a place where innovation happens. "It's a good place to do science," she says.