Keeping Georgians on the Move
Across the state, multiple transportation initiatives are underway to improve safety and efficiency.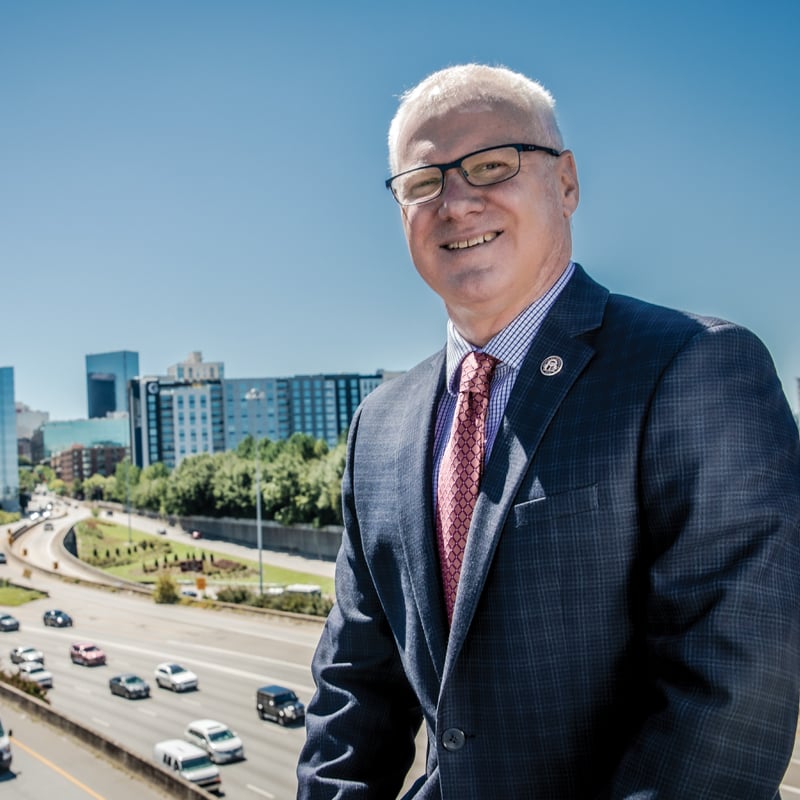 Infrastructure is one of the few domestic issues on which both political parties in Washington and in Georgia appear willing to compromise. Witness the U.S. Senate's Aug. 10 passage of the $1 trillion infrastructure bill, a bipartisan effort that, among other goals, aims to address such transportation items as repairing roads and bridges ($110 billion), modernizing public transit ($39 billion) and beefing up electric vehicle (EV) adoption ($15 billion).
While Russell McMurry, commissioner of Georgia's Department of Transportation (GDOT), is happy about the appetite for funding transportation projects, he's adopted a wait-and-see posture about how much and where the funds might be spent since that will be determined by the bill's final draft. However, Georgia could be in line to receive funds in key areas targeted by the state and the infrastructure bill.
"There are new programs that the Senate has, dealing with resiliency and carbon footprint reduction, such as EV charging infrastructure," says McMurry. "Georgia is bullish on electric vehicle supply chain efforts, having SK Innovation building batteries for electric vehicles [in Jackson County]. There's also an EV charging systems company called Heliox that located its North American headquarters in Atlanta. We also know there will be more investment in infrastructure and in transit, including other intermodal forms such as rail [freight and passenger]."
The COVID-19 pandemic sent shock waves through the budgets of every state agency, including GDOT. But between normal traffic flows and higher than normal freight flows, especially outside Metro Atlanta, GDOT bounced back better than it could have projected.
"Now it looks like there's going to be robust funding whenever Congress acts," McMurry says. "But if you had asked me [about funding] in March 2020, I would've been concerned."
---
GDOT at Work
McMurry oversees scores of GDOT projects from bridge replacement to Major Mobility Investment Program (MMIP) projects such as rebuilding some of the state's most-traveled highway interchanges. Replacing deficient bridges, especially in rural Georgia where agribusiness exists, has been a priority since 2015.
"If a farmer can't get their crop or livestock to market because of a deficient bridge that can't hold up under heavy equipment, that's a bottom-line impact to our number one export," McMurry says.
Major projects throughout the state include the interchange re-do at I-16 and I-95 just outside Savannah – well under way – which handles critical freight traffic going to and from the Savannah and Brunswick ports as well as freight traffic on I-95. It uses a design new to Georgia, a partial-turbine or whirlpool interchange with two or three levels and ramps that spiral around the center of the interchange. The design aims to increase safety by decreasing the number of potential conflict points and includes collector-distributor (CD) lanes to move vehicles entering and exiting I-95 traffic while allowing access from the I-16 lanes.
Another MMIP project, the rebuild of the I-75/I-16 corridor and interchange in Macon, made substantial progress this year. Traffic patterns are changing and beginning to improve incrementally. The $500 million, seven-part project is reshaping the flow of traffic moving through Macon heading to and from Savannah, enhancing safety and increasing capacity with improvements including a CD road system constructed parallel to the interstate, wider lanes and upgrades to bridges.
Later this year, GDOT will start procurement for another MMIP project, the commercial vehicle lanes that begin at the interchange at I-75 and I-475 in Monroe County and end in Henry County. The 41 miles of dedicated truck lanes will take years to build but should be well worth the effort. "We see that as another global competitiveness item," says McMurry.
And now to Atlanta and the $800 million, I-285/Ga. 400 interchange rebuild. More than 400,000 cars pass through the interchange daily, four times the amount of traffic for which it was designed. Due to pandemic-related and weather delays, the project will continue through 2022.
That's not all. Two interchange projects of similar scope are on the horizon, I-285/I-20 East (which is in the procurement phase) and I-285/I-20 West (which will begin procurement for reconstruction later this year).
"We're focused on freight movement, but also mobility for commuters," says McMurry. "Each of those interchanges are listed in the Top 100 bottlenecks in the nation."
---
The Transit Piece
In an effort to keep things moving and with an eye toward including options like bus rapid transit (BRT), GDOT broadened the scope of three Express Lane projects on I-285 (Top End, I-285 Westside and I-285 Eastside) by implementing a public-private partnership procurement process. The project calls for two barrier-separated, dedicated Express Lanes in each direction across the entire northern half of the Perimeter. According to GDOT, the plan opens the door for more innovation in design and access points, and shifts the bulk of the financial burden from the state to the private-sector partner who will also operate and maintain the lanes for a contracted period of time.
"What's very different about [the I-285 Express Lanes project] is that from the outset we're looking at all of 285 as a multimodal corridor," says Chris Tomlinson, executive director of the Atlanta- Region Transit Link Authority (the ATL), the State Road and Tollway Authority (SRTA) and the Georgia Regional Transportation Authority (GRTA). "Instead of transit being an add-on after the fact, we're trying to put it into the DNA of the project, up front. It's a cheaper and more efficient way of doing that."
Multiple transit agencies will have input into the design of the transit components of the 285 Express Lanes, including MARTA, Cobb County Transit, Gwinnett County Transit and the ATL as well as several state agencies. "As far as I know, this will be one of the first partnerships between MARTA and non-MARTA counties to jointly design components within and outside MARTA's footprint," Tomlinson says.
But Express Lanes are just one piece of a very large transit picture. Tomlinson says the pandemic offered insight on how much we rely on transit and how little we realize it.
"There were reports about how ridership declined as people switched to remote working, but across the region bus systems maintained 50-55% of their ridership," he says. "Transit has been a lifeline for essential workers. Food service, retail, hospitality and medical industry workers that you rely on to do everything from running your COVID test to stocking the groceries to food prep to servicing hotels, they're riding transit. There would be greater delays and fewer services available without transit."
In the quest to make transit intuitive and easier to use, the ATL is looking at creating a unified fare system across agencies, a sort of one-fare-that-binds-them-all. But the first step is finding a fare system capable of handling such payments. "MARTA is looking at its next generational improvement to the Breeze fare system," Tomlinson says. "Right now, that project is called Automated Fare Collection 2.0 [AFC 2.0]. In partnership with MARTA, one of the things the ATL is focused on is making sure all the other regional transit providers recognize this once-in-a-decade opportunity to get this new fare system in the region that, amongst its requirements, is to better or more seamlessly connect all the different providers. MARTA reached out in the requirements phase and invited regional partners from ATL, Cobb and Gwinnett to participate as they work on the requirements. That wasn't to lock out others, but these are the systems already using and accepting Breeze."
The ATL is also conducting a regional fare policy study to examine fare types, gauge interest in the different models (i.e., flat-fare, distance-based or zone-based), seek consensus on the eventual fare amount and identify the plan's obstacles.
There are two main concerns.
"If we start changing things, what's the impact on fare revenue which is part of the operating cost?" he says. "Everyone is worried about unintended consequences, and they should be. The second concern is one of jurisdiction and authority. We've never advocated that the ATL should set rates for everybody but we need to have this conversation; it's confusing and we need to put customers first. We need to talk more."
Another ATL project in the works is a regional trip-planning app tentatively called ATL Rides, which will continue to be refined this year. Its purpose is to put all transit partner route, fare and payment data into one seamless interaction, and offer customers the most efficient way to travel from point A to point B using transit – even if that means using multiple transit agencies to do it. It was a heavy lift – for example, virtually none of the street names were standardized between the various GPS systems – but the ATL now has a standard naming convention and a clean data set that allows commercial app developers who can innovate faster than government to improve the experience.
"I'm excited about our app," says Tomlinson. "But I'm even more excited about what's coming after it."
With ridership down, so goes revenue. For several months, neither MARTA nor GRTA Xpress buses collected fares. The federal government stepped up assistance, Xpress received $25.7 million in Coronavirus Aid, Relief, and Economic Security Act (CARES) funding in April 2020 and Tomlinson expects the agency will receive some American Rescue Plan funds when the allocation is finalized.
Now, riders are returning, according to Jeffrey Parker, MARTA's general manager and CEO. "It's been a slow, steady increase," he says. "The limited number of people riding to major offices has a major impact on MARTA."
But riding transit can be done safely, Parker says. "I make a lot of analogies to the airline industry."
Federal law requires masks on all public transportation, and riders can find free masks via dispensers near the front door of buses. In addition to the antimicrobial air filters already in place on all its buses, MARTA installed bipolar ionization air filters that remove airborne pathogens and deliver clean air every 75 seconds without producing ozone or harmful byproducts. If buses get overcrowded – an infrequent occurrence – operators stop taking on passengers, call bus operations and have an extra bus sent to that line.
Despite the pandemic, some capital projects are moving forward. The $150 million renovation of Five Points Station downtown is part of Atlanta's More MARTA program, funded by a half-penny sales tax for transit. The complex project involves redevelopment of the station below and above ground.
Changes to the federal grant programs in the U.S. Senate infrastructure bill would help MARTA pay for expansion projects on its wish list because the project cap would be raised from $300 million to $400 million. Many of MARTA's projects fall within that range. And the maximum share covered by federal funds would grow from $100 million to $150 million.
"This will ultimately allow us to build out important corridors, like Campbellton Road or the BRT in Clayton County or the Clifton Corridor," Parker says.
---
Riding Rural
One of the biggest misperceptions about transit is that it only happens in cities. Not so, says Kaycee Mertz, transit program manager in GDOT's Intermodal Division.
"Rural transit riders account for 1.6 million trips annually," she says. "We have about 100 subrecipient agencies providing rural transit and planning services in about 127 counties, statewide. Our responsibilities run the gamut from overseeing operations to compliance with Federal Transit Administration and state regulations, contract and grant management. GDOT also assists with vehicle purchases on an annual basis. One of our biggest goals is to expand service to all Georgians."
This summer, in an attempt to market the state's rural transit system, GDOT introduced Let's Ride, an app connecting rural transit riders to local providers. It's a boon to those looking to book advance trips to get to work, healthcare, education services and more. Currently, the app is used by transit agencies in Morgan County, the 14-county Southern Georgia Regional Commission and the 10-county Coastal Regional Commission.
As Georgia's economy grows, don't be surprised to see transit services expand in rural parts of the state.
"There are plenty of folks that need to get to work and that's been a challenge for rural [transit] agencies to accommodate," Mertz says. "We've worked with a number of agencies over the years to help them address this. Something as simple as extending the hours of service in rural areas could substantially open up opportunities for people to get to particular shift jobs. Some of our agencies have done some really nice work with local employers setting up particular routes that meet their needs. One county transit service runs a route around midnight when there's a big shift change, picking up a substantial number of workers. There are a lot of little things our rural agencies can do with support to meet that need."
With all the transportation projects in the works, Georgia is ahead of many other states in terms of infrastructure improvements but there's always more to be done. All GDOT eyes are on the federal infrastructure bill's funding that will enable the state to plan further into the future for better, more efficient and safer ways for residents and visitors to get around.