Delivering for Downtown Vitality
Georgia Main Street communities continue to build and maintain relationships.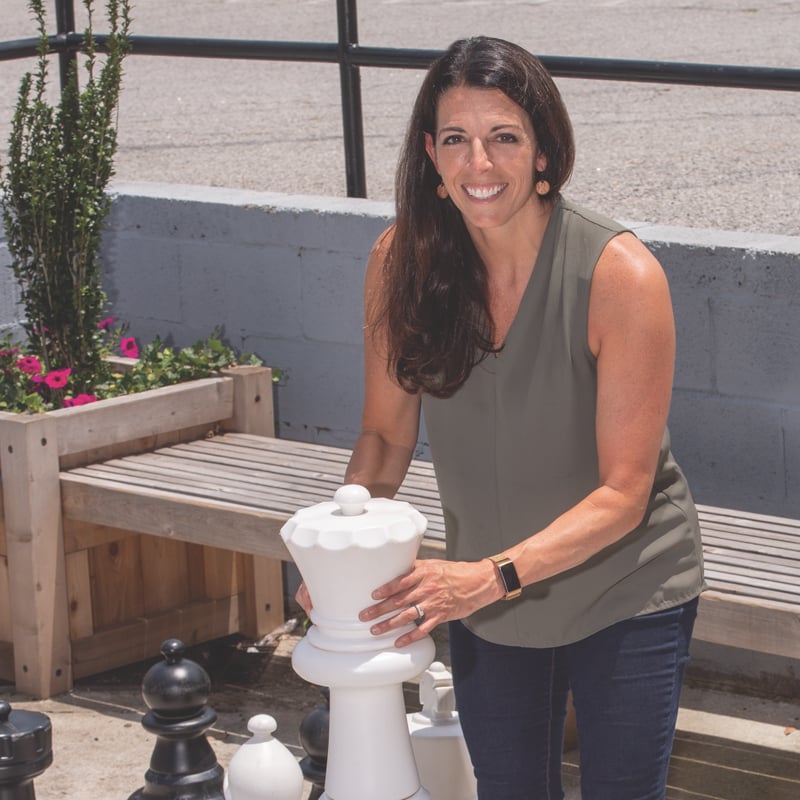 One of the biggest challenges of COVID-19 was staying in touch with people, whether coworkers, family or friends. But Georgia Main Street leaders discovered that relationships could be maintained without face-to-face communication. In fact, the skills they had honed over the four decades of Main Street's existence in the state would help the 105 Georgia communities thrive not just through the pandemic, but far into the future as well.
The Main Street movement has had a significant impact on historic downtown business districts across the country. The program's goal is to build communities with a focus on historic preservation, business development and job creation. Meeting that goal was a challenge to the state organization as well as to local Main Street communities in 2020, but Main Street leaders stepped up.
"I think that our team at the Office of Downtown Development, we're uniquely positioned to be able to take COVID and just hit the ground running," says Jessica Reynolds, director of the Office of Downtown Development and Georgia Main Streets.
That unique position comes from the fact that the team has been working remotely and sharing training resources with Main Street communities online for years.
"We already had online training and resources that had been developed outside of the context of COVID that people could tap into," she says. "We had a leadership training schedule. We had strategic planning training schedules. We were able to shift and offer both of those on a virtual platform."
As experts in online training, they were also able to help local programs get quickly up to speed on the virtues (and vices) of Zoom and other platforms with formal and informal online meetings with Main Street managers.
For example, on the third Thursday of the month, "any manager who wants to or any downtown development professional who wants to can jump online, and our entire staff is there," Reynolds says. "We have coffee and conversation for an hour. We talk and share ideas. And I feel like that's where we learned the most, all of us being able to interact with each other and learn in real time."
Informal, online coffee and conversation is something Reynolds sees continuing even as COVID restrictions are lifted because it carries on the mission of Main Street, which is relationship building, she says.
"We're all about getting to know the people in the community and the people we work with," she says. "And most of our programs saw a huge rise in community support. So many of them have told us over and over again that their businesses not only survived and did well, but had some of the best years that they've had period, because they saw such an increase in support from their local residents."
Here's a look at three cities across the state – Monroe, Perry and Thomasville – that thrived during COVID and some of the lessons they're taking into the future.
---
Monroe: Embrace Play
A hammock park, axe throwing and a mean game of Connect 4 are just three ways to have socially distant fun in downtown Monroe. It's all part of the way the Downtown Development Authority (DDA), which manages the Main Street program, has embraced play.
Monroe, about an hour east of Atlanta, is the newest of the Main Street GEMS cities. The designation, which stands for Georgia's Exceptional Main Streets, is awarded to communities that go above and beyond the expectations of the Main Street program to have a strong impact on their areas.
The idea of play, what Reynolds calls a transformational strategy, started before COVID. Because Monroe's leaders had ideas already in place when the shutdown hit, they were able to continue to make the downtown area a spot people wanted to gather, spend money and have fun – while social distancing and staying safe.
"We looked through our closet … and we had a bunch of hammocks that said Monroe Downtown," Sadie Krawczyk, the city's economic development director, says.
So, in a perfect tie between supporting business and having fun, early in the pandemic the DDA set up a promotion through social media to give away hammocks to anyone who spent $30 or more in a downtown store and sent in a photo of the receipt. "We gave away all the hammocks we had during the first weekend of doing the promo and ended up generating $7,000 in local sales," Krawczyk says.
In that same closet, they found t-shirts they'd bought to commemorate events in 2020 – all of which were cancelled. "We said, 'well, let's still promote the t-shirt sale as … a joke or nod to 2020 and all the events that didn't happen.'"
For each shirt sold, the buyer could pick a local business to receive $10. "We ended up giving over $400 to local businesses, just from people buying shirts and picking their business."
As the world reopens, Monroe is finding that outdoor fun continues to draw people to downtown.
"We shifted all of our monies and efforts to upgrading outdoor seating," Krawczyk says.
They added benches and trash cans to accommodate the growing amount of take-out food containers. A grant from AARP allowed the addition of a park next to Hammock Park, with seating, giant Connect 4 games and an oversized chess board with pieces.
"A little game park where people could be outside," she says, "because everybody wanted to be out. We probably spent about $15,000 just on public space last year, but I think that was money well spent. Once people are used to using the space, they just keep using it."
Monroe leaders knew the pandemic threatened small businesses, however. As soon as some shut down last year, the DDA and the city developed stabilization grants to help keep small businesses afloat.
"Because [city government leaders] saw it was in the best interest of the city to do everything they could for these businesses to make sure they could hold on during what was looking to be at least a three months shutdown … they gave the DDA $100,000," Krawczyk says. "We matched it with $25,000 of our funds, and we opened it up for three rounds of grant applications for any downtown business that fit in the categories of hospitality and retail, restaurants or health and wellness. The maximum amount they could apply for was $2,500."
The funds had to be used to pay rent or utilities, improve the building or to shift the way the business operated to help survive during COVID – so, for example, they could be used to set up or enhance an e-commerce presence.
"We issued $121,000 in grants that ended up impacting 375 jobs," Krawczyk says. "That was a big effort for us. And our city council activated it fast and got us money fast. We were writing checks to businesses in May after being shut down in April.
"I think we were positioned well to weather the storm … because we already had relationships with our existing businesses," she says. "And it greatly increased. There were some businesses that we just had never really had a great point of contact. But when we had free money, it really incentivized people to learn how to get in touch with us. Going forward we'll maintain those lines of communication, maintain good communication and continue to build and strengthen them. Because that is what we can bring to a downtown. We can get you connected to resources and other people and other tools faster than if you're going it alone."
---
Perry: Sit a Spell
Curbside parking spaces may not sound like inviting spots to gather and have a meal, but when the spaces have picnic tables, benches and potted plants, they become much more welcoming.
The addition of these "parklets" along Carroll Street in Middle Georgia's downtown Perry have changed the look of the area. They've also given people a spot to wait for carry-out meals they could eat safely outside with friends or family. And the spots offered restaurants more space for outdoor dining.
The parklets – along with other Main Street initiatives like resiliency grants to small businesses, funded in part by a virtual 5K race call Run Big, Shop Small – have been a success, as people continue to come to downtown for a meal, to shop and to support local businesses.
"Most [downtown businesses] have done pretty well," Jazmin Thomas, the new downtown manager, says, "and now they have more shoppers than ever."
One local success story, Mossy Creek Natural, a soap and skin care company, grew so much they opened another location for production.
"She's keeping her downtown storefronts for retail," Thomas says of the owner. "But the issue was that she could not stay on top of making soaps and bath bombs. They couldn't deal with the demand because of how small their space was. They bought another place … right outside of our downtown, where they can actually bring in larger sizes of barrels of products they need to make everything, and she's also going to do workshops and classes at the location as well."
Thomas also recognizes the importance of communication and relationships – letting businesses know what Main Street is and how it is there to help.
"I'm sure that our downtown businesses always kind of knew what the Main Street mission was," she says, "but I think that through COVID and through resiliency grants … that downtown businesses understood more why Perry Main Street is important and what [we] can do to assist them. I think that our downtown businesses and boards … grew better relationships and understood that our downtown community is also a family. And they're all there to help each other when they can."
---
Thomasville: Building a Brand
For the Thomasville Main Street program, the lesson might be the discovery that "we are truly an essential resource connector," says April Norton, Thomasville's director of economic and community development. "We found ourselves being educators for the small businesses in a time when they were really [trying to figure out] what do we need. [We were] that link between small businesses and the resource opportunities."
The opportunities include sharing information about financial assistance programs as well as supporting businesses in more localized ways.
For example, Norton says, working with a joint task force that included the chamber, "we created an interactive map that … would support small businesses across our community." The map gave people a centralized way to find out which businesses were open, what were their hours, were restaurants offering takeout or delivery and more.
"Not only did we see that [small business] support locally within our city limits, but we saw surrounding communities engaging with that tool to support small businesses here in Thomasville," Norton says.
Another program that supported small businesses was Downtown Dollars. Shoppers could purchase Downtown Dollars at the Visitors Center and use them at 100 downtown businesses.
"That's where we really saw a lot of new customers because people were looking at that [Downtown Dollars program] and they were seeing or hearing about it on social media, engaging with it," she says.
Social media also proved a great tool for an ongoing campaign about loving where you live, she says, that encouraged people to "buy a gift card or share a business on social media, and support local. These are strategies that we used to really build the brand of Thomasville, to think outside of the box and be creative in supporting our small businesses."
As in-person shopping shut down, social media and an online presence became more important than ever to small businesses. Thomasville's Main Street program received a $10,000 grant from the national Main Street center in partnership with Georgia Main Street that was funded by the Williams Family Foundation in Georgia.
"Thomasville Main Street proposed as our project to launch an e-commerce grant program," Norton says. "We took that and established a new local grant that would support small businesses in the creation or improvement of their downtown business online presence."
The e-commerce initiative followed a survey Main Street had done just before COVID that revealed that 33% of local businesses did not have an online sales component, she says.
"That was a huge percentage of people who didn't have it," Norton says. "We knew that for them to be resilient and sustainable that they needed to have options for bringing in revenue. That has been a great resource."
One of the grant requirements was that the small businesses had to continue as brick-and-mortar shops, as well. "It was designated to continue the vitality of our traditional brick-and-mortar businesses," she says. "The use of innovation grants really was to address the No. 1 reported challenge that we had in 2019 and 2020 of increasing revenue streams, which encouraged business expansion and business retention."
And, says Norton, the innovation grants worked just as intended – to grow downtown storefronts and help those businesses increase online revenue.
"Downtown Thomasville has experienced many new business openings and expansions during the pandemic," she says. "We saw a lot of investment in the downtown purchase of property, using that time to make renovations to their existing businesses. By adding an online presence, they were able to grow their business which meant they needed more square footage, so [they have been] looking for different opportunities to expand."
Reynolds is proud of the work the Main Street communities across the state did during COVID to keep small businesses alive – and knows it will help the programs going forward.
"I would say that one of the best things that COVID did for Main Street communities across the state was provided them the opportunity to show the economic development revitalization engines that we are," she says.
Main Street communities had a $950 million impact in 2020, she says. "That's the highest number that we have on record over the past 40 years," she says. "And it beats the previous year by about $225 million. It was our most impactful year."
It's an amazing legacy that should help all Georgians and people look back at lessons learned during COVID.