Bridging the Housing Gap
Cities across Georgia are pursuing creative solutions for more affordable homes.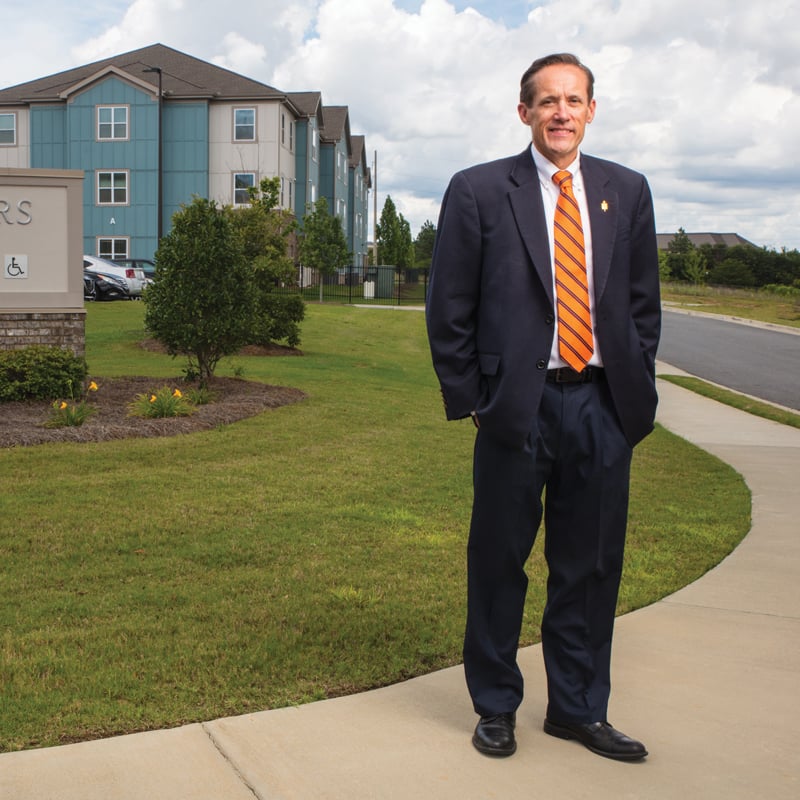 Consider two amounts: $994 and $19.11. The first is the fair-market rent for a two-bedroom apartment in Georgia. The second is the hourly wage a household would need to earn to afford that rent and utilities without exceeding 30% of income on housing. That translates to making about $40,000 annually.
In Atlanta, you'd need to make $22.44 an hour or about $46,700 a year.
Finding affordable housing is a problem in cities across the country, but it's particularly acute in Atlanta and other Georgia cities – in part because people keep moving here while, due to factors ranging from historically discriminatory zoning and lending practices to the still-lingering effects of the Great Recession (when builders stopped building), housing inventory hasn't kept up with demand.
Very low-income households may qualify for public housing or for subsidized rent – Section 8, where a landlord receives a payment from the Department of Housing and Urban Development via the local public housing agency. There are long waiting lists. Mike Austin, CEO of the Macon Housing Authority, says when the agency opens up its Section 8 waiting list, it gets 2,500-3,000 applications in four or five days. "It takes us at least a year, usually two, to go through those applications," he says.
But there's not much available to help people in the middle, who make too much to qualify for that kind of assistance but "don't make enough to live anywhere else," as Austin says. That kind of workforce housing is badly needed to keep Georgia's economic engine revving. Basic economics has an effect: When people flock to cities, prices for houses go up – even new ones, as developers face increased land costs. But the answer isn't as simple as just more tax credits for developers. It's a complicated problem, involving land use; partnerships between government agencies, nonprofits and developers; diverse funding sources; and political will. In Atlanta, Savannah and Macon, some creative solutions are emerging.
---
Zoning Up and Building Out
Atlanta Mayor Keisha Lance Bottoms made affordable housing a cornerstone of her campaign in 2017, promising to invest $1 billion to address the problem. The city has also pledged to create or preserve 20,000 affordable homes by 2026. As of May, 6,347 units are underway or completed and $536.9 million in funding is committed, according to the city's Housing Affordability Tracker.
That's still a long way to go, but funding is only a part of the city's approach in its 2019 Housing Affordability Action Plan. In addition to the investment and supply goals, other main goals are ensuring equitable growth for all Atlantans and minimizing displacement of existing residents, and supporting innovation. The plan details 13 initiatives to get there, ranging from revamping the zoning code to allow for more density to using public land for housing to creating a housing innovation lab. Agencies involved in developing the plan were the city of Atlanta, Atlanta Housing, the Atlanta BeltLine, Fulton County/City of Atlanta Land Bank Authority and Invest Atlanta.
Affordable housing is both an economic issue and an equity issue, especially in Atlanta. Josh Humphries, director of the city's Office of Housing and Community Development, notes that Atlanta used to be about twice as dense in 1940 as it is today. The changes came after a racially motivated zoning code separated apartment buildings from single-family homes in 1929 (you can still see vestiges of that older density in scattered small apartment homes mixed in with single-family homes in Midtown and Virginia-Highland, for example).
Today, the city is about 60% single-family homes. It has just hit its peak population – 506,000 – but is still operating under a zoning code adopted in 1982 when people were fleeing for the suburbs. "We don't have enough options in the market for everyone who wants to live in the city right now," Humphries says.
In March, the planning department released Atlanta City Design Housing, a publication that proposes to significantly change the zoning code to end exclusive single-family zoning, reduce the size of lots, allow accessory dwellings (ADUs), and basement apartments and small apartment buildings in single-family neighborhoods. There has been push back, especially in some of the more expensive neighborhoods like Buckhead, and it's not yet clear how many of the proposed changes will happen.
Humphries says the changes are necessary. "We are changing as a city, because people want to call us home – which is a good problem to have. But we do have to fundamentally change. And I think we have a question as a city and a region [which is], what kind of place do we want to be? … We can't just build big, affordable housing towers and call it a day. To have healthy neighborhoods, you need mixed income and mixed price housing options throughout your neighborhoods. I think that creates healthier neighborhoods for everyone involved."
It's all tied together, says Eloisa Klementich, president and CEO of Invest Atlanta, the city's economic development authority. The city's talent base and diversity draw companies and new employees from Microsoft to Airbnb, and the need just keeps growing for affordable housing. "If you're an incoming police officer or a first-year teacher earning around $50,000, I want them to live in the city," she says. "With the pressures we're seeing, it's going to be difficult for them to do so."
So Invest Atlanta is working on a number of ways to address that need. For example, it works with the Atlanta Land Trust to provide funds for the trust to buy land and build houses; the trust sells the houses but retains ownership of the land, allowing the homeowner to build equity but the housing to stay affordable when it's sold. Overall, Invest Atlanta worked with partners to finance 2,264 units in 2020, 90% percent of them affordable.
One of the more creative initiatives is using city-owned land for affordable housing. The Department of City Planning found that between the city, the BeltLine, Metro Atlanta Land Bank, Atlanta Housing and Invest Atlanta, there were some 877 acres where housing could be built. The project is starting with four sites: a vacant, one-acre parcel on Trinity Ave. across from City Hall and three single-family properties in Southwest Atlanta. The single-family homes (with ADUs) will be built by the Land Bank and owned by the Land Trust, while Invest Atlanta will identify a developer for the Trinity Ave. site to become apartments.
Invest Atlanta also will help fund "Teachers' Village," a mixed-use development in downtown with 229 units of affordable housing for teachers who work in the city of Atlanta.
Having affordable housing in employment clusters like downtown is essential. John Ahmann, president and CEO of the Westside Future Fund, echoes that when he notes that you could build affordable housing "45 miles in any direction from the city" where it's cheaper to build as well as live, but that does nothing to help people get to their jobs. "The very job-rich areas of the city are the exact areas where housing is most expensive," he says. "And the closer you are to a job and the shorter your commute time, the higher probability you'll have economic mobility."
The areas covered by the Westside Future Fund – English Avenue, Vine City, Ashview Heights, Atlanta University Center, Booker T. Washington and Just Us neighborhoods – are being revitalized, and the fund developed a program called Home on the Westside (partnering with the city, Invest Atlanta and Atlanta Housing) to help residents and families with historic connections to the area stay there as prices rise. So far, the fund has committed $80 million to the effort.
Other nonprofits are making big commitments, too. The Atlanta Neighborhood Development Partnership (ANDP) launched a "Closing the Gap" initiative, to build and preserve 2,000 affordable homes by 2025. Focusing on predominantly Black communities, the goal is both to provide housing and to help families build wealth. The organization also has a loan fund that provides financing to developers (for-profit and nonprofit) who build affordable and mixed-income housing. It recently was awarded a $1.8 million grant from the U.S. Treasury's CDFI Fund – that stands for Community Development Finance Institution, a mission-driven financial institution dedicated to providing financial services to meet the community development needs of underserved communities. Including ANDP's loan fund, 17 CDFIs across the state received $25.8 in grants.
---
Open Door, Open Mind
Twenty years ago, "we saw the handwriting on the wall," says Macon's Housing Authority CEO Austin – federal dollars for affordable housing were disappearing. So in 2001 the agency started its own nonprofit development arm, In-Fill Housing. Since then, In-Fill has developed 22 properties and more than 1,400 units of affordable multifamily housing, mostly in Macon and Bibb County but ranging as far afield as Rome.
The agency collaborates with a variety of partners on its projects, and those partnerships – and projects – often break new ground, so to speak. Take Warm Springs Senior Village in Columbus, which will be the first joint housing authority partnership in Georgia. The Macon agency will build it and the Columbus agency will manage it. Or Central City Apartments, a downtown (Macon) workforce housing development that will be built next to and in partnership with DePaul's Daybreak center that will offer respite space for some of the homeless people served by the center. In addition to that partnership, which Austin calls one of the most unique in the country, it's also the first affordable housing built in downtown in decades. Just like Atlanta, Austin says many people who work in downtown Macon can't afford to live there. In-Fill's director, Kathleen Mathews, says she hopes Central City will draw those who work at the nearby Navicent hospital.
Austin agrees with his Atlanta colleagues who say affordable housing is part of economic development. "There are some people who feel like affordable housing detracts from growth and investment, but we have found, and studies have shown throughout the United States, the exact opposite is true," he says. "And we have a good example here in Macon." He's talking about Tattnall Place, a 97-unit mixed-income development opened in 2006 that replaced the Oglethorpe Homes public housing. Residents now include everyone from Mercer students (and occasionally a professor) to those with Section 8 vouchers. "After we built it, more investment came in – private developers, people building and selling homes," Austin says.
The key to In-Fill's approach, say Mathews and Austin, is doing something different – whether that's tackling historic preservation in rehabbing old properties or looking for partnerships everywhere. "We consider ourselves to have an open door," Austin says. "We encourage corporations, banks and investors in community organizations to pitch ideas to us. … If someone wants to pitch an idea, let's listen to them. Our approach is to keep an open mind and, frankly, to be aggressive about affordable housing."
---
A (Really) Big Plan
Forty percent. That's the number of households in Savannah that can't afford quality housing, according to the Housing Savannah task force. The cost of housing has doubled compared to incomes in the last 30 years. So when the task force was created by Mayor Van Johnson and city aldermen in 2020 to come up with recommendations for increasing affordable housing, it went big.
"We've come up with five strategies and 40 action items," says Housing Savannah co-chair (and former assistant city manager) Israel Small. "We're not talking about a plan that will cost millions, we're talking about a plan that, over the next 10 or 15 years, will cost a billion dollars or more."
The five strategies are to increase awareness, support and education for Housing Savannah; increase and sustain housing improvement, construction and retention to benefit 15,000 households by 2032; increase and sustain investments for housing improvement, construction and retention to more than $100 million annually by 2032; increase the capacity and/or number of housing partners; and support local, state and federal housing policy and legislation.
To really address the issue, the city will need to get creative, Small says. "Corporations, hospitals, county government – all those entities would have to be part of that plan." For example, the city's two big hospitals, Memorial Health and St. Joseph's/Candler, contribute to the Employer Assisted Home Purchase Program, which provides down payment assistance to hospital employees through the Savannah Affordable Housing Fund. Small (who is on the board of Memorial Health) imagines getting many more companies to participate.
Other ideas range from getting the United Way involved (task force co-chair Brynn Grant is president and CEO of the United Way of the Coastal Empire) to building modular housing. The first modular houses, which are mostly manufactured elsewhere and completed on site, went up at The Cottages at Savannah Gardens (a mixed-income development) in May.
Also in May, the task force sought public reaction and input to the plan so far. The kinds of partnerships Small talks about will be crucial to success, which is nothing less than truly solving the affordable housing problem in Georgia's first city. "I'll say it again: We want to put together a Rolls Royce plan, not a Band-Aid that's going to be another problem for somebody else 10 or 15 years down the road," he says.
It won't be easy – in Savannah, in Macon, or especially in Atlanta. But Atlanta's Humphries sees it as even bigger than an economic issue. "I think we have a moral question in front of us as a city," he says. "If we don't make changes to the way we operate and think about affordable housing, and in our land use in the city, then we will become an unaffordable city. … I think that's a terrible outcome for the city and one we can avoid. But we can only avoid it if, collectively, we decide we're willing to make the changes that are necessary. And those are hard questions and hard conversations." And ones that are happening now all across Georgia.