Economic First Responders
How some Georgia banks have helped keep communities strong during the COVID pandemic.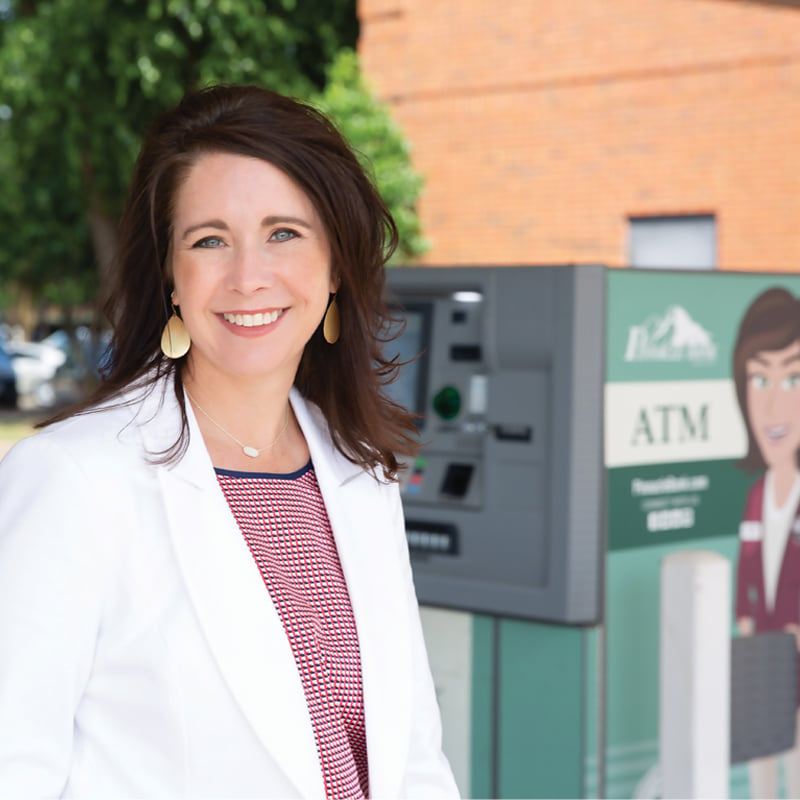 Hurricanes, earthquakes, wildfires – it's not uncommon for businesses to have contingency plans in place for disasters like these. But a pandemic? Turns out, banks were prepared for that, too. "Contingency plans are required by the regulators. They're updated annually, but they've been sitting on shelves for 100 years," says Joe Brannen, president and CEO of the Georgia Bankers Association (GBA). "We didn't know it would be a virus, but we knew there would be a time when we had to have different plans for serving our customers."
That planning paid off, Brannen says, and was the reason banks remained open, even if some lobbies were open by appointment only.
"We saw a lot of customers who had never used drive-throughs before, for example," he says. "Drive-throughs turned into the easiest way for customers to access their banks."
While drive-up banking may have seen a COVID comeback, customers also turned to other technologies such as online and mobile banking.
"No doubt this pandemic has caused the bank and our customers to look at how we interact with each other differently," says Luke Flatt, chair, president and CEO of AB&T in Albany. "The result of that is technology has enabled us to be available to our customers 24 hours a day, seven days a week, and the fact we already had that technology in place certainly made for a less difficult transition to doing banking differently."
Albany became Georgia's first COVID hotspot early last spring. By April, this small southwest Georgia town was facing the fourth-worst outbreak of coronavirus in the U.S.
"We had the capability to bank 24/7 before the pandemic hit, and the fact that we had it and knew how to use it, customers adapted very quickly," Flatt says. "Once they really had to use it, they embraced it, and I think that has changed the way customers will bank in the future."
As the pandemic raged in Dougherty County, the two-branch community bank became one of the first in the state to offer the Paycheck Protection Program, more commonly referred to as "PPP loans." Backed by the Small Business Administration (SBA), PPP loans are aimed at helping businesses pay their employees during the COVID-19 crisis.
"Given what was going on in our community, it was never a question of whether we would participate [in the PPP program]," Flatt says. "Our small business customers, and large, were in dire need and we had a method by which we could help them."
Billing his bankers as "economic first responders," Flatt says plans had to be formulated and procedures developed on the fly as to how the bank would go about originating these loans. Though backed by the SBA, PPP loans are made the same way as any other loan, with the bank using its deposits to fund them. However, PPP loans can be forgiven and the bank reimbursed by the SBA.
According to GBA's Brannen, as of April 18 more than 410,000 PPP loans had been made to Georgia borrowers, totaling $22.6 billion and affecting 2.4 million Georgia jobs. The average loan to the state's small businesses was $54,959, he says.
AB&T began making PPP loans in April 2020, and when the first round of funding closed in December the bank had made 185 loans worth $27 million to businesses in Dougherty and Lee counties and beyond. The bank continues to participate in Round 3 of PPP and has made another 90-plus loans worth about $8 million. All told, Flatt says AB&T has made more than 270 PPP loans worth more than $35 million.
"We had to adapt to implement this program virtually without ever having face-to-face contact with our customers," he says. "We've made PPP loans across a broad cross-section of our customer base, small businesses, restaurants, ag service providers, farmers, medical service providers, dentists, a few doctors. Anybody in need who qualified, we were open to making them a loan."
Putt Wetherbee, who owns and manages one of the largest pecan-growing companies in Georgia, Schermer Pecans, received a PPP loan from AB&T.
"Once we had calculated everything and submitted the paperwork to the bank, we got an answer very quickly and were funded very quickly," Wetherbee says. "I won't say it was the key to our survival, but it certainly made the decision tree during that time a lot easier to climb."
Before receiving his PPP loan, Wetherbee was vexed by questions such as, "Do you layoff key people that you need, and take the risk of not getting good people back? Do you suspend the functions that those people would normally perform? Do you eliminate those functions then eliminate part of your business?" Wetherbee employs 30 full-time employees and another 30 to 40 contract workers at any given time. PPP loans do not pay for contract labor.
"Outside the PPP loan, we would have laid off a lot of people and potentially permanently closed segments of our business," he says. "Had we taken that step back, we may have never rehired someone as high of quality as we have now, and new hires would have taken up a lot of resources to get into place. We have a lot of long-term employees and we are very proud of our low, low turnover rate, even among our contract employees."
---
Team Pinny
Pinnacle Bank, headquartered in Elberton, just 15 miles from the South Carolina border, provided PPP funding to more than 2,200 businesses, totaling $153 million.
"We had over 100 team members working countless hours to provide PPP funding to our communities, which protected over 15,000 jobs," says Jenny Wofford, senior vice president and director of retail banking. "We want to make sure as an essential business that Pinnacle is taking the necessary precautions to protect our customers and our employees, and we also have to make sure we're still funding the economy."
Pinnacle Bank is one of the largest nongovernmental agricultural lending institutions in the state, according to Wofford. Poultry, cattle farming and timber are its largest ag customers. Pinnacle's agricultural loan portfolio totals approximately $174 million, she says, which is more than 16% of the bank's total loan portfolio.
"Early in the pandemic we realized we may need to offer our customers the ability to defer loan payments," she says. "If their income was affected, we did not want them to feel overburdened with any debt they have with us, so we offered the option to skip four payments on their loans if it would provide them relief to their monthly debt."
As with other banks across the state, Pinnacle saw a much larger adoption of mobile deposits, as well as ATM banking. But its ATMs offer a unique twist, with the catchy name of "Pinny."
"When a customer pulls up to the drive-through ATM, it can function as a traditional ATM, or it can function as a live teller," Wofford explains. "They never have to make physical contact, but they are still getting a live person that is working from a remote location."
Pinny is available at each of Pinnacle's 22 branch locations in Georgia and even as people begin a return to normal with the COVID-19 vaccine rollout, Pinny's popularity is not waning, Wofford says.
"It's so funny because Pinny team members are developing relationships with our customers," she says. "Customers are creatures of habit, and customers who pre-pandemic were a little skeptical of using Pinny have now realized they like Pinny and they are continuing to use [that service]."
---
Reaching Out to Borrowers
Taking a page from the famously efficient drive-through service at Chick-fil-A, Rome-based Greater Community Bank directed customers to associates in its parking lot when a customer's request in the drive-through line took more time than a simple deposit or withdrawal.
"We would have never thought a bank could close their lobbies and function, but what we found is there are ways to deliver the service even when you have a certain channel disrupted," says David Lance, president and CEO of Greater Community Bank. "When our lobbies reopened, instead of bringing folks into the bank lobby, we would bring them into the board room and meet socially distanced. We learned to try and make the channels we have available more efficient."
Originally unsure if his bank would participate in the PPP program, Lance, who also serves as chair of the Community Bankers Association of Georgia, says ultimately it was in the customers' best interest, so they waded in.
"We felt like Round 1 of the PPP program was very chaotic," he says. "The application changed three or four times. We'd get the form, share it with the customer, but then there's a change a few days later; lots of back and forth. You shared the best information you had at the time, but it was constantly changing."
Lance says the SBA taking the lead on the PPP program turned out to be "a great way to get the money out to small businesses and our communities." Greater Community Bank, which is celebrating its 25th anniversary this year, has two branches in Rome and branch locations in Gordon and Bartow counties as well.
"In Round 1, we did 334 loans in basically a two-week period, providing just under $48 million in funding," he says. "Our folks literally worked 24 hours, 7 days a week to do as many loans as possible. We felt really good at the end of the day because $48 million in PPP loans for a bank our size was unbelievable."
Those numbers put Greater Community Bank at the No. 2 spot for PPP loans in each of the bank's markets, second only to a larger regional bank with more resources, Lance says.
"We feel like we really helped small businesses in our communities," he says. "Over 8,000 jobs were saved. This whole experience is a reminder of the role that community banks have always played. It was relationship banking at its highest order."
A decade ago when the real estate market crashed in Georgia, banks were the primary lenders and as such, were left holding the proverbial bag. The GBA's Brannen says as a result, banks didn't have enough capital or liquidity to be a source of strength for their communities. Fast-forward to 2020 and banks were in a much different position.
"With the pandemic, we knew the sectors that would be affected and banks started reaching out to those borrowers," Brannen says. "If a bank is going to be a source of strength for their community, they have to have strong capital, strong liquidity and contingency plans in place to serve borrowers most affected by a downturn and that's exactly how this played out."
As challenges mounted, banks rallied around their customers and communities to help keep Georgia strong.