Community Investment: Georgia County Excellence Awards
Georgia Trend and the ACCG present the 2021 County Excellence Awards for initiatives that improve lives and address challenges.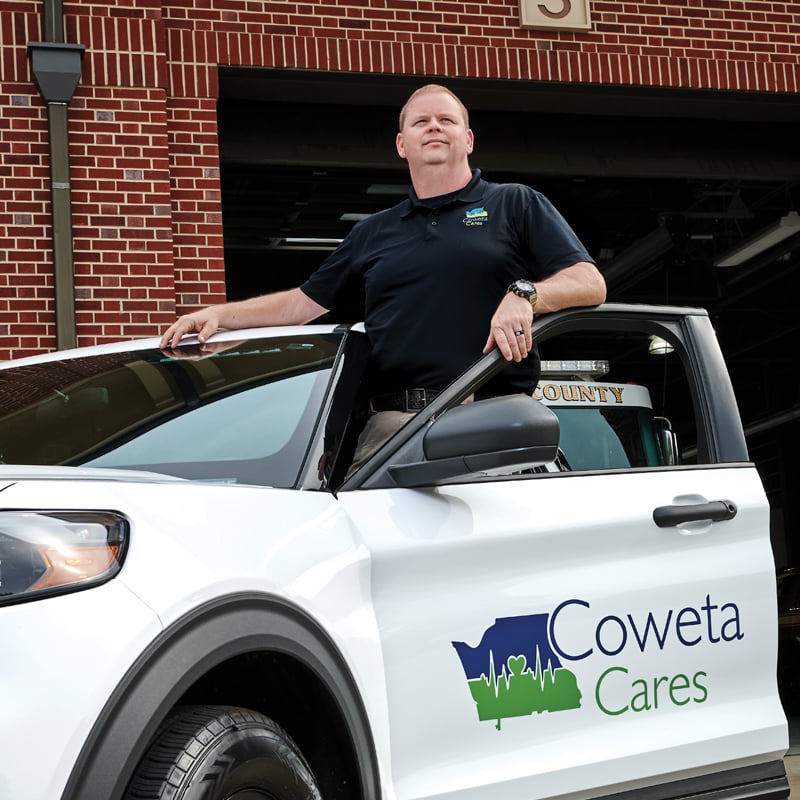 Last year presented a number of challenges for county governments – from helping keep citizens healthy and fed to tackling issues like diversity and inclusion. The 2021 Georgia County Excellence Awards are presented this year for projects in five counties that found creative solutions to these challenges and more. Each project fits the broad category of community investment and will offer a positive return on that investment for years to come.
Georgia Trend and the ACCG, a nonprofit organization that serves Georgia's county governments, are recognizing five for their out-of-the-box thinking on local challenges in the areas of healthcare, justice, food insecurity, citizen involvement and expanding the pool of potential pilots.
"ACCG is proud to continue this partnership with Georgia Trend to recognize the innovative efforts of our counties," says ACCG Executive Director Dave Wills. "Each year, the Georgia County Excellence Awards program showcases the versatility of county programs and services and the ingenuity of those elected or appointed to serve." – Karen Kirkpatrick
---
Coweta County
Answering the Call
When someone calls 911, it's often because of a crisis. Usually that means that police, firefighters or an ambulance races to the scene and the person who needs help may be taken to the emergency department (ED) or to jail if they've broken a law. But that's not always what the caller or the person who's in trouble needs. Now in Coweta County, there's another option that's geared toward getting the right help to people at the right time – and following up, too.
Coweta Cares is a mobile, integrated healthcare program staffed by a paramedic and a mental health clinician from Pathways Center, a behavioral health organization. Together they provide a medical and mental health assessment and then either treat and clear the patient on the scene or transport them to the Pathways facility in Newnan. As long as no law has been broken, the person stays out of jail – and they get more specialized treatment than they would at an ED.
Paramedic Russell Shoemake helped launch the program and knew that's what he wanted to do as soon as he heard about it. During the soft launch in March 2019, he recalls just figuring it all out as they went, working closely with law enforcement. "We provide a better service for those patients in the field," he says. "Citizens in the past who had mental health needs were calling the sheriff's office [or] police department for their problems, and they weren't receiving the right type of resources."
Sometimes, Shoemake says, that means picking up medicines at the pharmacy for a patient who lacks transportation. But beyond addressing the immediate need, Coweta Cares connects patients to organizations that can help them with long-term problems like substance abuse or mental health issues.
The program also serves stroke patients after they come home from the hospital with follow-up contacts for 90 days to help them adhere to their post-stroke treatment plan.
Other partners in the program include Piedmont Newnan Hospital and the state department of health. From 2019 to 2020, Coweta Cares helped 232 people in person and 800 with telehealth visits, and avoided about 900 additional ambulance transports.
Shoemake, who loves his job, is excited about a five-year plan that proposes to expand the service to 24/7 (right now it's limited to 12-hour shifts with two days on, two days off and every other weekend), with another vehicle staffed by an additional paramedic and mental health professional. Meanwhile, Cobb and Carroll counties have benefited from Shoemake's experience as they launched similar programs. "We've really fine-tuned everything and now we're a resource for other counties," Shoemake says. – KS
---
Spalding County
Goodness Grows
An hour south of Atlanta, a desert is blooming in Spalding County. Well, it's more that vegetables are growing – but fruit trees and flowers are blossoming, too, alleviating a food desert in the Fairmont neighborhood. The Healthy Living Community Garden's first harvest was in 2013; this year the garden has a new home a few blocks away with all the bells and whistles, including a greenhouse, teaching pavilion, overhead irrigation, electricity and access to indoor restrooms.
The garden's 30 raised beds and six handicap-accessible beds sit amid concrete pathways and crushed slate walkways. The garden itself serves as a trailhead to access a new greenway system that runs to the old Fairmont School, a historic Rosenwald School (schools that were built in the early 20th century during segregation to educate Black children). The school is being renovated in Heritage Park, site of the garden's former home. The new garden also sits in the middle of an area that's being revitalized.
"Everything in that area for about three blocks has seen a lot of change and improvement over the past few years," says Thomas "T.J." Imberger, the county's director of parks, public grounds and public works. The garden was established with funds from the housing authority (located next door) and is across the street from the Fairmont Community Center, and the area is benefiting from collaboration between the county, housing authority and extension service.
Patricia Beckham, an agriculture and natural resources program assistant with Spalding County Extension who manages the garden, taught at the old Fairmont School for eight years. "We've got a huge parking area with picnic areas. Plus we have our picnic area at the garden," she says. "We have just completely embedded in the community with the new and good things going on. It's this whole block of sidewalks and paths and play areas … and new housing."
More than 500 kids and adults participated in 17 classes and activities between October 2018 and September 2019. In addition to learning about healthy eating and how food grows, kids will enjoy a sensory garden and a fairy garden in the new location. Plans include adding beehives to the pollinator garden and having an area devoted to herbs.
In the meantime, the familiar summer crops will be basking in the sun: tomatoes, cucumbers, corn, peppers and more. Just about all the beds are full, Beckham says, and the garden will experiment with a teaching area behind the raised beds to figure out things that constantly bedevil Georgia gardeners (like the best way to trail beans and how to plant corn for maximum harvest).
"We'll have that food to harvest … and give to the neighborhood," Beckham says. "Plus we get to teach while we're doing it." – KS
---
Baldwin County
Diversity Takes Flight
The aviation industry has a diversity and inclusion problem. According to Data USA, 92.3% of aircraft pilots and flight engineers in the U.S. are white and 93% are male.
What those statistics don't reveal is that there is a growing movement in Georgia to increase minority and female participation in aviation, giving a whole new meaning to flying the friendly skies.
"Maybe 10% of pilots in the world are women," says Bruce Hood, manager of the Baldwin County Regional Airport (BCRA). "We see that lack of diversity as a need and an opportunity."
In an effort to promote the value of the airport to Middle Georgia and advance the aviation industry, last year the BCRA created the Center for Aviation Promotion and Flight Instruction (CAPFI). The airport then partnered with Faithful Guardian Aviation in a unique public-private collaboration to support CAPFI initiatives. Faithful Guardian Aviation is a minority- and woman-owned flight training business, which boasts 50% female student participation and 80% minority participation at its Fulton County location. Since September 2020, CAPFI's flight training program at the airport has grown from zero to more than 20 participants, 35% of whom are women and 50% of whom are minorities.
CAPFI also plans to get high school students plugged into aviation by supporting a grant application to the Federal Aviation Administration by public and private schools in Baldwin County.
"There is no direction coming out of high school or college to show these young people there is a career path for them in aviation – piloting, working with the FAA, airport management, tower control," Hood says. "Women and minorities would do great and thrive in that business."
Beyond changing the face of the aviation industry, BCRA is looking to solidify its standing as critical infrastructure for Middle Georgia with the second phase of its West Apron project beginning this year. The project is aimed at providing more flat land at the airport to meet a high demand for hangar development, as well as addressing a mandated relocation of its taxiway.
In addition to being vital in creating new space for hangers and making the airport more attractive to individuals and businesses, the West Apron project will also generate cash for the county. Nearly all of the hangars at the airport are located on property leased from the county.
"Aviation in Baldwin County is good for recreation, tourism, industry and business," Hood says. – JH
---
Upson County
Collective Wisdom
Although it can seem as if some elected officials aren't listening to their constituents, there is a community in rural Midwest Georgia that can say with pride, "We are listening." In 2018 the city of Thomaston and Upson County became the first community in Georgia to pilot the Orton Family Foundation's Heart & Soul Community Model. The two-year program was designed to help people shape the future of their communities by using the collective wisdom of residents to improve local decision making and create a shared sense of belonging. It grew out of a previous organization called Unite Upson.
"All the local governments came up with what we call Heart & Soul statements," says County Manager Jason Tinsley. "These statements that we've adopted hang in our meeting room to make sure the decisions we are making are in line with the Heart & Soul statements, which are based on the feedback we got from our citizens. It's almost like a higher level form of comprehensive planning."
Over the course of two years, the Thomaston-Upson Heart & Soul initiative held 42 community events, conducted countless citizen interviews and administered thousands of surveys to solicit feedback from those who live, work, shop and visit in Upson County.
Much work has been done to implement 20 action items identified by Heart & Soul representatives near the end of the process, including the addition of a Chick-fil-A and Starbucks in the cafeteria of Upson Regional Medical Center, the approval of a master plan for downtown in an effort to secure Rural Zone designation by the state and the collection of more than 2,000 pounds of trash in a single community cleanup day.
Some of the most impactful results have been improvements to the outdoor recreation areas of Sprewell Bluff Park, a 1,372-acre preserve situated along three miles of the Flint River. The amount of programming at the park has almost tripled as a result of the Heart & Soul process and includes sunrise or sunset yoga, road races and trail runs. Other improvements in the works include a pavilion for an outdoor learning center, increasing the number of RV pads and adding a few more miles of trails.
"Through the Heart & Soul process we realized just how important that area was to the community," Tinsley says. "Especially having gone through 2020, almost everything is encouraging us not to connect with each other, but these programs bring us all together as a community." – JH
---
Rockdale County
Accountability Alternative
There's the data: More than 415 people have come through the Rockdale Accountability Courts since the county launched its first, a DUI court, in 2007. The program, which provides help for nonviolent offenders to change their lives and behaviors, has a recidivism rate of just 18% and saves the county about $27 in everything from court costs to jail expenses for each $1 invested.
Then there's the "anecdata," which in Judge Nancy Bills' opinion is just as telling. Bills, who as state court judge for Rockdale County oversaw the first DUI accountability court and was recently appointed to the Superior Court, describes seeing graduates of the program saying it saved their lives. "All it takes is one graduation and you're sold," she says. "You see people get their children back, and they get jobs and GEDs and diplomas and all the things you would want people in your community to have."
The county now has several accountability courts for both juveniles and adults. The programs last from 18 months to two years and involve supervised treatment for mental illness and addiction combined with services including education, job training and counseling. Participants must adhere to stringent accountability rules including testing for sobriety.
Bills, who in her new role will oversee adult drug court, says that although jail time for crimes (like DUI) can be involved, the point of accountability courts is to provide incentives for people to change. Just putting people in jail didn't work, she says, because "the day they left the jail, they were still the same alcoholic or substance abuser they were the day we put them in because we weren't doing anything in between."
To overcome initial skepticism about the first court, Bills recalls presenting data on evidence-based treatment and lowered recidivism rates to civic organizations and leaders. Now the county is fully committed, with support from the commissioners, sheriff, chief of police, mayor and others, Bills says.
The program is beginning to involve the recovery community in what Bills calls "after after-care." The courts provide services like medical or dental help and counseling to people even after they graduate, but alumni often need support from others in recovery to keep from relapsing. "We want to hand you off to a group of like-minded people … so you can continue to stay in recovery," she says.
The program is also involved in the Stepping Up Initiative, a national effort to treat people with mental illness instead of sending them to jail, which encourages local communities to find solutions that work in their area.
"Ultimately everybody benefits," says Bills. "Our whole community is stronger because of it." – KS