Ramping Up the Tech
TCSG offers more online learning to help tomorrow's workforce overcome today's challenges.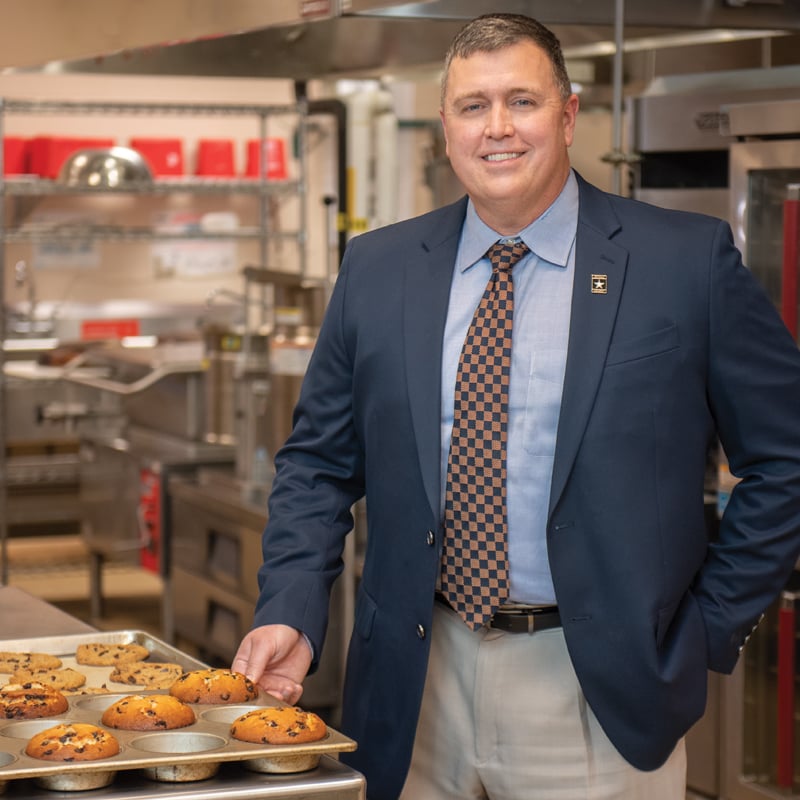 Just over a year ago colleges and universities around the state were forced to quickly adapt to the COVID-19 pandemic, which led to a brief shutdown and altered – perhaps forever – the delivery of instruction. The 22 colleges in the Technical College System of Georgia (TCSG) were no exception. The pandemic tested the system's ability to rapidly shift gears so students could continue learning in a safe environment. That meant moving more classes to online instruction, updating digital technologies needed for the increase in remote learning and determining ways to get things like laptop computers in the hands of students who couldn't afford them. Not only did TCSG rise to meet the challenges, some of its solutions have set the stage for continued innovation going forward.
"We knew we had to do everything we could to keep students on track and minimize any disruption to their education," says TCSG Commissioner Greg Dozier. "By shifting instruction from in-person to online, we were successful in making this happen."
Before the pandemic, he says 29% of TCSG classes were online. Today, that number has grown to 50%. As a result, enrollment in online classes jumped from 39% of students to 66%.
Along with online instruction, TCSG introduced limited lab sessions for programs that require hands-on learning, such as those in healthcare and welding. That meant fewer students in a lab at any one time, social distancing and wearing proper face coverings and personal protective equipment (PPE) to help ensure everyone's health and safety.
---
Financial Support 
As online instruction ramped up, it became evident that some students lacked the technology needed for virtual classes. That's when the TCSG Foundation stepped in. The foundation exists to deliver funding from Georgia businesses, individual donors and other foundations to help students get a technical education. Providing a one-stop-shop for accepting and distributing large donations, the foundation also supports fundraising efforts at the individual college foundations.
"We have a little over $2 million [in the TCSG Foundation] and we average around $1.2 million per year in fundraising," says former Executive Director Juli Fields, who left her position in February. "We're turning around and reinvesting our funding directly back into the colleges, into the students and the faculty and the programming that keeps students enrolled. We're sending it back out just about as fast as we are raising it."
TCSG Foundation created an Emergency Response Fund to provide students with computers and other technologies so they could continue their courses online during the pandemic. Supported in part by Kia Motors Manufacturing Georgia (KMMG), the Community Foundation for Greater Atlanta, United Way of Greater Atlanta and individual private gifts, the emergency fund provided 12 laptops per college that were available on loan to students who needed them.
Along with the increased need for technology, COVID-19 has caused a ripple effect of financial challenges for students, Fields says. Many of those who would be Georgia's future workforce face financial burdens far greater than anticipated and the TCSG Foundation's support is critical to keeping them enrolled and on track to graduate.
One initiative that's helping students finish their programs is the Last Mile Fund, established about five years ago. The idea behind the fund is that many students are at risk of dropping out due to their inability to pay fees or tuition to their respective colleges. The average amount owed is $224.
"One bill that is unexpected could be the difference in somebody finishing and somebody dropping out," Fields says.
Since its inception the Last Mile Fund has awarded nearly $250,000 to approximately 650 students.
"We have determined that 99% of the students that at one point or another received Last Mile Funds graduated with some degree or diploma or a certification," Fields says. Roughly 25% of the 354 students who received Last Mile Funds in fiscal year 2020 completed their program of study last year.
One such student is Tiawanna McDonald Cotton, who wanted to enroll in the licensed practical nursing program at Central Georgia Technical College in Warner Robins. The mother of three small children used the funds to buy textbooks so she could start the program last fall.
"I was able to get everything for that semester with the Last Mile Fund," she says, and encourages others to apply. "The application process isn't long and I just feel like everyone can benefit from monetary help. You can focus more on school instead of how are you going to pay for school."
In December, the Robert W. Woodruff Foundation donated $1 million to be used for Last Mile Funds and as incentive for other organizations to step up donations. Other Georgia-based donors that have contributed to the fund since it was launched include Atlanta Gas Light, KMMG, the Coca-Cola Foundation, the Georgia Power Foundation and the Betty and David Fitzgerald Foundation.
Fields underscores the importance of continued investment in technical college education, saying that a graduate "will see annual earnings of $8,400 higher than a person with a high school diploma. That's more than $336,000 over a working lifetime."
---
Productive Partnerships
TCSG's investment in education extends to high school and middle school students. Connecting them with opportunities after high school graduation is part of the mission of the state's College and Career Academies (CCAs) that TCSG oversees and supports.
More than 38,000 Georgia students are enrolled in CCAs, which are workforce development partnerships between local business communities, K-12 schools and post-secondary institutions. Typically, local business leaders and economic development professionals work with the school system and technical college to develop training programs for much-needed skills. The partnership determines how to house, fund and teach the classes, with businesses often providing ongoing financial support, equipment and instructors.
Much like their technical college partners, CCAs have had to adapt to educating during the pandemic. Most are located within high schools and some are holding in-person classes while others are combining a hybrid of online and in-person instruction. As many CCA programs as possible have been moved online.
The career academy concept was born in the late 1990s in Coweta County. Its business community spearheaded an effort to develop a local talent pipeline in collaboration with Coweta County Schools and West Georgia Technical College.
"Through probably two to three years' worth of conversations, they developed a needs assessment tool, the types of opportunities they needed to fill, the types of skill sets and the levels of education," says Mark Peevy, TCSG assistant commissioner of secondary education initiatives. "Their effort turned into the creation of the career academy called the Central Educational Center and that has now become the model across the state of Georgia."
According to Mark Whitlock, CEO of the Central Educational Center, more than 700 local companies were surveyed to determine what types of training programs should be developed.
"We've been a part of our business community's effort to introduce automation and mechanization," he says. "Our effort to find best standards led us to implement German-certified apprenticeships. [We were] the first community and the first state in the nation to do that" for students as young as 15 years old.
In the Central Educational Center's 21st year, he says, "We see a higher percentage of our students who leave high school continuing – not just starting – post-secondary education that they've begun while in high school because they're dual-enrolled. Or, we see them going into the workplace with skills that they've learned in high school."
That dynamic is reflected across the state with 98% of CCA students choosing one of the two paths, according to Peevy.
The state legislature provides startup funding for CCAs and TCSG administers it through a competitive grant process. "There is typically a $3 million bond grant that is for capital construction, renovation, etc.," Peevy says. "It's a one-time grant that gives communities a step up." Over the past 14 years, he says the state has invested about $139 million in CCAs.
Last year TCSG announced the creation of new CCAs in Appling, Evans and Union counties to bring the total to 52.
"At a high level, they all look the same in terms of the [CCA] model," says Peevy, "but how they build those things out is based on what makes the most sense for that given community."
In Union County, for example, efforts will be focused on building a welding lab and potentially an advanced manufacturing program to benefit Snap-On Tools, which has a manufacturing plant just across the state line in North Carolina. The company is participating in creating the CCA because it draws many workers from Blairsville.
---
Expanded Access
The capabilities TCSG colleges and CCAs have added during the pandemic to facilitate online courses have led to a new initiative that will launch this summer. The system's eCampus program will enable a student enrolled at one college or CCA to take online courses from any other college in the system.
"This will also allow increased enrollment in high-demand courses because we are not limited by physical class size," says Dozier. "It allows greater access to more programs for students regardless of where they live."
eCampus will use the same software TCSG students have become accustomed to in their online classes, says Chief Information Officer Steven Ferguson. "The magic in all of this is that we have created an environment that is seamless for the student, but also for the faculty and staff," he says. "The platform that we are building utilizes the same look and feel, utilizes the same credentials.
"We're really creating this shared services model among institutions, where it's a win for everybody," he explains. "The colleges are able to share tuition revenue so that helps all of them out. But the student is able to share the resources of those colleges." This is especially important in rural areas of the state where the local technical college may not be able to offer all the programs available at other colleges, he says.
Financing for development of eCampus came from the Governors Emergency Education Relief (GEER) Fund, which was part of the federal Coronavirus Aid, Relief and Economic Security (CARES) Act. Last fall, TCSG received $10.4 million to build and pilot the initiative. Columbus Tech, Coastal Pines and Central Georgia Tech were chosen to pilot eCampus, offering cloud computing courses to each other's students.
"We are very excited to be able to offer our students courses that we cannot teach here," says Martha Ann Todd, president of Columbus Tech. "I think it [eCampus] has a very promising future. Here at Columbus Tech we have more than doubled the number of courses that we are offering fully or substantially online and they're very popular with our students. I think [they] are going to receive this opportunity to engage in distance learning very, very well. Also I think it'll be very popular with dual enrollment students."
Ferguson says initial eCampus components, including unified ID that allows students to access resources across the system with one user name and password, will roll out this summer to all 22 colleges. More components, like the use of artificial intelligence for reminders to pay fees or register for classes, will be added in the fall. And the program will be available to adult and continuing education students such as those learning English as a second language or working toward their GED.
eCampus will also provide the backbone for TCSG's evolving focus on micro-credentials. Much like certifications, micro-credentials are awarded to individuals who complete short-term courses to gain specific skills.
"We're really building and planning for not just now, but that 5- and 10-year timeframe," Ferguson says, "and micro-credentials are going to be a huge part of that. We want to create programs faster and have these skills readily available, delivered at an innovative pace. Meaning that if I want to learn how to code, for instance, I don't necessarily need to go through a four-year computer science program. Let's look at a six-week opportunity so I can learn this skill right now and put it to use tomorrow."
A consortium of a dozen TCSG colleges recently received a $4.85 million grant from the U.S. Department of Labor to support the push for micro-credentialing through courses that will develop skills in manufacturing, information technology and healthcare. In addition, the funds will be used to enhance online learning by creating statewide standards for instruction, purchasing equipment, upgrading course content and integrating augmented and virtual reality.
"We are always going to be laser focused on the job needs across the state and identify ways we can help fill those needs," says Dozier. "We are here to get students the education and training they need to move directly into a rewarding career. Business and industry know they can count on us to provide them with the skilled workforce they need to remain competitive."