2021 Industry Outlook
How the state's primary industries are likely to fare this year.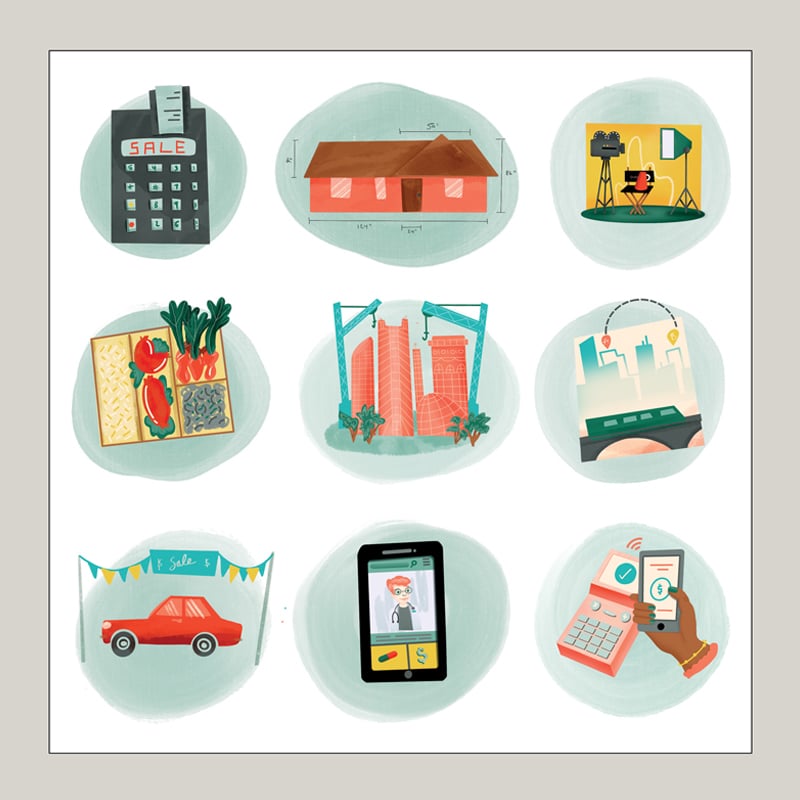 While the COVID-19 pandemic seriously damaged Georgia's economy last year, the state fared better than the nation, and many forces are at work that will sustain economic recovery throughout 2021. In fact, the forecast calls for Georgia's inflation-adjusted gross domestic product (GDP) to increase by 4% this year, which compares favorably to 2020's estimated 3.7% decline in GDP. A number of state-specific factors will contribute to economic recovery and some industries are poised for dramatic growth.
Our annual outlook for the state's primary industries is based on research from the Selig Center for Economic Growth at the University of Georgia's Terry College of Business.
---
Homebuilding
Home sales and homebuilding will be very important drivers of U.S. GDP growth in 2021. That will be mostly due to record low mortgage rates and cyclical factors, but demographic trends also will support the housing industry. For example, millennials are reaching the age where they will buy homes in much larger numbers, especially in southern and western states where overall population growth is relatively strong. Telecommuting and social distancing make the home more important to many people. Due to COVID-19 many older homeowners are likely to stay in their single-family homes longer than originally planned, postponing moves to retirement communities or assisted living facilities. These postponed moves mean fewer existing single-family homes will be on the market to satisfy buyers' needs. The upshot is that the number of single-family home starts for new construction will increase by about 25%.
---
Retail
Retail sales will increase, but retail jobs will continue to be lost as market shares shift to less labor-intensive channels. Spending on grocery items will rise moderately from already elevated levels, but once vaccines have been widely distributed restaurants will begin to take market share back from grocers. Spending on clothing and footwear will increase slowly.
Consumers' spending on luxury goods should expand in line with the overall economy, but such spending will be very sensitive to the performance of the U.S. stock market. Even though consumer spending for goods recovered very quickly in second quarter 2020, retail space is tremendously overbuilt. The glut of retail space will sharply limit new retail construction. Competition from online retailers decreases the need to build more stores, but it increases the need to build more distribution centers.
---
Automobiles
Vehicle sales will rise by at least 15%. Sales of light trucks will be very strong. The expectation for higher vehicle sales mostly reflects fundamental economic improvements that generate new demand and release pent-up demand for new vehicles. In post-pandemic America, people will be less inclined to use public transportation or ride share and more inclined to use personal vehicles. Similarly, personal vehicle sales should benefit from peoples' greater interest in traveling by car to destinations closer to home rather than to far-flung destinations by plane or cruise ship. Stronger preferences for detached homes in the suburbs over attached housing in, or near, city centers should boost demand for new vehicles. This sanguine outlook for vehicle sales assumes that supply chain issues are largely resolved.
---
Nonresidential Construction
Spending for new nonresidential construction will decrease. Low rents, high vacancy rates and little or no absorption are powerful headwinds that will not overcome the tailwind generated by very low interest rates. Low yields and financial market volatility make investors more interested in income-producing property as an asset class, but the risks are too high. In most markets, tenants will have the upper hand in lease negotiations. Credit conditions will be tight for those looking to build nonresidential structures. Even beyond COVID-19, trade tensions, dollar strength and visa restrictions will dampen foreign investors' interest in U.S. real estate. There will be a few bright spots. For example, spending will increase to build data centers, communications infrastructure and warehouses.
---
Financial Technology
Georgia's large, well-established cluster of FinTech companies fared relatively well during the COVID-19 recession. FinTech, transactions processing, data processing, cybersecurity, and development of software and mobile apps will continue to strongly support Georgia's economic recovery. The FinTech industry received a boost from the COVID crisis because contagion fears pushed people to adopt new mobile technologies, including mobile banking and touchless payment systems. Most consumers are pleased with such services and will not return to their pre-pandemic ways of banking and shopping.
---
Cybersecurity
The COVID-19 crisis significantly boosted the use of online and digital services. Indeed, the digital transformation of many industries – ranging from healthcare to entertainment to mobile banking – was an existing trend that the pandemic dramatically accelerated. The speed of this digital transformation increases the risks of cyberattacks, which puts the state's cybersecurity industry onto higher short- and long-term growth trajectories.
Georgia's cybersecurity industry is located primarily in Atlanta and Augusta. Talent is the key to Atlanta's success whereas the presence of the U.S. Army Cyber Command at Fort Gordon and Georgia Cyber Center are the foundations of Augusta's cybersecurity economy. Fort Gordon provides a critical mass of dependable contracts. The Georgia Cyber Center provides the leadership and talent needed to attract more cybersecurity firms.
---
Healthcare IT
Healthcare IT and telemedicine will create thousands of high-paying jobs in Georgia over the next decade. The COVID-19 crisis greatly accelerated the adoption of telemedicine by traditional healthcare providers, and large segments of the population grew accustomed to online delivery of healthcare. Once the pandemic is over, many patients likely will continue to use telemedicine. In response to this, the state is attracting and growing healthcare IT companies, including BioIQ, which announced in 2019 that it would create 500 jobs at its new headquarters in Cobb County. That same year, Edifecs Inc. announced plans to create 200 healthcare IT jobs over the next three to five years in Atlanta.
---
Healthcare
Healthcare is essential, and the outlook for healthcare providers is very good. Georgia's growing and aging population will demand more services.
During the initial lockdown, many people postponed visits to healthcare providers, but most appointments were rescheduled once the economy reopened. Georgia's healthcare industry quickly adapted to the new realities imposed by COVID-19. For example, the fast rollout of telemedicine by many traditional healthcare providers made the healthcare industry more resilient than most other industries. Of course, there's seemingly intractable disagreement about who will pay the bills, which is a headwind for the industry's growth.
---
Professional & Business Services
Factors that will encourage providers of high-tech and highly specialized professional services to favor sites in Georgia – and especially Metro Atlanta – include the good business climate, logistical advantages in terms of serving far-flung clients and the available professional workforce. For example, the Boston Consulting Group's decision to create a new regional support center in Atlanta reflects the ease of using the area as a geographic hub from which to serve clients throughout the Southeast. The many short- and long-term changes created by the pandemic will generate business for consulting firms, and the renewed growth of corporate profits bodes well for them. In addition, providers of business services that either lower costs or provide necessities should do well.
---
Transportation & Logistics
The prospects for Georgia's transportation and logistics industry are good. One driver will be the abundance of logistics and distribution projects already in the economic development pipeline. This highly cyclical industry will also benefit from more spending by consumers, increases in industrial production, more homebuilding, population growth, improvements in transportation infrastructure and the state's expanding role as a regional and national logistics and distribution center. In addition, the accelerated shift from physical retail to online retail benefited Georgia's distribution and logistics industry in 2020 and will do so again this year. The gradual build-out of economic development projects involving manufacturing relocation and expansion also bodes well for the future of Georgia's transportation and logistics industry.
---
Film Industry
In July 2020, Business Facilities Magazine ranked Georgia as the No. 1 state for motion picture and TV production. Prior to the pandemic, Georgia was on pace to have a record-setting year in film production. Unfortunately, COVID-19 shut down virtually all production for several months. Activity resumed after the pause, but production in this air-travel dependent, relatively high-contact industry is unlikely to normalize until 2022.
---
Financial Services
Financial services is one of the most economically cyclical industries and COVID-19 was a major challenge to it. For example, the pandemic caused many more people to lose their jobs and miss payments on loans and mortgages. Similarly, temporary and permanent business closures caused many businesses to miss loan payments. Banks responded by adding aggressively to their loan loss reserves, an estimate of the percentage of loans that will not be paid. Large numbers of missed payments can lead to bank failures, but most banks were exceptionally well capitalized when the pandemic began.
Compared to historical averages, banks have a relatively low exposure to home loans but a higher-than-average exposure to business loans. Due to a favorable combination of high levels of capitalization, aggressive and timely intervention by the Federal Reserve and congressional actions that helped mitigate financial risks, we can expect relatively few bank failures in the wake of the pandemic, at least relative to what occurred in Georgia following the Great Recession. However, as forbearance policies wind down, additional credit problems almost certainly will emerge.
---
Leisure & Hospitality
Georgia's leisure and hospitality industry is a high-contact industry and was hit extremely hard by COVID-19. Although uncertainty remains, it is possible to make some general observations about the prospects for various segments of Georgia's hospitality industry.
First, leisure travel will recover much faster than business travel. Short trips by car to visit relatives or friends will come back quicker than long trips to attractions or events – especially if the trip involves travel by air. Within the business travel segment, trips to see clients and to make sales calls will come back when such trips can be made by car rather than by plane or train.
Second, domestic travel will come back much faster than international travel. That observation applies to both leisure and business travel.
Third, prospects for the lodging industry vary by property type. For example, economy and midscale properties that cater primarily to essential workers, construction crews, truck drivers, first responders, extended-stay guests and drive-to-leisure travelers will fare best. Full recovery for such properties will occur once consumer confidence and people's willingness to travel normalizes. Upscale and luxury properties catering to group/convention travelers, inbound international travelers and fly-to leisure/business travelers will fare worst. Full recovery for such properties could take many years due to structural changes such as the widespread adoption of videoconferencing. Finally, properties located in the suburbs, small metros or on interstates will outperform properties located in large urban areas or at fly-to resorts.
---
Manufacturing
Production by Georgia's manufacturers will continue to recover –indeed, industrial production will increase more quickly than GDP. However, due to productivity gains, manufacturing jobs will increase more slowly than the total number of jobs across all industries. The main impetus to growth will be recovering global demand for manufactured goods. Factory shutdowns in the first half of 2020 have created a need to produce more to restock stores and warehouses. Inventories were only partially restored in 2020 and will be fully restored in 2021. COVID-19 is the main downside risk, but an escalation of the U.S.-China trade war also could endanger projected increases in industrial production. More positively, Georgia saw many manufacturing economic development projects announced in 2020 and those projects – as well as some announced in prior years – will continue to build out, contributing to the increase in industrial production expected this year.
---
Food Processing
Food processing is Georgia's largest manufacturing industry. Food processors fared relatively well during the pandemic but had to adjust to higher sales to grocers and lower sales to restaurants and institutions. Many of the economic development projects announced over the last few years were food processors. Production will increase substantially as companies such as Anheuser-Busch, Sugar Bowl Bakery, Kerry Group, Batter Up Foods, Frito Lay and General Mills ramp up.