2021 Economic Yearbook: West Central
Trending Up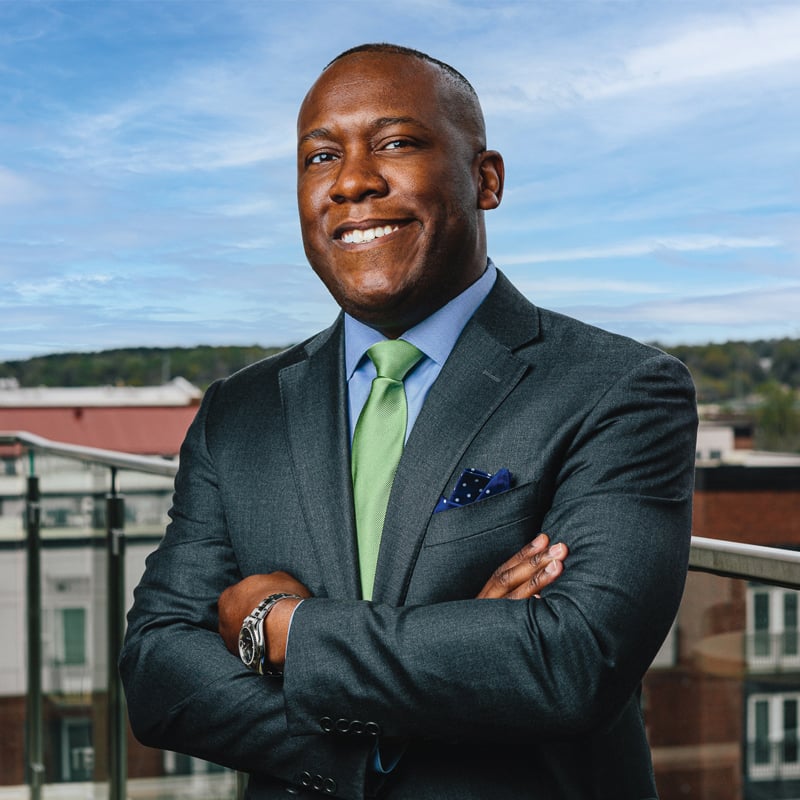 As the world slowly grinds back toward a new normal, rural areas with solid infrastructure like the West Central Georgia region are well positioned for the post-pandemic economy. With ample space and an inexpensive cost of living, the area is attracting city dwellers who might be searching for room to breathe.
That infrastructure received a major boost in early February when Gov. Brian Kemp announced that two electric cooperatives will invest more than $200 million to bring high-speed internet to Middle Georgia. Central Georgia Electric Membership Corp. and Southern Rivers Energy are investing a majority of the funds and will own the infrastructure, and they will lease fiber capacity to Conexon to provide broadband service. The partnership, which is also supported by state and federal funding, will bring fast internet to more than 80,000 rural customers including those in Meriwether, Pike and Upson counties.
Improved connectivity is certain to make some rural areas more attractive to transplants, but there's more happening in the region. Columbus, the largest city and economic driver of the area, is investing in hospitality and creating cultural districts that will improve its status as a destination.
Jerald Mitchell, president and CEO of the Greater Columbus Georgia Chamber of Commerce, focused on "placemaking" as an essential ingredient to "connecting the dots that take the economy, for our community and the region, to the next level."
The city's historic riverfront downtown area is seeing significant investment, and some brand names are bringing cachet to the district. Hotel Indigo, an upscale boutique from InterContinental Hotels Group, opened in early 2021. Another upscale option, an AC by Marriott, is under construction along with a Hampton Inn, all of which will help alleviate the city's shortage of hotel rooms. City leaders had viewed the lack of lodging as a weakness, and they now hope to attract larger meetings to the city's conference center.
Plans are moving forward at City Mills, a historic site in downtown Columbus where developers are investing about $10 million. The development, which has been in the works for about five years, is beginning to take shape alongside the Mercer School of Medicine's new riverfront campus and a housing development called Chase Homes. Altogether, there's about $90 million invested along a short stretch of downtown riverfront property.
An important project that has drawn Mitchell's focus is the Dragonfly Trail, a greenway trail network that provides recreation, transportation and interaction. The 34-mile trail system "drives a new tier of vibrancy to the community," Mitchell says. An additional 27 miles are planned for the Dragonfly Trail, a community amenity that Mitchell hopes will help with workforce development.
"Investing in ourselves, we end up attracting, retaining and curating that talented workforce," Mitchell says. "It puts us in a situation where we're a little bit more attractive to companies that need that sticky workforce."
Some of those companies include elite manufacturing operations that have long been attracted to the region – and that trend continues into 2021. Kysor Warren Epta US, a supplier of commercial refrigeration products, is investing $27 million to expand operations in Columbus, creating about 200 new jobs.
Healthcare is an industry on the rise in Muscogee County, with the aforementioned Mercer School of Medicine campus in progress and plans for a new $33 million hospital in Columbus. The project is a joint venture between Piedmont Healthcare in Atlanta and Birmingham-based Encompass Health. In addition to adding much-needed hospital beds in the region, the new facility would relieve some pressure on Piedmont Columbus Regional's Northside campus. Path-Tec, a healthcare logistics and solutions provider, is also opening a new $5 million facility that will create as many as 350 new jobs.
Columbus remains home to Aflac, the Fortune 500 insurance giant, and is bordered to the south by Fort Benning, which accounts for nearly $5 billion worth of economic impact per year.
---
Bullish on Growth
Neighboring Troup County and its county seat, LaGrange, are the region's second largest economic power plant. Scott Malone, LaGrange's economic development director, is bullish on the potential for population growth in his city. "We've got $140 million in new multifamily housing developments in progress," Malone says. "That's much needed, and it's driven by the workforce in this area."
The increase in housing, including a major single-family housing development planned on an 800-acre tract of land on the north side of LaGrange, will provide options for employees of the global corporations that continue to invest in the area. Hyundai TRANSYS, the Korean auto parts giant, is investing $240 million to expand its operations in West Point and will hire nearly 700 new employees.
Malone says that LaGrange's growth has shown no signs of slowing and is well positioned for the future. "We have 17 economic development projects in the pipeline totaling about $1.7 billion," he says. He adds that LaGrange is a "gig city," providing high-speed internet services, so there are no broadband issues in town. The new housing, continuing job market growth and reinvestment in a shopping mall expansion are all signs that LaGrange and Troup County are facing rosy economic prospects.
Jane Fryer, executive director of Meriwether County's development authority, is optimistic about her county's future. "I think 2021 is going to be a great year for Meriwether County," she says. "Even with the pandemic and everything, we've still seen a lot of prospects and we've worked on some deals. I can't really talk about them right now, but next year, I'll have a lot to talk about. We're seeing a lot of projects."
One of the biggest deals in the county that has already been announced is the KB Autosys plant. The Korean auto parts manufacturer is investing $38 million in a new plant to make brake pads at its first facility in the U.S. The project will create about 180 jobs in Meriwether, with plans to meet demand from nearby customers like GM, Hyundai and Kia.
Fryer says that Meriwether was able to expand its industrial park, and the county is seeing strong residential growth in its northernmost towns, especially Luthersville.
A similar story is unfolding in Upson County, where solid infrastructure meets a growing residential population, according to Kyle Fletcher, executive director of the Thomaston-Upson Development Authority. Fletcher says that the Highway 19 corridor has seen strong retail development over the past year, including new locations for popular chains like Dunkin and Chick-fil-A. "We're also working with a developer to locate a Holiday Inn Express on Highway 19, which would be huge," Fletcher says.
The county's Central Georgia Business and Technology Park is well positioned about an hour away from Hartsfield-Jackson Atlanta International Airport and adjacent to the Thomaston-Upson County Airport, which has a 6,350-foot runway suitable for many commercial and cargo jets.
One of the county's largest ongoing projects is the modernization of the Interfor plant in Thomaston, made possible through a $115 million bond issue. The finished product will be a "showcase for lumber yards across the Southeast," Fletcher says, drawing customers from all over the region.
Harris County will also welcome a new automotive industry supplier opening its first facility in the U.S. JinTech America is investing $4.5 million in a new manufacturing plant in West Point, with plans to bring 70 jobs to the county. Home to Callaway Gardens and F.D. Roosevelt State Park, the largest state park in Georgia, the county will continue to see increased tourism thanks to its unrivaled opportunities for outdoor recreation.
Farther south, Sumter County is seeing investment from a large frozen food supplier. BandD Foods has announced plans to open its eastern U.S. headquarters and a processing plant in Americus, with a planned investment of $15 million. The company, which produces beef, pork and chicken products, will create 100 new jobs in the area and expects to hire for more positions in the future.
Another opportunity in Sumter County could come in the form of a $200-million solar farm. Recurrent Energy, a renewable energy company, plans to install up to 150 megawatts worth of solar panels at a site north of Americus, enough to power up to 32,000 homes per year. The project also promises to boost economic development and provide an increase in tax revenue for Sumter County.
Technology and connectivity tend to be strengths of the area, says Rusty Warner, executive director of the Sumter County Development Authority. "We've already got several call centers, which a lot of people don't realize," he says. The newest is the TLC Associates call center, which opened in November, bringing about 1,000 jobs to Americus. The new positions will be split between remote workers and on-site positions, with about 400 housed in a newly updated building in the Ted Baldwin Business and Technology Park.
"I always tell people: two things we have are plenty of land and plenty of opportunity," Warner says.
In Pike County, work is well underway for a Veterans Affairs Clinic that should open in 2022. The 61,000-square-foot facility will serve a 10-county area and create about 100 new jobs. The clinic will offer care to the region's 78,000 veterans.
With its long, successful track record in manufacturing and favorable economic trends in the post-pandemic world, West Central Georgia appears to be on solid footing for years to come.
---
People to Meet
Carl Reid III, Summer Murray and Elaina Lockhart
Reid, Murray and Lockhart run the Social Exchange, a health and wellness organization in Americus focused on addiction. In addition to providing counseling services, the organization sponsors social events and promotes arts programs in support of its mission to eliminate social isolation. Social Exchange is also advocating for an arts district that would raise the area's profile.
Tuan and Kim Clay
Following Tuan Clay's 25-year career at TSYS in Columbus, he and his wife Kim dreamed of owning their own business. The couple purchased Oriental Food & Gift Center, an Asian grocery store, about four years ago and relocated to a more central spot last year. The business caters to multiple nationalities and supplies hard-to-find specialty grocery items.
Click HERE to return to the Georgia Trend 2021 Economic Yearbook Menu