2021 Economic Yearbook: Southeast
Long on Logistics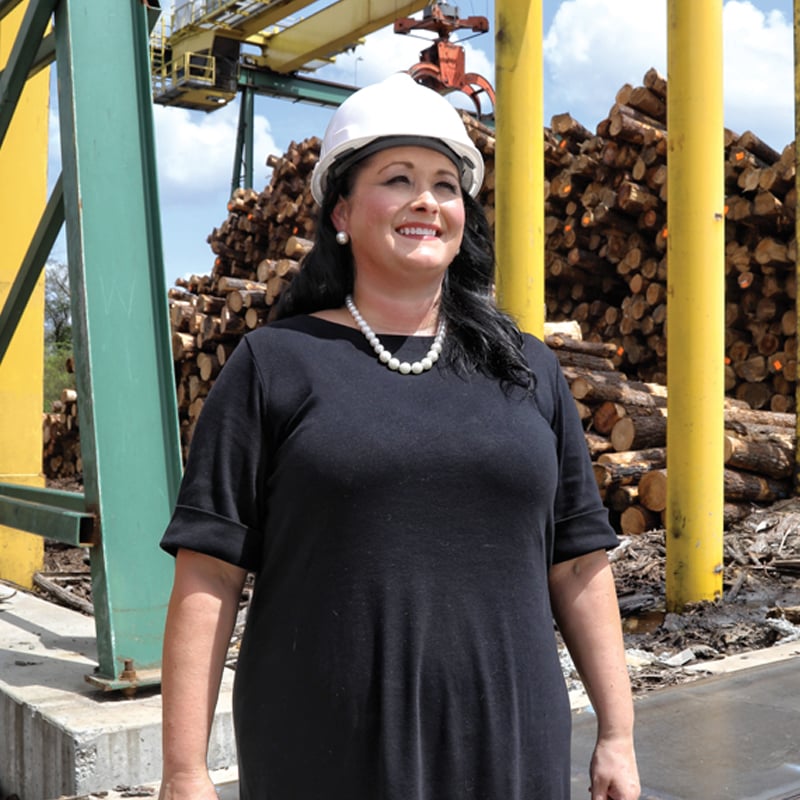 Even in the shadow of a global pandemic, you can find some good economic news. In Southeast Georgia, most industry was deemed essential and avoided last year's shutdowns, while the skyrocketing growth in e-commerce presented opportunities for the state's ports and some businesses.
"November 2020 was the busiest month in the history of the Georgia Ports Authority and October 2020 was the second busiest month," says Trip Tollison, president and CEO of the Savannah Economic Development Authority (SEDA). "This is containerized traffic, not cars. These are goods for e-commerce fulfillment facilities."
Tollison says e-commerce fulfillment is "exploding" in Savannah and Chatham County, which in turn is fueling expansive growth in the area's industrial real estate market, as COVID-19 continues to reshape consumer buying habits.
"In 2005, there was 15 million square feet of industrial real estate in the three- or four-county area surrounding Savannah," he says. "We've gone from 15 million to 78 million square feet. When you look at that kind of growth, we have the No. 1 industrial real estate market in the country based on net absorption, which means what's available gets absorbed."
To ensure the availability of space in the future, in 2020 SEDA completed development of the Savannah Chatham Manufacturing Center; entered into a public-private partnership for Rockingham Farms to develop 10 million square feet of industrial space; and spearheaded creation of a master plan for West Chatham development, which includes 1,810 acres.
"Most of this is being driven by the port," he says.
In Effingham County, developers completed 2.64 million square feet of build-to-suit and speculative industrial warehouse space in 2020, while an additional 1.17 million square feet of speculative space is planned for completion later this year and into early 2022. In addition to the growth in available warehouse space, 1,200 acres of zoned industrial property was added to the Savannah market, bringing the total available industrial acres in Effingham County to more than 8,500.
To underscore the importance of the growing e-commerce sector, Liberty County voters passed the Freeport referendum for Fulfillment Centers in November. The referendum offers tax abatements on the inventory of fulfillment distribution centers that ship directly to customers.
"Distribution centers are changing from delivery to stores to more and more delivery direct to customers' front doorsteps," says Ronald Tolley, CEO of the Liberty County Development Authority.
Chatham County's next-door neighbor, Bryan County, is also cashing in on its proximity to the port.
"The port was a huge factor in the decision of many of our industries to locate here," says Anna Chafin, CEO of the Development Authority of Bryan County.
Distribution also drove economic growth in Bryan County last year, with a medical supply company and FedEx Ground announcing facilities in the Belfast Commerce Park, which is located on I-95 in Richmond Hill.
"One thing we were very excited about in 2020, is that Medline is building a 1.2-million-square-foot distribution center," Chafin says. "The nearly $70 million investment will create 150 full-time jobs, with the potential to grow to 600 jobs at full build-out."
At the same time, FedEx will co-locate a 415,000-square-foot sortation facility inside Medline's new distribution center. The new facility will allow FedEx to double its package capacity in the Savannah market.
"Another thing I'm very proud of is both our community and region came together at the beginning of the COVID pandemic, and out of those discussions came a regional job board," Chafin says. "That job board was a way we provided those displaced by COVID with a central location where they could find industrial jobs. While some industries were laying off, other industries were actually hiring."
---
Boosting Employment
Workforce development is top of mind for the Southeast Georgia Regional Development Authority, which includes Appling, Bacon, Jeff Davis and Pierce counties. As a result of its efforts, a new career academy is being built in Appling County. The academy, expected to open in early 2022, will focus on preparing high school students for jobs in construction and manufacturing.
The authority is also taking a regional approach to secure rail access to the Pierce County Industrial Park.
"Bacon County has very limited rail infrastructure," says Kevin Ellis, executive director of the Bacon County Development Authority and the chair of the regional development authority. "The Pierce park is only about 20 minutes away. For some things it doesn't make sense to ship it to the port, for anything going west rail access is definitely beneficial."
A new railroad spur into the park will also provide a lucrative revenue stream, says Matt Carter, executive director of the Pierce County Industrial Development Authority.
"There are plenty of storage opportunities at the park," he says. "There will also be opportunities for [train] car cleaning and repairs. There are endless opportunities with railroad access into the park, which will increase the need for skilled labor jobs that will be available for our citizens in the area."
Local employment opportunities are also the goal of the Golden Isles Development Authority's Keep Glynn Running campaign, which seeks to promote manufacturing education and career pathways. The initiative includes a one-stop shop for job seekers.
"In October, we launched a local jobs portal that aggregates job postings from over 30,000 job boards without duplication or ads," says Vanessa Wagner, the authority's director of business development. "Over 3,387 residents have used the site since October 2020."
With one of only four runways in Georgia that is more than 8,000 feet long, leaders are working on a master plan for properties at Brunswick Golden Isles Airport, home to Gulf-stream and Stambaugh Aviation.
"Our goal is to create an environment free from any barriers to starting new aerospace and aviation operations at the airport," she says. "We see that as a significant opportunity."
In the 1980s and '90s there were a lot of mobile home manufacturing plants in South Georgia that have since been converted into cargo trailer manufacturing plants.
"We used to be the mobile home capital of Georgia, but we switched to cargo trailers and office trailers," says John Henry, CEO of the Douglas-Coffee County Chamber of Commerce and Economic Development Authority. "Twenty percent of our labor force is in manufacturing. Historically, most of the workers here have been in manufacturing since the 1960s."
An already trained workforce, a lower cost of living and the 400,000 people in Coffee County's labor draw area make it attractive to industry and small businesses alike, Henry says. Coffee County and its county seat of Douglas saw the commencement of construction on a 118,000-square-foot retail shopping center in 2020, as well as the opening of a new Chick-fil-A restaurant and a Tidal Wave Auto Spa.
"Despite being an hour away from the interstate, we have one of the busiest Walmart distribution centers on the East Coast," he says. "Sales tax revenue was up 15% in 2020 over the previous year. Our governor's decision to open the state as early as he did proved to be a true blessing for our community."
---
Silver Linings
The ports aren't the region's only watery benefactors. Camden County's economy is driven by Kings Bay Naval Submarine Base. More than 70% of the local economy is based on the economic ecosystem of the base, according to James Coughlin, executive director of the Camden County Joint Development Authority.
"We had some really good news in early 2020 because of the Navy's move toward replacing submarines here currently," Coughlin says. "Over the next 10 years the Navy will be spending $850 million building a new class of subs."
Further taking advantage of the county's natural assets, a second act is planned for the former paper mill site in St. Marys. Atlanta developer Jim Jacoby (of Atlantic Station fame) has purchased more than 700 riverfront acres for a mixed-use development, called Cumberland Inlet, with an ecotourism-type feel, Coughlin says.
"Folks can come down by boat, car or RV and be able to really experience the beauty of being on the river and the beautiful marshland," Coughlin says. "We're really pleased with what he has planned."
Of course, silver linings need sunshine to appear, and in Jeff Davis County solar farms continue to be a bright spot for the local economy.
"Solar farms have been really good for our community," says Andrea Taylor, CEO of the Joint Development Authority of Jeff Davis County. "Solar farms don't create a lot of long lasting jobs, but they do create a lot of construction jobs; lots of people coming into town during construction, staying in our hotels, eating in our restaurants, and that's been really good for our economy."
In 2020, Silicon Ranch closed on the fourth phase of a six-phase project, which represented a $65 million investment. This year, the Nashville, Tenn.-based renewable energy company will invest another $85 million.
"The total overall investment for the first four phases is $155 million, and the next two phases, this year and next, represent $170 million total investment," Taylor says.
While there will forever be a marker of "before the pandemic" and "after the pandemic," there were also important milestones like Savannah being selected in 2020 as the No. 1 Tier 2 city for investment and projects  by Site Selection magazine. And continued industrial growth in Effingham County, where five new logistics facilities opened in 2020, suggest the next chapter in Southeast Georgia's story will be a must-read.
---
People to Meet
Barry Bloom
As CEO of Jeff Davis Hospital, Bloom was recognized by HomeTown Health as the recipient of the 2020 Hospital Leader of the Year. As rural hospitals across the state struggle, under Bloom's leadership the hospital has grown from 190 employees two years ago to 250 today.
Kyajuana Gilbert
Gilbert is the executive director of the Star Foundation of Coastal Georgia. What began as a basic computer software training class has evolved into multiple programs, including teaching foundational skills that participants need to be successful in life and at work. It's open to residents of Brunswick and McIntosh and Camden counties.
Click HERE to return to the Georgia Trend 2021 Economic Yearbook Menu