2021 Economic Yearbook: Metro Atlanta
Going Big or Going Home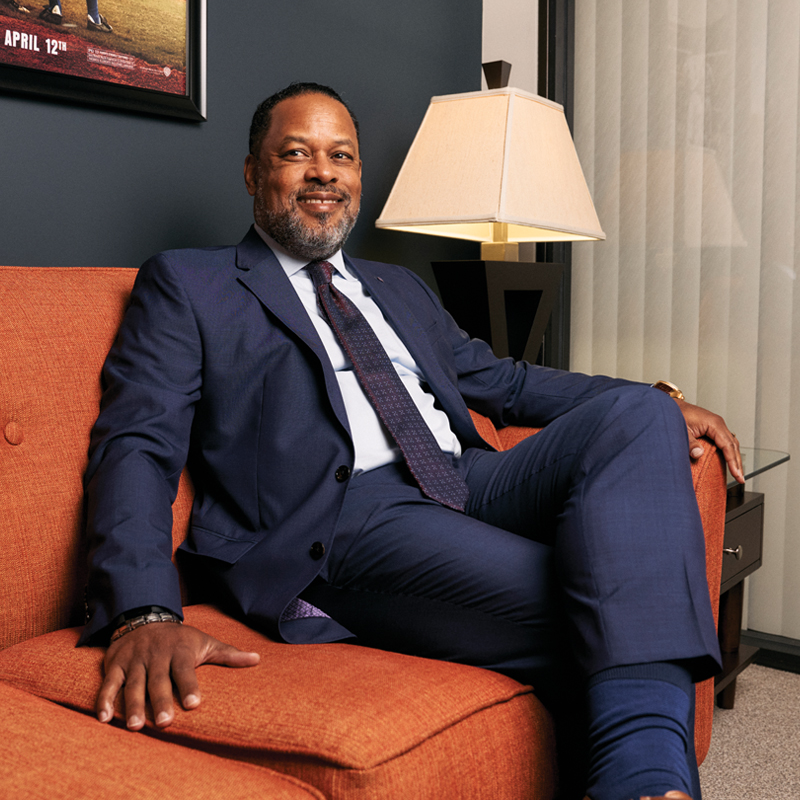 On the one hand, The Battery Atlanta was getting battered by COVID-19. With no baseball fans boosting the bottom line, the Cobb County mixed-use development saw revenue plunge 40% in the second quarter of 2020. But the restaurants dotting the wide boulevards surrounding the Braves' Truist Park began to do better after the state shutdown ended – not back to pre-pandemic levels, but better. And on the other hand? The Battery landed one of the big business wins of the year: Papa John's new headquarters will take 60,000 feet of space there and create 200 jobs. The pizza company will join two other corporate headquarters, those of thyssenkrupp's North American HQ and Comcast's regional center.
That's also the story of the Atlanta metro in 2020: Most of the big companies did well, some announcing head-turning plans for growth in the area (hello, Microsoft), while many small businesses just tried to hang on, and the hospitality sector was hammered.
Looking just at the numbers, Georgia's economy didn't fall off the COVID cliff: The state Department of Economic Development (GDEcD) reported that Georgia actually increased investment in 2020 by 56% and jobs by 45% from July 1 to Oct. 31, compared to the same period in 2019.
"We quadrupled our economic development active project pipeline" during the pandemic, says Sharon Mason, president and CEO of the Cobb County Chamber of Commerce.
"Phenomenal year," is how Josh Fenn, executive director of the Henry County Development Authority, described the county's numbers for 2020: More than 2,640 jobs and $451 million in investment, a record. "We were very lucky," he says, considering the pandemic.
It was a similar story in Clayton County, which Erica Rocker-Wills likes to describe as "a place where things are moved and made." Because of that, many of the county's large companies actually increased hiring during the pandemic, says Rocker-Wills, economic development officer for the Clayton County Board of Commissioners. "Fresh Express hired over 300 people last year," she says. "We are home to Clorox, and they were expanding and hiring."
Katie Kirkpatrick, who became the president and CEO of the Metro Atlanta Chamber in the midst of the pandemic in June, notes the disparities in how COVID affected businesses. Tourism, entertainment and travel sectors took big hits with restaurants, hotels and airlines struggling as customers stayed home. "But on the other hand, we've had a number of industries that have really thrived," she says. "And on top of it, from a pure economic development sense, we had a really good year. Which I think … is both surprising and reassuring because it reminded me that Georgia is built on a very strong foundation."
---
Tech Giants
Microsoft's looming footprint in Midtown is a case in point: The tech giant will occupy 500,000 square feet in Atlantic Station, investing $75 million with 1,500 new jobs focusing on cloud computing and artificial intelligence. Microsoft also purchased 90 acres around Bellwood Quarry on the Westside for a new campus and said it plans to make Atlanta one of its major hubs. Cloud computing services are expected to grow as more people work remotely, a lasting effect from the pandemic.
Google, too, is rumored to be expanding its office space in Midtown.
Another big tech move will bring 709 jobs to Sandy Springs, as financial services company Deluxe opens a customer innovation center. Atlanta's spot as a FinTech hub was a factor in the decision.
And Amazon is living up to its name, as it keeps expanding its presence in Atlanta. The Seattle-based e-commerce giant is opening five new distribution centers in addition to its 700,000-square-foot fulfillment center, opened in 2020, that straddles the Gwinnett-DeKalb County line. That's helped push Atlanta's industrial market to a record number of million-square-foot leases in one year, according to Colliers, a commercial real estate and investment services firm. "There appears to be no stopping Atlanta's industrial potency heading into the new year," says the company's Atlanta Industrial Market Overview – Fourth Quarter 2020.
Barrow County landed its first tenant in the Park 53 industrial park during the pandemic, capping a recruitment process that started earlier. Spring Mountain Center, which makes plumbing fixtures and home furniture, will invest $45 million in a manufacturing and distribution headquarters. The new facility will employ 200 people. "Everything felt a little gloomy for the first few months [of the pandemic], and then the flood gates just opened up," says Economic Development Director Lisa Maloof. She credits strong fundamentals – location, workforce and having Georgia Ready for Accelerated Development (GRAD) certified sites – as helping to draw prospects to the area.
In Paulding County, conveyor systems manufacturer Interroll doubled its production capacity in Hiram with an $11-million investment. Michael Hughes, executive director of the Paulding County Economic Development Organization, says that inquiries about industrial properties picked up in the fourth quarter of 2020, a hopeful sign. Although activity was down earlier in the year, the development authority used the time to engage in planning and setting goals, as well as establishing economic incentives programs to position the county to take advantage of the recovery.
"We've created a small business innovation fund available to companies or individuals who … need a little help to get started," Hughes says. And a business concierge program gives people who are thinking about going into business one-on-one time with staff who can answer any questions about business licenses, building permits and zoning applications, for example.
Cherokee County's existing industrial base continued to grow during the pandemic, says Misti Martin, president of the Cherokee Office of Economic Development. "The industrial side has been very busy with last-mile delivery," she says, as home-bound consumers ordered online. The county notched about $155 million investment, she says, and 674 jobs announced or created. Some 21% of business growth came from tech companies.
As the pandemic spurred tech growth, it also increased the need for data centers, one of Fayette County's economic development targets. "These projects started coming to fruition that might have taken years to accrue that much demand," says Joan Young, chief strategy officer at the Fayette County Development Authority. Data services provider SMC3 opened an 80,000-square-foot corporate headquarters in August. Likewise, pent-up demand from the film industry – a mainstay in the county with Trilith Studios (home to Marvel Studios' productions including WandaVision, and Sony's Spider-man: No Way Home) – has been non-stop since productions started up again. Trilith (formerly Pinewood Studios) plans to add 220,000 square feet to its existing 700-acre studio campus.
But it's not just the tech and industrial sectors staying strong: In one of the biggest investments of 2020, sports drink company Bang Energy is investing $145 million in a manufacturing and distribution center in Douglas County, bringing 600 new jobs. DeKalb County got in the mix, too, announcing that Sugar Bowl Bakery will invest $37 million in its first East Coast operations facility in Tucker and create 400 new jobs.
Sugar Bowl is one of the leading minority-owned bakeries in the country, according to GDEcD, and Dorian DeBarr, interim president for Decide DeKalb, says it's a perfect fit for the county. "We have tremendous diversity and it is an asset," he says. "When you're talking about minority business owners looking to move across the country, they're going to want to look for folks that may look like them and communities they are familiar with. We have this whole melting pot of cultures and diverse folks."
---
Small Business Survival
Some small businesses were positioned to shift quickly in response to the pandemic. Andrew Carnes, vice president of economic development at Partnership Gwinnett, cites the Cutting Board Co. in Norcross. The machines used to shape cutting boards could also be used to cut face shields, so the company switched its production. It also made plexiglass partitions for salons and other small businesses. "I asked the CEO if they were going to continue with this vertical and he said yes, it had become another part of the company's bottom line," Carnes says.
But others weren't positioned as well, and organizations across the metro area did what they could to help small businesses survive. The Cobb County Chamber of Commerce administered $50 million in small-business grants from Coronavirus Aid, Relief, and Economic Security (CARES) Act funding. "That's going to make a big difference to give those businesses a boost," Mason says. The chamber has been hosting business recovery webinars to help small companies navigate recovery – a recent one on the Payroll Protection Program had 800 businesses sign up. The chamber also created Operation Meal Plan to help restaurants by buying meals and donating them to nonprofits, with more than 16,000 meals donated.
Cherokee County devised a socially distanced "drive-by check pickup" and had two rounds of grants totaling $750,000 in small business funding, while Clayton's two rounds of grants were awarded in a graduated scale from $5,000 to $10,000 per business. "We know that's not going to save anyone's business from ruin," says Rocker-Wills, but the aim is to keep them going while they adapt. As an example, she says that one restaurant owner, who typically relied on senior customers looking for meat-and-three meals, told her they switched to delivery for the first time as a stopgap measure but discovered a new customer base. "I do see resiliency," Rocker-Wills says.
DeKalb County launched its Better Business Loan Program to lend up to $40,000 per company to help keep small businesses afloat, also using CARES Act money. And Decide DeKalb started its own small business loan program, offering grants and zero-interest loans to minority-owned or woman-owned companies. "We know those businesses really suffered the most throughout this pandemic," says DeBarr.
That's one reason the Metro Atlanta Chamber decided to support Black-owned small and medium-sized businesses that were hurt by COVID, says Kirkpatrick. The chamber's RESTORE ATL Fund, created with partner CareSource Foundation, awarded $180,000 to 24 companies in July and announced a second round, also totaling $180,000, earlier this year. The second round is funded through donations collected at the chamber's annual meeting, where member businesses established three priority focus areas for 2021: racial equity, public health and economic recovery, and the RESTORE Fund initiative aligns well with that framework.
---
Great Expectations
The past year turned forecasts upside down, made "pivot" the word of 2020 and caused daily scrambling to become almost a form of exercise. But that said, Atlanta's economic development experts expect 2021 to be a whole lot better.
In Gwinnett County, those expectations are high – in the billions – for Rowen, a 2,000-acre development that will focus on advanced research and discovery. Carnes describes Rowen as a "modern version of RTP" (North Carolina's famed Research Triangle Park). Located along Highway 316 in eastern Gwinnett, Rowen is projected to bring $1.65 billion in income and 18,500 jobs by 2035.
According to Carnes, Rowen's priority will be on three sectors: agricultural medical and environmental industry. "We're focusing on the next generation," he says. And the project's size means it will have benefits beyond Gwinnett; Maloof says she expects it to be a boon to Barrow County, too.
Cherokee County is looking to the future with a program called Be Pro Be Proud, launched in the middle of the pandemic. Though that launch couldn't go quite as big as planned thanks to COVID restrictions, the workforce development program itself has been a success so far. It's geared toward providing students with a career path in skilled professions, with a mobile workshop in a 40-foot rig that provides interactive experiences in skilled trades like welding and automation.
"We're trying to dispel the myth that you can't have a high-paying career in a skilled trade," says Martin. In the mobile workshop, students can use a welding simulator, take a hand-eye coordination skills challenge and interact with a robotics station. Afterward students can go online and build a career interest profile, which helps match them with training and employment opportunities.Martin says 3,350 students have toured the workshop so far and 640 have signed up. Fortunately, she says, the rig opens up on two sides so it's been safety compliant, and kids wear masks while participating.
Even by more anecdotal metrics, 2021 is showing signs of recovery. "My industrial brokers tell me the phones are ringing off the hook," says Clayton County's Rocker-Wills. "My phone is ringing off the hook from project managers and outside prospects who are looking for 100,000 to 500,000 square feet."
In the hardest hit sectors, real recovery will come when public health is addressed, says Kirkpatrick. "What it really comes down to is consumer confidence, and consumer confidence is restored when people feel safe," she says. "So it's really important that we get the public health piece right." When the metro chamber first began thinking about how to respond to COVID's impact, it focused on the economy. "But the real lever to push is the public health lever," Kirkpatrick says. "Until you get consumer confidence back, you'll be able to make gains and have growth [but the full economy] is going to be a bit hamstrung until we can get that piece right." Then, she says, the area can move from resilience and response to recovery and real growth.
---
People to Meet
Keith Schroeder
Schroeder went from chef to founder and CEO of High Road Craft Brands with his wife Nicki in 2010. Known for its luxury ice cream, sorbet and gelato with delectable flavors like mango rum cake, the Marietta-based company, which was named a 2020 Small Business Rock Star by the Georgia Department of Economic Development, weathered the pandemic by amping up online consumer sales.
Annie Eaton
The Georgia Tech grad (2010) is staying close to campus as founder and executive producer of gaming software company Amoebus Labs. The $1.5 million virtual reality studio in Midtown is planning to release its first gaming title in 2021, further cementing Atlanta's rep as a hub for gaming and esports. It's an outgrowth from Eaton's Futurus, a software development and consulting company.
Click HERE to return to the Georgia Trend 2021 Economic Yearbook Menu