2021 Economic Yearbook: East Central
Economic Expansion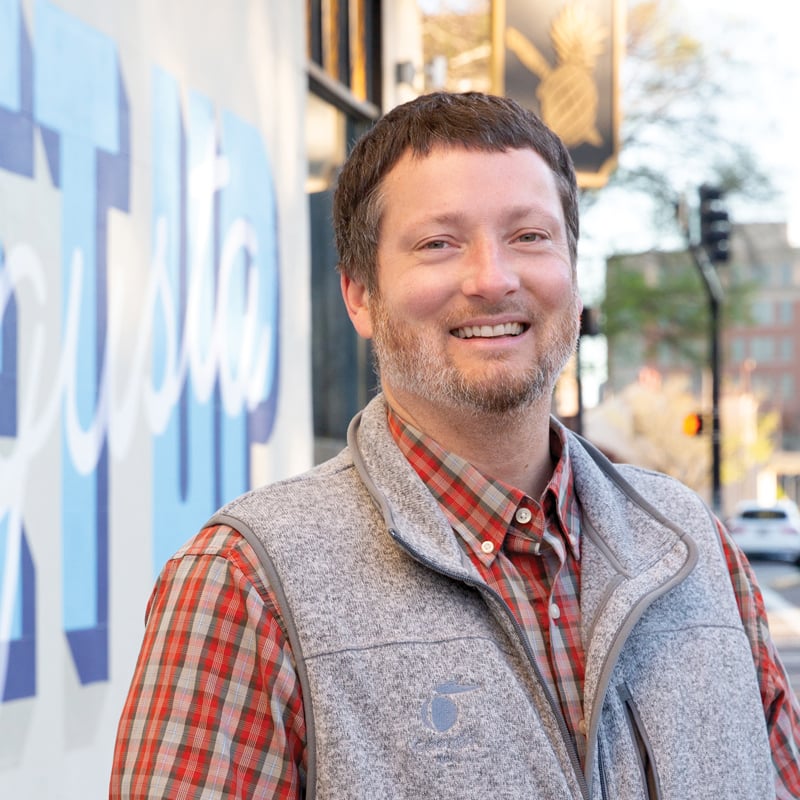 The true impact of the pandemic on East Central Georgia depends on where you are and what you do. While it had a devastating effect on a broad swath of retail, restaurants, tourism and hospitality, manufacturing has come roaring back after a pause, say economic development officials.
Across the region, a wide range of companies are hiring more workers to meet unexpectedly strong demand for products.
"We're open, we're ready for business," says Robbie Bennett, executive director of the Development Authority of Columbia County. "One thing our office has done is to make sure we work with our existing industries on registering as an essential business, and making sure they have access to PPE supplies, so that their employees are taken care of."
Companies are "looking at expansion, and location opportunities in our market and in our state," he says.
The county has benefited from a diverse economic base that includes federal agencies and the military as well as warehousing and distribution driven by an upsurge in e-commerce. The online retail giant Amazon is putting the finishing touches on a 600,000-square-foot fulfillment center in the White Oak Business Park. When it opens later this year the facility is expected to create 800 jobs.
It joins the park's other tenant, the sprawling Club Car (maker of golf and utility vehicles) warehouse and distribution center that debuted in 2019.
Columbia County got another boost when Money magazine named the city of Evans the "Best Place to Live in America" in 2020. A low cost of living coupled with plentiful jobs and high income levels drove the designation.
Many of those high salaries are paid by companies in the cybersecurity industry, which continues to lead economic growth in the region.
Next door in Augusta-Richmond County, the $100 million Georgia Cyber Center represents the single largest investment in a cybersecurity facility by a state government. It's a focus point for the industry and has rapidly filled with companies seeking to join the ecosystem. Perspecta Inc., one of the nation's largest government IT and professional services providers, joined a host of other cyber-related companies when it moved in last fall. Today there is only one floor of space unoccupied, according to Michael Shaffer, executive vice president for strategic partnerships and economic development at Augusta University.
The U.S. Army's decision to relocate its Cyber Command facilities and staff to Fort Gordon sparked the creation of the Cyber Center, as well as Augusta University's expanding cybersecurity degree programs.
More than just supporting the Army, the center has become a driver for the industry itself.
"Gov. [Nathan] Deal asked how do we make this more of a statewide mission knowing that cyber was a growing threat," says Shaffer.
Part of countering the threat led to the creation of the Georgia Cyber Crime Center. It was set up to assist local and state law enforcement agencies with complex investigations involving cyber-related criminal activity, he says.
---
Searching for Sites
Although Augusta's robust tourism industry took a severe hit in 2020 with the Masters Tournament first being postponed from April to November and then being held without fans, it will get a boost this month when the 2021 golf tournament takes place with limited spectators.
Thankfully, other areas of the economy are still chugging along.
"Almost all of our industries have some form of expansion happening now," says Cal Wray, president of the Augusta Economic Development Authority.
A growing economy has created challenges including a lack of available warehousing space.
"There is no space left in the Augusta market," says Wray. "It's rented every time it comes available and is gone within 90 days. I think that's a good and a bad problem to have."
The development authority is working with real estate developers to produce more space for business, but bringing it online takes time, he adds.
While the pandemic meant fewer companies making inquiries and searching for sites, it didn't stop counties preparing for what many expect to be a surge of activity in the new year.
"We saw this as an opportunity to reboot ourselves," says Benjy Thompson, CEO of the Development Authority of Bulloch County. "We spent most of the year finishing up what we started at the end of the previous year, which was a mass grading project on our Interstate 16 industrial site." Now, he says, the county has one of the largest pad-ready sites in the state at Southern Gateway Commerce Park – and that should pay dividends in the long run.
This past year has also been a time for creating infrastructure connections. The Georgia DOT completed a $42 million widening project of State Route 67 running from downtown Statesboro to I-16 and a direct shot to Savannah and the port.
"We have been trending more and more toward regionalism and [our connection to] the coast with Statesboro being a part of the greater Savannah area," says Thompson.
---
Manufacturing Gains
While the pandemic disrupted the region's economy, it also created significant opportunities for companies with the right product.
In October, United Medical Enterprises acquired the old Hollander Sleep Products plant in Thomson in a bid to triple its production of facemasks. The facility is running, with a production goal of about 1.6 million masks per day.
The McDuffie County site now houses all manufacturing while its existing production facility in Augusta serves as a warehouse for raw materials and finished goods.
The company relocated about 115 jobs from Augusta, according to Don Powers, president and CEO of Forward McDuffie.
The region's abundant natural resources, which include timber, have helped the area thrive. With greater demand for home renovations, companies that sell products to lumber yards and home improvement stores are doing well.
In Thomson, TP Trucking and Transportation, a division of Oregon-based Timber Products Co., purchased a 20-acre portion of a larger site once owned by Georgia Pacific. It's now the East Coast warehouse and distribution point for TP Trucking.
Rural Georgia is also benefiting from a trend away from offshore production and long supply lines. Thomson Plastics, which makes molded plastic parts for golf carts, automotive and lawn equipment, won a $3 million production contract that will add about 44 new jobs to its McDuffie County operation. The work had been done in China and Vietnam, but disruptions in the supply chains and increased costs from tariff wars and the pandemic made reshoring – bringing manufacturing and services back to the U.S. from overseas – an attractive option, says Powers.
Food and farming has also continued to be strong in this region. Cornucopia Farms, a hydroponic farming operation, opened in Jefferson County. The farm produces a variety of lettuce and culinary herbs for sale to commercial groceries.
The facility uses hydroponic advanced greenhouse technology produced by Spanish company New Growing System SL. "It's the first one with this kind of equipment in the country," says Greg Sellars, executive director of the Jefferson County Development Authority.
In Washington County, industry is expanding and new companies are moving in. Just three new projects produced more than $83 million in capital investment and about 92 new jobs, says Jayson Johnston, executive director of the Development Authority of Washington County.
These projects include Endurance Poly Producers, a plastics manufacturer that made a $5 million capital investment in a new plant.
Fowler Flemister invested $1.8 million to build a new concrete production operation on a 16-acre site in the Sandersville Industrial Park.
While most local growth has been in more traditional manufacturing, one of the biggest investments was for a bitcoin mining operation. Raleigh, N.C.-based Innovative Property Management acquired the option for five acres in the industrial park near an electrical substation to run the operation. The close connection was needed to handle its heavy demand for power. Forty-foot containers filled with computer servers are already lining the first acre, according to Johnston.
---
Rebounding and Building
In Emanuel County, not only have companies rebounded from the pandemic, but jobs are plentiful, says Ken Warnock, CEO of the Swainsboro-Emanuel Chamber of Commerce.
"We ended up with a net gain last year, about 350 new jobs," says Warnock. "And they were all existing industries."
One large local employer, Wincore Window Co. LLC, announced it was hiring 100 employees as part of a $5 million expansion last December.
Burke County has flourished as a site for manufacturing including a wide variety of automotive industry suppliers. As in other counties, distribution has proven to be a durable and growing source of economic expansion.
Galaxy, along with its affiliate Samsons Manufacturing, operates one of the largest distribution facilities for curtains in North America. It is planning to expand its workforce by 30 people to keep up with increased demand for products, says Molly Olson, executive director of the Development Authority of Burke County.
"As more and more people are staying home and doing home improvement projects, their business has been booming during the pandemic," she says.
This area is facing a transition as Georgia Power's Plant Vogtle nears completion and the massive construction effort winds down.
The passing of some jobs is "going to change our workforce availability," says Olson. "In the next few years, we're going to have a very much modified availability of people and potentially be able to recruit new types of industry because [of] the people who are looking for work at that time and the skill sets that they have."
Throughout this largely rural region, local businesses benefited from a trend given new emphasis by the pandemic – do your shopping close to home.
In tiny Glascock County near Augusta, shop local enabled most businesses to stay open, says County Commission Chair Lori Boyen.
"We're a very small county and most people here work elsewhere," she says. The pandemic and ensuing shutdown made shopping in the county easier than driving into the big city. "They weren't as impacted as some of the bigger urban areas where people weren't going to work. Most of our businesses stayed open the entire time."
Adapting to the pandemic and finding ways to get through it and even profit from a changed economy has been a key factor in the ongoing success of this region. It also bodes well for a future in which adaptability will be essential.
---
People to Meet
Mark Rodgers
A fourth-generation dairy farmer, Rodgers uses technology to keep his family farm alive. Hillcrest Farms in Dearing is the first in the state where the milking is done by robots. This mix of tradition and high tech has made the farm a regular stop for agritourism.
Bobby Jackson
Jackson and his son, Chad, founded First Love Kids in Sandersville to provide programs, academic help and spiritual guidance to local youth in need. The nonprofit expanded to become a food pantry focused on providing nutritional support to students in after-school programs, but has since grown again to reach other children in need.
Click HERE to return to the Georgia Trend 2021 Economic Yearbook Menu