2021 Economic Yearbook: Central
Road to Recovery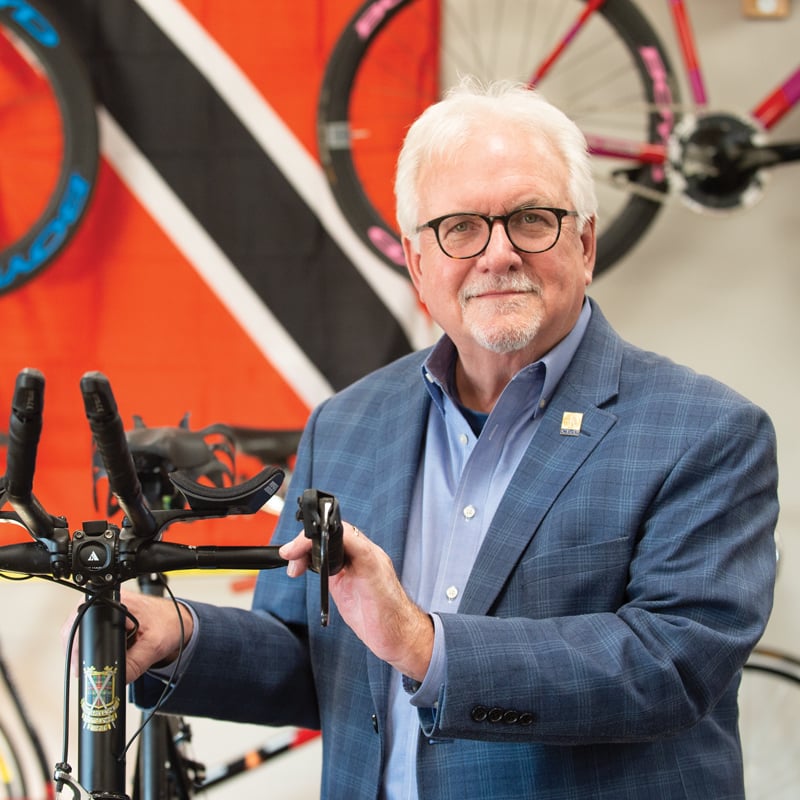 The heart of Georgia will play a major role in the recovery of the Peach State, which will exceed the national average in employment growth and inflation-adjusted Gross Domestic Product (GDP) in 2021, according to the Georgia Economic Outlook. The University of Georgia (UGA) forecast predicts logistics, distribution and warehousing, as well as manufacturing, will help lead the rebound this year. Central Georgia's Putnam County certainly bears that out.
"COVID-19 has really restricted our ability to meet with companies and with many community leaders, but I am seeing manufacturing companies adding new employees," says Pat Topping, interim economic development director at Putnam Development Authority. "We are currently working with six to seven on expansion plans, as well as two hotel projects and two manufacturing operations on the new business scene."
One of the largest investments in recent memory, lumber provider Interfor Corp. will complete its $90 million plant upgrade and expansion in Eatonton in 2022. And in January, Gov. Brian Kemp announced that Bluestem Brands will expand its distribution center in Putnam County bringing more than 130 full-time jobs to Eatonton. With the move, the Minnesota-based e-commerce business will effectively double its presence in town.
Guidoni Group is bringing substance to Telfair County, in the form of ornamental stone. The Brazilian-based company is occupying a recently shuttered Husqvarna plant and bringing $96 million and 455 jobs to McRae-Helena.
The Federal Reserve reported that Ben Hill County had a $40 million increase in personal income growth from 2016 to 2019, and manufacturing sectors such as metal fabrication, wood products, food and beverage processing, and plastics have either maintained or increased production. Expansions by MANA Nutrition and Polar Beverages in 2020 equated to 85,000 square feet of new industrial construction.
"Is there a better trend than more money going into our citizen's pockets?" asked Jason Dunn, executive director of the Fitzgerald and Ben Hill County Development Authority. "During the pandemic, our region has been supported heavily by essential manufacturing. The increased production is pushing growth in regional GDP and personal income."
MillEx has acquired a vacant 225,000-square-foot textile facility in Fitzgerald to turn into a manufacturing hub for the Georgia-based company's production of hospitality case goods, furniture, stone and architectural millwork. The former Shaw Industries site will be humming again this year thanks in part to federal Opportunity Zone incentives, which can assist communities in attracting new manufacturing investment and job creators, according to Dunn.
"This is significant for our region," he adds. "Its revitalization was at the top of our priority list."
Laurens County and Dublin play a major role in the employment, healthcare, retail trade and hospitality of Central Georgia. Employment sectors include distribution and logistics, automotive, aerospace, construction products and furniture manufacturing.
"Because of this diversity, Laurens County has weathered the pandemic better than many other communities, and for that, we are very fortunate," says Ryan Waldrep, president of Dublin-Laurens County Development Authority (DLCDA).
In December 2019, Perry Ellis International, a leading designer, distributor and licensor of high-quality men's and women's apparel, accessories and fragrances, acquired a 600,000-square-foot distribution facility in Dublin, resulting in 130 new jobs. The following month, Best Buy announced that it will invest $19 million over five years for new technology (and nearly 30 more jobs) at its 850,000-square-foot Dublin Distribution Center, which serves the southeastern U.S. In June, industrial textile manufacturer Saint-Gobain Adfors America purchased a fiberglass plant in Dublin.
"Working with [UGA's] Carl Vinson Institute of Government, one of the DLCDA initiatives during the past year that we are especially proud of is the development of a strategic plan focusing on workforce development," says Waldrep of the program that will put greater emphasis on the school-to-work transition and increase connectivity and marketing opportunities with internal and external audiences, including manufacturing, distribution, education and government.
---
Meet in the Middle
There are more than 18,000 businesses in the Middle Georgia region, according to the Georgia Department of Economic Development, and more are on the way thanks to the Middle Georgia Innovation Project. The 11-county initiative, funded by a Department of Defense Office of Economic Adjustment grant, seeks to boost innovation and make the region an attractive place for new businesses and residents. One of the goals of the project is to develop the area as a "software center of excellence," building upon competencies at educational institutions, existing companies and Robins Air Force Base, home to the 402nd Software Engineering Group.
Speaking of excellence, Houston County can boast of more than $400 million in investment and around 1,900 new jobs in 2020-2021, according to Angie Gheesling, executive director of the Development Authority of Houston County. That includes Frito-Lay's $200 million expansion of its largest manufacturing site in the country, Sandler Nonwoven Corp.'s $60 million plant expansion in Perry and Silicon Ranch Corp.'s new $55 million solar project in Elko.
The economic drivers in Macon's five-county metro area – which includes Bibb, Crawford, Jones, Monroe and Twiggs counties – are transportation and logistics, financial activities, higher education, healthcare, and professional and business services, according to the Georgia Economic Outlook.
"Macon-Bibb is ideally suited to become a major gateway for logistics growth and prosperity," says Yvonne Williams, president and CEO of the Greater Macon Chamber of Commerce. "With construction of the major I-16 and I-75 interchange now in the last phases of work and the amazing proximity to the largest port on the eastern seaboard just 160 miles inland from Savannah and just 70 miles south of Hartsfield-Jackson Atlanta International Airport, we have the locational advantage to be a hub for increased logistic fulfillment centers aspiring to reach national markets."
Judith Sherling, executive director of the Development Authority of the City of Jeffersonville and Twiggs County, added to Williams' positional point: "While [logistics] were already a benefit prior to the pandemic, it is even more critical since so many consumers have turned to online shopping. Fulfilment of those orders now requires more space closer to the customer."
Lamar County, which celebrated its 100th anniversary in 2020, is an example of the have and have-not economic effects of the pandemic. The hospitality sector has been hit hard. "For most of 2020 we were in simple survival mode," says Kathy Oxford, executive director of Barnesville-Lamar County Industrial Development Authority.
On the other hand, companies supporting the still-hot housing market have fared quite well. Lumber manufacturer Jordan Forest Products and lumber supply company Bankston Lumber "never slowed down as the housing industry and home renovation industry have been very good all year," Oxford adds.
---
Health is Wealth
Healthcare couldn't have been more topical in the past year, and it's always relevant in Central Georgia. The 2021 Georgia Economic Outlook describes Macon's large healthcare sector as both "a short- and long-term strength" with doctor's offices among the area's high-wage businesses and general hospitals among the mid-wage leaders.
Good timing wasn't a major theme last year, but B&G Equipment certainly had it: its new disinfection product line led to a tripling of the workforce to about 90 employees at its north Lamar County operations, according to Oxford. And Clean Control Corp. in Warner Robins added 50,000 square feet of space to its operations in 2020 in response to the expanding need for its sanitation products.
"This occurred in the nick of time as the pandemic hit," Gheesling said. "The demand for CC's disinfectant products skyrocketed [so that they] quickly had to find extra warehouse space just to keep up."
Gheesling was instrumental in connecting Robins Air Force Base, the FireStarter FABLab at the Houston County Career Academy, county health administrators, area stakeholders and industrial benefactors in an ever-growing coalition to provide 3D-printed N95 masks and face shields, a recovery-required reality. And Atrium Health, which is putting its name on three Macon hospitals this year after the 2019 merger with Navicent Health, offered meal vouchers to nearly 67,000 frontline workers during the pandemic.
"We've all faced the same challenges: How to educate, how do we produce and how do we continue to provide healthcare?" says Dunn. "We conquer these struggles through the human spirit's ability to overcome resistance. If 2020 has taught me one thing, it is that we're much greater when we're fighting for each other rather than fighting with each other."
---
People to Meet
Dr. Keisha Callins
Callins saw Twiggs County's bottom-of-the-list ranking in Georgia health outcomes and knew a change was needed. The Mercer University med school faculty member and Community Health Care Systems physician connected the community to Mercer's Rural Health Innovation Center. The result is Live Well Twiggs, a new collaborative that helps agencies deliver health programs and resources to the area.
Hope Harmon
Elected in 2016, Ben Hill County Commissioner Harmon is the first Black woman to hold office in city or county government. The community advocate and change activist also serves on the board of the Ben Hill Family Connection and the Gateway Center, a multi-county nonprofit serving victims of sexual assault.
Click HERE to return to the Georgia Trend 2021 Economic Yearbook Menu