How Georgia's Small Businesses are Surviving COVID-19
Together we will see it through.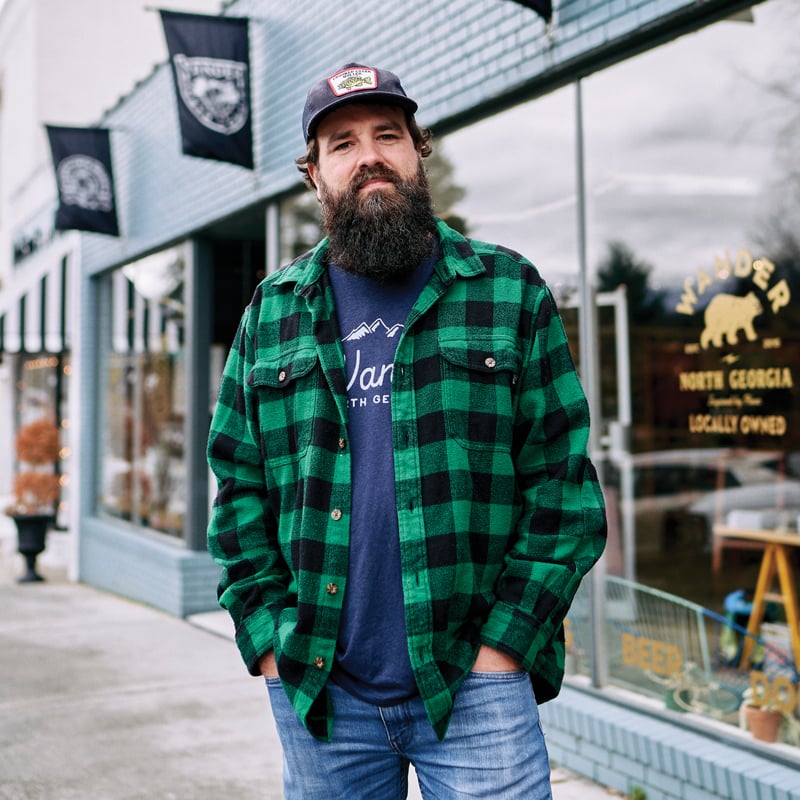 When the COVID-19 pandemic slammed into Georgia's economy last March, few sectors felt the repercussions as hard as small businesses. These firms with fewer than 500 employees made up 99.6% (or 1.1 million enterprises) of total Georgia businesses in 2020. They employed 1.7 million Georgians.
Most small businesses operate with far fewer than 500 employees – most employ between 20 and 99 – and those enterprises bore the brunt of COVID's impact. Whether a company just opening for business or one with years of experience, all were deeply shaken and are still recovering from the economic wallop they sustained.
As the pandemic continues, programs aimed at helping small businesses stay open and keep their employees employed have continued, as well. Aid started with the original Coronavirus, Aid, Relief and Economic Security (CARES) Act that Congress passed on March 25, just days after many Georgia businesses shut their doors. The legislation included $377 billion in assistance for small businesses (two additional installments came later). It also included two critical measures: the Paycheck Protection Program (PPP), which provided low-interest loans and grants for qualified businesses to keep workers on the payroll, and the Economic Injury Disaster Loan (EIDL), low-interest loans to small businesses for capital and operating expenses. The programs were offered through the Small Business Administration (SBA) and administered through certain banks. A second round of PPP funding is available through the end of this month.
Even before legislation was passed, Allan Adams, state director of the University of Georgia's Small Business Development Center (SBDC), and his team of advisors were already fielding calls from thousands of small business owners concerned about what closures might mean for the long term. Once the CARES Act passed, business owners were eager to learn more about PPP and EIDL.
"When the federal government came out with these loan programs there was a mad scramble by people trying to figure out what they were, how they worked, how do I qualify, how do I apply," Adams recalls. "The details were changing daily, sometimes hourly. We were talking to the SBA and the banks we knew that would be handling the program. We tried to make sure we had the most authoritative information."
The SBDC put its training programs online and engaged with more than 20,000 participants in 2020, five times its normal number, at no cost to the participants, says Adams.
Other resources available to small businesses made their way through entities like state and local chambers of commerce.
"Our members needed information and we felt our best role during COVID was to be a connector, a service provider, and provide the best information possible in an updated format," says Chris Clark, president and CEO of the Georgia Chamber of Commerce.
The Georgia Chamber went into overdrive hosting and posting thousands of hours of virtual roundtables and town hall meetings. From March 1 until Dec. 1, the chamber website and social media platforms – Facebook, YouTube, a newly created podcast available on Apple and Spotify, a weekly op-ed and bi-weekly interview that went out over Georgia Radio News Network – recorded more than 1.6 billion impressions. Clark,who typically gives 150 speeches or interviews in a year, did more than 535.
The chamber also got behind a unique program, Unified Standards, created by The Levee Studios, a chamber member in Albany. The COVID workforce certification program focuses on rebuilding consumer confidence by creating return-to-work training videos and certifications for employees.
"They put it together and started provided training for the restaurant community and small businesses in Albany," says Clark. "We worked with them to amplify that and take it statewide."
Clark called the web-based, return-to-work program another tool in the toolbox to help businesses increase safety, decrease liability and instill consumer confidence.
---
Helping the Hardest Hit
Minority-owned businesses were some of the hardest hit in the state. In fact, according to a COVID-19 impact study by the National Bureau of Economic Research, during the pandemic 2.5 Black-owned businesses closed for each white-owned business that shut down.
To help address this inequity, chambers of commerce developed programs to specifically serve minority business owners.
The Georgia Chamber announced that global financial solutions company Fiserv would fund eight Georgia Chamber memberships for qualifying small, diverse businesses, as part of the chamber's focus on promoting diversity, equity and inclusion in the state's small business community. Membership includes access to healthcare benefits, advocacy and networking opportunities. The recipients were announced early this year and include such businesses as the Atlanta Girls School and Raymond Engineering in Conyers.
The Metro Atlanta Chamber, through its RESTORE ATL Fund, awarded $180,000 in grants to 24 small, Black-owned businesses in partnership with the CareSource Foundation. The companies represent industries most impacted by the pandemic, including hospitality and food service, arts and entertainment, and healthcare. Recipient businesses are 70% women-owned and employed 300 people as of March 2020.
Chez Montier is a boutique catering company in Decatur owned by Chef Juan Montier and his wife, Judith Service Montier, who serves as the company's chief operating officer. Judith likened the pandemic's effect to a tsunami on their scheduled events – completely wiping the calendar clean. Early in the pandemic, they participated in Emory University's Feed the Frontlines and launched their own small-scale meal delivery service but it wasn't nearly enough.
"While it was satisfying to our patrons, it wasn't commensurate to catering," she says. "There was no financial parity."
They applied for the RESTORE grant and found out they received a $10,000 award in early July.
"I literally cried when I got the call," Judith says. "It gave us space to think and figure out how we would continue to innovate and try to pivot."
The Montiers used some of the funds to maintain the lease on their commercial kitchen, which is mandatory to keep their business operating, and to pay their business and health insurance. The funding gave them more than the tangibles – it provided hope and encouragement that they could persevere.
"While the grants represent a much-needed helping hand, there is much left to do as we pursue economic recovery in 2021 and beyond," says Katie Kirkpatrick, president and CEO of the Metro Atlanta Chamber. "I'm certain that our region will continue to come together around those in need in ways that are true to form for Metro Atlanta."
Businesses throughout the state are accessing these programs and others to keep their doors open during the pandemic. Here are some ways Georgians are making business work.
---
Values-driven Clarity
Josh Brown co-owns Wander North Georgia, a popular Rabun County outdoor store located in downtown Clayton, with his wife, Alex, and business partners Jake and Courtney Scott. In mid-March 2020, they thought they'd close their brick-and-mortar store for a couple of weeks, introduce new cleaning protocols, wear masks and everything would be fine. But soon they knew that plan wasn't sustainable.
The partners didn't feel comfortable asking their employees to interact with the public and didn't want to be in public themselves when there was still so much unknown about the virus. They also believed keeping Wander open contributed to people being out when they needed to stay in.
"So much of our success was baked into 'come up and visit our area, eat at this restaurant, grab coffee while you're here,'" Brown says. "We started feeling a certain responsibility to tamp the brakes and not encourage people to get out and do things."
They closed the store on March 20 and despite pressure to reopen, remained closed until June 1. To stay afloat, they let their 14 employees go, hoping to bring them back as soon as possible. They slashed expenses, turning off heat and air, even the lights. Then they got on social media every day, running sales in their online store.
They applied for a PPP loan as soon as possible to help bring their employees back.
"There was a massive lag," Brown says. "Courtney spent hours going through the loan assistance paperwork, submitting it and then [she'd] hear back from the government that they needed some other form. Even the banks got fed up and told us to find another bank. From the time we let our employees go until we got the funds, I think it was 45 days."
Despite the frustrations, Brown calls PPP a win. "It did exactly what it was meant to do," he says. All their employees came back in phases starting in May. They've since hired two more people.
When they reopened, they required masks for everyone in the store – and still do – even keeping an employee at the front of the store to remind customers to mask up.
"It's still the biggest challenge," Brown says. "You're always on edge. Who's going to yell at me today? There's an additional cost of payroll."
But out of the pandemic came some values-driven clarity. "This experience showed us what was important and when we reopened, we were going to set up for the long haul and reinvest in our employees," Brown says. Wander now gives employees paid sick time.
"We didn't want them to feel pressure to come in if they felt sick," he says.
They also decided to go Amazon-free by 2021. By purchasing their packing and shipping materials, cleaning supplies and other random business supplies locally, they've reduced their Amazon spending by 90%.
"It definitely costs more to do it that way but I started feeling bad asking our customers to support small business and then not doing it ourselves," says Brown. "We decided to be more consistent with that and it was worth it in the long haul. It was like, if we're going to go down, we're going down doing business the way we want to. We're going to do what's right because we think it's right."
---
Learning Resilience
When Josie Moss purchased Harmony Learning Academy, a preschool in Lithia Springs, in 2018 she was smart enough to know she didn't have all the answers about running a business. She cultivated a close relationship with her lender at a small, local bank and even before the pandemic took her lender's advice, getting know an SBDC advisor, Todd Anduze at the University of West Georgia. She credits those two relationships with helping her quickly navigate her company's COVID crisis.
The preschool had 60 students, nine full-time employees and one part-time employee when the pandemic hit. On March 13, the preschool closed its doors. Moss sent a letter home to parents and informed her staff that she expected to be closed for two weeks. That's not how it worked out.
"We went from two to four, from four to six, and ended up being closed a total of ten weeks," Moss says. "We didn't reopen until June 1."
By then, only 14 children were enrolled. But by staying in close contact with her lender, Moss was one of the first to apply for PPP and EIDL loans.
She received her PPP funds less than two weeks after submitting her application and, with advice from Anduze, staggered the timing of her employees' return so the loan could be considered a grant. This cost-saving move was critical as the preschool's operating expenses rose exponentially with necessary extra cleaning and the addition of personal protection equipment (PPE).
"When you are working at one-quarter of the revenue that you had before, a loan that would have been very minute in the beginning is huge when you consider trying to pay it back while maintaining your business," she says. "It's another level of pressure."
By December, Moss was back to a little more than half of the enrollment she had when the pandemic hit.
"We're learning about ourselves," she says, "what we can endure and how to be resilient."
---
"Always a Challenge"
First-time business owner Lisa Chastain opened Daylight Donuts in Cochran, about 35 miles southeast of Macon, on Jan. 31, 2020.
"It was amazing," she says. "I think everybody in Cochran came in that day. It's a very small town and not often that we have something like this open."
Retired from the University System of Georgia, Chastain sought advice from the SBDC when she decided to open a Daylight Donuts location.
"[Daylight has] a few requirements, like having a drive-thru window, which saved us during the pandemic," she says. "We couldn't have survived without it."
That, and simple things like an extra-long cord so she could hand the Square payment terminal out the window and customers could swipe their own cards became business savers – along with PPP and EIDL loans.
"I've said that had I known this was going to happen I probably would not have opened up my business, but then I think there's always a challenge," Chastain says. "We've been able to tweak things and try things that maybe we wouldn't have tried as quickly had this not happened. Maybe it's made us think quicker and faster, think outside the box."
---
"We Weren't Going to Survive by Ourselves"
Tifton's Jennifer Scarbrough, co-owner of The Local at The Lankford with her husband and chef, David, did nearly everything they could think of to keep their restaurant running – even making and selling a line of dog treats – from the time they shut down March 17 through their reopening in May. Their revenue for the period was what one normal night of service would be.
Fortunately, when they moved the restaurant to its current location in 2019, they also acquired more indoor seating space – including private dining rooms – and outdoor dining space, allowing for socially distanced dining both inside and out. When they reopened, they partnered with another local restaurant, running "quarantini specials."
"He was making the juices already and I have the liquor license so we were able to make a little money on that," Scarbrough says.
And they hosted the local Wiregrass Farmers Market, normally held at the Georgia Museum of Agriculture and Historic Village, on their property, which had more space, after Scarbrough received permission from the city to host the weekly event.
"We made the best of things and worked with other people because we weren't going to survive by ourselves," she says. "The farmers needed an outlet or they'd lose their produce."
In December she received a low-interest SBA loan. Scarbrough says the pandemic changed the way she thinks about her business. She kept all the employees that wanted to stay, seven full-time, three on-call. She's much more aware of cost and loss, but she's also more creative and smarter.
"We realized we're good at what we do," Scarbrough says.
If there's one thing the pandemic taught Georgia's small business owners it was the value of agility, resilience and timing – knowing when to move quickly or when to pump the brakes. And it reinforced the importance of helping your neighbor – especially your neighboring business – because as the banner in the window of Wander North Georgia reads, "Together We Will See It Through."