Living Local: North Metro Atlanta's Progress During the Pandemic
In North Fulton County, five CIDs continue their work to improve quality of life.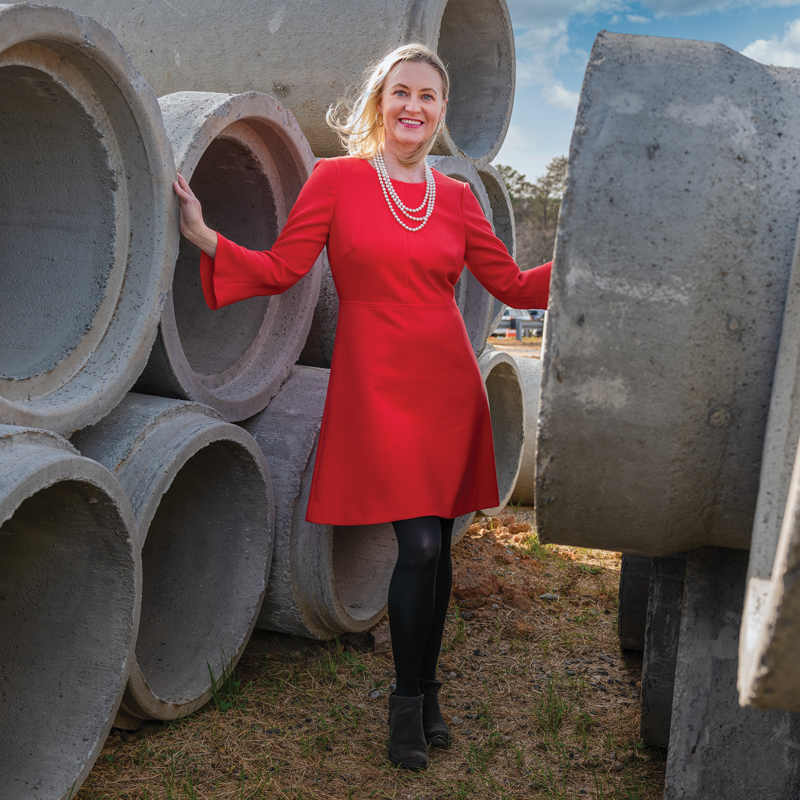 Some projects are big – really big – with the potential to transform huge areas. That's the case for the Perimeter CIDs (community improvement districts) and a consortium of partners in an effort to bring transit to the top end of I-285. Spanning seven cities and four CIDs in total, it could mean catching a rapid-transit bus in Gwinnett to watch a Braves game at Truist Park in Cobb County. Ann Hanlon, executive director of the Perimeter CIDs, appropriately calls it a game-changer of a project.
Other initiatives are small, even super-local. Like calling a property owner to ask if a shady area of grass in front of their industrial building could become a micro-park, as the Upper Westside CID did recently. (Answer: Yes, and the CID started work on some grant applications to fund benches and some artwork for the space.)
Projects large and small put the "C" in CID. Community improvement districts are made up of commercial and industrial property owners who tax themselves to pay for improvements within a certain area, to encourage local economic development. The North Metro CIDs in Fulton County – including the Perimeter CIDs, Midtown Improvement District, Upper Westside CID, Buckhead CID and North Fulton CID – have been busy with improvements, even during a year when COVID-19 shut down a lot of economic activity.
---
Fewer Cars, Faster Road Improvements
In fact, although their areas experienced economic hits, each of the North Metro CIDs took advantage of fewer cars on the roads and workers on the streets to get road, trail and sidewalk improvements done more quickly. The Perimeter CIDs (plural because the area stretches across DeKalb and Fulton county lines, though they operate as one) worked with the state Department of Transportation (DOT) to make sure the massive re-engineering of the I-285 and GA 400 intersection was deemed an essential service. That meant work could continue during the COVID shutdown. "In some cases it was even expedited, because the contractor was able to do work in the lanes at times they would never have been able to do if there were normal traffic patterns," says Hanlon.
The GA 400/southbound exit ramp to I-285/eastbound opened early in October, surprising some drivers who missed the low-key virtual ribbon cutting. "Although it opened to little fanfare, that was a huge accomplishment that happened during the pandemic," Hanlon says. Two other intersections – one in Dunwoody, one in Brookhaven – are scheduled for improvements beginning in the first half of 2021. And Hanlon notes that the top-end consortium has grown from a small phase-one study to an "official" project managed by the ATL (the Atlanta-Region Transit Link Authority), the agency overseeing transit in the 13-country metro area.
In North Fulton, adding a third left-turn lane for drivers exiting GA 400 northbound at Windward Parkway and a double-left turn lane southbound "came in under budget and ahead of schedule" in part because of lighter traffic, says North Fulton CID Executive Director Brandon Beach. Even with fewer cars on the road, the new lanes have made a huge difference in congestion, he adds.
Other congestion-relieving projects include a new interchange at GA 400 and McGinnis Ferry Road, a state DOT effort that the CID had a small role in, according to Beach, who is also a state senator (R-District 21). He notes that the work will essentially add another east-west corridor in a heavily trafficked area. "We all come together to make projects work," he says. "There is a direct correlation between infrastructure investment, economic development and job growth."
Even those small projects make a difference, says Beach. Years ago the CID invested in landscaping – one of the most typical CID projects – from Mansell Road to Windward Parkway. "When you bring an economic development prospect up here and they see the landscaping, it makes them feel good [about the area]," he says.
Transportation and transit issues are always on the agenda of the Midtown Improvement District (MID). According to Kevin Green, president and CEO of Midtown Alliance, which provides staff and management for MID programs and projects, efforts range from improving 25 intersections to developing large multimodal streetscapes to the Art Walk, a half-mile pedestrian walk and linear park stretching between the Midtown and Arts Center MARTA stations. "Rough numbers, we've got more than $40 million of current committed funding for projects, including federal, state, city, private and Midtown Improvement District money," Green says.
And even though it's older and more established than the Upper Westside CID, Midtown can get scrappy with hyper-local projects, too. "We've got a quick-build bike lane project the city is doing on Spring and West Peachtree that's going to orphan some street parking spaces," Green says. "So we're turning those into parklets."
As a high-density magnet for residents who want to walk everywhere they can, Midtown is known for its restaurants. With COVID limiting inside dining, the district "has been doing everything we can to highlight restaurants that are open, making it easy for them to do curbside pickup and delivery and outside dining," says Green. "The city [of Atlanta] has been very nimble."
---
Projects Proceed
With fewer office workers in Buckhead due to COVID work-from-home arrangements, that area temporarily delayed plans to convert the BUC shuttle to an Uber-style on-demand service. The new service, a joint effort between the nonprofit Livable Buckhead and the Buckhead CID, should launch sometime this year, according to Jim Durrett, executive director of the Buckhead CID and president of the Buckhead Coalition.
But a number of projects went ahead, including $800,000 worth of improvements to sidewalks and intersections to make them compliant with the Americans with Disabilities Act; streetscaping and road repaving in the West Village (between West Paces Ferry Road and East Andrews Drive); and continuing work on the Peachtree Transformation, which adds landscaping, trees, bike lanes, wider sidewalks and left turn lanes along Peachtree Road.
Other projects include widening Piedmont Road between Peachtree and Lenox Road and adding a multi-use lane for bikes and pedestrians, and designing a multilane roundabout at Wieuca Road and Phipps Boulevard. Both projects, which involve a number of agencies and funders including the DOT and federal funds, will make the corridors safer for pedestrians as well as drivers, says Durrett. And one noticeable project, currently in the design phase, will create streetscapes and space for bikes and pedestrians along Lenox Square. "We're excited about this because we're going to be able to save a lot of the big trees there," says Durrett. "We'll be building what is essentially a boardwalk for people to walk and bike on to get from the Lenox Square MARTA station to Peachtree."
The CID itself underwent some changes in 2020, partnering with the Buckhead Coalition to merge staffs. The two will share office space with Livable Buckhead and will integrate their efforts. The goal, says Durrett, is to "push in the same direction in terms of improvements and issues we're working on" as well as providing a consolidated message about what's going on in the district. "It'll be sort of a one-stop shop for information," he says.
Safety is one of the core issues that CIDs address, and it became more urgent this year for several of them. Midtown and Buckhead suffered property damage after peaceful protests ended and riots broke out this past summer, and street racing became an issue during the COVID shutdown. In Buckhead, the area around Lenox Square and Phipps Plaza saw a sharp rise in gun violence in the fall, including the death of a seven-year-old who was shot while riding in the car with her family.
Midtown Blue, a team of supplemental public safety officers made up of off-duty Atlanta Police Department (APD) officers and civilian security professionals, helps patrol the Midtown Improvement District, and leaders and residents in Buckhead began calling for a similar setup there. In December, the CID and other civic and municipal partners released the Buckhead Security Plan, which calls for increasing supplemental security patrols and installing more cameras and license plate readers, among other safety measures.
---
Home Work
The Upper Westside CID, the youngest of the bunch, focused its efforts on creating a district-wide master plan. The CID is unique, according to Executive Director Elizabeth Hollister, because it spans three city council districts, six neighborhoods and three neighborhood planning units, as well as being in the middle of a transformation from mostly industrial properties to growing residential and even office space.
As luck would have it, the first public meeting on the plan was scheduled in March, the week that the state shut down due to COVID. Epitomizing the ability to pivot, the CID went virtual almost overnight. "We had a text message campaign, we had an online wiki map, we had a huge retail space that was part of a warehouse adaptive reuse conversion that was going on," says Hollister. "We put together a socially distant workshop that was up for two months." It featured activities to give input to the master plan, as well as a history exhibit about the area and even a space for kids with a bicycle track and supplies for children to draw pictures of what they wanted to see in local parks.
Hollister says that the CID intentionally included industrial property owners at the beginning of the plan process and discovered some surprises. "I think there's a lot of assumptions about what industrial owners want," she says. "We asked them, 'What are your needs? We want to plan for freight in the area.' And they answered, 'We'd like to see trails.' So it was eye-opening for us in that some of the things they were asking for were the exact same things you would hear from a multifamily apartment developer or a single-family homeowner, resident or tech office user."
The master plan helps the CID prioritize its efforts. "We're still focused on transportation, green space and safety," says Hollister, "but it became much more defined about which road, what type of transportation, what types of green spaces." To start, Hollister expects to be working on placemaking projects, pocket parks (three of the neighborhoods in the district have no parks) and bridging gaps in sidewalks.
The Atlanta BeltLine, a former railway corridor around the city that's being developed as a multi-use trail, is slated to extend through a portion of the CID, and Hollister says its crucial to start planning for that. "Only 60% of our roads have sidewalks," she says. "So you might be standing on the BeltLine, but you wouldn't be able to walk anywhere off the BeltLine."
The Perimeter CIDs are continuing to work on the trail that will run along Ashford Dunwoody Road in front of Perimeter Mall – a prime location. Although many of the workers usually crowding the area are working from home, Hanlon expects they'll return, at least part of the time. She says the CIDs were well prepared for remote work: "We've been trying to evangelize the notion of telework for decades," she says. The CIDs' program Perimeter Connects helps companies devise commute options programs, including telework, as a way to reduce traffic. "For the last decade, they have gone out to all of our businesses and promoted the value of teleworking," Hanlon says. Consequently, many companies already had policies in place to shift quickly to remote work, and those that didn't were able to tap into the CIDs' resources.
Post-pandemic, Hanlon expects a hybrid to emerge, where people work some of the time at home and some in their offices – a concept she's calling "balanced work." In surveys, the CIDs found that people need some delineation between their home and work lives. "A lot of people wanted to come back to the office because they wanted the separation," she says.
Thinking about the future of the Perimeter market means taking that into effect, from transit options to opportunities to get outdoors to encouraging employers to offer options. "That's what we're thinking about – what does Perimeter look like five years from now and how can we make sure we are offering balanced options, especially for younger employees," she says.