Bringing food and healthcare to Georgians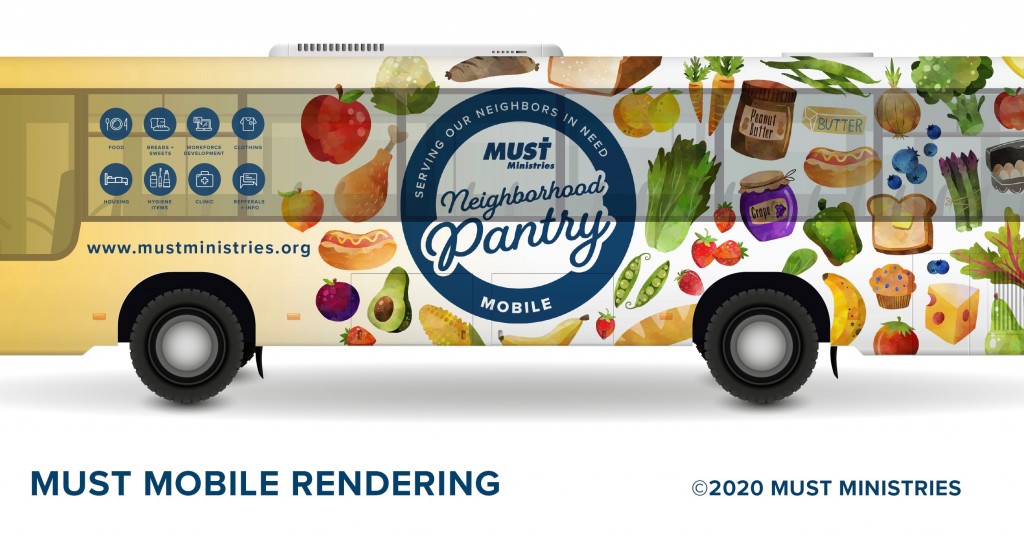 As the COVID-19 pandemic continues, more Georgians than ever find themselves in need of food and healthcare services. MUST Ministries, a Marietta nonprofit dedicated to helping homeless and struggling individuals and families, has provided more than 1.7 million pounds of food to those in need since the pandemic began. Now it's devising ways to make food distribution and healthcare mobile.
Thanks to donor generosity during last month's Giving Tuesday, MUST Ministries raised $175,000 to purchase and retrofit a bus that will become an innovative Neighborhood Mobile Pantry. Beginning this quarter, the mobile unit will take fresh vegetables and fruit, frozen meats, canned goods, breads and dairy products to people living in food deserts in Cobb, Cherokee and surrounding counties. These are locations where groceries are not within walking distance.
Freezer, refrigerator and storage space are being installed in the 40-foot bus to serve areas where food resources and transportation are limited. The nonprofit has found that transportation is the biggest challenge people have in receiving assistance from food pantries because many low-income families do not have vehicles and there are few options for public transportation in Atlanta's suburbs.
Along with food delivery, MUST Ministries is partnering with Cherokee County's Bethesda Community Clinic to bring a mobile medical unit to the MUST Ministries location in Canton. The mobile medical unit will be at that location on the first Friday of each month, from 10 a.m. to 2 p.m. Its free healthcare services include primary care, chronic disease management, women's health, pediatric care, sick visits and physical exams.
To cover the operational cost of these services, MUST Ministries relies on donations, which can be made on its website.
Rendering of the Neighborhood Mobile Pantry provided by MUST Ministries.
Do you follow us? Find us on Linkedin, Facebook, Twitter and Instagram.