Business Casual: Ready for Normal
It's time to put disappointments aside and get to work.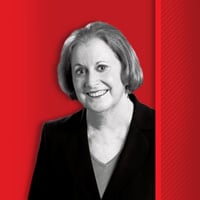 The year 2020 brought a lot of crazy – along with a lot of sadness, a lot of disruption and a lot of heartbreak. Topping the crazy list was the end to the presidential election: a defeated candidate refusing to acknowledge the will of the electorate and clinging pathetically to power.
And, of course, for Georgians, there was the additional drama of our state becoming the focus of world attention with the Senate race runoffs this month. That got a bit livelier – and stranger – after the two sitting senators in November called for the resignation of Georgia's secretary of state, a fellow Republican, presumably at the behest of their wounded presidential candidate. (It almost sounds like a plot point in a bad Netflix movie, the kind that sends you scrambling for the remote. But it was all too real.)
This played out against the backdrop of a worsening worldwide COVID-19 pandemic that is still claiming thousands of lives each day – and persistent problems of social justice, poverty and inadequate health coverage.
A heartfelt request: Could we please get back to normal?
You know, the place where responsible leaders do their best to guide us through difficult times and work to improve the lives of those they represent. We may disagree with these leaders on particular issues or on their timing or their solution to certain problems, but we can generally feel confident that they are serious about addressing the concerns they were elected to deal with.
In recent times, Georgia leaders have shown themselves willing and able to rise to the occasion. The 2020 General Assembly, suspended for several weeks because of the COVID crisis, nonetheless passed a much-needed hate crimes bill, HB 426, mandating tough penalties for those convicted of crimes motivated by racial, gender, cultural or religious prejudice.
This came largely in response to the murder of Ahmaud Arbery in Brunswick, a Black man killed by two white men while he was out jogging, and the police killings of George Floyd in Minnesota and Breonna Taylor in Kentucky. Until the bill passed and was signed into law by Gov. Brian Kemp, Georgia had been one of only four U.S. states without a hate crimes bill.
The same session saw tougher laws against human trafficking and a measure that would help foster parents. Legislators confronted the difficult challenge of passing a budget that reconciled economic issues with the state's most pressing social, health and educational needs.
As for the election itself, after a near-disastrous rollout of new voting machines for the primary season in June, the secretary of state's office went to work to tackle systemic problems, increase the number of poll workers and enhance their training, and reduce the amount of time voters had to spend waiting in line, all to ensure a seamless November election. The office sent out absentee ballots and worked with local elections officials to increase the opportunities for early in-person voting. The process was well-scrutinized – the voting and the counting of votes – and it went smoothly.
Additionally, state leaders rallied to deal with the COVID crisis. The Georgia National Guard was dispatched to help with food distribution, COVID testing and even the cleaning and disinfecting of hundreds of nursing homes throughout the state. The Georgia Emergency Management and Homeland Security Agency arranged for supplies, staffing help and patient transport for hospitals struggling to treat the influx of COVID cases.
Our leaders know how to do the things that need to be done. I hope – and believe – most of them, whether they are completely happy with the November election results or not, and whether or not they like the way things turn out in this month's runoffs, are ready to put their disappointments aside and get to work.
We still have a lot to do in our state. There's the day-to-day business of keeping a government running – highways to pave, bridges to repair, infrastructure to keep up. There are children to educate, jobs to create, healthcare issues to resolve, injustices to confront. There are divisions to heal, inequities to address.
There's the still-struggling economy and another difficult budget to pass, with all the attendant wrangling that requires. These are things we look to our elected officials to take care of, regardless of the obstacles and distractions that come their way. It's the normal task of governing.
And normal is looking awfully good about now.