Trendsetters: Edible Environments
Natural Born Tillers creates engaging landscapes for commercial properties.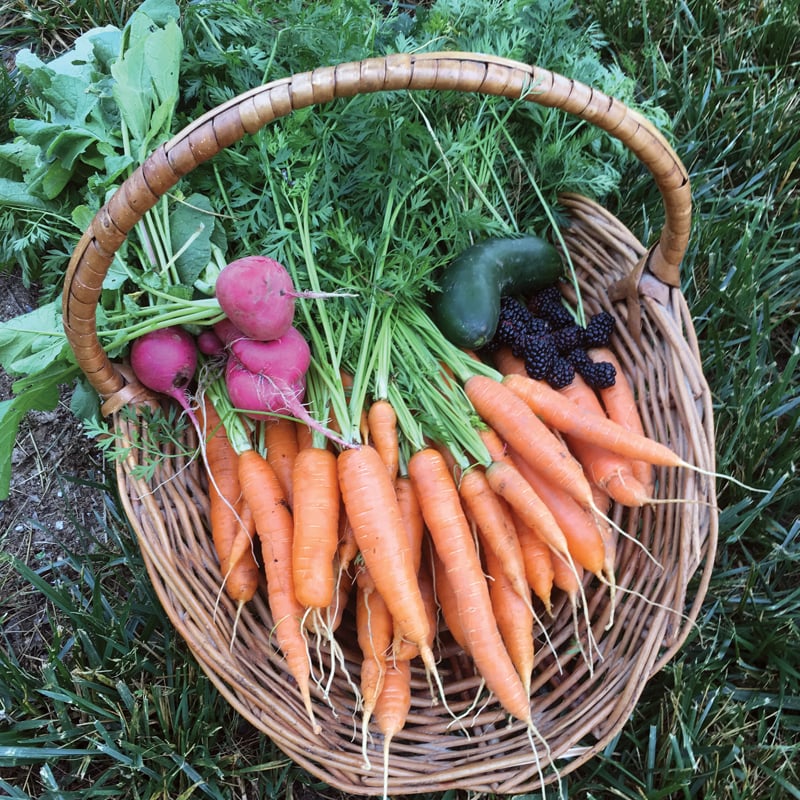 Decatur's Cory Mosser has had a varied career, but food has always been his focus. After stints as farm manager, local retail grocer and chef, among others, he was inspired six years ago to create Natural Born Tillers, a small firm that creates innovative edible landscapes for commercial clients and farms throughout the Southeast.
Along with consulting services, Mosser and about a half-dozen Natural Born Tillers staffers design, build and maintain food gardens. These can be commissioned by companies for small pieces of land like the 6-foot by 80-foot strip outside The Cartoon Network's Adult Swim offices in downtown Atlanta or for larger plots like the half-acre at Delta Air Lines headquarters south of the city.
"It doesn't seem like it would be a job, but it is," he says. "We get to grow food and in weird places, and people get excited about it."
His first installations have matured now and are providing a significant amount of food. The two muscadine grape vines climbing the walls of the Adult Swim building yielded 15 pounds of grapes in late August. "Before, it was nothing," he says, "and now we get these amazing productive things."
Mosser says before the coronavirus pandemic, there was a growing corporate focus on sustainability and useful, engaging outdoor spaces and since the spring, demand for these spaces has dramatically increased. He's about to launch several more edible landscape projects similar to Delta's. These will include passive elements, like blueberry bushes, that people can pick as they walk by, but also crops Natural Born Tillers will harvest and distribute among those employed on the property. The company provides signage throughout the property that details what's growing and when it's ready for harvest.
The pandemic has presented Natural Born Tillers with challenges, since more corporate employees are working from home and many businesses no longer have extra revenue to pay for the landscaping services. But the time of isolation and social distancing also sparked a new idea for Mosser: Resurgence Gardens. It's technically a separate company he runs that is piloting edible gardens at multifamily and single-family residences, "places where people want to be active and there's an interest in gardening," he says. "This is a way for [gardens] to be professionally maintained as a landscape, but also be fruitful and be an amenity people can engage in." He estimates the firm will complete about 10 single-family garden projects and about an equal number of installations at apartment complexes this year.
Resurgence Gardens staffers, several of whom are on the Natural Born Tillers staff, will design gardens with successive plantings so residents have food to harvest year around.
"It's just nice to know that you have food," he says. "And it's not a hard thing to do, especially if we provide the service and make sure you have the food you need. It's almost like an insurance policy."