Trendsetters: Angling Adventure
Blackhawk Fly Fishing offers a private angling experience in the North Georgia mountains.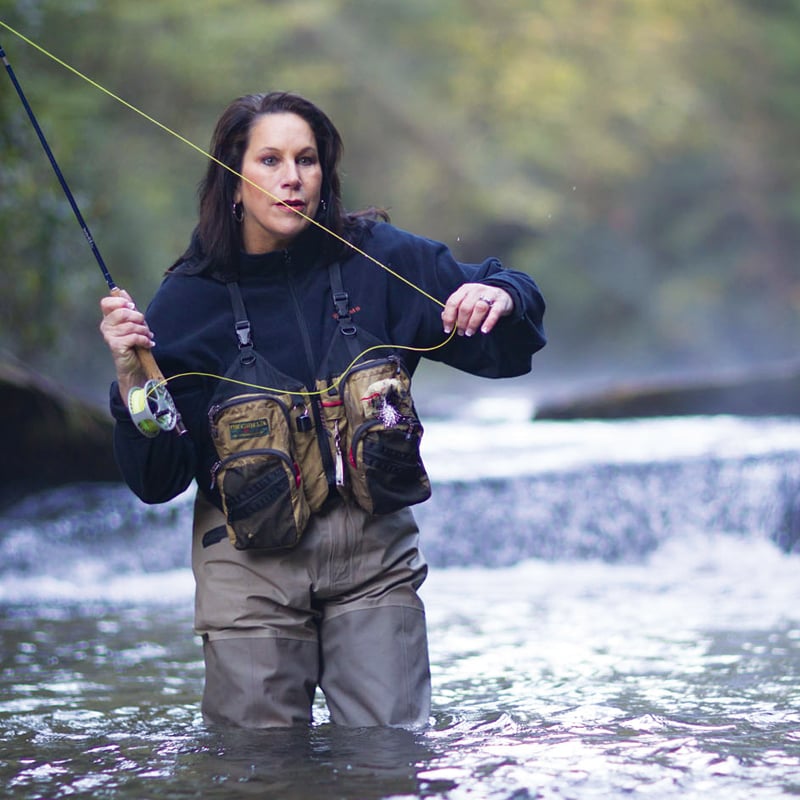 Two hours north of Atlanta, a serene haven and a successful fly-fishing business await anglers hoping to land wild trout in the 3- to 12-pound range. Blackhawk Fly Fishing offers a private angling experience along about two miles of the Soque River's spring-fed waters near Clarkesville. From rapids to deep pools, the pristine river and the company it spawned have attracted experienced and novice casters for the past 24 years.
Co-owner Abby Jackson and her husband, John, first learned about fly fishing on their honeymoon in Maine and were determined to bring their fly fishing experience to Georgia. They had a 125-acre farm on the river, complete with an 1860s farmhouse. So they embarked on creating an integrated business that provides everything an angler needs in the way of equipment, guides, lodging in the renovated farmhouse and culinary enjoyment.
Jackson says corporate groups, bachelor parties, families and other visitors just need to show up and she'll outfit them. She prefers groups of eight but says up to 12 can be accommodated at one time. "With two miles of river, we don't like to put more than four on each section," she says. Anglers usually fish one mile in the morning, break for a lunch that she caters and fish another mile in the afternoon to make sure "they're fishing different water all day."
Corporate groups typically drive from Atlanta for the day and don't require lodging. Since the beginning of the coronavirus pandemic, she's been limiting farmhouse stays to one family or related group at a time. After a thorough cleaning, she leaves the lodge vacant for three days in between guests.
She's also incorporated agritourism into the business with tours of the working farm and teaching on-site cooking classes. "I [grow and] put up food to feed the fishermen," she says. "Fly fishing is nourishment as well as eating the food, so you get a little bit of all that here."
The Georgia Department of Economic Development and the Georgia Economic Developers Association this year named Blackhawk Fly Fishing a Small Business Rock Star for its success and impact on the community. Part of the reason it's been successful – in addition to the Jacksons' passion for the sport – is their management of the river where their clients fish. That includes making sure the 2,400 hemlocks shading the water remain healthy. "Without the shade of those hemlocks, we couldn't provide the environment to keep the fish alive," she says.
The unique location, the right fly selection and natural presentation of the fly are the keys to catching fish, she says. Blackhawk guides help less-experienced anglers in fly selection and casting technique.
"We've got something that can't be duplicated," she says. "If you're trying to social distance and find something to do, I think we have the complete package."