Going the Extra Mile
Main Street programs across Georgia have stayed focused during the pandemic on helping their businesses stay in business.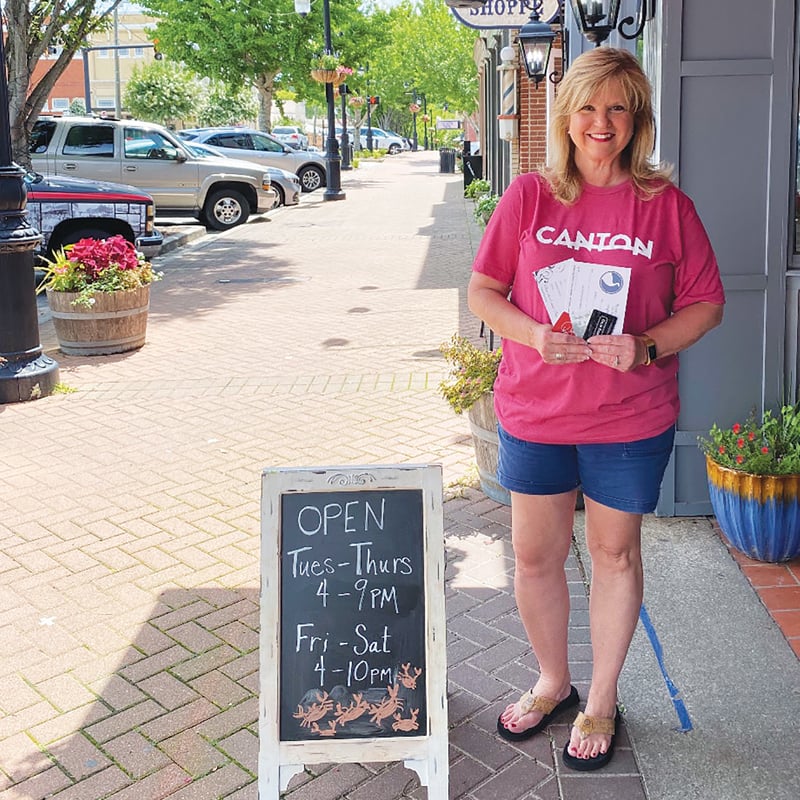 The word unprecedented has been thrown around a lot lately. But the truth is, nobody has seen challenges like cities around the country are facing these days. Businesses are shuttering or learning new ways to work. Restaurants, bars, art galleries, shops – the life of vibrant communities – are reopening in many downtowns, but often continue to struggle.
In Main Street communities across the nation and the state, leaders have resources to draw on to help their businesses stay in business – and if not thrive, at least survive these trying times.
The Main Street movement has had a significant impact on historic business districts across the country for 40 years, including the 118 member communities in Georgia. The program's goal is to build communities using a four-point approach: economic vitality, design, promotion and organization.
For the past several months, the Georgia Main Street program has had to use all of the resources at its disposal to help communities get through the COVID-19 pandemic and economic downturn.
"When everything [COVID-19] first went down, we obviously knew it was going to have a huge impact on not just everybody's normal day-to-day lives, but especially on local mom-and-pop stores, how they operate and how they do business," says Jessica Reynolds, director of the Office of Downtown Development and Georgia Main Street in the state Department of Community Affairs.
To help businesses navigate the new world of a pandemic, the state set out to make sure local Main Street programs had the resources they needed. With these resources, cities like Canton, Macon – both of which were quarterfinalists in the America's Main Streets contest this year – and Pembroke are coming out of the pandemic with a fighting chance against the challenges 2020 has brought.
---
Crisis Communication
As the state began to shut down in March, conversations in the downtowns quickly pivoted from planning for festivals, concerts and wine walks to the ins and outs of Small Business Administration (SBA) loans and the Paycheck Protection Program (PPP).
Before they could help their businesses with these often-convoluted relief programs, local Main Street folks needed the information themselves. That's where the state came in.
"We did a webinar that was specifically just geared toward small businesses and the financial resources that they would be able to access," Reynolds says. "We worked with our partners at SBDC [Small Business Development Center] and the Small Business Administration to be able to get that information as it was happening in real time and share it in real time as well with our programs."
The communities then picked up that education piece and delivered it to their business owners.
In Pembroke, a community of about 2,500 people 35 miles west of Savannah, Renee Hernandez, executive director of the Pembroke Downtown Development Authority and Classic Main Street, first tried sharing the information online.
"We were able to find some really good information and some simple, easy-to-read infographics breaking down all the relief funds that were available from the PPP and the SBA," she says. "We put that information out on our Facebook page, but we realized that even still, it was difficult to understand and work through. So we created a Zoom meeting for our downtown businesses, where they could log on with us and we could hash out any questions that they had."
She also invited Jordan McCoy, the owner of Owens Supply Co. and a Downtown Development board member who had already navigated the relief-loan process, to talk to the group about the experience.
"We were able to give them the [information about] how to access [loans], the difference between all of the loans, then she was then able to step in and go through the step-by-step process about how she was able to … apply for those loans," Hernandez says.
Communication in Macon was also essential at the beginning of the crisis.
"On March 14, we started sending an email every single day to our business owners," says Emily Hopkins, director of place and Main Street Macon manager at NewTown Macon, a nonprofit, public-private partnership aimed at restoring downtown. "Those emails, especially at the beginning, were crucial at communicating information very quickly about the changing situation about COVID in terms of public health guidelines and that kind of thing. But we really focused a lot on the financial resources that were available to businesses."
The emails, which continue to this day, grew into a 17-page resource guide for businesses that lives as a Google doc and continues to be updated daily as resources and information change.
The questions that business leaders needed answers to were also brought up on the program's private Facebook group for Main Street businesses, which led the Macon program to do a Zoom meeting to get answers to as many people at once as possible. That Zoom meeting morphed into a series of meetings, which then became a series of webinars that can be accessed through the program's YouTube channel.
"For those webinars, we generally have covered the financial resources," Hopkins says. "Every single week we give an update on PPP loans and unemployment. Then we also do other topics that are more timely and relevant. We've done one about curbside pickup best practices; communication best practices during this time period with the pandemic. We've done some on cash flow and budgeting."
But Hopkins and her crew didn't stop there – and they didn't stop with downtown Main Street businesses. "Because we're doing the emails, the resource guide, those weekly calls, we started a program called the Recovery Coaching Program," she says.
Sponsored by the John S. and James L. Knight Foundation and the Central Georgia COVID-19 Response and Recovery Fund, the program is designed to help businesses and nonprofits throughout the Middle Georgia region recover with security and stability from the pandemic.
---
Getting Creative
As business owners learned to navigate relief programs, time marched on and now downtowns are opening back up in a variety of ways. The Georgia Main Street and city programs are responding as well, with creative initiatives to help businesses succeed.
"We realize that some people are opening and some people are returning to business, so how do we [help them]?" Reynolds asks. "What are best practices? What are other communities doing? We're really big on R&D, which means 'rip off and duplicate' in our world. It's all about being able to share ideas and build upon them. Because what someone else is doing may not work for you exactly, but you may be able to take it and put a twist on it."
In Canton, where at press time shops, salons and restaurants were beginning to open, creativity is the name of game, says Velinda Hardy, downtown development manager.
One of the things drawing shoppers is a gift card match that the Main Street Program and the Downtown Development Authority (DDA) funded.
"Your mind is always on how to bring more people downtown. How to get people out. How to get them to shop local. How to get them to spend their money local," she says. The gift card program helped do all of those things.
The two boards used money that had been set aside for events that didn't happen in March, April or May and devised a 100% match for people who buy gift cards at Canton restaurants and shops. People could go online and purchase gift cards for $10 each, and the Main Street board and DDA would match up to five gift cards per business per transaction. Suddenly, people were getting $20 worth of merchandise or food for $10. In the 24 hours after the promotion opened up online, "$28,000 had been reinvested back into the downtown economy," Hardy says.
The promotion not only helped businesses, it drew the community – that was clamoring to know how to help – together. "We, Main Street and DDA, we could have just cut 28 checks and handed the money to the [business owners]," she says. But that wouldn't have had the same impact as bringing the community in, too. "Why wouldn't we give [people] an opportunity to reinvest, spend that money? They're going to go over that $100. They're going to spend; they're going to pour more money back into those businesses. It has been the best win-win situation I have ever been involved in."
Pembroke business leaders are also benefiting from the creativity of manager Hernandez, says Reynolds. "She's really pulled out all the stops to try and get creative," she says.
One of the things they've done in Pembroke is a T-shirt sale to benefit businesses. The Main Street program designed the T-shirt, and for every shirt sold $10 went to the business of the purchaser's choice.
They put their own spin on the gift card idea with a drawing. When people shop in one of the participating businesses – or online – and post a photo with their purchase, their name goes into the weekly drawing for a gift card from that shop or restaurant.
"We have several businesses that are participating in that," Hardy says. "It's just a way to bring people downtown to help support businesses that are open."
And Pembroke was lucky. Most of the downtown businesses stayed open – and found new ways of doing business. "Our hardware store, they started selling hard-to-find items like hand sanitizer, disinfectants and toilet paper, paper towels. They even found some medical masks that they were able to sell," she says. "Things you wouldn't normally purchase there, but things that have drawn business because people need them and haven't been able to find them elsewhere."
In Macon, to help shoppers know which businesses were offering curbside pickup, the Main Street Program created a map. "We update this daily with the hours and offerings of downtown restaurants, and it's been viewed 11,600-plus times," Hopkins says. "We made a similar map for retail as well that includes links to online shops."
These are ideas some communities have had, but there are others, says Hardy. "You can do whatever your community will allow you to do financially. But do something."
---
The New Normal
Even as businesses reopen and life morphs into the new normal, it won't be business as usual for shops and restaurants or the Main Street programs that support them. But that's not all bad.
"This pandemic and this situation has strengthened our relationships with all of our business owners downtown," Hopkins says. "We're having conversations with business owners that before we did not talk to regularly, but now we're on their speed dial. It's really been a silver lining."
Hopkins and her team are talking to business owners about the kinds of information they'd like to see going forward from the webinars and other educational tools.
"We're definitely thinking about how we're going keep being engaged with the vendors and continue their professional development with the resources that we're able to provide," she says.
Hernandez is excited to see restrictions easing and businesses reopening in Pembroke – and even to have people talking about opening new businesses in downtown.
"We're looking forward to the future and hoping that our downtown is going to grow, even in the midst of all this craziness," she says.
To help celebrate the reopening, they're planning a parade – but not the usual parade with marching bands and pickup trucks. "Businesses will be able to offer a freebie," she says. "People will be able to come and parade through all the businesses and get a freebie. They can stop in and do shopping as well, but it's just a way to reintroduce downtown to the people who may have been staying away because of the coronavirus."
She also plans to continue supporting businesses as they put more focus on ecommerce – something many businesses in town haven't done before.
"Our businesses in general are finding that … they can take orders online or over the phone … and not rely on foot traffic," Hernandez says. "I think that's something they hadn't considered before because they didn't need it."
And she'll keep listening and responding to the needs of business. "I feel like our businesses are getting more comfortable relying on our Main Street program … and realizing the benefits that being a Main Street community has to offer," she says.
In Canton, Hardy is working on a First Friday event, hoping that by July residents would be ready for live music and outdoor gathering. "We'd love to live-stream that concert on our social media outlet. It's not the same as being there in person, but at the same time you're not missing out.
"We're going that extra mile, just like every other community is, to make sure that we keep everybody safe." Hardy says. "That's top of mind for us – how to keep our citizens and our visitors safe."
"I do believe that the communities that have a Main Street program are going to recover more quickly and be more resilient and in a position to become stronger through this whole process," Reynolds says, "because they have that resource there … that they can tap into."