Trendsetters: Protecting Deliveries
BoxLock protects deliveries from theft, both on home porches and in commercial facilities.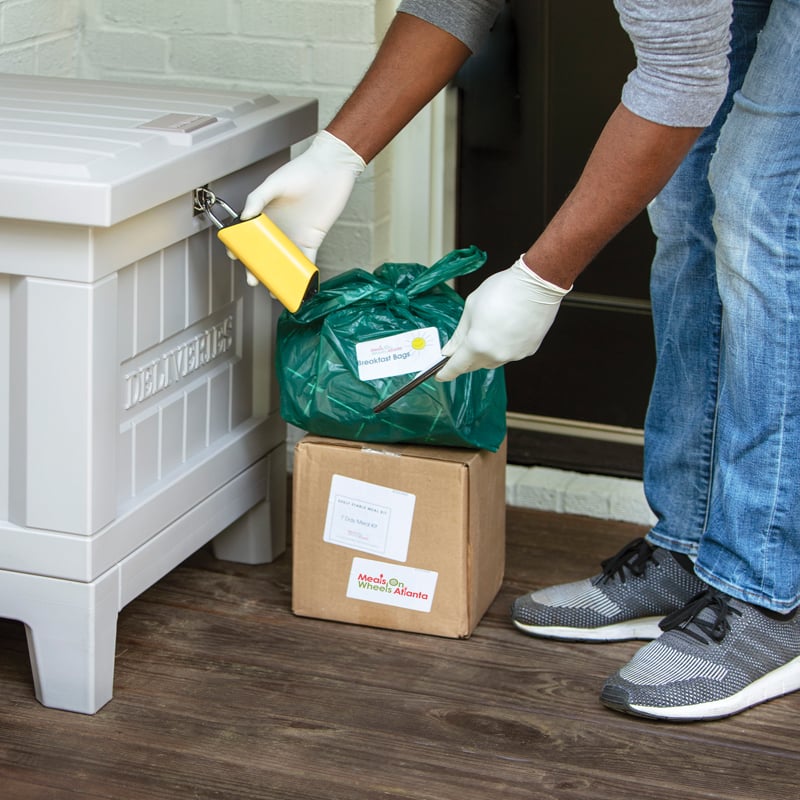 Before the coronavirus upended normal life, residential package theft was at an all-time high. An estimated 1.7 million packages were going missing each day. That's a daily loss of $25 million. And with more people receiving home deliveries during the pandemic, opportunities have increased for porch pirates.
Many residents have installed security cameras to help catch the thieves, but these rarely result in arrests or retrieval of lost items. It was watching packages being stolen from his own front porch – in real time – via his security camera phone app that motivated one Atlanta entrepreneur to develop a solution to the problem.
In 2017, Brad Ruffkess, CEO and founder of BoxLock, came up with the idea for a smart padlock that unlocks when packages out for delivery are scanned using barcode technology. Attached to a box on the porch or wall, the bright yellow lock allows a delivery person to open the container, place items inside and secure them. Owners receive notifications of their deliveries and can easily open BoxLock from its mobile app.
Ruffkess worked with California design consultants on the original BoxLock concept, but "from the initial prototypes on, all the mechanical engineering, electrical engineering and software were designed in Georgia," he says. He took the BoxLock prototype to the January 2018 Consumer Electronics Show in Las Vegas and began shipping to customers six months later.
Consumers and small businesses can buy BoxLock online through Amazon and The Home Depot for just over $100. They can also purchase BoxLock and a compatible container in a bundle for about $240. The lock is the only nationally available smart solution that protects deliveries by all major carriers, including UPS, FedEx and Amazon Prime, and Ruffkess says thousands have been deployed around the nation in just two years.
As word of BoxLock spread, businesses began to take notice. "We started getting calls from individuals in different organizations working on supply chain problems and asking for help," he says. "We started diving into off-hours delivery options and last-mile logistics, and we put together a [product] offering."
Business applications for BoxLock not only improve the efficiency and security of unattended pickups and deliveries, but also provide a solution for parts or goods that must be stored somewhere, like a warehouse, and accessed only by authorized personal. Along with security, BoxLock improves inventory management.
In response to the pandemic, BoxLock has teamed up with Meals on Wheels Atlanta to deliver meals, groceries and other critical supplies to vulnerable residents in the city's westside neighborhoods. The company is supplying its smart padlock and box bundle at no cost to people who have weakened immune systems, thereby eliminating interactions with drivers.
"We're much more dependent on things being delivered, instead of needing to go somewhere," Ruffkess says. "BoxLock is able to give chain-of-custody information that's a black hole otherwise."