New Silver Linings Playbook
A decade of prosperity and reinvestment helps the Georgia banking industry demonstrate resilience and innovation.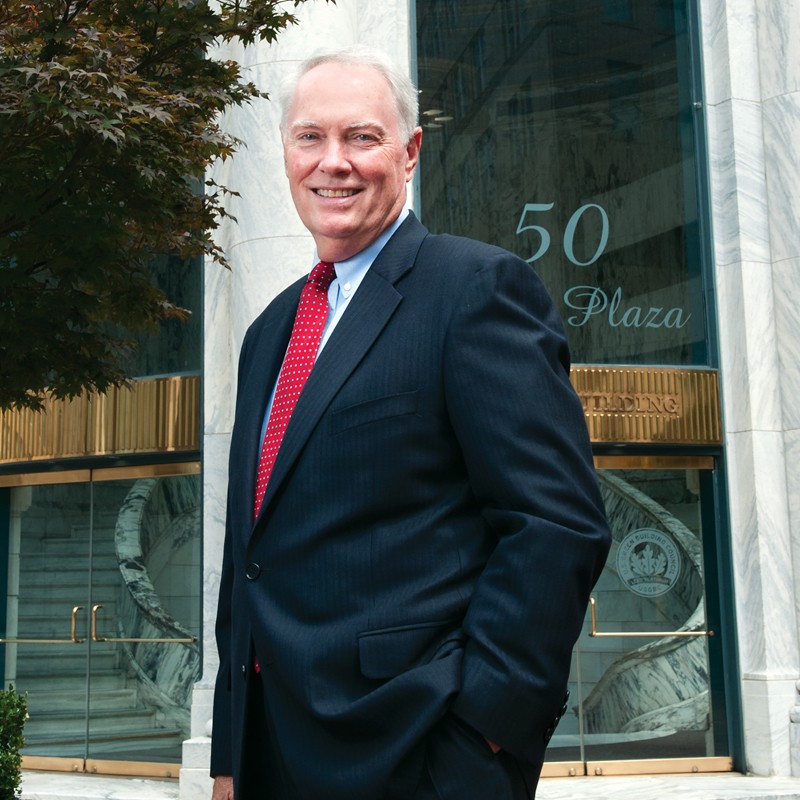 A newsletter written by the Georgia Bankers Association (GBA) in January 2020 offered its members a rosy update. More than 200 banks were doing business in the state (160 of them Georgia-based). Ninety-six percent of the banks were profitable with earnings, loans, deposits and total assets all trending healthily upward in the third quarter of 2019.
The healthy economy combined with Georgia's well-documented pro-business climate; the number, size and type of banks; and financial institutions' need to invest in innovative technology created a merger and acquisition (M&A) market. Three mergers were completed in 2019, including the blockbuster $66-billion SunTrust and BB&T deal that created the sixth largest bank in the country – Truist Bank, now headquartered in Charlotte, N.C. Four significantly smaller mergers were announced in 2019 and have been completed in 2020.
The future looked equally bright for new bank formation despite the fact that such activity had slowed since the Great Recession with no new banks formed from 2011 to 2018. But last year, two new banks opened – Tandem Bank in Tucker (September) and Loyal Trust Bank in Johns Creek (November). A third, Craft Bank in Atlanta, filed its application to form in December and in late May received conditional regulatory approval for a banking charter. The bank is expected to open in late summer.
Sure, there were concerns. Economic growth in rural Georgia has simply not kept pace with more urban areas, and that was before the coronavirus pandemic. The GBA advocates for community improvements in rural Georgia, especially access to high-speed internet and healthcare, to bolster job creation. The majority of Georgia banks are headquartered in counties having populations of fewer than 35,000 people.
And talent development and recruitment of the next generation of bankers is crucial to the financial industry. "Gen Z is our first digital native generation, and they're attracted to banking because of our mix of technology and human interaction through branches," says Joe Brannen, president and CEO of the GBA. "Banking attracts people seeking a variety of careers beyond making loans, like technology, cybersecurity, accounting and human resources to name a few. Our job is to help tell the story of banking to a variety of people who may not have thought their career choice would be in banking."
Asked to describe the state of the banking industry in Georgia pre-COVID-19, Brennan gave one word: Thriving.
"Banks entered the pandemic with twice the levels of capital and liquidity that they entered the period described as the Great Recession," he adds.
That's changed, though Brannen says it's far too early to tell what the state of banking will be one month, six months or even a year from now. What he does see are some silver linings.
"I think we have a pretty good handle on where we are as an industry and the scenarios of where we might be going, more so than we did during the downturn of the previous decade," he says. "At least everybody is in the same boat and it's not just a single segment of the economy in trouble."
Brannen points out that banks spent the past decade shoring up critical infrastructure, spending billions of dollars on technology improvements that have proved essential during the pandemic when in-person visits have been severely limited and mobile and digital access has become the new norm.
---
Increasing Innovation
The COVID-19 crisis gave some banks an opportunity to strut their stuff in ways they didn't expect this quickly. While "enhancing the client experience through investing in innovation and technology" was one of the biggest goals of the Truist merger and sounds like corporate speak, it's something they've already seen come to fruition.
"When you put [SunTrust and BB&T] together, you create a larger business, [and] you can get economies of scale in other areas of your business," says Jenna Kelly, president of the North Georgia region for Truist.
Kelly says Truist quickly designed and implemented a digital scheduling tool after shutting down the bank's branch lobbies so clients could access the bank when they needed it, also setting up an online payment deferral portal through the bank's COVID-19 page.
"That's one thing this pandemic has really tested. We've had to innovate to help our clients in different ways," Kelly says. "That's what FinTech companies have been doing. They're more agile. They can develop technologies, implement and launch them faster."
Kelly notes that the pandemic has sped up the innovation process.
"Banks traditionally have a longer development time frame from ideation, development, testing, pilot. It takes a year or two to roll it out. By then, in this day and age, it's obsolete and there's a new problem to solve," she says. "All banks are trying to be more FinTech-like in the way we attack problems. How do we develop solutions faster and learn from them on the fly so you're constantly learning and developing? … They may not be perfect day one, but you learn, you tweak it and you keep going."
Like other financial institutions, Truist assisted its clients in securing critical funding allocated by the federal government's Coronavirus Aid, Relief and Economic Security (CARES) Act, particularly the Paycheck Protection Program (PPP). The two rounds of PPP offered financial assistance to small businesses with fewer than 500 employees in an attempt to keep those businesses afloat.
"Within 14 days of Congress passing the [CARES/PPP] legislation, Georgia banks had made over 48,000 loans totaling over $9.5 billion," says Brannen. The number was expected to double during the second round of PPP funding.
Kelly described Truist's efforts in April (when the two rounds were offered) as "all hands on deck." She says during the first round, Truist assisted about 32,000 companies, saving close to 1 million jobs with about $10 million in funding.
---
Talent and Technology
Cadence Bank merged with State Bank in January 2019, moving its banking headquarters to Atlanta from Birmingham, Ala. Cadence has 32 branch locations throughout Georgia and operates in six of the seven largest metropolitan statistical areas in the state. CEO Sam Tortorici calls the merger a "complementary combination of strengths" and says the bank's chair likes to call their team "the Navy Seals of banking."
"Since we got Cadence started in 2011, we've intentionally gone out and recruited deeply experienced bankers, typically from much larger institutions," says Tortorici. "Our commercial banking team averages 22 years of experience. But they come and join a little smaller banking platform. So, you have the talent and experience to serve clients but a nimbler platform with very good technology, and that has been our recipe for success.
"Cadence business strategy is more centered around business client growth," he adds. "We do not have a big focus on opening a lot of locations. We're really more focused on recruiting the top banking talent in the market that knows the market around the state to lead and guide us. In terms of branching, we are seeking to open a new branch in the Metro Atlanta area to help serve the needs of low- to moderate-income citizens."
In March 2020, right before the COVID-19 pandemic hit, Cadence Bank was recognized for Excellence in Small Business Banking by Greenwich Associates, the leading global provider of data, analytics and insights for financial services. And Cadence's customer service went into overdrive.
"We received and processed hundreds if not thousands of requests from both small businesses as well as our consumer borrowers to defer loan payments," says Tortorici. "We continue to process those to give people time, as the economy will inevitably pick back up. But it gives them the opportunity to breathe a deep breath."
Cadence beefed up its call center staffs to handle increased volume and was one of the first banks to go to drive-thru only, switching to appointment-only lobbies. The bank also redeployed more than 130 associates to its SBA group to handle the flood of SBA loan applications.
Tortorici wonders what the future is for banking in the post-COVID-19 days. "My crystal ball isn't real clear right now on what exactly that will look like, but, for example, take branches. If people are going to become more hesitant to be around people or have physical contact with people they don't know, they'll be less likely to come in," he says. "We'll set appointments to have smaller groups. We'll use technology like Zoom video to meet with clients. It's going to impact how not just banks but all corporations view formal office space."
That leads to more questions, like how much office space will be needed, and how will that impact commercial real estate development and the retail sector?
"There are so many different ways it can impact business over time, but one thing that will never change is that banking is still a people business," he says. "Face-to-face contact is critically important."
---
Smart Strategies
Fifth Third Bank, the nation's 14th largest bank headquartered in Cincinnati, entered the Georgia market 12 years ago during the Great Recession. Their presence was the result of an acquisition and a purchase. In 2007, Fifth Third acquired R-G Crown Bank, a Florida-based bank with three locations in Augusta.
"Then in the 2008, 2009 timeframe, First Horizon National was pulling out of the Georgia market," recalls Randy Koporc, Georgia regional president for Fifth Third. "It wasn't an acquisition, but we did purchase nine of their financial center locations [in Atlanta], which were then converted to Fifth Thirds."
Koporc came to Atlanta charged with growing Fifth Third's de novo commercial bank offerings (a new bank brand or newly chartered banks not acquired through purchase), which it opened throughout the city. An agreement with Kroger put its financial centers in grocery stores, accelerating growth and taking Fifth Third from about 10 Georgia branches in 2009 to 33 today.
Once in Georgia, Fifth Third also acquired Breckenridge, a small boutique M&A firm. "Then about two years ago, we acquired Coker Capital Advisors, a really good boutique M&A firm in the healthcare space," says Koporc. "That really bolstered our national capabilities, but the unique thing about both those opportunities is that they came out of Georgia."
Koporc says their branching strategy had already shifted pre-COVID-19 to what the bank calls Next Generation (Next Gen) branches. He calls it an "Apple-like experience." The newest location is in the Chamblee/Brookhaven area.
"You won't see a normal teller line," says Koporc. "People greet you with tablets, there's a big digital board where clients get information, there are private meeting rooms. It's designed to meet the customer where they want to meet us. If they want to meet us in a private office, they can. If they want to use technology, they can, or remotely. Or if they want to use the branch to bring in partners to meet remotely for broader conversations, that can be done."
While customers are becoming more comfortable using mobile technology, Koporc says research tells them the bank presence is still important when selecting a bank. That said, he adds, "We don't want to steer people to our way of engaging with us. We want to be able to interact with them the way they want to engage with the bank."
In the past, he says, "you might look at a market like Atlanta and say you have to have 250 branch locations to have a real relevant presence. Now, in a new era of banking, "the way people engage with their bank, you can have 40 to 50 well-placed locations and be very, very relevant in a market like Atlanta."
Like its industry counterparts, Fifth Third has been deeply engaged in assisting customers seeking SBA loans and other financial relief during the COVID-19 crisis.
"Many small businesses have been helped by bridging the gap with their payroll and things like that," says Koporc. "This is when relationships matter. This is what makes us unique. We came here during the financial crisis, and the market was looking for a fresh alternative.
Fifth Third Bank provided a different experience at a time when many people were inwardly focused, using the strengths of a large bank delivered with a smaller community bank feel. That included providing people access to the president and heads of company divisions while also proactively being in front of the customer.
"When those times of challenge face us," Koporc says, "having those relationships really allows us to accelerate and do some unique things for our customers."
"Times of crisis are when banks – and bankers – are at their best," says Brannen. "Most bankers have spent their time, one-on-one, making concessions or accommodations to borrowers based on their own particular needs.
"That's what's setting the industry apart and frankly what's setting bankers apart," Brannen adds. "Bankers are showing leadership in conversations about how to sensibly reopen the economy. Because they've been part of the country's critical infrastructure and they had disaster recovery and pandemic plans already in place, they've got experience some other businesses don't. That planning paid off when the pandemic hit Georgia."