Cultivating New Crops
Georgia farmers are diversifying what they grow and how they go about it.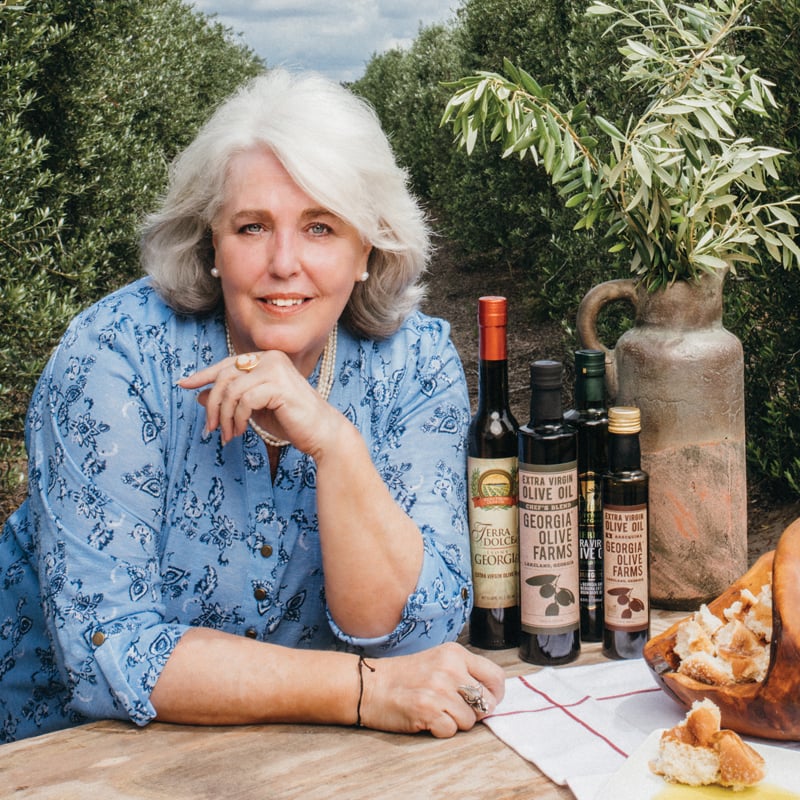 When people think about Georgia agriculture, peaches, peanuts and pecans come to mind. While the state is a leading producer of these staples, new crops and technologies have emerged in the past 10 years that could help Georgia farmers diversify and lead to premium pricing. The next decade may very well see the state becoming known for its olives, citrus and hemp, along with a proliferation of hydroponic farming.
Olives and citrus aren't exactly new to Georgia. According to the Georgia Olive Growers Association, British settlers arriving in the 1730s found olives and orange trees growing near the St. Simons Island lighthouse and at some of the coastal mission sites. These were likely planted by Spanish friars but eventually died out due to hurricanes and the U.S. Civil War.
Today, there are about 7,000 acres of olive trees growing in south-to-mid-Georgia and along the coast, says the association's executive director, Vicki Hughes. Of those acres, nearly 5,000 are part of Georgia Olive Farms near Lakeland, the first commercial olive farm to be established east of the Mississippi River in two centuries. Hughes's cousins, the Shaws, planted the farm's initial olive trees in 2009, and she is in charge of marketing for the enterprise.
"Right now, there are about 14 farms growing olives in Georgia," she says, "which is good considering it's a specialty crop."
The Shaws were inspired to begin farming olives after one of the brothers studied in Italy as a University of Georgia (UGA) student. At the time, the family was growing cotton, peanuts and corn and wanted another crop to balance out price fluctuations in those commodities. When they harvested their first olive crop in 2011, they had to put the pedal to the metal to transport it to a Texas mill for processing within 24 hours, the timeframe necessary to achieve the extra-virgin oil standard.
"There was no olive mill in the Southeast," Hughes says. "That was not ideal."
In 2013, the Shaws built the region's first olive mill, and today it's Georgia's largest, enabling them and other growers to process their oil closer to home.
Over the years, Georgia Olive Farms has steadily expanded its orchards and currently grows three types of trees: Spanish varieties Arbequina and Arbosana and one Greek variety, Koroneiki. All of the olives are made into extra-virgin olive oil according to strict U.S. Department of Agriculture (USDA) standards. The pure Arbequina oil – with its buttery flavor – is bottled and sold separately. It's also combined with the nuttier-flavored Koroneiki oil to make a Chef's Blend that has received rave reviews from celebrity chefs, including the Food Network's Alton Brown, a Georgia resident.
Supplying restaurants and specialty stores is a big part of Georgia Olive Farms' business along with online sales.
"A few grocery stores have it on the shelves," says Hughes. "When the acreage becomes more mature, you'll see it on more grocery store shelves."
She says demand for domestic olive oil is growing despite its higher price because people want to know what they're getting. (The majority of olive oil sold in U.S. grocery stores is imported and not subject to strict USDA quality and labeling standards. This means it can be mixed with cheaper, less pure olive oil. The cheaper price reflects foreign government subsidies, which don't exist in the U.S.)
"Domestic [olive] oils are more expensive, but they're worth it," she says. "They're fresh, and you know you're getting true extra-virgin olive oil," meaning it's milled within a specified time from harvest, cold pressed, filtered and stored in a specific way.
While Hughes says olives can be expensive to grow, harvest and process, there are many advantages for farmers.
"There are a lot of uses other than just oil," she says. These include ingredients for the nutrition and skincare industries. And agritourism is increasing for olive growers. "People like walking through the orchard and learning about the olives," she says.
In addition, the trees are fairly disease resistant, and they live to be thousands of years old, ensuring a long-term harvest for the investment.
---
Flavorful Fruit
During the past decade, family farms – especially those with small acreage – have been investing in citrus, another crop not typically associated with Georgia. Most of the state's burgeoning citrus crop is devoted to satsumas, a sweet, easy-to-peel type of mandarin orange that's slightly bigger than a tangerine. But other mandarin varieties, tangerines, grapefruit and lemons are now grown in the state and harvested from November until early February. Slightly warmer temperatures, cold-protection techniques and hardier trees have contributed to citrus finding a home in the state.
"Ninety percent of the people in Georgia do not know we grow citrus here," says Joe Franklin, co-owner of Franklin's Citrus Farms in Statesboro. "I'm looking forward to Georgia-grown citrus being as big as Vidalias [onions] one day."
He was one of the state's first citrus growers, planting 200 trees in 2010 and adding to them over the years until now he has about 6,000 on half of his 53 acres. Since it takes several years to get quality fruit from the trees, his yield has incrementally increased at farmers markets and a few grocery stores from Statesboro to Savannah, in Atlanta and on his website. Whether he's talking about his satsumas, the smaller mandarins he's dubbed Sweet Georgia Kisses or ruby grapefruit, his description is the same. "They are the absolute best I ever put in my mouth."
The reason, he explains, is because the fruit ripens on the tree, making it more flavorful than comparable varieties shipped from long distances like Texas or California.
"It takes 10 days to get California citrus to the Atlanta market," he says, adding that the fruit is picked green, gassed to make it change color, dyed and waxed to extend its shelf life. "The advantage of our produce is that it's locally grown and in the grocery store [or farmers market] within a couple of days," he says. "It makes all the difference in the world."
According to Lindy Savelle, president of the Georgia Citrus Association, citrus grower in Mitchell and Thomas counties and co-owner of the Georgia Grown Citrus commercial nursery, the flavor difference is only one reason the industry is taking root in the state.
In 2016, when she helped start the association, it had 27 members. "Today, there's over a hundred growers and I think we're up to 35 or 36 counties," she says. "We estimated about 1,000 acres were planted at the end of 2019, and we expect that to double this year. Probably not a day goes by that I don't get a phone call or an email or a text from someone wanting to come over and talk to me about citrus."
She attributes the increased interest to two factors. The first is traditional row-crop farmers looking to diversify.
"They're looking to make an investment in a citrus so that in four or five years they can have something that actually makes money, because they're just barely keeping afloat with traditional row crops," she says. "They see it as a means to maybe make some money in a specialty item with less acreage – [the yield from] 30 acres of citrus is equivalent to hundreds of acres of row crops."
She says a second reason for citrus's popularity is the family farm concept. "I'm seeing these young families searching for something new to kind of roll back time so they can have an opportunity to get out and do something as a family," she says. "Citrus is that one thing they can do as a family. They can actually farm."
Disease is one potential drawback to growing citrus in Georgia. Florida crops have been devastated by citrus greening, which is an insect that carries a bacteria. "It's like coronavirus," says Franklin. "It can kill trees in three to five years, but the symptoms don't show up the first year. They can't find a cure for it, and they can't find a variety that's tolerant to it."
Savelle says the key is stamping out the disease when it first appears. She spends much of her time educating commercial growers and homeowners about what to look for and the need to eliminate diseased trees to avoid the spread. "You don't want to be that person who causes everybody else to lose money," she says.
Because the state has two new citrus packing and sales operations that purchase crops from growers, she and Franklin expect more farmers to jump on the bandwagon. And more of that citrus will find its way to grocery stores in the state like Publix, Whole Foods and Aldi. Franklin says these stores had local citrus last year for a limited time.
"This year is going to be big for satsumas in Georgia," Franklin predicts.
---
Homegrown Hemp
Hemp is a brand-new crop for Georgia, and it's another one that could help farmers diversify for greater profit. The 2019 Georgia Hemp Farming Act (HB 213) allows farmers in the state to grow, process and sell industrial hemp, a strain of the cannabis sativa plant that has less than 0.3% THC. (THC is the chemical in marijuana that makes people feel high.) The rapidly increasing popularity of cannabidiol or CBD, which is derived from hemp flowers, is causing some farmers to contemplate adding the crop to their mix.
Tim Coolong, UGA associate horticulture professor and vegetable specialist, began growing hemp in research fields last year after Gov. Brian Kemp signed HB 213 into law. He sees hemp as a way for smaller farmers to add some income to their farm.
"This could be something for those smaller and mid-sized family-type farms that often don't have a lot of choices that are profitable," he says.
The market for CBD outside Georgia was "quite profitable on a per-acre basis," leading up to the 2019 growing season, he says. Because there was significant production in other states last year, hemp is no longer quite as lucrative. "But even with lower returns, it offers more profit potential than a lot of other crops," he says, "so financially, it's still attractive."
The cost of purchasing the seeds or plants is higher than other crops, and hemp requires a lot of hand labor in planting and harvesting. Coolong says the crop can be beset by several diseases and insect pests that must be controlled.
On the plus side, he says hemp can be grown throughout the state. Its growing season is short – two to three months – and like citrus, it doesn't require a lot of acreage. "You can produce quite a bit from a relatively small acreage planting," he says.
In March, the Georgia Department of Agriculture began granting licenses to grow and process hemp. Coolong believes as many as 160 may eventually be approved for growing along with perhaps a dozen processing licenses granted.
Blake McCormack, a farmer near Rutledge, applied to grow about 20 acres of hemp and process it for his planned line of CBD products and for other farmers. He became interested in hemp a few years ago after having medical issues that CBD oil helped alleviate. Today he's excited to have his first crop.
"The oil is just scratching the surface," he says. "Hemp is like a tri-crop. You'll be able to harvest the flower and extract the CBD, take the stalks and use those for fiber. The seeds can be pressed for flax seed oil." He says hemp can also be used for graphene, a component of batteries.
"It's been a while since something this exciting has come to the ag community," he says. "It's an opportunity to keep some of those second- and third-generation farmers in agriculture."
---
High-tech Harvest
Along with new crops in the state, new ways of growing food are emerging. Better Fresh Farms in Metter is one example of how farmers are harnessing technology to improve harvests and sustainability.
Four years ago, owner Grant Anderson began growing lettuce – in mineral-infused water instead of soil – in two high-tech hydroponic containers, similar to shipping containers. The 40-foot boxes were outfitted with racks for the plants, irrigation tanks, artificial lighting, climate controls, monitoring sensors and an extensive computer system.
In his first year of operation, he tested 13 lettuce varieties and harvested between 75 and 100 pounds per week. Realizing he would need more space to scale up the business, he added two more containers and now harvests about 400 pounds of produce per week, including lettuce, collard and mustard greens, kale, baby bok choy, herbs and radishes. His goal is to add 10 more containers to increase his yield to more than 2,500 pounds weekly.
"This is an under-the-radar approach to local food production," he says. "I don't think a whole lot of people have given it much thought."
Before the coronavirus pandemic arrived, Anderson was selling his vegetables to half a dozen restaurants, two golf clubs, a grocery store and the Forsyth Farmers Market in Savannah. He's since added sales on his website and hopes once the farm is at full capacity he will be able to supply fresh produce to large organizations such as schools, hospitals and retail grocery store chains.
Purchasing the containers is expensive, with a price tag of $115,000 to $125,000 each, and he says electricity is a considerable cost due to the artificial lighting and controlled temperature. However, he says the benefits are worth the investment, especially for farmers looking for an option to help offset the seasonality of other crops.
Among the advantages of hydroponic farming are the ability to grow and sell a constant volume of produce year-round and the small amount of acreage needed. In addition, he says water consumption is about 90% less than a traditional farm's pivot irrigation system and the plants do not require chemicals for weed or pest control. His yield is a premium crop that's in consumer's hands within a couple of days of being picked. It has a much better flavor and a longer shelf life than typical grocery-store produce.
"The way traditional farming has been going, there's not going to be enough row-crop food production in our state to provide for our state," he says. "There are going to have to be alternative methods. Hydroponics can help fill the gap."
Regardless of the crop or technology, changes are occurring that may make Georgia a more profitable place for family farms, with crops that require a smaller footprint outdoors or inside.