Business Casual: Protests and Protesters
Are we ready to find a way to be a part of righting wrongs, remaking systems and changing procedures and practices – to do better?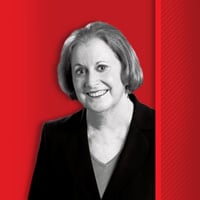 The distance from my living room couch to Atlanta's Centennial Olympic Park is just under seven miles, but it felt both nearer and farther away as I sat there watching TV coverage of the first night of the local protests following the killing of George Floyd in Minnesota.
Nearer, because the park is a familiar place, a comfortable place I have been many times. Farther away, because it was the scene of what began as a peaceful demonstration – against the kind of brutality that allowed a white policeman to press his knee to the throat of an unarmed Black man until he died – but devolved into chaos and violence that produced injury, looting and property damage. That did not look like the Atlanta I know and love. And yet it was.
The demonstration I observed in person, on a warm Sunday afternoon a few days later in downtown Decatur, was a short walk from where I live. The mood was somber and serious; all was peaceful, purposeful. The protesters were diverse – not surprisingly, given Decatur's population, there were plenty of white participants. Young children held marker-scrawled signs demanding racial justice; lots of older people showed up, including one woman, unsteady on her feet, who was being helped by family members. Most of those assembled wore masks; no one was crowding anyone else.
This particular protest, organized by the Beacon Hill Black Alliance for Human Rights, focused largely on some ugly incidents in Decatur, including social media posts by local high schoolers that were equal parts racist and stupid.
There were people handing out bottles of water, and something like 1,500 fists raised to support chants of "Black Lives Matter." The subtle police presence served mainly to block automobile traffic from the protest area and escort the crowd that ended the rally with a march toward the Oakhurst neighborhood.
In between the two separate protests were days of tension, locally and across the country; some horrifying scenes of excessive force; some heartwarming scenes of unity; some strong statements from public officials, including Atlanta Mayor Keisha Lance Bottoms, who spoke as a mother and a leader; and, of course, lesser statements from others, including the current occupant of the White House, that did nothing to make things better.
Publicly, attention was focused on the protests and the events that prompted them. The names of George Floyd, Breonna Taylor, Ahmaud Arbery, Trayvon Martin and others were invoked; videos of violent acts, shameful abuses of power – and some unifying gestures, like hugs and taking-of-knees – became as familiar as our own family photos.
Privately, I believe a lot was going on as well. People were thinking, talking, paying attention. Many who had found it convenient to tell themselves that things were getting better and, with time, would continue to improve began to question that. Others who had wanted to believe that police brutality was simply a matter of "a few bad apples" rather than any systemic blight had to re-examine that notion. I think a lot of minds and hearts were being looked into.
I believe many came to accept the fact that acknowledging our own culpability might mean acknowledging that we may not be the truly blameless people we want to believe we are – taking off our white blinders.
I think, too, that people were asking themselves, what is my role in all of this? What can I do? What do I need to change?
Some of us may have wondered if our "help" was wanted or needed in the struggle. Can white people be part of the solution as well as the problem? Should we just tape our mouths shut and listen?
I hope and believe we have a part to play. Many of us have been urged by friends ("Why aren't you marching?") and by public figures like Dr. Bernice King, daughter of Dr. Martin Luther King Jr., who have invited us to the fight. I think the COVID crisis figures into all of this; it is not just the first-night protesters who spent long weeks feeling powerless and frustrated; a lot of us did.
We were ready to find a way to be a part of righting wrongs, remaking systems, changing procedures and practices – to do better.
I don't believe any one individual's presence on the Decatur Square on a single June afternoon, as a protester or an observer, is going to change the course of history, but it is a good place to make a start.