Outside the Box
County leaders have developed innovative initiatives to address challenges and improve lives.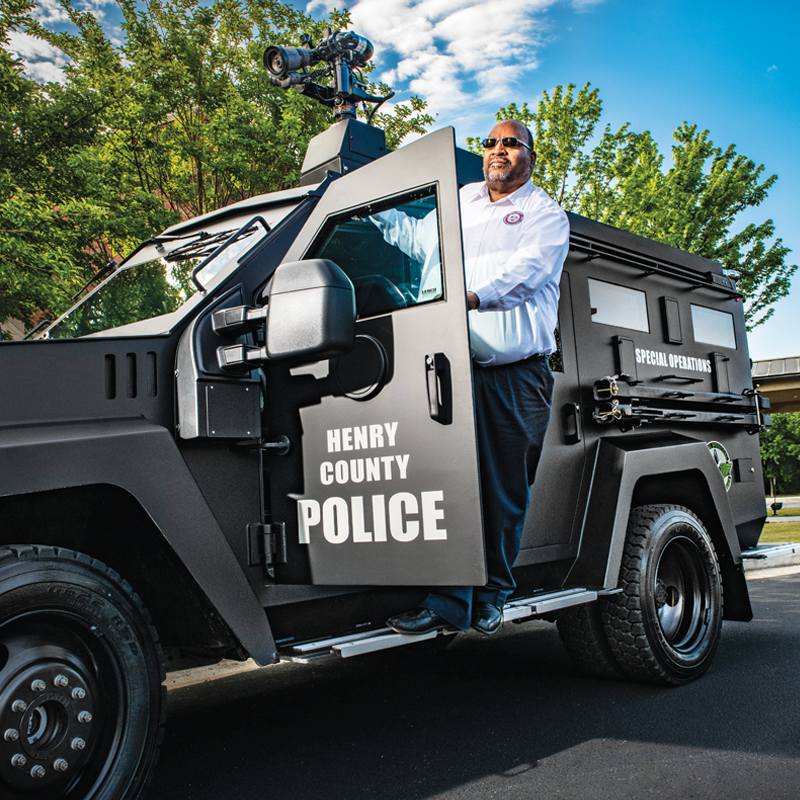 Responding to active shooters, training firefighters, keeping babies and seniors healthy, ensuring the privacy of citizens and getting folks from here to there, these are all things that fall to counties – often to counties with limited resources. Leaders in six Georgia counties have found creative solutions to these challenges that save money, serve more people and help improve the lives of local residents.
This year, Georgia Trend and the ACCG, a nonprofit organization that serves Georgia's county governments, are recognizing six initiatives with County Excellence Awards for their out-of-the-box thinking on local challenges in the areas of healthcare, infrastructure and transportation, public safety and technology.
"County officials are constantly developing new programs and initiatives to meet the needs of their citizens," says Dave Wills, ACCG's executive director. "The recipients of the 2020 Georgia County Excellence Awards are a direct reflection of the innovation that occurs in county government in order to meet those needs and address community challenges." – Karen Kirkpatrick
---
Public safety
Henry County
Saving Time and Lives
Newtown. Parkland. El Paso. The tragedies synonymous with these cities are seared into Americans' memories. With such horrific attacks now more commonplace, Henry County created a rescue task force initiative to train public safety personnel to move in rapidly in "active shooter" situations.
"We recognized that the quicker we make contact with potential victims, more lives can be saved," Henry County Emergency Management Director Don Ash says.
The suburban county south of Atlanta prioritized the program, Ash says, after officials underwent training via the Federal Emergency Management Agency (FEMA) and Department of Homeland Security in 2018. Obtaining a $175,000 grant from FEMA, Henry became the first Georgia county to participate in a course to prepare for such attacks, he says.
Returning home, officials "made a decision to use the lessons learned," he says, and brought together "all the critical people." A unified response is especially important in the fast-growing county of 230,000 with multiple public safety agencies, including those from the cities of McDonough, Locust Grove and Hampton.
Henry Police Captain Randy Lee credits senior leadership in the county and the other municipalities for buying into the program. "They took it to heart," Lee says. "They came back [from the FEMA conference], and they gave us a timeline and backing."
Under the program, more than 750 personnel underwent four-hour training over a two-month period, Lee says, and they will receive a refresher course yearly.
"In the past, there was no set standard for how to respond to such [shooting situations]," Lee says. "Different agencies reacted differently. Now everybody can react one way.
"We don't have to get together and come up with a plan. We already have a plan."
Previously, fire and EMS personnel didn't enter a crime scene until it was completely secure. As a result, victims could lose more blood from gunshot wounds.
But now, following a new standard from the National Fire Protection Association, law enforcement escorts medical responders so they can arrive quickly and safely begin treating the wounded with tourniquets or chest seals.
"The medics can assess, make lifesaving interventions and arrange for the evacuation of the victims," says Henry County Fire Chief Luther Phillips.
Henry County set aside $217,507 for equipment for firefighters and EMS. The gear includes mass casualty trauma kits and ballistic vests and helmets. Nearly $300,000 went to purchase a Lenco BearCat, an armored personnel carrier that helps officers get closer to react to shootings.
Officials see the training and equipment as key to reacting quickly to a mass shooting.
"Nowhere is immune. The expectation is that it will happen," Phillips says. "Everybody's susceptible to this, and it's best to get out in front of this."
---
Public Safety
Camden County
Rescuing the Firefighters
When its firefighter recruitment program began two years ago, Camden County Fire Rescue needed to replenish a quarter of its force.
"We were really short-staffed," Fire Chief Terry Smith admits, with 24 positions vacant out of 93 firefighters in the southeastern Georgia county of 53,000 that sits on the coast along the Florida border.
"We lost 24 people within two to three years," Operations Chief Lisa Boyett says.
Officials attribute the vacancies to a variety of factors, including the lure of higher pay in nearby Jacksonville, Fla., and its suburban counties and Camden's Naval Submarine Base Kings Bay as well as the changing nature of the firefighting profession.
"More and more [firefighters] are put on the front line as first responders," County Administrator Steve Howard says. "They're doing more and more than just fighting fires." Camden Fire Rescue is the sole EMS provider in a county with 613 square miles of land.
Since the program's creation in June 2018, "we've been able to hire and maintain 21 of 22 of the firefighters we've trained," Boyett says.
Officials say the program has helped reduce expenses and improve morale. With so many openings, the department had to rely on mandatory overtime, which cost about $13,000 a month, according to Boyett. The shortage also put stress on firefighters' home life, she says.
Before the program, only a limited number of Camden recruits could attend the Georgia Public Safety Training Center in Forsyth. "Sending four people at a time was not going to work," Boyett says, citing the need to certify recruits quickly.
Instead, the county used in-house training, following the state curriculum for firefighters. Recruits undergo eight weeks of instruction to get their firefighter 1 certification, followed by two weeks of driver training and equipment familiarization. They then undergo four weeks of EMT coursework.
The recruits work out of a firehouse during their training. "It's important for them to see what it's like at the station," says Boyett, who adds it helps staff to shore up weaknesses in recruits and give feedback.
The program's fourth class was set to graduate this spring.
But the shortage of firefighters remains a national problem, Smith says, with pay and retirement vexing issues.
However, he says the county has bumped up pay, which helps retain personnel. The county administrator also cites retirement programs as helping Camden attract firefighters.
"We get local people who are willing to help serve their local community," Smith says of recruits. "The program has been real successful."
---
Healthcare
Dekalb County
Supporting Mothers
Who knew that a few miles could be the difference between life and death? That's exactly the case when in 2005, the national infant mortality rate (number of deaths of infants under one year old per 1,000 live births) was 6.2%. The infant mortality rate in well-heeled Dunwoody was below the national average, but Lithonia, less than 30 miles away, had an astonishing 13.5% score. Today it's in the low 10s.
"I saw the data and thought something was missing," says Dr. Elizabeth Ford, CEO and district health director with the DeKalb County Board of Health (DCBOH). "It can't be all resources. Women of color are not given the same levels of medical attention."
So she created Mothers Offering Resources and Education (M.O.R.E.). "I created M.O.R.E. in 2005 from a place of personal experience," she says. "I'm a pediatrician and a single mom, and I was overwhelmed. There are things that you just don't know."
M.O.R.E. provides a community approach to ending the county's maternal-child health disparities. Many of the women lack housing, employment, food and other necessities but also basic life skills. M.O.R.E. provides parenting classes, breastfeeding assistance, emotional support and necessary items from diapers to layettes.
"Everyone needs emotional support, and most of these moms don't have it, irrespective of age," she says. "They are faced with a child who is irritable. That's when there's the highest risk of abuse and neglect. We talk about calming a baby. They don't know how to check a fever or install a car seat."
There are five M.O.R.E. Moms, as the program's staff members are called, at five locations that serve about 1,500 women a year ranging in age from 13 to 47. Four years ago the program added two Spanish-speaking M.O.R.E. moms in North DeKalb County, which has helped 400 women. Many of them are undocumented and fear accessing services. "We have to reassure them that they're in a safe place," says Genesis Quiroz, a M.O.R.E. mom.
"The ladies are excited about the free things they get and getting their questions answered," says Carrissa Jones, a M.O.R.E. program supervisor. "We're able to meet that need and provide education that they may not get at home or school."
The DCBOH saw a need for temporary housing, and a property has been offered to them.
"If we could provide housing, these women could go to school, come home and take childhood classes," Ford says. "We'll have a captive audience and be more effective than visiting in house."
M.O.R.E.'s budget is $275,000. "When you look at our budget and the level of success," says Ford, "it's the best bang for your buck in DeKalb County."
---
Healthcare
Jones County
Improving Veterans' Access
The lack of medical services in rural America is well documented, and it particularly hits veterans who may be hours away from the nearest Veterans' Administration facility. The Jones County Health Department, along with County Commissioner Jonathan Pitts, decided veterans deserved better.
"My grandfather was a veteran. When he got ill, my father and aunt had to take him to Dublin to see doctors [about 55 miles away]. It was a bit of a challenge. Other families have the same issue," Pitts says. "They may not even have someone in the family who can drive, which means you won't get healthcare."
Another challenge is connectivity. "Some veterans may have computers, but many don't. Even if they do, they may not know how to use them. Affording an internet service is also a problem," he adds.
He read about a veterans telecommuting medical service in a National Association of Counties publication and thought it would benefit the county's veterans. The county and Pitts teamed up with the Carl Vinson Veterans Affairs Medical Center in Dublin to offer a Telemedicine Veterans Room. Vets can make an appointment with a VA doctor, then simply go to the local health department's telemedicine room and connect with a doctor via a computer. The county IT department ensured that the network and software were compatible, and the North Central Health District donated a laptop.
There in the privacy of a room decorated with plenty of red, white and blue, they can talk with their practitioner about general health concerns, future appointments, refilling prescriptions and seeking referrals. If the veteran needs help, the health department staff is on hand. The appointments are scheduled every Thursday during a two-hour period.
The program opened in October. As awareness is growing, so is the number of participants. The county's veterans' organization has 275 members, but Pitts says they believe there are 2,000 to 3,000 veterans in the county. The program is the first of its kind in the state.
"Our goal is to have this program succeed and expand throughout Georgia," says Pitts. "We don't have a set number of how many veterans we want to serve. Within the next five years, I'm optimistic that the telehealth service being provided to our veterans throughout Jones County becomes a Monday through Friday resource with hours of operations similar to those of a traditional brick and mortar medical facility."
Pitts believes the new initiative is one of the most effective healthcare tools available to help serve local veterans and rural communities.
"When our veterans return home from service, healthcare is the one thing they should never have to worry about," he says. "If we help one veteran, it will be well worth it."
---
Infrastructure & Transportation
Forsyth County
Revamping Roads
Sometimes, you just have to take matters into your own hands. That was the conclusion leaders in Forsyth County came to in 2014 when considering how to fund major transportation infrastructure projects. And the county is still seeing the benefits today as work continues.
Popular with families and businesses alike, the county was growing by leaps and bounds but roads were at a breaking point. When the statewide T-SPLOST (Transportation Special Purpose Local Option Sales Tax) failed in 2012, county leaders needed to come up with another way to move transportation projects forward. John Cunard, the county's longtime director of engineering, says the idea of a bond referendum was batted around between a couple of county commissioners, the engineering and transportation staff and their consultants.
"We talked about possibly doing a transportation bond and how we could partner with the Georgia Department of Transportation (GDOT) and get up to speed on our transportation needs by leveraging additional state and federal dollars," he says.
A few meetings later, they developed a project list that included both state and county projects. In September 2014, the board of commissioners approved a resolution to create the project list. By that November, a $200-million bond referendum to pay for transportation infrastructure, which would be paid back through property tax, was on the ballot. It passed decisively.
"The project that was the key was the widening of Georgia 400 through the county," says Cunard. "It was the biggest and probably the first that was implemented. It was also one that had regional significance, not only to residents of Forsyth but the adjacent counties. It was a real attention-getter."
Other projects included road widenings and sidewalk and intersection upgrades that have since been completed, but major projects are still pending. The extension of Ronald Reagan Boulevard and a new interchange at Georgia 400 and Georgia Hwy. 369 have recently gone to bid.
"We're just now seeing some projects come to construction, and our bond passed in 2014," says Cunard. "That's just the life of a transportation project. But if you wait on the state or federal dollars, it's a long time coming and there are a lot of strings attached. The bottom line is that if you don't pay for it yourself, it's not going to get done anytime soon."
The referendum had a transformational effect on Forsyth County, both on its roads and its influence. "It set an example for other communities to consider going forward for how to fund transportation within their counties," he says. "[It's] an option that worked tremendously well for us."
---
Technology
Fulton County
Recruiting Cyber Talent
Cybersecurity for municipalities is no joke. The city of Atlanta found that out in March 2018 when hackers attacked the city's computer network, infecting files with a virus that spread through emails, court files, even police dash-cams. It's not surprising. Municipal cybersecurity departments, if they exist, are notoriously underfunded and understaffed.
Glenn Melendez, the interim chief information officer for Fulton County's IT department, wanted to see if his department could change that, without having to raise taxes to do it.
"Our program, the Cybersecurity Center of Excellence, grew out of needing to move these types of programs forward while thinking innovatively about how to get that accomplished," says Melendez. "It was created in collaboration with our security team. We brainstormed about how to get new talent in our organization."
Several questions came out of that process. "Where do we get this talent? The answer naturally led to the pipeline coming from the universities. Then the question was, how do you get them now versus competing with the private sector once they're in the market? That led to internships."
He approached Georgia State University (GSU) to see if it wanted to partner with the county, and in 2018, four GSU students joined the county's cybersecurity team. The program has since grown to 76 interns from nine colleges and universities including Kennesaw State University, Atlanta Technical College and Georgia Tech, all working diligently to detect and isolate vulnerabilities in the county's cyber network.
"This program allows us to recruit smart talent from some very good schools and to have them under the leadership of good people who understand security, cybersecurity, and can direct them," Melendez says. "So it gives us a win, but it gives them a win, too, because it's typically a capstone project for credit for their school."
Some of the students even end up employed by the county after they graduate. "We wouldn't be doing our due diligence if we let all that talent go out into the marketplace and didn't look at how to source some of those folks for ourselves," he says.
Such a program can be replicated virtually anywhere, contends Melendez. "We are fortunate that we're located with lots of colleges in our backyard, but we believe it's a program that can be duplicated easily in a lot of counties as long as you have a university that you can partner with," he says. "I wish people would, because it's been very valuable to us."