Making Connections
With new initiatives, Gwinnett CIDs bring businesses and people together.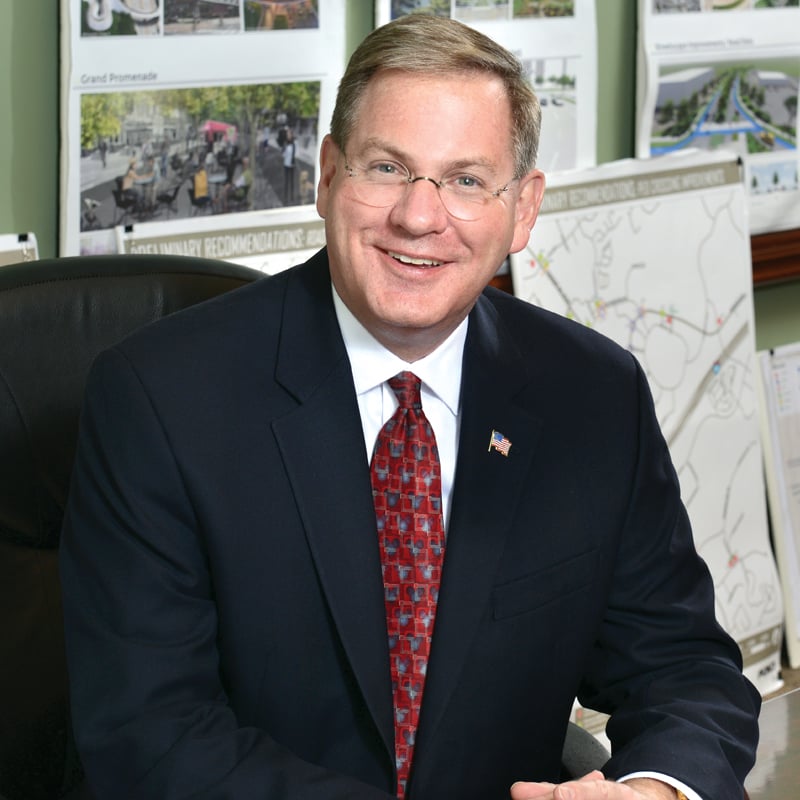 While leaders of most Georgia businesses know what the letters CID mean, the acronym might not exactly be a household word. However, practically everyone in the state has benefited from the work done by these business-boosting entities.
The acronym stands for community improvement district and refers to a collection of businesses within a geographic boundary that voluntarily agree to tax themselves to fund improvements within their district. First launched in the 1980s, there are now more than two dozen CIDs in Metro Atlanta, including six in Gwinnett County.
CIDs are perhaps best known for sidewalks, streetscapes and trails that aim to add pedestrian access and human-scaled infrastructure to their service areas. Those improvements remain a key focus, but CIDs also serve many other functions as well, all with the goal of supporting local business.
"Our three main areas of emphasis are making the area connected, safe and attractive," says Sugarloaf CID Executive Director Alyssa Davis. "We have a long list of projects we're hoping to accomplish over the next five to 10 years."
Davis leads Gwinnett's youngest CID, founded four years ago. The county's oldest, Evermore, was founded in 2003, with the other four – Lilburn, Braselton, Gateway85 and Gwinnett Place – created between 2005 and 2010. Each of the six works together to create a greater Gwinnett, improving the county as it approaches the 1-million-resident mark and preparing for a denser, more developed future.
"In Gwinnett, rather than trying to function as individual CIDs, we try to pool our resources," says Lilburn CID Executive Director Tad Leithead. "We can be competitive with larger CIDs by doing that."
---
Trail Time
For many, the most visible aspect of the CIDs' work is often the multi-use paths crisscrossing the area.
In far northeast Gwinnett, for example, the Braselton CID has teamed with the city, county and state department of transportation (DOT) to create its own trail system known as Braselton LifePath. The 10-foot-wide multi-use trails connect residents to retail and restaurants, not only on foot or bikes, but by golf cart as well.
"We came together for the purpose of creating multi-use paths, which we've coined the LifePath," says Scott Snedecor, who chairs the Braselton CID. "You've got people who can walk, jog or take a golf cart, which has helped the businesses in the State Route 211 corridor. Many have customers stop by via golf cart."
In fact, some doctors and nurses at the nearby Northeast Georgia Medical Center campus have the option of commuting to work via golf cart. In addition to the roughly eight miles of paths, other plans call for a pedestrian bridge over SR 211.
The Braselton CID is unique in many ways. For one, it's much smaller than the others at barely a mile long. Despite that, it includes portions of Barrow and Hall counties in addition to Gwinnett.
"We're the little CID that could," says Snedecor, who also owns two local Ace Hardware stores.
The paths are a major part of the work of each Gwinnett CID. Gateway85 Executive Director Emory Morsberger says his CID installs roughly three miles of sidewalks each year and can do so at a much lower cost than any government.
CIDs can partner with local governments as well, which the Lilburn CID is doing with the city of Lilburn on the Jackson Creek Trail. The city is building the trail, and the CID is providing landscaping.
For larger transportation initiatives, one of the hottest topics in all of Gwinnett County is the possibility of another public vote on joining the MARTA system, which is now part of the Atlanta-region Transit Link Authority, an agency charged with providing coordinated transit planning and funding for the metro area. Voters rejected the idea in March 2019 but could get another shot this November.
It's an issue each of Gwinnett's CIDs will be watching closely.
"Every one of the CIDs is supporting the education of the electorate to get out and vote if and when a referendum is called," says Evermore CID Executive Director Jim Brooks.
Located along U.S. 78, known locally as Stone Mountain Highway, the Evermore CID's myriad efforts include landscaping upgrades to boost curb appeal and security upgrades to ensure visitors and residents feel safe in the area, along with a transportation study that was completed in early 2019. As automobile traffic continues to dominate, alternatives have long been a point of interest for CIDs.
"One of the first studies we conducted as a CID looked at transit in the Gwinnett Place area," says Joe Allen, executive director of the Gwinnett Place CID. "I like to say, 'we talked about transit when transit wasn't cool.'"
Founded in 2006, the Gwinnett Place CID is responsible for more than 55,000 jobs – direct and indirect – and a $9.5-billion economic impact. Its efforts led to a new roundabout at Day Drive serving cars moving to and from Pleasant Hill Road on Venture Drive near Gwinnett Place Mall.
Allen considers transit to be one of many transportation alternatives, including walking and biking. In partnership with the Sugarloaf and Gateway85 CIDs, he is conducting studies looking at transit along the Interstate 85 corridor. Public engagement and education is key.
"I see our role as an educator on this," Allen says. "Over the years we've helped educate our political leaders and others about opportunities. We've looked at heavy rail, but also what light rail or a bus rapid transit (BRT) could look like."
The CID also recently completed phase five of a streetscape project along Pleasant Hill Road, and Allen says he's proud to see locals or people staying at the area's hotels walking or jogging in the area. Another initiative in partnership with the county is linking McDaniel Farm Park and Shorty Howell Park. Nearly one-fourth of Gwinnett's Class A office space is located in the CID, and some employees observe that they can see McDaniel Farm Park from their window but can't get to it without a car. Allen hopes that a series of trails linking the Sugarloaf area to Suwanee and other destinations could create Gwinnett County's answer to the Atlanta BeltLine.
And, the Sugarloaf CID is separately working on the Loop Trail, which spans 16 miles connecting Shorty Howell Park with Peachtree Ridge Park, and upgrading landscaping throughout the CID.
"We're looking at connecting the Gwinnett Place area to Infinite Energy Arena and the Sugarloaf CID," says Davis. "It will connect with Suwanee's trail system, with the Western Gwinnett Bikeway and Duluth. It's connecting a lot of communities in Gwinnett County through the heart of our CIDs."
One area of emphasis for Leithead and the Lilburn CID is a potential transit link connecting Gwinnett with the Centers for Disease Control and Prevention (CDC) and Emory University. The idea would involve a shuttle system providing access to each, because many Lilburn residents work at Emory and the CDC.
"The Lilburn CID has discussed the concept of creating a shuttle system to connect Lilburn to Emory and the CDC," Leithead says. "This concept would involve a partnership of the city of Lilburn, Emory and the LCID. Although Lilburn is in close proximity to the Emory area, traffic, and importantly, the availability and cost of parking make it difficult for some employees to live in Lilburn and work at Emory or the CDC. The shuttle system would potentially address this concern and serve as a mobility asset for some employees."
A potential transit vote is important for Lilburn as well.
"If and when the referendum passes, that would be the first step toward executing a transit plan for Gwinnett County," says Leithead. "If it doesn't pass, the impact will be worsening traffic over time because of population growth."
Regardless of what happens with MARTA, the Gateway85, Gwinnett Place and Sugarloaf CIDs are partnering with the county on a transit line that would run from an OFS plant at Jimmy Carter Boulevard into Sugarloaf.
"This system will be part of Gwinnett's transportation plan and will work whether Gwinnett is tied in with MARTA or not," says Morsberger. Plans call for a BRT or another form of transit running parallel to I-85. "We're all working on the same wavelength to dramatically improve the transportation in that area, because it's clear that it has to be improved."
Gateway85 is also studying freight travel thanks to a $250,000 grant from the Atlanta Regional Commission (ARC). The goal is to improve freight traffic throughout the corridor.
While keeping long-range goals in mind, CIDs pride themselves on how fast they can work and pivot. As Gwinnett and the rest of the world rapidly changed and adapted to the coronavirus crisis this spring, the CID leaders did their part to assist local businesses with the situation.
For example, after soliciting businesses in the Gateway85 CID for help finding equipment to prevent spread of the virus, Morsberger was able to land four pallets of hazmat equipment, including hazmat suits, gloves and masks, from a company called Optical Fiber Systems. Before Gov. Brian Kemp's statewide stay-at-home order, CIDs also helped members keep up with the patchwork of local regulations enforced by different governments.
And once businesses began closing, CIDs stepped up their private security forces.
"As businesses close for different reasons, we monitor their security more thoroughly," says Morsberger. "An empty building full of equipment and supplies is a good target."
Lastly, CID directors were able to help link laid-off employees from businesses within their borders to essential businesses that were ramping up production and in search of additional workers.
"One thing about CIDs is we're able to adapt in five minutes," says Morsberger. "Just about all of them have somebody like me that has the goal of serving our members. What was the duty two weeks ago may not be the priority today."
---
Realignment
CIDs focus on improving automobile traffic as well as transit and pedestrian access. A long-range project for Evermore will be helping create parallel roads to reduce traffic on Hwy. 78.
The $35-million redevelopment of the intersection at U.S. 78 and State Route 124 that opened last year is already setting a quicker pace. Brooks estimates traffic is now moving over 60% smoother at peak times at the intersection, which earlier this year saw nearly 100,000 vehicles a day.
There's a lot going on in Lilburn, too, the closest of Gwinnett's 16 cities to I-85 and to the Atlanta airport. The city is working on a new downtown, complete with a new city hall, police headquarters and library.
"We're trying to make people aware of some of the exciting things going on in Lilburn," says Leithead. "We're encouraging people to visit and learn all the great things about it, working with the Lilburn Business Association to accomplish some of that."
In Sugarloaf, construction began in January on the four-star Westin Atlanta Gwinnett Hotel, which will open in 2022 near the Infinite Energy Arena. A parking deck is also going up in the area, creating new opportunities for developers to build on what is now surface parking.
"The vision has always been that we have this great asset in the Infinite Energy Arena, and having surface parking isn't the highest and best use for the surrounding land," says Davis. "Public investment in a parking deck allows for private mixed-use development to happen."
Yet another effort the Sugarloaf CID is pursuing is expansion, adding more properties to its footprint each year in order to serve more businesses.
"Our vision for the area has always been that this will be the downtown for Gwinnett County," says Davis. "The county has great city downtowns, but this would be the central location for the county, … where the community comes together, and where the chamber of commerce is located."
One of the biggest recent developments at the Evermore CID is a 2.65-million-square-foot Amazon facility slated to come online before the end of the year and employ 1,000. Related to that growth is residential development. There are 765 businesses within the CID, and 751 new housing starts within a two-mile radius.
---
Unseen Upgrades
Some upgrades are unseen, yet still crucial to business growth and development. In Evermore, roughly 82% of businesses are still on septic tanks, which the CID hopes to help begin correcting soon. Adding a full sewer system will allow for more vertical development and better land utilization. Similar efforts are underway within the Lilburn CID.
"It's a big deal for development within our corridor," says Brooks. "One of the things that has stifled development is the lack of sanitary sewer. Now we can go vertical and better utilize the land that we have. Water and sanitary sewer are not as visible as a new roadway going in, but they are the lynchpin to continued growth."
To boost public safety, multiple CIDs have installed cameras and increased their security presence. Gateway85 can make private security available to owners when needed, and the Gwinnett Place CID runs a seven-day-a-week community patrol in partnership with the Gwinnett County Police Department, which has led to the removal of trash and illegal signs.
"People need to see that the area is clean, well maintained, safe, with lights on and no graffiti," says Allen.
Gwinnett Place, Lilburn, Sugarloaf and others have installed automatic license plate readers, which Allen says has been a game changer for police efforts to fight crime.
---
Redevelop and Repurpose
As retail habits change, suburban staples like shopping malls are changing with the times. The Gwinnett Place CID's namesake Gwinnett Place Mall went on the market at the end of last year in an effort to begin redevelopment.
While the mall enjoyed a star turn as a prominent filming location in the Netflix show Stranger Things last year, leaders are in talks to repurpose it for the 21st century. Allen says he has reached out to 70 developers to make them aware of the mall and its mixed-use potential. He estimates his CID boasts about 1 million square feet of excess retail, which needs to be exchanged for more residential to accommodate Gwinnett's increasing population.
Gwinnett CID leadership is doing its best to ensure that when they're studying the area, and when those new residents arrive, they'll find a more inviting, pedestrian-friendly environment.
"CIDs are focused on transportation in general. The more options we have the better," says Davis. "We've seen that demands have changed. People like to have options. You don't want to have to get into your car to go everywhere. We're seeing this especially with millennials, and we're increasingly seeing it in people like my parents, who are retired and want to have that option. It helps in attracting people to live and work here."