An Eye on Recovery: Q&A with Chris Clark, Georgia Chamber of Commerce President and CEO
The chamber leader talks about how the state will emerge from the crisis and the prospects for an economic recovery.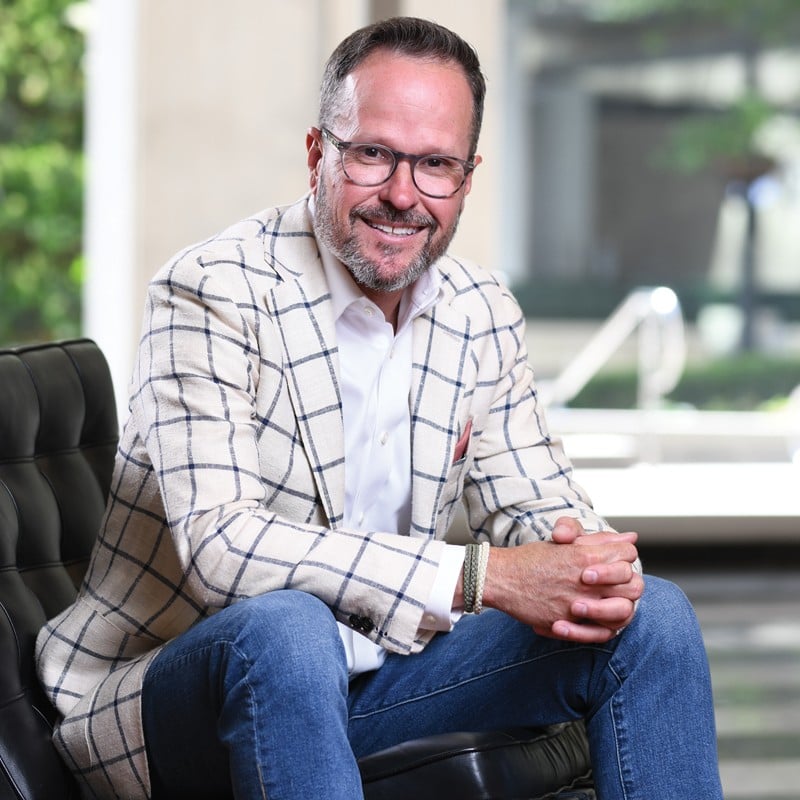 The Georgia Chamber of Commerce, the state's largest business organization, is more than 100 years old. It has some 47,000 members, including large corporations like Delta Air Lines and Aflac, medium-sized operations and small mom-and-pop businesses. President and CEO Chris Clark, a veteran of state government, has led the chamber since 2010.
Georgia Trend's Susan Percy first talked to Clark late in March as the state was adjusting to the realities of the COVID-19 pandemic and Georgia's unemployment compensation claims had jumped 115% in just one week, to see how businesses were faring. She followed up with additional questions as the crisis deepened to get his take on what the recovery process might be like.
By the time of the second interview, unemployment was still on the rise; Gov. Brian Kemp was allowing some previously closed businesses (restaurants, barber shops, hair and nail salons, tattoo parlors) to reopen and Congress had passed four stimulus bills.
Clark had kind words for the state's leadership and expressed a clear-eyed optimism about prospects for an economic recovery – including projects that might address some long-standing infrastructure needs – but he warned that things will look different as the state emerges from the crisis.
Following are edited highlights from the interviews.
---
GT: What's the chamber's focus during this pandemic?
Clark: One is to help business weather this crisis and two is to plan for the recovery.
We have been providing guidelines, not just for reopening, but more along the lines of establishing practices for how businesses can operate long term, because I think there was a misconception out there that when the shelter-in-place was lifted that somehow the virus would be gone, but that's simply not the case. We're going to be living with COVID-19 as a neighbor for the foreseeable future, just like we live with the flu and other illnesses.
---
GT: What does that mean for Georgia businesses?
Clark: It is incumbent upon us to make sure businesses really have a resiliency plan in place, that they can recover from this and change their operating practices as new standards for healthcare [develop].
---
GT: What kind of help can you provide?
Clark: At the chamber, we're launching our own Resiliency and Recovery Task Force, part of a national effort to try to have some semblance of continuity around the country, to try to make sure there are some standards for long-term operations, because so many companies operate in multiple jurisdictions and interstate commerce is so very important.
[Editor's note: The task force, created to develop strategies, provide insights and bolster growth and sustainability in Georgia's economy following COVID-19, was announced April 28.]
---
GT: The governor's decision to allow some re-openings in late April – of restaurants and various services that require close physical contact – was quite controversial. What guidance did you offer your members?
Clark: If you don't feel you can operate safely and protect employees and customers, then you shouldn't open. No one's making you open. Businesses need to be responsible in protecting customers and employees. It's incumbent upon businesses to work with government, with experts, and prioritize health and public safety just as they prioritize profits. Every business in America now is in the health and wellness business.
---
GT: So lots of changes in the way businesses are thinking?
Clark: For [the] first few weeks, we were in crisis mode – how we get through the next day. We understand now it's a marathon. We've got to be "stretching" so we are ready to run that marathon, so we can be looking ahead. We couldn't do that for the first few weeks.
---
GT: How do you see this all playing out over the next few weeks and months?
Clark: Sheltering in place is kind of stage one of the COVID crisis. During that time we needed healthcare systems to ramp up to handle the surge. We're seeing Georgia healthcare workers and hospitals do that in an amazing way. We also needed [to give] the government time to ramp up to take care of treatment, testing and tracing, which they are doing now.
We had to have those essential industries and services and businesses restructure themselves and put protocols in place. We were seeing KIA going from [making] Tellurides to face shields, American Textile going from pillows to making face masks. We've seen manufacturing all over Georgia ramp up to help during this crisis. That's established.
---
GT: And next?
Clark: May and June are really stage two. That's where businesses develop resilience [and] people take personal responsibility in how they manage and operate and change personal habits.
Later this summer and this fall, we'll get into stage three – how do we educate students, how does the culture change, how do businesses really establish themselves in a COVID-19 economy over the long term? I think that's when we really start dealing with the recession we're in right now.
---
GT: Let's talk about the overall recovery, beyond individual businesses. Who needs to do what?

Clark: Three perspectives. One, at the federal level, to jumpstart markets and help businesses start growing. We're making recommendations to members of Congress.
Second, what kinds of things does the state have to do, like after the 2008 recession?
The third part, maybe even most important, is what's going to happen at the local level. We are working with local chambers. We have suggested that they set up a recovery task force in every county in Georgia so we are working with local government. Things like can we freeze property taxes, can we reduce the amount of time to get a new business license, can we waive any types of fees? Do we have a venture capital [source]? Do we have a revolving loan fund for business?
---
GT: You have talked about some public works projects playing a part in the recovery.
Clark: When we talk about recovery, I think there's an opportunity to address things like income inequality, environmental awareness, the importance of infrastructure. If we do those things appropriately, we can jumpstart the economy, too.
---
GT: How?
Clark: For example, we spend a lot of time talking about infrastructure. Georgia needs $2.5 billion a year every year for 30 years just to catch up with the infrastructure needs from rail, air, roads and bridges. If we can start working on that, chipping away at that, then we are putting people back to work and putting money back into the system.
Another example is lack of affordable middle-income housing in Georgia. In Atlanta [and some other areas of the state], most of our homebuilders were building large homes, oftentimes because rules and regulations wouldn't allow them to build multi-tenant and multi-family. People aren't going to be able to buy 5,000-square-foot houses coming out of this recession. So let's re-tool. That's going to require partnership between local zoning as well as local builders. Address the need for housing and help put people back to work.
Anytime you can invest in infrastructure, construction, logistics, there's a huge ripple effect in the economy. President Trump has been saying and Democratic members of the House say now would be a good time to address infrastructure in Congress. That's got to be a part of the stage four COVID response; let's tie in infrastructure.
---
GT: Can you get a little more specific about what economic recovery will require from the federal and state government?
Clark: At the end of the day, Congress [and] the General Assembly are going to have to look at longer-term stimulus because we will be in a recession. We don't know if that's loans or grants or more along the lines of developing makerspaces [communal workspaces] or incubators to help people start their own companies, or if they are more driven by local communities setting up their own venture funds to jumpstart their own economies. That discussion has got to take place – probably going into June and July.
---
GT: What about other kinds of legislation?
Clark: Look back to 2010, 2011, 2012. We passed a number of bills that eased regulations, made it easier for businesses in Georgia and led us into being the best place to do business.
---
GT: What kinds of things might businesses be looking at as they begin to recover and adapt? For instance, what are you doing at your offices?
Clark: At the chamber, we have to put new protocols in place – staggered shifts, different teams at different times, using new technology. All these new trends are going to emerge, and businesses have the opportunity and responsibility to adapt to them, do the best they can do.
---
GT: Unemployment has gone up sharply. Do you see this changing?
Clark: It's heart wrenching. So many Georgia businesses have had to lay off people. I do think we'll have real high unemployment for some time.
---
GT: What should we be doing to address that?
Clark: Over the next 10 years, America was scheduled to move [several] million lower-skill jobs to AI [artificial intelligence], robotics and automation. I think that's going to be compressed now into the next two or three years.
---
GT: That will be a big change.
Clark: As businesses come back, they're going to be investing in automation – so some job losses are going to be expedited. One of the things the task force is going to be looking at is how do you use this as an opportunity to fresh-skill Americans over the next 18 to 24 months [so they can] go back to technical colleges, go back to school to improve their degree sets.
---
GT: What about new jobs that might open up?
Clark: Out of this COVID economy, I think you will see resiliency, sustainability, biosciences, environmental sciences – all of those sectors – with extraordinary job growth over the next decade. Let's make sure our Georgia workers are prepared for that. I do think we're going to deal with high unemployment for some time, but if we are smart about it, we can have those folks get better skill sets so they can have better jobs in the long run.
Another thing we normally see during a recession is a lot of people start their own businesses. Displaced workers say, "I want to control my own destiny, how do I do that?"
Communities with makerspaces – like Warner Robins, Macon and Savannah – are going to see an uptick in folks wanting to use those.
---
GT: The retraining you talk about could put a strain on our technical college system.
Clark: I had the pleasure of serving on the technical college board for several years. I've never seen a more resilient organization. When there's a downturn in the economy, those guys respond, innovate, retrain. I have every confidence in the world our technical system can help and can manage this. We will work closely with them to support them.
---
GT: You have expressed confidence in the foundation of Georgia's economy. Do you retain that optimism? Do you think we will navigate successfully to the other side of this crisis?
Clark: Absolutely. What you've seen from the manufacturing sector, from the logistics sector – those are very strong. I think where you worry is the impact on agriculture as well as the impact on the hospitality and travel industry. There's going to be pain; some could be lingering pain. I think the essentials of our economy are very strong.
---
GT: What is your message to businesses in the state?
Clark: We're going to be living with COVID-19 for the foreseeable future. We have to prioritize public health, safety and well-being while we reopen and deal with the recession.
I think by June people are going to be realizing this is not going to go away. How do I educate my kids in this different environment, how do I change my own habits, how do I operate my business differently? These are social and economic questions we are all going to have to answer. Part of the chamber's job is going to be to help guide companies to this very new normal.