2020 Economic Yearbook: Central Georgia
Homegrown Resourcefulness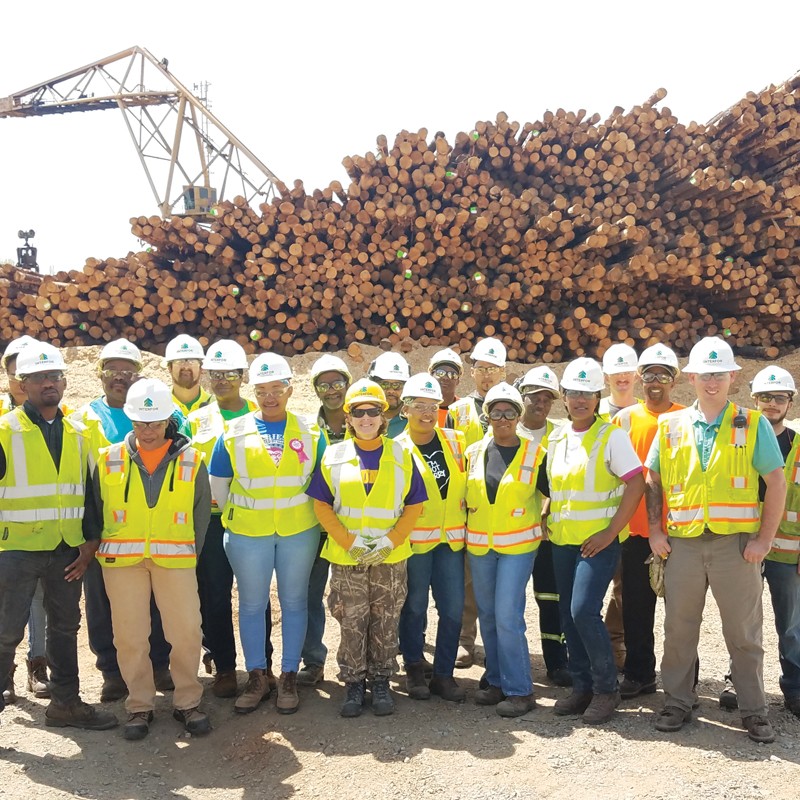 In Central Georgia, the local is often international. A bevy of companies from places like Canada, Germany and Japan have found homes here in this region. Locals have also learned that what happens thousands of miles away can show up on even the most rural doorstep.
Across Central Georgia, businesses are feeling good about their prospects coupled with an expectation of more sales and higher selling prices, according to Mercer University's Middle Georgia Economic Outlook Survey of area business sentiment.
"Year after year we see more optimism," says Antonio Saravia, associate professor of economics and director of the Center for the Study of Economics and Liberty at Mercer. "They are hiring more, they have more sales, so their net earnings and incomes increase, their sales volume increases, the average selling price increases, the total number of employees is up, and they're always very optimistic about the next year."
Less obvious has been the struggles faced by farmers who collectively represent the region's largest industry. They took a hit from the ongoing trade war between the U.S. and China. Sales of crops including pecans, pork and soybeans have been weighted by tariffs imposed by the Chinese government in retaliation for U.S. levies on Chinese products like steel and aluminum. Suddenly, farmers had more to worry about than the vagaries of weather and field hands.
Pecan growers saw tariffs on that humble nut rise from 7% to 47%, according to Saravia. "So what's going to happen is that these guys are going to have to drop their price if they want to still sell in China," he says.
With 160,000 acres of trees, Georgia is the nation's largest producer of pecans. Finding new markets or not being able to sell their crops at all has created uncertainty for the industry.
---
Solid Investments
Despite these headwinds, companies – both foreign and domestic – are investing. Macon-Bibb County, the largest economy in the region, has scored over $1.3 billion in new private investments over the last three years.
"And we've really been able to hit on all of our target markets," says Stephen Adams, executive director of the Macon-Bibb County Industrial Authority, citing manufacturing, aerospace, logistics and food processing as winners in the investment game.
Moving goods into the state from the ports and throughout the rest of the county has been a driver of development. Distribution is big business. The 1-million-square-foot Amazon fulfillment center opened in Bibb County last summer with a higher than expected employment of 900 workers.
Another area of Central Georgia that has continued to flourish is Robins Air Force Base. Located in Houston County, it is adding missions and growing its workforce unhampered by the national economy.
By the end of 2019, the base planned to hire 1,200 new workers to handle a flood of new work overhauling incoming military aircraft.
Growth forced the base to move some of its operations outside the gate. A former Boeing hangar is now shared by the 402nd Commodities Maintenance Group and Central Georgia Technical College's aviation maintenance and aircraft structural programs. Known as Robins North, it accommodates base back-shop operations along with classrooms and labs for the college.
More than 450,000 square feet of vacant hangar space was filled at the Middle Georgia Regional Airport by the likes of Brazilian aircraft builder Embraer and Stevens Aerospace and Defense Systems.
Robins Air Force Base is also at the heart of a new regional drive to position Central Georgia as a hub for software innovation through two new initiatives. In partnership with Middle Georgia State University (MGA), it has launched a Center for Software Innovation at MGA's Warner Robins Campus to identify software development projects that will support local organizations like regional companies, nonprofits and startups.
In downtown Macon, in the new Mercer Music at Capricorn, Robins Air Force Base also recently opened a software engineering lab to provide a place where Mercer students can work with base engineers without going through the security process of going on base.
"We realized that with all the universities and the technical college in our area that we had a lot of very strong programs," says Angie Gheesling, executive director of the Development Authority of Houston County. "Not just software computer science and IT, but also engineering."
The region has also found that what is bad for exporters is in some instances good for domestic producers.
Twiggs County is home to the largest solar power plant in Georgia and one of the largest infrastructure projects in the country, GA Solar 4, operated by Origis Energy. Although it produced only a small number of jobs, building the facility employed more than 400 construction workers. The 2,400-acre solar farm uses over half a million of First Solar's thin film solar modules.
The project escaped tariffs on Chinese-made solar panels because "their panels are made in Ohio," says Judy Sherling, executive director of the Development Authority of the City of Jeffersonville and Twiggs County.
North of Macon, Forsyth is busy diversifying its economy. Mostly rural, Monroe County has attracted a number of small manufacturing operations, including plastic extrusion companies. Last year it capitalized on its location along I-75 to win a massive 715,000-square-foot Five Below distribution center.
"It's an indicator of future growth here in Monroe County with our proximity to the I-75 and the I-475 merge and our geographic location between Macon and McDonough," says Bo Gregory, president of the Development Authority of Monroe County.
The Five Below site selection team was sold on the city's interstate location that put its trucks within two days of 80% of its U.S. markets, according to Gregory.
One good indication of how active business and industry is getting is the growth of commercial real estate. In Ben Hill County, there are currently more than 50,000 square feet of new manufacturing buildings under construction, according to Jason Dunn, executive director of the Fitzgerald and Ben Hill County Development Authority.
The county is seeking to follow up on its Polar Beverages win with the sale of the former Shaw Industries building. The unnamed buyer, a furniture manufacturing company, is planning to occupy the 225,000-square-foot facility by fall of this year.
In an era in which most such companies have moved their operations to low-wage countries, the development is a reflection of how the trade war and federal opportunity zone subsidies have made America seem desirable again, according to Dunn.
---
Preparing for Opportunities
Expansion in rural counties has been slower to take hold.
"We do what we can with what we have," says Kathy Oxford, executive director of the Barnesville-Lamar County Industrial Development Authority. "We don't see project managers as often as some other communities in much more heavily populated areas, but we do have some good existing industries. And so anything that sort of happens here takes a long time to develop."
The past year was slower for investments and expansions, perhaps due to a decline in foreign direct investment, says Oxford.
Across the region, officials like Oxford are talking about improved workforce training as a means to prepare for opportunities and ensure they don't go elsewhere because of a lack of qualified employees.
Morgan County is one of those that is working hard to translate good intentions into practical results. The county has launched a program to better integrate work-based learning at the high school with local companies, according to Bob Hughes, president of the Madison-Morgan County Chamber of Commerce.
The idea is to be prepared when opportunities knock. In Putnam County, local officials are offering the county's first certified pad-ready site.
"The aim is to work out an arrangement where the kids that have decided they don't want to go on to a four-year college can explore what opportunities are available in Morgan County and the surrounding area and see if there's a fit," says Hughes.
Another way of preparing for opportunities is ensuring there are industrial sites ready and waiting for companies. Putnam County recently constructed the first certified pad-ready sites in its industrial park.
"We've got sites if somebody wants to come in and put something in," says Roddie Anne Blackwell, president and CEO of the Eatonton-Putnam Chamber of Commerce.
Despite the trade war, agriculture is still a vibrant industry here. Lawn and garden supplies manufacturer Gro-Tec is expanding its operations. In addition to its manufacturing plant, the company is building a new warehouse and distribution center, according to Blackwell.
The county's wood products industry has also escaped the worst of the trade fallout. Interfor, a sawmill operation that has operated in Eatonton since 1974, is in the midst of an $87-million equipment replacement and upgrade project.
The areas that have done best – particularly when recruiting logistics operations – are those that have ready access to highway networks.
"We're halfway between Atlanta and Savannah, one of the largest metro areas in the southeast and one of the largest ports," says Ryan Waldrep, president of the Dublin-Laurens County Development Authority. "We're an ideal location for bringing goods and services into the United States through Savannah as well as being able to get goods that final leg to the consumer."
That was a big motivator for Perry Ellis International Inc., which acquired the former Fred's Department Store distribution center in Laurens County late last year. The distribution center allows the company to bring many of its logistic needs under one roof.
Best Buy is making a $19-million investment in equipment upgrades to its sprawling Dublin distribution center. The 850,000-square-foot facility, which has been in Laurens County since 1999, serves the entire Southeastern U.S. It currently employs 215 people, and this investment is expected to add about 28 more.
The same factors that bring a domestic operation to the area have also attracted companies from six different nations, according to Waldrep.
"We've got a large percentage of international businesses that call Laurens County home," he says. "Most of those have set up shop to make sure they're able to serve their U.S. market, their North American markets quickly, efficiently."
These include Erdrich USA Inc., a German automotive parts maker, and Dinex Emission Inc., a Danish company that supplies emission control and exhaust systems. Dublin is also home to one of the first international companies to locate in the region – Japan's window and door maker YKK.
While Central Georgia has struggled at times to deal with market forces it cannot control, counties here are showing how homegrown ingenuity and preparation can pay off with growth and jobs.