Help Wanted
As Georgia's economy grows, businesses grapple with a workforce shortage.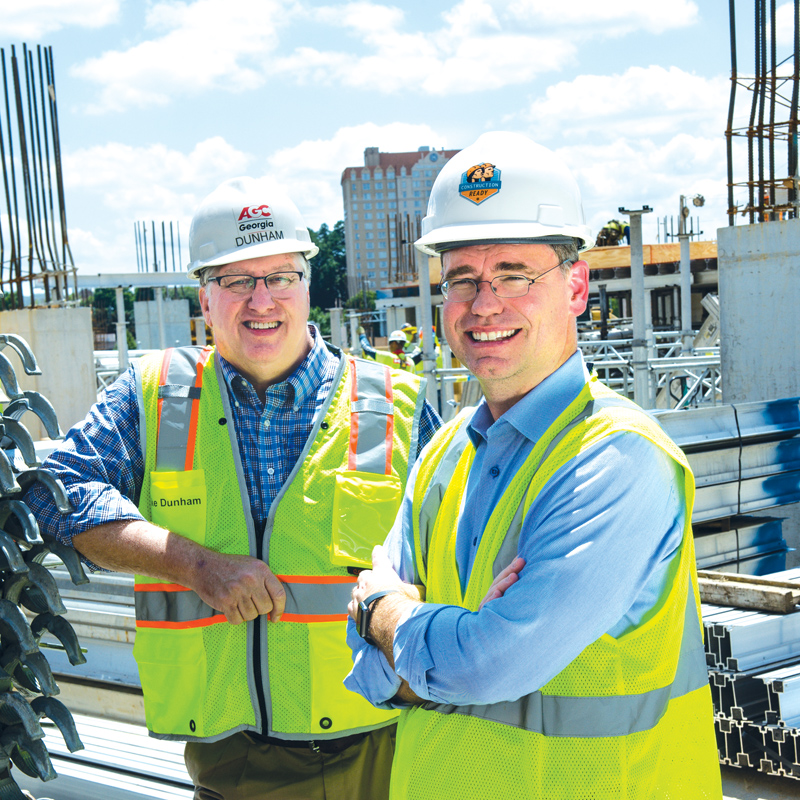 At a business summit in LaGrange earlier this year, Georgia Labor Commissioner Mark Butler posed a question to the roughly 100 leaders in attendance: How many of you are currently hiring?
About 90 percent of the group raised their hands, he says.
He then asked who wasn't having trouble finding people to fill their jobs. "Only two people raised their hands," he says, "and one of those that raised their hand was a staffing company."
This might give you some idea of the workforce crunch companies are dealing with across the state. It's the result of Georgia's ongoing strong economy, says Butler, which has attracted a lot of job growth – and the population growth to match it.
"With population growth, obviously you have more demands for different things, whether it's products, services or whatever. One thing fuels the other," he says. "Right now, Georgia's in a very strong growth period, and so we find ourselves in a position where our jobs are growing at a faster rate than the amount of talent that we have to fill them."
Workforce shortages touch nearly every industry in the state, from healthcare and education services to business services, but two industries in particular are feeling the pinch: construction and restaurants.
As the state's economy continues to grow, leaders in these two fields are asking their own questions: How do we attract qualified candidates from this tight labor pool, and what do we need to do better to grow this pool for the future?
---
Market Forces
For both industries, the tight labor market reflects a mismatched supply and demand. On the restaurant side, a growing population and changing consumer dining habits fuel demand. Fifty-two cents of every food dollar are now spent away from home, says Georgia Restaurant Association CEO Karen Bremer, totaling an estimated $23 billion in sales for the state's 18,500 restaurants this year.
Yet, the cooks, dishwashers, servers and more required to support those sales are becoming increasingly hard to find.
"Currently, there are 1 million restaurant positions that are not filled in the United States," Bremer says, "and we will need another 1.6 million workers in the next 10 years."
Bremer, who has 35 years of experience operating restaurants in the Atlanta market, likens current conditions to those before the 1996 Olympic Games. "That was the last time, to me, there was such a critical shortage," she says.
Meanwhile, construction is Georgia's fastest-growing sector, enjoying the highest percentage growth in jobs in the state. But the recession took a chunk of the state's skilled trades workforce with it, and retirement is thinning out those remaining.
"For about every four folks that leave our industry every day, we're only putting one person back in," says Mike Dunham, CEO of Associated General Contractors of Georgia (AGCG), a professional trade association for the commercial construction industry.
"The need for skilled labor seems more intense than it's ever been, just based on what we're hearing from contractors and construction companies across the state," adds Scott Shelar, president and CEO of the Construction Education Foundation of Georgia (CEFGA). "It seems to be worse now than it's been in the 21 years that I've been doing it."
That may not just be anecdotal. A recent survey of Georgia construction and related company leaders by the Associated General Contractors of America found that 80 percent of them are having a hard time finding people to fill positions and 60 percent believe the pipeline of skilled professionals is poor.
The need is across the board: skilled trades professionals in welding, masonry, carpentry, electrical and plumbing, as well as project managers, estimators and superintendents.
For restaurants, the need is more felt in back-of-house positions like cooks and dishwashers, which are often filled by legal immigrants from all over the world. Servers, bartenders, hosts and managers are needed as well.
---
Staffing Strategies
In addition to increasing tangible benefits – wages, bonuses, vacation time and 401k programs – companies in both industries are thinking critically about their culture, revamping where necessary to be an attractive option for sought-after employees.
"It's never been a strict financial equation. In this tight labor environment, which there's no question it is, it's a more sensitive issue," says Alan LeBlanc, president and CCO of the Brewed to Serve Restaurant Group, which owns and operates four restaurants in Metro Atlanta.
"What restaurants offer their team members becomes very important. Workplace environment, culture, financial benefits, insurance, etc. all contribute to creating a desire to work for a company or not," he says. "Many restaurateurs within the Atlanta community have taken a strong position to become very employee-centric." In practice, this can translate to things like free or reduced meals, family meals, education benefits or transportation reimbursement.
Some sectors have also started to look at other options – like automation – to boost efficiency. "Some of the fast-food restaurants are starting to utilize kiosks to order," says Bremer, "so that they have [fewer] cashiers on duty. McDonald's has been one of the forerunners in that arena."
Another option is outsourcing some food prep duties, like buying pre-diced onions and pre-sliced tomatoes, Bremer says. "In fine dining, everything is from scratch. But if you can save a couple hours of preparation work by having some of that work outsourced, then that gives you the ability to have people actually doing the more detailed work, the presentation of product and things like that."
In construction, companies are placing more importance on career paths and showing their employees – prospective and current alike – all the advancement options available to them.
"In construction, there's many stories of people coming in entry-level positions and working their way up to own their own companies," says Shelar. "But I don't know that as an industry we've done a good job of formalizing it, spelling it out, putting it on paper and saying, 'Here's the pathway, and here's what it looks like.' I see that happening more. I see more and more companies taking that approach."
Companies are also increasingly offering their employees more flexible working arrangements when possible. "Forty years ago, it was an 8-to-5, rigid schedule," says Dunham, of the construction industry. "Today I think the flexibility that companies are providing their employees is extraordinarily important, and that helps build a culture that everybody wants to be a part of."
Creating an inclusive culture that welcomes everyone is another priority. "Diversity and inclusion are a big part of what we need to do a better job of," Dunham says. "We need to bring more minorities and women into our industry so that they see it as a career path."
In a recent survey of 149 Georgia-based construction companies conducted by Kennesaw State University's Department of Construction Management and accounting firm Bennett Thrasher, only 19 percent of survey respondents' management teams were female, and only 11 percent of respondents had female ownership.
That's something national construction firm McCarthy Building Companies is trying to change. Its McCarthy Partnership for Women serves as a recruitment, retainment, support and mentoring program for women in the company, and McCarthy leaders have set internal goals to increase the number of female team members.
"I think there was a study that said only 3 percent of women surveyed in the state of Georgia expressed an interest in the construction industry," says Bobby Campbell, McCarthy's Atlanta business unit leader. "That to me is an exposure and education deficiency that we have in not reaching that segment of our population."
Ultimately, recruiting and retaining qualified employees requires some big-picture soul searching, says LeBlanc. "There's no question there's a problem, and part of that solution is making your industry, whatever industry it is, more attractive and more supportive of creating additional supply to meet the demand."
---
Raising the Profile
Attracting available workers is only half of the solution. These two industries also need to find ways to grow the next generation of the workforce.
So, what's keeping young people from starting careers in the skilled trades? Is it a disinterest in the work, or a misunderstanding of the work itself?
It could be both, but "mostly they don't know anything about it at all," says Dunham. "There's an awareness and an awakening that I think is important just to make sure that they understand how broad construction is and know all you can do with a construction degree and skill set."
AGCG, CEFGA and other organizations are working with the Career and Technical Education Division of the Georgia Department of Education and local schools to introduce students in middle school, high school and even elementary school to careers in the skilled trades.
Currently, there are more than 150 high school construction programs across the state, giving about 15,000 high school students hands-on experience in carpentry, masonry, plumbing, electrical and welding. Students can earn certifications through these programs, making them eligible to start a career in the skilled trades after graduation.
Other outreach efforts include job site tours and industry speakers, but outreach doesn't stop with students. AGCG also hosts trade talks with high school guidance counselors to raise awareness and build interest in areas – and even educational options – students may have never considered.
"We've told young people for generations now that the only path to success is to get a four-year degree," Shelar says. "We've focused so much on … [the concept that] the four-year degree is the only path to success. We've done that to the point where young people, high school students graduating, haven't really thought about the skilled trades as a viable option."
In both industries, supporting education is key to creating a qualified workforce for the future. Several colleges around the state have culinary or hospitality-focused degree tracks, including Chattahoochee Technical College, College of Coastal Georgia and Georgia State University. Local initiatives like Westside Works offer culinary and construction training to residents of Atlanta's westside to create employment opportunities in these fields.
And in Middle Georgia, Goodwill Industries is investing in educational programs to help organizations hurting for qualified workers and prospective workers needing more specialized training.
Helms College, a private, nationally accredited school sponsored by Goodwill Industries of Middle Georgia and the Central Savannah River Area (CSRA), recently launched an associate program in hospitality event and catering operations at its Macon and Augusta campuses. The school is also working with a local hotel group on a new culinary program that will prepare students for a career in the field and provide the hotel group with experienced, qualified workers upon graduation.
It's a persistent, pressing need in the community, says Tripp Harrison, Goodwill of Middle Georgia and CSRA's senior vice president of enterprise development.
"To give you an example, we posted a job for a culinary person and it took probably nine months to fill the role," he says. "We posted a job for an IT person and within a week had over 2,500 resumes."
Training programs are effective tools in construction as well. CEFRA's Construction Ready programs, four-week training bootcamps held throughout the year in four locations around Metro Atlanta, aim to train prospective skilled trade workers in local communities and put them to work in those same communities.
CEFRA's first Construction Ready program was held about five years ago in conjunction with the Arthur Blank Foundation during construction of Mercedes-Benz Stadium. The program ended up putting about 170 Westside residents on the project, says Shelar, but most Construction Ready programs are not linked to a specific project. All are free for participants.
Educating the potential workforce has another facet as well: Showing that taking a job in construction or a restaurant can turn into a lucrative career, no four-year degree required.
"You can come into the restaurant business and really work your way up," says Harrison. "Even with an associate's degree, not even going into a bachelor's program, you can be the general manager. You can be the executive chef. Heck, you can be a restaurant owner."
Construction offers the same possibilities, says Campbell. "A large misconception is that it's not a professional career, if you will. I think a lot of students overlook construction to be a career choice [but] … there are careers available that students and young professionals can work their way up the ranks to have a very fulfilling career in construction."
Today's workforce shortage is forcing companies across industries to revamp their benefits packages, company culture and even industry perceptions. And if it sounds like a lot to take on, that's because it is.
But, as Dunham says, "It's not something you wake up one day and think you're going to just do a little something about. It's something you get up every day working on all the time."