Infrastructure and Beyond
Cobb CIDs have evolved to create places where people want to be.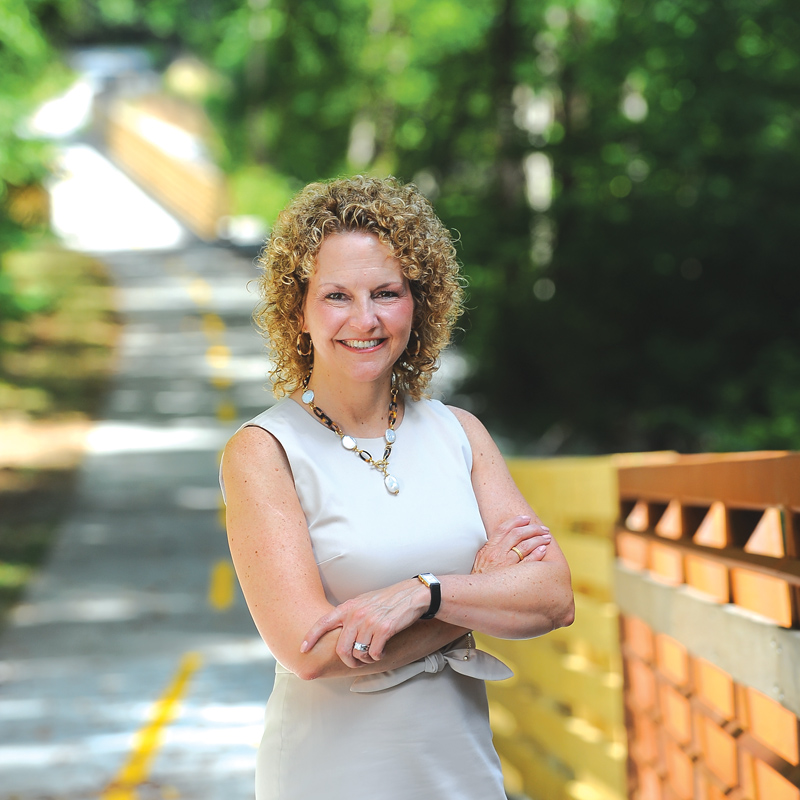 Thirty years ago when the state's first community improvement district (CID) formed in Cobb County, CIDs were conceived primarily to tackle infrastructure improvements – roads, traffic signals, all the things that help get folks where they want to go.
Today, the mandate for CIDs has evolved. Oh, they still handle major infrastructure projects, but they have also taken on initiatives like parks, greenspace and trails, safety and security, beautification of roadways and much more. They work as partners with county and city governments, other CIDs and regional planning entities to leverage the funds they collect from commercial property owners within their districts to ensure an impact way beyond their borders.
CIDs are self-taxing districts where commercial property owners have come together to take on issues in their districts. There are 28 CIDs in Georgia today. (The number seems to grow almost weekly.) Most are in Metro Atlanta, with three in Cobb County – Town Center, Gateway Marietta and Cumberland.
---
Long Lens
In North Cobb, between the Barrett Parkway and Chastain Road exits along I-75, lies the Town Center CID, which was founded 22 years ago. It was after the opening of Town Center Mall that heralded the transformation of that region – but before the complete explosion of retail, restaurants and office space that surround the mall today.
The area draws people – and their cars – from all of Northwest Georgia. But multimodal transportation is coming into its own in this district, with a bike-walk trail that no one could have envisioned when the CID got its start.
"CIDs were originally founded more than 30 years ago in primarily commercial property areas to maintain property values and increase values for commercial property owners," says Tracy Rathbone Styf, the Town Center CID's executive director. "They were primarily structured around big infrastructure projects: roadways, traffic signalization, getting people from point A to point B. Since that time, the model has evolved as the communities have evolved. I think that CIDs are important because we are able to take a 30,000-foot view of the needs of a particular area. Within that area, we can holistically look at what issues need to be resolved and how do you create a place where people want to be."
CIDs place a premium on patience, foresight, collaboration, regional outlook and long-term planning, she says. "We have resources that are contributed from the commercial property owners that we manage," she says. "We take those dollars, and we leverage them in order to do much, much larger projects than we could do alone. It really is the quintessential example of collaboration and partnership, because CIDs cannot be successful alone. And oftentimes the work that we do is a catalyst for lots of future development."
Being the catalyst is where the patience part of the job comes in. "We are looking with a very long lens – five, 10, 20 years down the road – laying the foundation for new development to come into an area or an area to be redeveloped," Styf says. "It's fun being on the creative, yet tactical, front end of community development and economic growth."
One project that has fostered both community development – walkability within the district – and economic growth is the Noonday Creek Trail that spans the CID from the Bells Ferry Road trailhead to Kennesaw Mountain National Battlefield Park. The hard-surface trail was completed in 2014, but completion doesn't guarantee that people are using the whole thing, as the CID has discovered.
The trail crosses U.S. 41/Cobb Parkway – a bear of an intersection. In fact, it's such a challenge that walkers, runners and bikers turn around on the trail and go back the way they came, rather than try to get to the other side.
With funds from the Atlanta Regional Commission (ARC), the CID is studying ways to get people across the intersection and to the other side of the trail.
"[Hwy.] 41 actually bifurcates a critical trail connection not only for Town Center, but also for the broader, regional trail plan," Styf says. "That segment alone, [it] is imperative that we find a way to make it continuous so that you can have the capacity to go from the city of Woodstock all the way through Town Center up into the city of Kennesaw, to Kennesaw Mountain National Battlefield, connecting to the Chattahoochee River Trail, connecting to Silver Comet and the Cumberland CID and the work they're doing on the Bob Callan Trail, down to the [Atlanta] BeltLine. These little pieces that we think about within our silos are really critical to the broader roadmap and planning for our entire region."
Just one example of long lens, regional outlook, collaboration – and patience. "I think what we've gotten better at," she says about collaboration, "is understanding that 'yes, we have a geographical boundary in which we are limited, where our funds can be invested,' but [there are ways we] can partner with the city of Kennesaw, with the county, with other CIDs, in order to create a project that has a regional impact."
Another long-lens, long-term project designed to have regional impact is the South Barrett Reliever, a four-phase, $47.8-million project to help with traffic flow on the always-crowded Barrett Parkway – home to shopping and restaurants – by offering an alternate route that keeps through-cars off Barrett and bypasses I-75 and I-575.
Phases one and two, between I-75 and Hwy. 41, are complete, with road realignments, roundabouts, crosswalks, bike lanes, lighting and landscaping – all designed to make the new roadway safer and more welcoming for pedestrians, bikers and drivers.
Phase three will take the reliever road over the managed lanes and I-75 on a 450-foot bridge and add a roundabout, among other new roadway features. The CID has received funding from the ARC and a special purpose local option sales tax (SPLOST) from Cobb County for the project.
"Now we are working on putting the last pieces of funding together," Styf says. "We should have all the rest of the pieces put in place and finalized sometime this year and have the project fully funded."
Next up is an RFP for a feasibility study for phase four – the final phase. "So you can go all the way from the east side of the district to the west side at 41," she says, "being able to access Barrett Parkway along your route, but not actually having to get on Barrett Parkway.
"The infrastructure projects are still the foundation of what we do as an organization," she adds. "And those are the projects that while they're very long term in nature, truly move the needle in terms of impact of the CID and what we're able to do, and how we're able to plan for future growth and development."
---
Safety First
South of Town Center is Cobb's newest CID, Gateway Marietta, located between Delk Road and the South Marietta Loop along Franklin Gateway Road. Formed in 2014, the CID may be newish, but its impact is already being felt in the area.
"As a CID we focus on infrastructure improvements, public safety and beautification," says Caroline Whaley, the CID's executive director. "We did a round of expansions this year and were able to expand our boundaries by five parcels. We went from 68 commercial properties to [73]."
Growth is important for a new organization, but the CID has also had success in several core areas, most notably safety, an important focus in an area where security has been a major concern of property owners.
"In January, in partnership with the Marietta City Police, the CID placed four security cameras on Franklin Gateway," Whaley says. "This has proved beneficial from the first hour that they were up and running."
The cameras monitor license plates and feed directly into the police department, she says. "So if a stolen vehicle passes by or a vehicle passes by that has a warrant or something tagged to the owner, the police receive an alert, and their location is bookmarked, as to where in the area they might be. Within the first hour of these cameras being up and running, the police received a stolen vehicle notification."
Beautification is also important – and a part of placemaking for CIDs. Gateway Marietta has designs in place and is in the permitting stage for landscaping along South Marietta Parkway and Delk Road up to Franklin Gateway.
The newish CID is home to some big names, including the Atlanta United soccer team's practice facility at Children's Healthcare of Atlanta Training Grounds. In August, the team bought 17 acres adjacent to their current 33-acre facility, with plans to expand. WellStar also has a presence at Parkway Place, and the neighborhood looks forward to welcoming IKEA, which closed on 28 acres in 2018 — but has done little, at least little that is visible, since then.
"As far as I know, things are still moving forward," Whaley says about the IKEA project.
The CID also recently kicked off a market study analysis with the Bleakly Advisory Group that will examine "where we were, where we currently are and where we're poised to be going," Whaley says. It's a project designed to "give us a lot of information to help us set priorities for the coming years."
It's a lot to be getting on with for a new CID, Whaley says. "We're young, but we just implemented a round of expansions. We're continuing to look at ways to expand our boundaries so we can grow the footprint and the area in which we can make an impact. In our four years of existence, it's great to see what has been accomplished. I'm very enthusiastic about what we're going to be able to accomplish in the years to come."
---
Creating Confidence
Cumberland CID – the state's first CID – was created in 1988 with the goal of improving access from within the CID to the highways. It sits atop I-75 and I-285 and is home to bustling hot spots including the Cobb Galleria Centre, Cobb Energy Performing Arts Centre, Cumberland Mall, SunTrust Park and The Battery Atlanta.
It's those last two – SunTrust Park, the home of the Atlanta Braves, and The Battery, the development surrounding the park – that have had a profound impact on every part of the district since the announcement in 2013 that the Braves were moving to Cobb County.
That announcement "created such great confidence and excitement in the district," says Kim Menefee, the CID's new executive director. "The result has been amazing. We have had more than 42 new private investment projects, [and] five Class-A office buildings have been built."
And the transformation keeps happening. Thyssenkrupp Elevator Americas, a German company and one of the world's largest elevator companies, is building the sixth new Class-A office tower in The Battery. The numbers on this project are astounding – 900+ full-time employees, average wages of $100,000 – but it's the elevator testing tower that has minds boggling. The 420-foot tower – almost 39 stories – will be the tallest test tower in the country and the tallest building in Cobb when it's completed in 2022. It will house 18 test shafts for the company's cutting-edge concepts like two cabins per shaft and a system of elevators that move sideways.
"The test tower is amazing," Menefee says. It's "where they will be bringing people from around the world to Cobb County and the CID to see their elevator innovations. It's an incredibly exciting investment – $240 million worth of private investment into this district."
Much of the CID's recent focus has been on making the area a place where those 900 employees – not to mention current residents and visitors from around the world – want to be and want to be able to get around easily.
The CID is home to the southernmost park unit of the Chattahoochee River National Recreation Area (CRNRA), Paces Mill, which Menefee calls a hidden gem. It's a popular site along the Chattahoochee for picnics and fly fishing, as well as being a takeout point for watercraft like kayaks and paddleboards.
Working in partnership with the National Park Service, the CID has designed concept plans to rehabilitate that park, Menefee says. The National Park Service was planning to present the plans to the federal design advisory board in July.
The next step is to look for funding for the renovations – the CID doesn't go forward on a project without funding. "We'll leverage our funds within the CID," Menefee says. "We'll be looking for federal park land grants, as well as working with the ARC. We will fundraise between 2020 and '21, then we'll go into construction once the board gives final approval."
Also getting some love in the CID is the Bob Callan Trail, a paved running, walking and biking trail that is part of the multimodal focus, both within the CID and connecting to the region. A one-mile extension to the trail opened in July.
"It's a $9-million project that we leveraged and partnered with the Atlanta Regional Commission, Cobb County and GDOT [Georgia Department of Transportation]," Menefee says. "Basically it completes three of a four-mile trail, connecting our trail network to Marietta and Kennesaw Mountain Battlefield, with the goal of connecting south eventually to the [Atlanta] BeltLine.
"That's really important for us, to continue to enhance our recreational areas and greenspace, creating beautiful environments for pedestrians and multimodal users in the district," Menefee says.
To that end, the CID is working on a three-mile loop around the core of the district that would link key destinations. "We want to create this multimodal solution that really builds on the ability to have pedestrian, bike, vehicle friendly – and adding autonomous vehicles," Menefee says.
The loop project is in the planning phase but is a focus of the CID. "We think it is a true differentiator for the area," Menefee says. "We want it to be something that people will truly utilize … to access the district in a better way that will better connect and serve them."
There are also projects in the works to make bigger connections. The highest priority right now is a ramp from Akers Mill Road to the new I-75 managed lanes, which don't have an exit into the CID. It's a $53-million project, Menefee says, and the funding is complete following receipt of the last $5 million from a U.S. Department of Transportation grant over the summer.
"Without having that direct access into the district, it really does not allow for the greatest impact of these lanes, this investment that's been made in these express lanes," Menefee says.
It's all part of making the district the kind of place people want to be, she says. "We have the best of both worlds – an active urban environment connected with natural recreational activities that you can take advantage of that are truly just minutes away from one another."