Fueling Growth
The world's busiest airport is maintaining its edge and igniting economic development.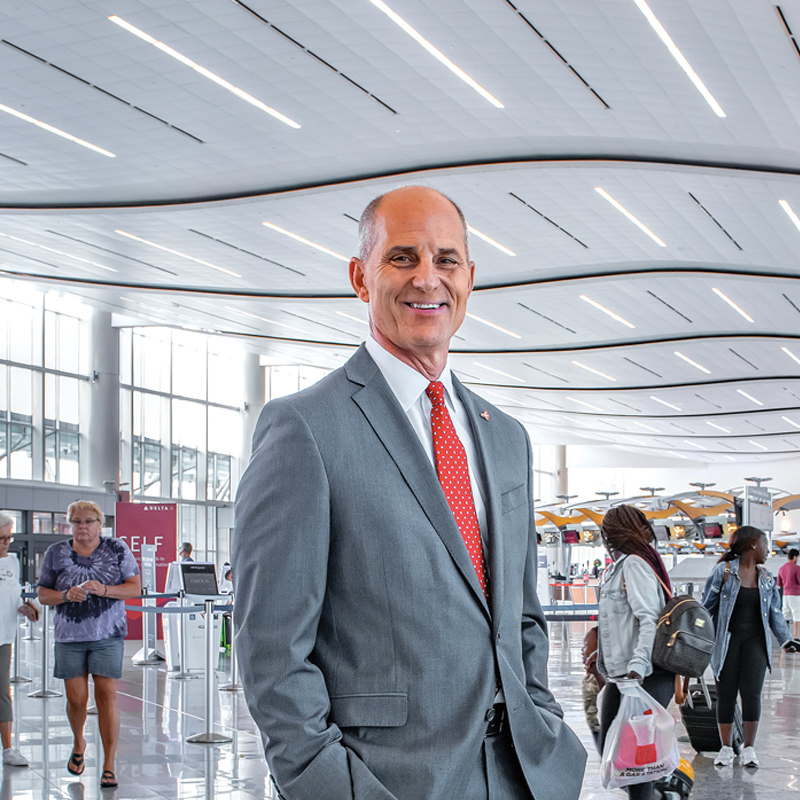 As the busiest and most efficient airport in the world, Hartsfield-Jackson Atlanta International Airport (ATL) is a behemoth – huge, complex, bustling and powerful. It's the jewel in Georgia's economic crown, providing more than 63,000 on-site jobs and generating more than $70 billion in economic impact for the state.
With a new general manager guiding implementation of ATL-Next, a $6-billion, 20-year master plan, the airport is also the catalyst for transforming the communities in its immediate vicinity south of Atlanta.
"In the world of airports," says John Selden, ATL general manager, "Hartsfield-Jackson is what every other airport strives to be."
After just under a year on the job, he says his experience is "better than I expected," as a result of the support he's received from the city of Atlanta, people he's met throughout the state, his staff and airline and federal partners. "It's amazing how proud of the airport people are," he adds. "It's almost like being the winning coach of a sports team."
---
Enhancing Customer Experiences
Selden is perhaps the airport's biggest cheerleader, but he admits there are operational challenges. "We're growing very quickly," he says. "We were up 3 million passengers last year, and this year we're estimating that we'll be up 4 million passengers. The building and the parking lots are running out of capacity, and it's affecting our level of customer service."
He says the airspace around the airport and the airfield have capacity, so a sixth runway – which is included in ATLNext – isn't needed right now. Accommodating passenger growth is the top priority, and work has begun to address it.
The process of adding five gates to Concourse T is underway. These will mainly serve Delta Air Lines and should be complete in late 2022 or early 2023. However, to make way for the expansion, about 1,000 parking spaces were eliminated from the North economy parking lot. Those will be offset by the 5,700-space ATL West parking garage being built near the Georgia International Convention Center that may be open next fall. "It's near the SkyTrain, it's all covered and you can get there [to the airport] in three minutes," Selden says.
Construction on a new park-and-ride lot on Sullivan Road is expected to begin in November that will add another 1,500 spaces, he says. The North and South domestic parking garages will be replaced within the next 10 years with decks of four to eight levels each.
Airport visitors likely marvel at the soaring canopies that are being built to provide shelter for people exiting the facility and walking to the parking garages. Those canopies, which should be completed this month, will include four pedestrian bridges from the garages, the first of which will be ready for use next year. The bridges will enable people to walk from their cars over the usually congested arrival and departure lanes, improving pedestrian safety and traffic flow in front of the terminals.
The nearly 40-year-old Plane Train system that transports passengers from terminals to concourses is also undergoing improvements. Selden says work on the train's turnaround near baggage claim will begin this year. By the time it's completed in 2023, the project will reduce the time between trains from 108 seconds to 90 seconds. "We'll get a 20 percent increase just by changing the turnaround," he says. "That gives us extra capacity without rebuilding the entire system."
Other projects in the works include an end-around taxiway on the south side of the airport that will reduce runway crossings, thereby enabling departing planes to take off more quickly and reducing the risk of runway collisions. The addition of five Transportation Security Administration (TSA) lanes to the south security checkpoint by next summer and building a 50-acre de- icing pad are among other ongoing airport enhancements.
"We're hitting the tip of the iceberg in terms of what your experience will be here someday," Selden says. "We have facial recognition coming. Hopefully you'll drive up or get dropped off, and your face will get you through TSA. Maybe you'll walk through some [screening] machine and you won't stop. You'll walk onto the plane – without a boarding pass – and just go to your seat. We'll speed this process up because we won't have all these points where we stop you. I'm hopeful that we'll keep pushing the envelope and trying to make that customer experience better and better."
---
Managing Efficiently
The airlines that fly through ATL seem satisfied with the airport's service. According to Selden, every day they are asking for more gates so they can bring in more flights. He says irregularities are well in the past that may have prompted the Georgia legislature this year to propose a state takeover of Atlanta's city-owned and managed airport.
"Connecting the dots on why the airport should be taken over is something I'm having trouble with at this point," he says. "If some of our biggest customers – the airlines, themselves – are saying to keep what you have, that speaks volumes as to how well the city of Atlanta is managing [the airport]."
He says the primary example of effective management is the cost per enplanement – which includes landing fees, fuel fees and terminal rent paid to the airport, divided by the number of enplaned passengers. "We're the second cheapest [after Charlotte]," he says. "Here the cost is a little under $5." That's compared to $13 per passenger in Denver and more than $30 per passenger at the New York airports. Multiplied by millions of people flying, the cost difference makes it understandable why airlines prefer ATL.
"Not only are we efficient and on time, we are very reasonable, and that is due to the city of Atlanta's management of the airport," he adds.
---
Elevating Cargo
Air cargo at ATL generates more than $6.7 million in revenue for Metro Atlanta and creates more than 27,000 jobs around the state. Increasing cargo volume is a big opportunity to expand revenue and spark greater economic development. Elliott Paige, the airport's director of air service development, says a number of initiatives are underway to accomplish those goals.
To improve the efficiency of loading and unloading truck cargo and reduce congestion, a staging area called TruckPass was built off the airport property on Sullivan Road. Much like air traffic control, truckers check in there to be assigned specific dock doors where they will pick up or deliver their cargo. Text messages direct them when to remain in the staging area or proceed to the dock.
Paige says TruckPass, which launched two years ago, has helped, but there are still bottlenecks in the warehouses and offloading cargo once aircraft have landed. The airport is now working with India-based Kale Logistics Solutions to develop a cargo community system. "It's an IT platform that allows all stakeholders to communicate about a particular shipment," he says.
The full transparency the new system will bring is especially welcome by customs officials because "they can see everything related to cargo, including photos. They can clear it before it lands," he says. By the end of this year, he expects to launch a limited pilot of the system, which he says will be the first in the Americas, although it's used in European and Asian airports.
ATL is also focused on maximizing its cargo buildings and in June announced that Worldwide Flight Services, the world's largest air cargo handler, will operate a 140,000-square-foot warehouse that has been vacant since it was built in 2016. In addition, the airport is looking for a customer to design, build and operate another nearby warehouse that Paige envisions as a "state-of-the-art, mechanized facility that can handle a variety of cargo in a fast manner."
To increase cargo trade and investment, ATL recently signed a memorandum of understanding (MOU) with Amsterdam's Schiphol Airport that will create a network or corridor of cooperation between the two air cargo gateways. Paige says the goal is to make Atlanta the preferred airport for high-value cargo – like pharmaceuticals and auto parts – coming from Europe to the U.S. "If we can work with others [like Schiphol], we can lift our standards of service and operations to match theirs."
---
Shaping the Region
From an economic development and quality of life perspective, what goes on at ATL directly affects the cities, counties and businesses surrounding it. "Everything we're doing is predicated on the strength and stability of Hartsfield-Jackson," says Shannon James, president and CEO of the Aerotropolis Atlanta Alliance (AAA), a nonprofit coalition of community leaders and businesses. "Our organization is basically looking to create a central business district around the airport. The goal is for that activity to push through the inertia around the region. The growth from that area will ultimately shape the ecosystem for South Fulton and Clayton counties."
The AAA is relatively young – only five years old – and it serves as a central organizing agency and point of contact for planning and development initiatives affecting 13 cities, two counties, two school districts, two community improvement districts (CIDs) and a variety of companies, including Porsche Cars North America, Chick-fil-A, Georgia Power and Delta Air Lines. The alliance is in the process of implementing a master plan that James says began with getting all of the various entities talking to each other and working together. "Now we have a cohesive ecosystem of multijurisdictional cooperation," he says.
Helping to improve connectivity throughout the community is among AAA's priorities. Working with the Aerotropolis Atlanta CIDs, it has kicked off a plan for a bike-walk trail that will eventually cover 350 miles and more than 46,000 acres. James says it will be similar to the Atlanta BeltLine and will be constructed in partnership with the PATH Foundation, which has a 25-year history of building such trails. Construction should begin in 2021, and it could take 10 to 20 years to complete.
The project will dovetail nicely with the CIDs' efforts to identify key gateways and corridors for improved signage and public art, helping to create a sense of place throughout the region. Included in the efforts to uncover assets and amenities that will enhance regional identity is the alliance's partnership with Finding the Flint, the organization dedicated to conserving Georgia's second longest river, which begins near the airport. The project would involve restoring the river around the airport and creating a river path with amenities like parks and trails.
"Economic development is not an overnight fix," James says. "Ultimately, we want to unlock catalytic sites that will make the airport area a destination." College Park has been one of the early adopters of this initiative, with 420 acres approved for the mixed-use development Airport City. Groundbreaking could happen later this year or first quarter 2020.
The alliance is also working with the Mountain View area of Clayton County, which is near the airport's international terminal, to free up about 400 acres for development. "People should see dirt turning [there] in 2020 or 2021 at the latest," he says. "We're unlocking sites in partnership with cities, counties and private property owners. That opens the door for economic impact, like jobs and revenues."
Workforce development is another area where AAA serves as the master coordinating body. The organization is working with the Atlanta Regional Commission (ARC) and other entities to connect job seekers with training and potential employers in the area.
"We are now the central point of contact that helps job seekers and employers navigate and helps hand-hold them through the right process," James explains. He says the alliance has partnered in training more than 190 residents for hospitality and construction jobs, with a 90 percent placement rate. "We're now looking at expanding into logistics and aerospace," he adds.
The AAA has also created an education collective focused on developing career pathways and talent pipelines to help bridge the workforce gap. The collective is a partnership among schools in Clayton and South Fulton counties, Clayton State University, Atlanta Technical College and corporations like Georgia Power, which helped design a curriculum to create a career funnel. James says the collective's first career expo will be held in October, and more than 30 companies in the airport vicinity will be on hand to provide information about apprenticeships, internships and other experiential learning opportunities.
"The purpose of an airport is to contribute to the community," says Paige. "It's what makes the airport survive. This symbiotic relationship will continue to grow the region around the airport and create a lot more jobs."
---
Hartsfield-Jackson Atlanta International Airport at a Glance
World's busiest airport since 1998
Serves 150 U.S. destinations and more than 75 international destinations in 50 countries
Tallest air traffic control tower in North America (398 feet/121 meters); fourth tallest in the world
Averages 275,000 passengers a day
2,700 arrivals and departures daily
Georgia's largest employer, providing more than 63,000 jobs
Generates $34.8 billion economic impact for Metro Atlanta
---
Aerotropolis Atlanta Alliance

Snapshot

 

(2019)
Covers

165

square miles
Includes counties of:
            South Fulton
            Clayton
           Atlanta
           Chattahoochee Hills
           College Park
           East Point
           Hapeville
           Fairburn
           Forest Park
           Jonesboro
           Morrow
           Palmetto
           Riverdale
           South Fulton
           Union City
Population:

362,251

Businesses:

12,557

Total Employees:

175,763
Source: Aerotropolis Atlanta CIDs and Aerotropolis Atlanta Alliance