Strong Competition
Loan demand is up for Georgia banks – and so is the friendly rivalry.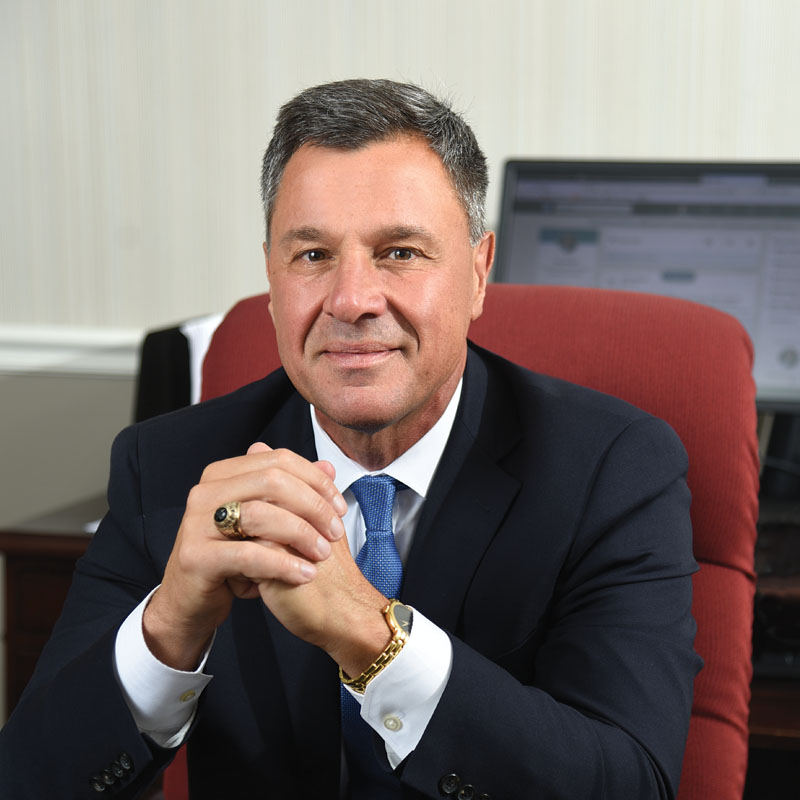 In the mid-'90s, John McNair and his wife, Lisa, found themselves in a tough spot. They had just bought a business and had relocated from Delaware to Pennsylvania for the opportunity. Between their new business, their new house and their former house, which was still on the market, money was tight.
"We were literally eating pizza and Cheerios for every meal," remembers McNair. "I was really despondent because we needed [a] line of credit very badly just to pay some bills."
After not meeting the requirements for a loan at a large bank – three years of tax returns for a business they barely owned – the McNairs approached a community bank instead. They walked out with a loan, a lighter load and a new appreciation for community banks.
"The community bank really saved our bacon when we owned a business," says McNair, "and I think that opened my eyes a little bit. Over time I really got to understand it even more so."
McNair joined the Community Bankers Association (CBA) of Georgia in October of last year as president and CEO after a career spent in and around community banking, including 14 years with the Independent Community Bankers of America in Washington, D.C. Over his career, he's learned that his small business loan wasn't that unusual in the world of community banking; it was business as usual.
"That's what community bankers do. They do this every day," he says.
---
Growing Loans and Deposits
Community banks – defined as locally owned and operated banks with typically less than $10 billion in assets – make 42 percent of small business loans in the country, according to a recent FDIC survey on small business lending. In Georgia, that number is 44 percent (and likely more), says Joe Brannen, president and CEO of the Georgia Bankers Association (GBA).
"Community banks are making almost one out of two small business loans in a community," says McNair. "Small business nationally is your top employer, [so] if you don't have a vibrant, robust, healthy community banking industry, you don't have small businesses."
Boosted by a strong economy, Georgia's community banks are healthy – and competitive.
"We've gone through a period of really low interest rates, and now over the last 12 months, rates have been rising. You're seeing more competition for customer deposits," says H. Lynn Harton, president and CEO of United Community Bank, which has locations across the southeast and its corporate office in Blairsville.
Banks are also seeing more competition for loans as well. To increase liquidity available to the state's community banks, CBA helped pass a bill in the state's last legislative session that will open up loan opportunities to smaller banks. SB 157, which Gov. Brian Kemp signed in May, allows community banks, many of which are located in rural Georgia, to accept local government funds to reinvest and loan back into their communities to help drive economic activity.
Georgia was the last state in the nation to pass legislation like this, says McNair, and the change should help as community banks eye big loan growth.
"We're projecting the increase in loan growth anywhere between $2 billion and $6 billion … over multiple years," says McNair.
Right now, the mission for the state's banks is clear: compete for, diversify and continue to grow loans.
"The challenge for us is to continue pursuing strong diversification of our loan portfolio. All the markets we serve are incredibly competitive, so it always poses a challenge," says Ameris Bank Regional President Michael Lee, who oversees banking operations in southern parts of the state, including Tifton, Fitzgerald, Valdosta and Vidalia. "We are always very interested in growing our loan portfolio with good-quality loans and finding good deposit opportunities to fund those loan opportunities."
---
High-profile Activity
Mergers and acquisitions (M&A) – a constant force in banking – continued throughout 2018 and early 2019 with high-profile activity in the Georgia market.
In May 2018, Houston-based Cadence Bancorporation announced a merger with Atlanta's State Bank Financial Corp., resulting in a new organization with $16 billion in assets.
Columbus' Synovus Financial Corp. announced last July its acquisition of FCB Financial Holdings Inc., owner of Florida's largest community bank, in a $2.9-billion deal.
Five months later, Jacksonville-based Ameris Bancorp and Fidelity Southern Corp., the fourth-largest bank in Georgia, announced their own merger.
And in February, BB&T Corp. announced a deal to buy SunTrust Banks Inc. for $28 billion – the largest banking merger in more than a decade. The new regional bank, which will be headquartered in Charlotte, will be the sixth-largest commercial bank in the country by assets and deposits.
Though it might seem like a blockbuster year for banking M&A, the M&A rate is not that different from an average year – it's the size of the banks involved that makes the difference.
From 2017 to press date, Georgia's seen 21 consolidation announcements, says Brannen: two credit union conversions, 11 in-state mergers, and eight out-of-state mergers.
"That's not a different number than what we have traditionally seen over the years," he says. "M&A activity has been something that happens every single year. We don't have the largest banks engaging in that activity like we have this year."
And the largest banks have been busy: Four of the state's top 10 banks engaged in M&A activity in the last two years, and the Ameris/Fidelity merger will see two of the state's top 10 banks joining forces.
Though mergers might seem confined to boardrooms, M&A activity has practical implications for everyday consumers. "If you add up all the market shares together, over a third of the customer base in Georgia will be impacted. That's big," says Harton. "They're great banks. They'll do a great job with it, but it's still change. And people in general don't like change."
As big as this year's banking M&A announcements have been, the state is seeing new growth as well. Two new banks have filed applications to start business in Georgia – Tandem Bank in Tucker and Loyal Trust Bank in Johns Creek.
"We see that as a positive sign," says Brannen. "We have not had a new bank open in Georgia since 2010."
---
Agricultural Challenges
"The past year in Georgia banking has been great, but the big 'but' is agriculture," says Brannen. "Leading into this year, our farming customers were already struggling with low commodity prices and increased costs of inputs. They were dealing with tariffs. They were dealing with a range of issues, even before the hurricane."
Hurricane Michael, which trampled through southwest Georgia in October 2018, was a devastating blow to many farming communities still recovering from Hurricane Irma the year before. Though state leaders intervened with loan assistance – $55 million in low-interest loans designated in November's special legislative session – the need is still great in rural, agricultural-driven communities, as well as the communities they touch.
"While agriculture may only employ 7.5 percent of our state's workforce, agriculture and agribusiness touch every county in our state in some way and have a tremendous impact economically on our state," says Lee.
Of the $3 billion in outstanding farm loans banks had last year, 85 percent were made by community banks, says Brannen. And Georgia's agricultural sector lost an estimated $2.5 billion as a result of Hurricane Michael.
"It doesn't take a lot of math to know that those losses are significant," he says, though not all losses were related to a loan.
"The big override here is, what do you do about the loans from last year that cannot be repaid yet?" Brannen asks. "That's been a big, big issue for most of our community banks in that part of the state."
Georgia lawmakers continue to pledge funds to help struggling farmers ($20 million was added to the disaster relief loan program in the mid-year budget). A federal disaster aid package was finally authorized in June, but funds are still needed. Rep. Terry England (R-Auburn) told The Atlanta Journal-Constitution in February that the initial $55 million for farming loans is gone, with another 100 loan requests still on the list.
Brannen has spent significant time in Southwest Georgia over the past year, working with organizations such as the Georgia Farm Bureau, Georgia Peanut Commission and the Georgia Cotton Commission to advocate for Georgia farmers, as well as traveling to Washington, D.C., with state banking leaders to lobby for federal assistance.
Recovering from the devastation of Hurricane Michael won't be easy or quick, but Brannen, Lee and other banking leaders are hopeful about the future, given the state's strong economy.
Challenges remain – agricultural recovery, increased competition from digital products and neighboring banks alike, and ongoing M&A activity – but so do opportunities, says Tim Jones, president of Citizens Community Bank, with locations in Hahira, Morven and Valdosta.
"The banks that are left are stronger; they're more viable and responsive, and I really feel like the best day of the community bank is yet to be seen," he says.
[For more on how Southwest Georgia is coping with the aftereffects of Hurricane Michael, see the cover story.]
---
Tomorrow's Bankers
Who will be the bank CEOs and presidents in the next generation? That's a question many bankers have been grappling with, says Tim Jones, president of Citizens Community Bank.
"I've talked to bankers all across the state and hear the same thing from everybody that I've talked to: It's much harder now to find talent to bring into the bank to grow into the upcoming managers, presidents and CEOs," he says. "Those jobs are still there, but it's much harder to find the talent to bring in and groom for those kinds of jobs."
At Citizens Community Bank, recruitment has expanded beyond finance majors to strong candidates with management, sales, marketing or communications degrees. And, with the dissolution of big bank training programs, Citizens is developing and training its own officers in-house, which is a new commitment of time and effort for the bank.
"We're having to be resourceful and find people who are good at communicating and good at sales and then do our best at training those people to be bankers after they come to work with us," Jones says.
The Community Bankers Association of Georgia (CBA) is working with state universities to implement community bank job fair days to boost the profile of community banks as potential employers.
"It's not just finance majors, and it's not just making loans," says Joe Brannen, president and CEO of the Georgia Bankers Association (GBA). "If you think of a bank, you probably think of either putting in a deposit or making a loan, but from an opportunity standpoint as an employee, there is a diverse type of students and people who work in our industry."
It's a pitch both the CBA and GBA are making around the state, that a career in banking is about more than dollars and cents – it's about building relationships and growing businesses.