Employment Evolution
Where, when, why and how we work is changing radically.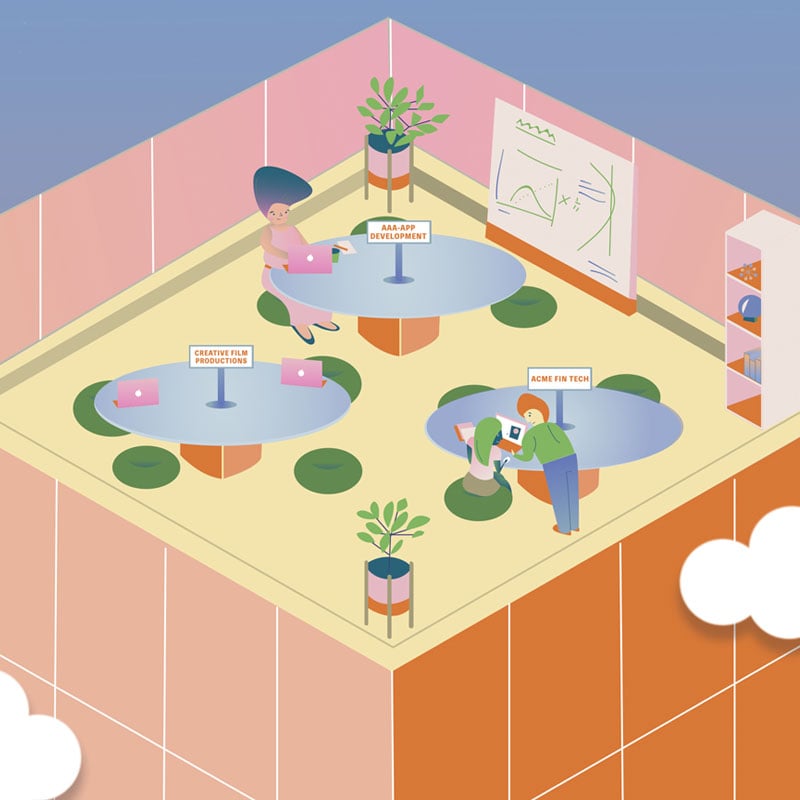 The way people work, the places they work, the way they think about work and its place of importance in their lives has undergone a radical shift. Many of the changes are due to innovations in technology making remote work possible, even preferable in some instances. Other changes are generational, with evolving ideas of where a job fits into the arc of one's life, the compensation expected and the benefits that are valued.
The economy also plays a role in how we're adapting to the changes. And like all change, it's often charged with emotion because passages – even business passages – mean the end of one thing and the beginning of something new.
Consider this: What would you have said 10 years ago if someone told you that one of the biggest lessees of commercial real estate in the Atlanta market in 2019 would be a company that rents office space to individuals with laptops so they can work and collaborate with others? Known as a coworking space, the facility doesn't look like a traditional office, more like a loft apartment. It's essentially a large shared space with amenities for doing business – Wi-Fi, printing and coffee, of course. You'd probably say nothing because that company – WeWork – didn't exist 10 years ago.
But today, WeWork is a titan of the coworking sector and was recently valued at $47 billion. The New York-based company was founded in 2010 during the recession, when looking for a full-time job became a job for many people, and experienced incredible growth as the brand spread to sites around the world.
Its spaces are as much about community as a place to plug in the computer. WeWork prides itself on encouraging core values and a collaborative culture among members of each space. In fact, some of the company's recent growth has been spurred by large existing companies using WeWork as a way to outsource facilities management and to develop corporate culture.
The WeWork effect in Atlanta has been significant. WeWork currently leases more than 500,000 square feet of office space and has nine locations in operation or announced throughout the city.
"The future of work is here, and there's no question that people now want more from their work environment than the traditional workplace can provide," says Bobby Condon, general manager for WeWork Southeast.
In May, the company released its first-ever Global Impact Report, which showed that in Atlanta WeWork directly contributed $970 million to the city's GDP. The report also found that 12 percent of Atlanta WeWork members are first-time entrepreneurs and 52 percent of its members believe WeWork helped their company accelerate its growth.
---
Growing Trend
With the gig economy – where companies contract with independent workers for short-term assignments – in full bloom, coworking is a commercial real estate trend that isn't going anywhere, says Craig Van Pelt, director of research at JLL Atlanta, a commercial real estate services firm. In January, JLL released Flexing Their Muscles: Markets to Watch in 2019. The report was the firm's latest research surrounding what they call "flexible office space," and it places Atlanta No. 14 on the list of top markets. Van Pelt says job growth has a lot to do with that.
"We've gained about 550,000 jobs since 2012, about 90,000 to 100,000 per year," he says. "Population growth drives job growth, so we're in a really good market right now overall. That sets the stage." But, he adds, it's also the types of industries that are growing in Atlanta that are attracting the WeWorks of the world.
The report cites the development of tech, film production and digital content creation as drivers for the increase in coworking office stock. "They are inherently creative fields," says Van Pelt. "The types of people working in those industries are more collaborative in nature and work closely together on projects. The flexibility of those types of spaces reflects the type of work that goes with those jobs."
Most coworking spaces are located where you'd expect, in high-density areas with easy access to public transportation and other amenities. Ponce City Market is home to Industrious. ROAM has locations in the Cobb Galleria and next to Perimeter Mall. And David Hebert is banking on the fact that folks outside Atlanta's city limits want to engage in coworking, too.
Owner of a management consulting company, Hebert saw trends in the workplace that gave him pause – companies shrinking their employee footprint or going to distributed workforces; accounting changes in the way companies show the value of a lease on their books; the need for greater flexibility for startups. But rather than reinvent the wheel, Hebert and his wife, Susan, are franchisees with Serendipity Labs, a coworking franchise. Hebert's location, in Cumberland Center, opened at the end of March. He hopes to open a second location in Kennesaw next year.
"We ended up with Serendipity Labs mainly because of the leadership," he says. "They have a very mature leadership group. Also, each coworking group has its own culture, whether it's the look and feel of the space, the way it's configured or who they're focused on as clients. What we saw with Serendipity Labs was more of the professional worker, whether freelancer, creative, consultant, financial analyst, and less of the kids who want to bring their dog to work."
Coworking spaces have spread on a smaller scale to other Georgia cities like Augusta, Columbus, Savannah and Macon. NewTown Macon, a nonprofit with a 20-year history in downtown redevelopment, added coworking space into its design when it rehabbed its historic building at 555 Poplar Street.
"This is a big credit to our design team, who suggested we could generate more income with this space if we made it into coworking," says Emily Hopkins, director of place for NewTown Macon. The Office at NewTown – the coworking space – is separated from the nonprofit office by an old barn door. In addition to the rented space, the "coworkers" have access to NewTown's printing area, conference room and kitchen.
---
The Value of Benefits
But it's not just the places people are working that are changing. It's the carrots at the end of the stick. Unemployment rates remain remarkably low, which means competition for workers is fierce. Whether unlimited vacation days, parental/caregiver leave or paid sabbaticals, companies often use benefits packages to differentiate themselves in attracting and retaining talent. The 2019 MetLife Employee Benefit Trends study found that "better benefits are the third highest request on employees' lists – behind salary and a positive work environment – of what they need to navigate their work-life worlds and succeed at work today."
The study documents a disconnect between what employees want and what employers are providing, suggesting a holistic approach to bridge the gap by adding options like wellness plans or on-site health facilities. A holistic benefits plan gives employees the option to customize their benefits – a younger employee might want to take advantage of low-interest loans to pay off student debt (nice to have), while a married employee with a family is looking for healthcare coverage (need to have).
And what of the generational expectations in the workforce? Currently, the workforce is formed by baby boomers (those born 1946-1964), Gen X (1965-1980), Gen Y/millennials (1981-1997) and Gen Z (those born after 1997, no cutoff established).
"Generalizations are unfair," says Adrian O'Connor, founding partner and CEO of Global Accounting Network, a London, England-based recruitment firm that recently opened an office in Atlanta. "But there are types of things that each demographic is looking for."
Boomers, he says, often seek recognition for what they can deliver, describing them as a "rich seam of talent being overlooked in favor of younger people who are often wrongly deemed to be more energetic, more driven, more on an upward trajectory and therefore more likely to come in and push harder."
Millennials want the paycheck, certainly, but they also want progression and something more. "They want to feel their values align with the business they're joining," O'Connor says. "If they sit in a bar with their mates, are they going to be proud to say they work at this company?"
O'Connor's thoughts sync up with what self-described "older millennial" Audria Crain says she values most in work. Crain is an attorney focusing on international relations at Smith, Gambrell & Russell. She says she wants to believe she is building something.
"Am I adding something to the conversation of ideas? Doing something for other people is also important to me and one of the reasons why I wanted to go to law school," she says. "Of course, the financial side is important – practically speaking. We have to make a living. But I see it as an undercurrent. Ultimately, I want to feel like I've contributed and helped others in my work."
Patty Watson is senior executive vice president and chief information officer for TSYS, the global Columbus-based financial services company that was recently named to Forbes list of America's Best Employers in 2019 for the third consecutive year. Watson says the way TSYS treats employees isn't just a strategy to separate itself in a competitive labor market, it's part of its core values.
"We don't have an attrition problem, and I'll tell you why," she says. "It's the reason I moved my family here from Dallas three and a half years ago. This company is special. It's special because the company cares about the customer and they care about the people. And the people care about the company and care about the customer."
But TSYS also walks the talk. The company was one of a few large companies that gave every employee a $1,000 bonus and increased the 401K match when the tax changes took place in 2018. TSYS has an employee stock-purchasing program that over the years has made many team members very wealthy.
Watson also says they have noted generational differences about the value of certain benefits amongst their employees; differences that were validated when TSYS employees participated in a multigenerational workforce study conducted by the University of South Carolina's Master of Human Resource program.
"Some of the things [researchers] found that all generations valued were work-life balance, flexibility and acknowledging the importance of the environment they work in; that [employees] want opportunities to interact and share knowledge with one another," Watson says. "Now, what we found different is that boomers are interested in longstanding relationships with their co-workers and benefits, where the Gen Xers really want career advancement, personal time and time away from the office. Millennials wanted more group interaction and collaboration; so social networking, very big on work-life balance and flex-time. They like the open floor plan, which is a big part of our technology transformation."
Bottom line: companies that aren't looking inward before looking outward are missing the boat, says O'Connor.
"It's far better to have the right retention strategies in place because they should be retaining their good people, particularly in a tight market," says O'Connor. "And if you're doing all the right things, you're treating people well, and someone gets a call from someone like me offering them an extra $10,000 a year and a slight bump in title, they're not even going to take the call. That's the most important thing."