All Aboard
MARTA is expanding across Metro Atlanta to help more folks get where they want to go.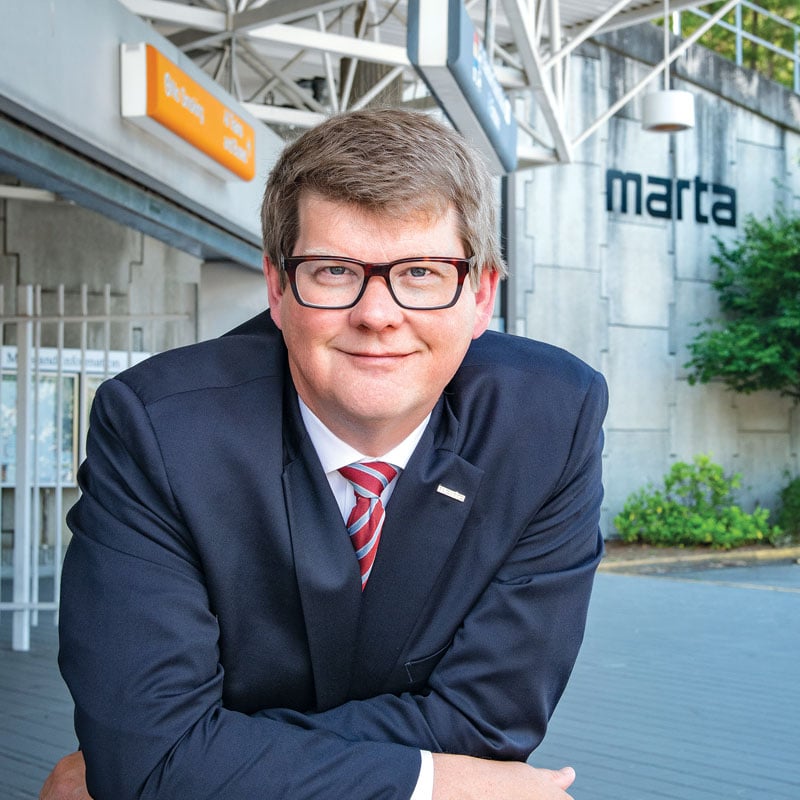 If it feels like MARTA is suddenly bursting out all over Atlanta, that feeling isn't wrong. Gwinnett may have voted down the MARTA option in March, but expansions are underway in Clayton County. More MARTA in the city of Atlanta means more access there, and discussions are ongoing in other areas of the metro region about jumping on the MARTA train (or not).
Not only that, but at MARTA stations across the system, transit-oriented development (TOD) is providing office space, residences and shops for people who want to hop on and hop off MARTA to live (at times affordably) and work. These expansions are designed with an eye not just on commuters, but with the idea of getting all people anywhere they want to go outside of work and home.
---
Why Now?
MARTA has been around since 1975, when construction started on the east-west line. The first trains began their trek around Atlanta in 1979. So why, after so many years of struggle, is MARTA having its moment? It seems to be the culmination of a number of things.
"This region is growing substantially," says Jeffrey Parker, MARTA's general manager and CEO. "Just last year 100,000 people moved to Metro Atlanta."
What that means, Parker says, is that we've got to invest in infrastructure – including transit infrastructure – to ensure that all those new people, along with the ones who've been watching the traffic get worse on an almost daily basis for years, get around safely and efficiently.
And that means MARTA. "We have a system that people want to connect to," Parker says. "Connectivity is critically important to this economy, and we're a huge piece of that."
Another factor in MARTA's expansion is the need for affordable housing, Parker says. "We're going to continue to have affordable housing issues in this region, and public transportation is a key piece of connecting where people can live affordably to where jobs are. … Whether it's high-tech jobs or service industry jobs, people need to live and thrive and be able to connect to employment."
---
Steps Away
Sometimes with MARTA, that connectivity is literally right outside the door. A new tool in MARTA's toolbox is TOD, which Jacob Vallo, MARTA's senior director of TOD and real estate, says is "taking the assets of the transit authority that are unproductive, in the sense that it's no longer the highest and best use of the asset, and making them productive assets to increase ridership, to increase recurring ground lease revenue, to support the transit operation and to bring in uses that are needed and/or desired by the community."
Think about parking lots you may have seen around MARTA stations that sit empty. "When each one of the MARTA stations was built they were the furthest one out, and they put in a lot of parking," says Chamblee Mayor Eric Clarkson. "There was excess parking when they built the next [station] that was up the road. So we have these MARTA lots in this area where we were planning for this redevelopment."
Chamblee is home to the first completed TOD, and MARTA continues to own the land and leases it to a developer. (MARTA has previously sold land around its stations for development, but the new model has MARTA holding the ground lease.)
Trackside in Chamblee opened last year with 80,000 square feet of Class A office space, something the city of Chamblee was looking for.
"I think MARTA did a wonderful job of listening to us, looking to our plans, wanting to know what we wanted to see on there," Clarkson says about the process of working with MARTA on the TOD. "They chose a developer that's done some really good work in Chamblee in the past, has a really good reputation in our city and gave us a product that we're all very proud of."
While Chamblee was looking for office space, other communities have had other requirements for TODs, and MARTA has some requirements of its own, including affordable housing.
"The board created a TOD policy and guidelines, and part of that policy was the affordable housing piece," Vallo says. That policy designates that 20 percent of any multi-family development on a MARTA site must be affordable, which generally means people who make 80 percent of the area median income (AMI) qualify for the housing. Multi-family, including an affordable component, is part of the TOD at King Memorial, Edgewood/Candler Park and Avondale stations.
"Everybody's wrestling with [affordable housing,]" Vallo says. "But hopefully the projects we're trying to deliver, from a design perspective, we're trying to show folks what you can do differently."
Affordable housing isn't the only aspect MARTA is doing differently. At the Hamilton E. Holmes Station, a container village opened up this spring in partnership with Invest Atlanta. The iVillage consists of 13 decommissioned shipping containers that house transit-accessible retail and office space for small businesses.
"It's somewhat of a pilot project, not a permanent project," Vallo says. "In addition to these more permanent transit-oriented developments, we're also evaluating land where we can do more interim uses to generate revenue for the authority, and this is a perfect example."
---
Economic Boom
While Gwinnett County may have voted down a MARTA partnership last March, Clayton County, which voted to partner with MARTA in 2014, is already reaping the benefits of transit – and has big plans on the drawing board.
MARTA's expansion into Clayton County "has been an economic boom," says County Commissioner Felicia Franklin Warner. "Because of the expansion of MARTA into Clayton County, we are able to move people back and forth from their homes to their jobs."
She also credits access to transit as one of the reasons companies like Cummins, Castellini Group of Companies and Chime Solutions have expanded in Clayton, leading to an increase of 1,600 jobs over the last few years.
As rail becomes part of the mix, more economic activity is sure to follow.
"We're beginning the environmental process for a commuter rail corridor along the Norfolk Southern corridor," Parker says.
The rail line would access Norfolk Southern's freight railroad track and offer up not just new commuter options, but economic development opportunities. "I'm certain this is going to be a great opportunity to provide economic development around stations and help transform the economy of … Clayton County," Parker says.
But rail isn't the only game in town. MARTA is also in the midst of an environmental study of bus rapid transit (BRT), which typically uses dedicated lanes, along the busy state highways 85 and 139, where buses connect into College Park from Riverdale and Morrow, he says.
"The investment there will make the travel times shorter by removing the buses from the general-purpose lane," Parker says. "We will have more reliable bus service, so that will compete better with the automobile. That's what gets people into transit, the reliability and the frequency of the system and how it connects into other parts of the transit network."
---
More MARTA
The focus on reliability, connectivity and convenience is all part of More MARTA, as MARTA refers to its expansions. And it's all evidence of the ways MARTA is changing.
Last year, the MARTA board approved the final list of projects for More MARTA Atlanta, the largest investment in transit in 40 years – $2.7 billion over the next four decades, funded by a half-penny sales tax that passed in the city in 2016. Now, MARTA is working on priorities.
"It involves input with stakeholders, communities and elected officials to really set up the prioritization and the implementation plan of the projects," Parker says. "We know what the projects are, now we've got to come up with … the best strategy to implement them. We can't do everything at once. Some projects are more complex than others."
While the logistics of the complex projects are being worked out, MARTA is moving forward on other projects that will alter the experience for riders in the here and now.
"We're going to make a big investment in station rehabilitation," Parker says, "some key stations in the city of Atlanta; Five Points is one of them. We're using some of this More MARTA money to make improvements, whether it's access improvements or really revitalizing the stations."
MARTA is also looking to replace the entire fleet of rail cars with more efficient, comfortable and amenity-laden cars. "These are really transformative efforts," Parker says. "New rail cars are more reliable, [have] better customer amenities like outlets in the passenger compartments so people can charge phones, better Wi-Fi, things like that. So we're really excited about this opportunity."
---
Education Push
Fulton County outside of Atlanta may be the next area to vote on transit – including MARTA. County commissioners and mayors voted in May on a transit plan that now must go to voters. The referendum on whether to raise the sales tax by .2 percent for 30 years to cover the projects has not been scheduled, but it likely will be some time next year.
The goal of the plan is "to have a system that gets people where they need to go, but that also has amenities and conveniences so that it's something that people want to take advantage of," says Fulton County Commissioner Liz Hausmann, whose district covers parts of North Fulton.
BRT dedicated lanes along Georgia 400, South Fulton Parkway and the top end of I-285 are part of the plan. Other approved projects include arterial rapid transit (ART), which allows buses to operate in the general lanes, with pull-outs for passenger pickups and drop-offs along well-traveled routes in both the northern and southern parts of the county.
"I think there's got to be a very big educational effort [around the plans]," Hausmann says. "MARTA's expansion in Atlanta and in Clayton County is critical to our successful effort. I don't think anyone wants to take something to the voters that's not positive and won't have a real impact on our traffic situation. So I think that we'll be watching very closely what happens in Atlanta. They are also not only expanding, but they're upgrading the current system. They're doing major upgrades to their stations, buying new cars. All of those things that they're doing to the current system are critical to getting public support for expansion in the rest of the county."
In Hausmann's opinion, transit "is our biggest issue in Fulton County. More and more people are moving here every day, and it's critical that we give people options. But we have to put together a plan that gets people where they need to go, that people think is worthy of the investment. So what MARTA does in Atlanta is critical to give the confidence to the public that it's worthy of more of an investment. There's a huge educational effort that we have to do to get people to understand the new MARTA."
---
Regional Perspective
The Atlanta-region Transit Link Authority, (ATL) is the umbrella organization that will help the region compete on the state and federal level for transportation funding, something that's essential to all of this expansion – and MARTA will be a partner in that, including co-branding all MARTA assets with the ATL logo.
"We're going to work collaboratively with the ATL to make sure that the region invests wisely in transit," Parker says. "Transit in the outer communities is likely to be more about connecting people into where densities of jobs are in town. We're going to always be a part of that. People are going to want to connect to the MARTA system, and the ATL will be a forum for us to help make sure that investment and those connections work well."
Franklin Warner, who serves as vice chair of the ATL authority, agrees that the ATL and MARTA must work together to create a seamless, convenient transportation system.
"The ATL authority is that step in the right direction in order for us to really come together in the state and say to the world that we understand that Georgia is a huge economic engine," she says. "We're leaders in that area. But we do know that in order to continue to lead in that area, we've got to put a little more muscle behind our focus on a regional transportation system."
It's an exciting time to be in transit in Atlanta – not just the focus on expansion, but also the opportunity to make changes in the here and now, Parker says.
"It's really about changing the customer experience. And that's something that over the next several years we'll be focusing on. We're working on developing some initiatives around customer-centered training programs for our employees, so we can do more thinking about our customers. We're working through the details of establishing a rider-advisory council so that we can get more input from our customers in a more formal way and listen to our customers better. We've got a lot of exciting things to do, really trying to change the culture and how our customers are being served and improving their customer experience."