Local Control
Six of Georgia's county leaders go beyond their job descriptions to make lives better.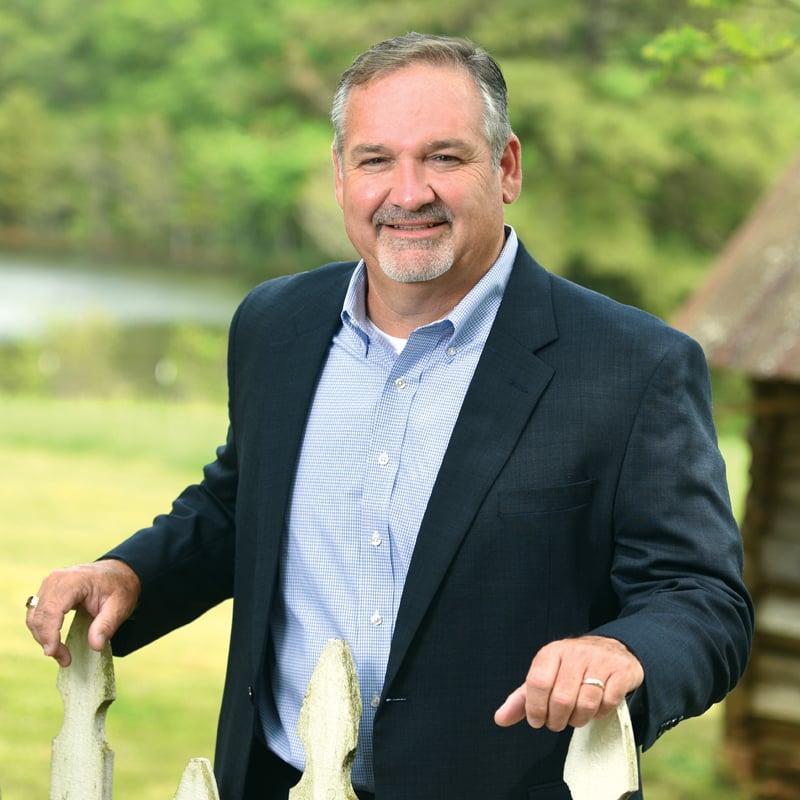 The term local control means keeping government close to home. For folks in six Georgia counties, local control is overseen by someone who goes above and beyond the call to improve the lives of his or her constituents.
The ACCG, a nonprofit organization that serves Georgia's county governments, is honoring six of these people as County Leaders of Distinction this year for their commitment to county residents. The individuals are recognized for work in economic development, innovative leadership, technology, health, transportation and sustainability. Their initiatives in these areas demonstrate the outside-the-box thinking that results in better living for all Georgians.
"The success of Georgia's counties is dependent upon leaders who establish and cultivate environments for growth and innovation," says ACCG Executive Director Dave Wills. "County leaders are faced with the ever-changing dynamics of society in which they must govern. Leaders who excel always rise to meet challenges while meeting the needs of the citizens they serve." – Karen Kirkpatrick
---
Technology
Stan Edwards, Newton County
New Network
Although Newton County is close to Atlanta and will soon be home to a Facebook data center, many of its rural citizens still do not have access to high-speed internet. Lifelong resident and County Commissioner Stan Edwards decided that needed to change.
"Underserved portions of the county are starving for additional options for internet," Edwards says. "With broadband internet, people have opportunities to telecommute, shop and pay bills online, enjoy social media and even get college degrees online."
Having worked at AT&T for more than 30 years, Edwards knew that proper return on investment was simply impossible to achieve for the big telecom companies most suited to solve the county's problem. That meant rural residents had to make do with existing infrastructure and service, which was mostly satellite or cellular.
Then, in early spring 2018, Edwards got word of a company that uses water towers to broadcast large-area Wi-Fi-type internet. In a meeting a few months later, Steve Fortmann, owner of Paladin Wireless, told the commissioner about using a radio frequency band or spectrum, which most counties typically sell or simply give away to cellular companies. The benefits of the new high-speed network would extend from residential connections to the county coffers.
"My math came to about $1.8 million annually with no capital outlay or recurring expense," Edwards says about the resulting revenue from a simple $7.50 monthly household charge. "I thought, 'this is free money.' I was excited about simply having the internet option Paladin could provide, but also with a recurring revenue stream that could be used for debt reduction, EMA [Emergency Management Agency] services, etc. Wow."
In March, the Newton County Board of Commissioners approved the contract with Paladin Wireless, which will begin deploying equipment after FCC approval.
"A rewarding side to this has been people's gratitude," Edwards says. "Countless numbers of people have approached, texted, called or emailed to thank me for trying to bring solutions. But this effort has not been a one-man show; it has taken a willingness by many to work together." – BL
---
Health
Henry Craig, Baldwin County
Unique Perspective
Baldwin County Commissioner Henry Craig has mental health on his mind. It's been there most of his life, growing up on the grounds of Georgia's now-closed Central State Hospital at Milledgeville where his father, James, served as superintendent during the 1960s. "It was a big city unto itself," recalls Craig. "Two thousand acres, 200 buildings, 3,000 employees and 13,000 mentally ill patients." The facility grew, raised and prepared all the food in what was the largest kitchen in the world at the time. Craig's wife also grew up on the grounds; the couple married in the chapel.
This unique perspective stayed with Craig throughout his 40-year career away from Milledgeville, first in the Army, then working in aviation. When he returned to Baldwin County, he noticed a change in the way mentally ill citizens were treated. They weren't patients anymore; they were problems.
"When I became a county leader, I realized that by not having these state facilities providing help for those that are mentally ill – key word 'ill' – the county, the city, the community have become responsible for providing the medical, the moral, the financial support for those who are mentally ill," says Craig. "We can't keep treating those who are mentally ill different from those who have cancer or any other disease."
He and his ACCG colleagues are advocating for legislation that will close loopholes and create small solutions that can net big results for some of Georgia's most vulnerable citizens. During the recent legislative session, HB 514 moved from the Georgia House to the Senate creating a Mental Health Reform and Innovation Commission. The Superior Court Judges Association created a Special Committee for Mental Health and Jails and appointed Craig to serve.
"We are being heard," he says. "There are legislative opportunities for us to do better as a federal government and a state government. There are lots of ways we can make things better." – PR
---
Transportation
Charlotte Nash, Gwinnett County
Moving Forward
If anyone thought Gwinnett County Commission Chair Charlotte Nash was going to stand in the wings and sulk after the defeat of the MARTA referendum in March, they really don't know Nash. She was on the airwaves the next day discussing the outcome, and while she's happy to look at data, it's not for commiseration, but for strategy.
For example, Nash was surprised by low turnout among younger voters given they had the most to gain from transit proposals for the longest period of time. "That's a takeaway that we've got to factor into our considerations when we think about how we move forward from this point," says Nash. "Whether that means we need to be communicating differently with that age group, [or making] sure that we've engaged the folks that are still active in the workforce, particularly those in the younger age groups of the working public."
One thing is certain, says Nash. The transit issue isn't going away. "We don't have a choice. It's such a critical issue. I have the same sense of urgency about this [issue] that I felt about acquiring additional sewer capacity at earlier points in time."
To that end, Gwinnett County, seven county municipalities and researchers from Georgia Tech are engaged in creating a connected corridor on a 20-mile stretch of Peachtree Industrial Boulevard. The Connected Vehicle Technology Master Plan is a one-year study using smart technology in 50 intersections with the goal of reducing congestion and accidents.
"We recognize that there are technology changes happening very rapidly in the transportation field, and we want to be part of that," says Nash, of the focus now on new vehicle technology. "We could have the greatest transit system on the face of the earth, and we would still have the need for the things we're talking about with connected technology." – PR
---
Sustainability
Kenneth E. Fowler, Twiggs County
Solar Rising
In Twiggs County, big opportunity will see – and be – the light of day. That's because the largest standalone solar facility in the Southeast is in development on 2,000 acres near Warner Robins. Tempe, Ariz.-based First Solar Inc. broke ground on the 200-megawatt GA Solar 4 power plant last November.
"This was a good financial deal for our county because it doubled our tax digest, it did not impact our infrastructure and it is an environmentally clean project for our county and for Georgia," says Kenneth E. Fowler, Twiggs County Commission chair.
Fowler and his team were able to draw on their experience from a past solar project and a large-scale warehouse development. The negotiation process with First Solar still took more than a year to finalize due to the unique nature of the project and its considerable size. Origis Energy purchased GA Solar 4, which is slated for completion at the end of the year, from First Solar weeks before the groundbreaking.
Fowler says that the longest part of the process involved the power purchase agreement process with Southern Co. and its subsidiary, Georgia Power. Since the developer came to the county with a site already selected, the biggest challenges were finalizing permit fees and any necessary impacts to roads within the construction zone.
The unprecedented venture is creating a brighter picture in Twiggs County even beyond the major economic multiplier.
"One surprising feature of the negotiation was the immediate benefit to the county through the philanthropic generosity of the development company and the final owner," Fowler says. "First Solar and Origis Energy began donating to our youth initiatives in our schools from the first day after the closing on the project. The owner continues to reach out to the community in numerous ways." – BL
---
Economic Development
Kevin Little, Walton County
Hometown Jobs
Kevin Little loved growing up in Monroe, where small-town living is close enough to Atlanta for big-city excursions. He moved back after college, but many of his classmates never returned. There just weren't enough good jobs. Little was willing to commute to Con-yers, and then Decatur, to work with the Georgia Department of Transportation.
By the time Little was elected chair of the Walton County Commission in 2000, the county had attracted some manufacturing and a Walmart distribution center. But he knew it needed more. "I wanted [everyone] to have an opportunity to live, work and play and stay here," he says.
County leaders had formed an unusual four-county economic development effort with Newton, Morgan and Jasper counties. The joint development authority purchased 1,600 acres off of Interstate 20 for a new industrial park called Stanton Springs.
Little and the others on the eight- member authority board worked to install utilities on the expanse of land and to build a parkway into the parcel.
With his deep roots in Walton County, Little knows how to "sell" his hometown. It is about 20 miles from the resort-like amenities of Lake Oconee. It is accessible to Atlanta and Athens, the Port of Savannah and Hartsfield-Jackson Atlanta International Airport.
The tipping point for the county came in 2012, when then-Gov. Nathan Deal lured a Baxter International plant (now owned by Takeda Pharmaceutical Co.) with tax incentives and construction of a Georgia BioScience Training Center at Stanton Springs. Walton and the other counties added incentives.
The spirit of collaboration paid off again in 2018 when Facebook announced it would build a new data center at the same industrial park. Walton County has attracted other manufacturing and distribution centers as well.
Little's oldest daughter moved back to Monroe when she graduated from LaGrange College in 2017. A biology major, she got a job with Takeda. "It's really nice to have a quality job right here in the county," he says. – MCM
---
Innovative Leadership
Shannon Whitfield, Walker County
Fiscal Turnaround
When Shannon Whitfield ran for election as the sole commissioner of Walker County in 2016, instead of the typical campaign promises, he gave a wakeup call. He vowed to address the debt that was crippling the county.
Whitfield didn't even realize how bad things were until he took office and found a stack of invoices on his desk. The county owed $3.5 million, $3 million of it past due. It had $800,000 in the bank – and a monthly payroll of $1 million. "I knew I didn't even have enough money to make it through the first month," he says.
He convinced two local banks to loan the county $8 million to provide vital cashflow. Soon, a financial audit of the past fiscal year provided grim details: $70 million in debt, no cash on hand, no reserves and a negative fund balance of $7.5 million. The local newspaper summed it up: "County's cupboard is bare."
Whitfield worked seven days a week to find solutions. In 2017, his only days off were Thanksgiving and Christmas.
He cut expenses, raised property taxes by 2 mills and increased the public safety fee. He settled a bankruptcy case involving a closed local hospital whose loan the county had guaranteed. He created a public health facilities fee to help pay the $8.7 million judgment over three years.
Whitfield sees county residents as his partners. He has talked to them on Wednesday nights on a live, call-in cable TV show and met with them at family-run restaurants every month for "Lunch Conversation with the Commissioner." County voters showed their faith in his turnaround work by overwhelmingly approving a one-cent sales tax to repave roads in November 2017.
Last fall, voters approved a governmental change to a five-member commission, including a full-time chair who acts as county CEO. Whitfield has improved cashflow and reduced the debt, but he isn't done. He plans to run for commission chair in 2020. "I want to see our county 100 percent out of debt," he says. – MCM