Four for the Future
Diverse programs provide much-needed solutions for communities across the state.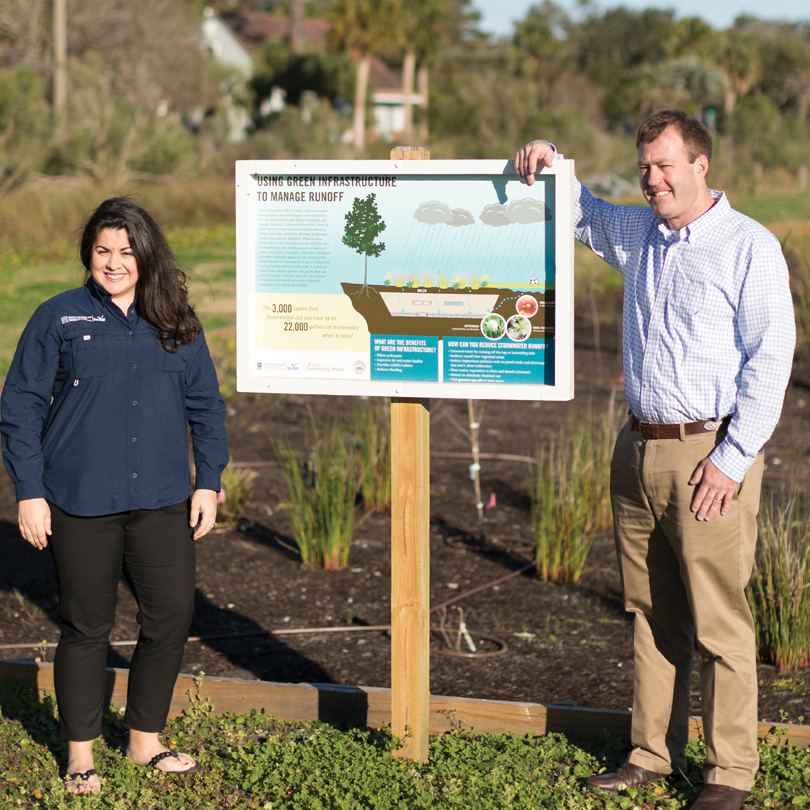 University of Georgia's (UGA) Public Service and Outreach (PSO) division is a valuable statewide resource that has assisted many communities in implementing solutions to pressing problems, especially where local expertise and funds aren't available.
"Hundreds of PSO faculty experts are spread throughout Georgia, helping entrepreneurs create new businesses, training local elected officials, revitalizing downtowns, developing community and business leaders, serving as extension agents, helping shape youth programs and bringing the resources of the university to the people of Georgia," says Jennifer Frum, PSO vice president.
For the seventh consecutive year, Georgia Trend and the PSO are highlighting four communities for their efforts to improve residents' lives through public-private and nonprofit collaborations. This year's community programs run the gamut from managing stormwater runoff in an environmentally friendly and cost-effective way to leadership training, workforce development and reducing hunger in older adults.
"We are helping communities address critical challenges," says Frum. "These partnerships are showing success in helping build a stronger state infrastructure that will increase prosperity for all Georgians."
---
BRUNSWICK
Building Green Infrastructure
It was a perfect match. The city of Brunswick had flooding problems due to its flatness, excess stormwater and aging infrastructure, and the Georgia Department of Community Affairs had grant money for a water-related project. Enter the Marine Extension and Georgia Sea Grant (MEGSG), a unit of UGA's PSO division. The MEGSG came up with the idea to use the $20,000 grant to build a bioretention cell at a local park as an environmentally friendly way to handle stormwater runoff. The result was a successful partnership.
According to Jessica Brown, MEGSG stormwater specialist and PSO faculty member, the bioretention cell is a type of green infrastructure. "It's a shallow, landscaped depression that collects stormwater that can't infiltrate back into the ground and uses native plants and soil to filter out pollutants and nutrients from fertilizers," she says. "The stormwater runoff gets treated before it makes its way into the ditch, which drains into the marsh."
Brown helped secure the grant money and worked with the city of Brunswick on designing the 3,000-square-foot rectangular bioretention cell. The city's public works staff constructed and will maintain it with the help of local and state partners.
"Jess came to us with the idea of doing the cell," says Garrow Alberson, director of Brunswick's engineering department. "We felt like it was a good idea to help folks understand you can install something like that at minimum cost and not have much long-term maintenance cost."
Construction of the cell involved excavating three feet down, putting in a layer of gravel and then a mixture of sand and organic material that's nutritious for plants and helps filter pollutants. Next, native plants and trees were installed, and a layer of mulch topped it all off. "It's like a layer cake," Brown explains.
Alberson says construction of the cell was truly a community effort, with Brunswick Job Corps horticulture students doing most of the planting and the local garden club involved in weeding and maintenance. "There's been a lot of cooperation among several groups," he says.
Completed last summer, just in time for all the rain the state has received since, Brown estimates the bioretention cell has infiltrated well over 300,000 gallons of stormwater. Not only is it filtering pollutants, it's also helping the water seep back into the ground, and eventually into the water table.
"What you see looks like a natural flower bed," says Alberson, "but it's an effective solution to manage stormwater runoffs. It's also nice to see the groups come together to work on a project like that."
---
SOUTH GEORGIA
Strengthening Partnerships
In 2014, UGA's J.W. Fanning Institute and the Georgia Chamber of Commerce joined forces to create GeorgiaLEADS, a statewide leadership development program. That initiative inspired economic development organizations Locate South Georgia, which represents 18 counties, and the One Sumter foundation to envision a similar program tailored to their unique challenges.
The two teamed up with the Georgia Chamber and the Fanning Institute to customize education, training and activities that would strengthen the region's leadership base, and Locate South GeorgiaLEADS (LSGL) was born in 2016. Serving 21 counties, it's the state's largest regional leadership partnership.
The job of getting LSGL off the ground fell to Mary Beth Bass, executive director of One Sumter, who coordinates the eight-month leadership experience. Its launch followed extensive planning among the partners, assessing regional issues and figuring out what could be accomplished.
"They were very clear about what their goals and priorities were for the program, and who they wanted to target as participants," she says.
Bass has now overseen three leadership classes totaling about 100 participants representing city and county governments, nonprofits, schools, agriculture, healthcare, small businesses and corporations. Participants range in age from mid-20s to mid-60s and they have a diversity of interests, but their primary goals are increasing economic development and growth and addressing regional challenges such as the need for broadband internet infrastructure, workforce development and transportation improvements.
While there's a basic format to the subjects covered, the focus of each class has been slightly different. For example, one class concentrated on agriculture and forestry and the use of natural resources for recreation. Another class visited the Savannah port to better understand transportation issues. Leadership skills are taught in all classes, and those are merged with examination of best practices from a variety of communities.
Bass says one of the biggest benefits of LSGL is the relationships that have been built among counties as participants work together on projects such as promoting regional tourism and responding to the devastation of last fall's Hurricane Michael.
"People realize they need to be creative in how they work together, and this [LSGL] has created a good space to do that."
She says program participants are not concerned about county boundaries. "There's a desire to help elected officials understand they have to remove those to be successful," she says, "and that collaboration is possible."
LSGL's third class graduated last month at a Bainbridge ceremony, and applications are being accepted for this fall's program. LSGL so far has been a greater success than anyone envisioned, Bass says. "We have more than 100 people dedicated to improving South Georgia in just a matter of three years," she says. "That's so powerful to me. I always say we're building a small army. The key now is to keep them all motivated and working together."
---
MARIETTA
Preparing Tomorrow's Workforce
Increasingly, Georgia's high schools are working to help direct students into the careers that best suit them. Through partnerships with technical colleges, universities and local industries, high schools are forming college and career academies (CCAs), many adhering to a prescribed state model. Currently, the Peach State has 47 CCAs with more than 20,000 students enrolled.
In 2015, UGA's Carl Vinson Institute of Government worked with the Cobb Workforce Partnership, a coalition of the county's post-secondary institutions, local school systems, the Cobb Chamber and industry representatives, to figure out how best to prepare students for great careers in a variety of industry sectors such as healthcare, engineering, biotechnology, construction and cybersecurity. One of the top recommendations after more than a year of discussions and fact-finding was to build a world-class CCA at Marietta High School. The CCA would be incorporated into the whole school, providing opportunities for all students to discover their aptitudes, choose career pathways and acquire professional skills.
"When we met with industry sectors and asked 'what do students need?', the common theme was workplace skills – students who can communicate, show up on time, are honest and have critical thinking skills," says Tim Brown, CEO of the Marietta High School CCA and career, technical and agricultural education director for Marietta City Schools. "We realized we need to do a better job preparing students. Those skills need to go across everything we do at Marietta High School."
The partnership's planning process also uncovered the fact that students generally don't know their innate abilities, he says, and need help discovering "career areas that they could be good at and have a passion for."
To address workforce needs and turn the high school into a CCA following state guidelines, new facilities were needed. Representatives from the Vinson Institute helped the school apply to the Technical College System of Georgia for funding, and the CCA received a $3.16-million grant. About $10 million in additional funding came from Cobb County's 2017 Education Special Purpose Local Option Sales Tax (E-SPLOST) and state financing. Groundbreaking on the 50,000-square-foot facility took place last summer, and construction, including remodeling some existing areas of the school, should be completed by fall 2020.
Brown says current Marietta High School students "already have a base of outstanding career pathways," such as pre-architecture, film and video, graphics, early childhood education, biotechnology and military service. However, the CCA planning process uncovered the need to prepare students for careers in construction, healthcare and cybersecurity, where "there are so many needs, they can't find people to fill those jobs." He says the new facility will give the school the infrastructure to ramp up career paths in those industries.
To help students determine what they're good at doing, Brown says the school chose the YouScience aptitude test, which is a five- to 12-minute computer game-type exercise. Marietta High School was the first in Georgia to use the Nashville-based company's test, but because it's so accurate, usage has "mushroomed" across the state, he says.
In addition, the high school has hired a career advisor, whose primary focus is getting students into work-based learning positions, such as internships, externships and apprenticeships, at local businesses. "These are very individualized for 11th and 12th graders," he says. They may be without pay or paid positions. They could be job-shadowing experiences. And, to help make learning more relevant, students work on real projects for companies.
"We are not about lock-stepping students into careers," Brown says. "We want students to figure out a little of their career focus and match their post-secondary experience to that."
---
ATHENS-CLARKE COUNTY
Reducing Food Insecurity
The idea of families going hungry in a college town like Athens seems incongruous. Yet, according to the Athens Community Council on Aging (ACCA), one in five residents is at risk for hunger, including one in five seniors. And more than 75 percent of grandparents raising grandchildren in the area are having a hard time providing food for their families.
To address these needs, in 2012 UGA launched Campus Kitchen under the auspices of its Office of Service Learning. The program is part of the national Campus Kitchen project, in which universities work to combat food waste and hunger through food recovery and distribution. UGA's Campus Kitchen began partnering with the ACCA to provide meals and groceries from locally recovered food to Athens' older adults.
According to Brad Turner, UGA Campus Kitchen coordinator, the organization's primary food source is Trader Joe's surplus inventory, which yields an average of 800 to 1,100 pounds of food recovered each weekend. He says this food is nearing, but not past, its expiration date, and much of it is fresh, including meats, milk, eggs and prepared salads and wraps. Also included are bruised or blemished produce and seasonal foods, like Christmas cookies, that were overstocked.
"We provide food for 53 families every week," he says. "Two-thirds of them are grandparents raising grandchildren and Meals on Wheels-waiting clients [who are on the waiting list for deliveries from that organization]. We partner with the ACCA to fill in where their resources are limited or constrained."
Other partners in the effort include the four-acre student-run UGArden community farm, which donates produce; the Talmage Terrace and Lanier Gardens senior residences, where Campus Kitchen student volunteers prepare meals for delivery and store food; and the Food Bank of Northeast Georgia. Turner says the Athens farmers' market and the Collective Harvest multi-farm community-supported agriculture (CSA) program also donate produce for redistribution.
"We're working with fresh stuff," he says. "It's rarely canned. In the last fiscal year, we prepared 12,000 meals that met nutritional standards, and we actually spent only $300 [to buy food]."
He says every home delivery client the ACCA refers receives a made-from-scratch meal kit and a bag of groceries containing staples and fresh produce.
Students are in charge of picking up the donated food, preparing the weekly meals and delivering on 12 routes throughout the city. In any given year, Turner says 400 students and community residents volunteer their time, including 40 student shift leaders per semester who supervise cooking and delivery. He estimates the program serves more than 800 individuals annually.
"Campus Kitchen does a good job educating students on food waste and the impact of food recovery," says Eve Anthony, CEO of the ACCA. "We want students to understand the issues facing older adults, hunger being one of those."
She says the partnership has had an extraordinary impact on her agency and the people it serves, helping to reduce food insecurity among ACCA clients by 36 percent. "Clients will say their meals come at the time they need them most," she says, "and [the deliveries] allow them to have just enough."