Quality-of-life Catalysts
Atlanta-area CIDs promote positive changes in the way we live, work and play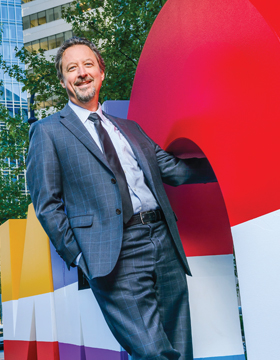 It used to be location, location, location, but as commute times in the metro area have soared, the new mantra for Atlanta-area community improvement districts (CIDs) has become access, access, access.
"It's no longer a question of where a business is, but how long does it take to get there and get back home," says Tad Leithead, who sits on the board of directors for the North Fulton CID and is president and CEO of Tad Leithead Advisors, a government relations and consulting firm. "Mobility is the No. 1 issue."
Like all CIDs, the North Fulton CID is a self-taxing district where commercial property owners within its boundaries fund improvement projects and serve as a catalyst for transportation planning and investment.
CIDs fund studies and preliminary engineering, so when construction money becomes available from state or local governments, the CID has projects shovel-ready.
The North Fulton CID is comprised of approximately 300 properties that generate about $3 million annually in revenue. With a CID millage rate of 3 mills, the assessed value of the properties within the North Fulton district is approximately $1 billion.
"Just recently we opened two of our projects we're really proud of. The first is the Encore Parkway Bridge, which connects the entertainment district and some housing to North Point Mall and the greenway," says State Sen. Brandon Beach, executive director of the North Fulton CID. "We now have bike lanes, and it's very pedestrian friendly. [In September] we opened Northwinds Parkway," he adds, referring to the parkway running parallel to Georgia 400 from Haynes Bridge Road to Old Milton Parkway.
The $17.9-million Encore Parkway corridor improvements project also widened the existing two-lane Encore Parkway between Westside Parkway and North Point Parkway to include two 14-foot travel lanes, two six-foot bike lanes, eight-foot sidewalks with landscaped buffers on each side and a raised, landscaped median. In addition, the existing Encore Parkway bridge over Georgia 400 was replaced and upgraded to accommodate expansion of 400 in the future.
The North Fulton CID invested $6 million in the Encore Parkway project and kicked in another $2 million for the Northwinds Parkway extension.
"Both of these projects promote connectivity and walkability, and they both will be a catalyst for economic development," Beach says. "I think companies are looking for that for their employees to be able to have those opportunities."
Companies like Alpharetta-based MedAssets. According to Beach, MedAssets founder John Bardis is a bicycling enthusiast, and it was important to him to locate his company, and its more than 1,000 jobs, near the Big Creek Greenway. Same goes for Jackson Healthcare, which also has 1,000 employees and will soon add another 1,400 jobs upon completion of a $100-million expansion.
"The younger talent that these companies are recruiting, they want to have those opportunities to be able to bike or walk and have that lifestyle," Beach says. "We have been very cognizant of that and feel pretty good about what we've been doing with all of these projects. That's what made us so attractive – all the investments we've made to reduce congestion, increase mobility and enhance the quality of life."
---
Boom Town
At 1.5 square miles, the Atlanta Downtown Improvement District (ADID) is small, but its economic impact is mighty.
Comprised of 656 parcels of land and consisting of only about 220 city blocks, the 2016 assessed value of the commercial properties in the ADID totaled $4.4 billion.
"We are about 1.1 percent of Atlanta's land area, but we represent about 12 percent of the real estate value," says A.J. Robinson, president of ADID. "There are more than 121,000 jobs in this district, which is about 29 percent of the city's job count. Jobs supported, direct and indirect, are 263,000, and our total annual economic impact is $34 billion."
The ADID is also the site of the new $1.5-billion Mercedes-Benz Stadium, which is home to the Atlanta Falcons and Atlanta United, the city's Major League Soccer team.
"I think our community, particularly in the last year, has just been exploding with growth, primarily for us on the southern side of downtown that hasn't seen this type of interest in probably 50 to 60 years," Robinson says. "Obviously, the big part is the stadium and its opening."
While it's hard to compete with the impact and visibility of the stadium, several other projects are in the works, including renovations at Philips Arena, and Centennial Olympic Park is getting a $25-million facelift. The Georgia World Congress Center, which operates the park, is also renovating major portions of its campus.
"Those projects alone represent a tremendous amount of infrastructure improvements," Robinson says. "Turn eastward to the Norfolk Southern properties, both [the patchwork of parking lots known as] the Gulch and the former [railroad] offices are under contract for redevelopment." The sale of the Norfolk Southern building is the latest piece in what could be a South Downtown renaissance.
Further south, there are 40 parcels of land under contract. Many of the area's historic buildings are slated to be preserved and renovated, revitalizing a whole neighborhood, according to Robinson.
"That's the oldest commercial part of the city," Robinson says. "It used to be called the garment district. There's a lot of two-story buildings, where we envision new retail at the bottom and some type of residential on top."
And the list keeps going. Underground Atlanta has been sold to a private development company that is working on a revitalization plan some say could reach $300 million; Georgia State University has taken over Turner Field, where the GSU Panthers now play football in the former Atlanta Braves baseball stadium; there are plans for new housing and retail in the Summerhill neighborhood surrounding the stadium; and efforts to revitalize the English Avenue and Vine City neighborhoods to the west of downtown are underway.
"That's why everybody is talking about our community, because this is all happening at the same time," Robinson says. "So the next couple of years could be quite exciting."
Robinson says an influx of young people wanting to live downtown, the attraction of what's old and authentic is new again (think Ponce City Market) and the value of downtown have combined to create this 21st-century boom.
"Downtown has always been a visible market, probably most visible in the Southeast, but this whole combination of factors are what's really driving the why now," Robinson says. "You could always see the potential of downtown, but I don't think we saw it coming so fast in just the last year or two."
---
Choice Location
Like its neighbor next door, what the Midtown Improvement District lacks in geographic size, it makes up for with its concentration of growing economic prosperity.
"What we're seeing is an unprecedented amount of investment," says Kevin Green, president and CEO of the Midtown Alliance. "Businesses want to be where they can recruit and attract talent, and residents want to be where they can work, as well as access arts and culture, attractions, universities, restaurants, and trails, parks and open spaces. All of those things make Midtown stand out as a location of choice."
Since the start of 2015, there have been almost 15,000 new jobs announced within Midtown's 1.2-square-mile boundaries, including more than 5,000 technology jobs that will follow the 2018 completion of NCR's global headquarters and Accenture's recent announcement of another 800 new jobs for the district.
Green has also been surprised by the pace of development over the last couple of years.
"I knew [the district] had great bones, a lot of great amenities," he says. "But when I joined in 2011, there was not much development going on. I did not anticipate the amount that was coming as quickly as it did."
That wasn't the only thing that surprised Green.
"I remember when I interviewed for this position and I said, 'I wish there were more rental apartments,'" he recalls. "I got my wish."
To date, 3,000 apartment units have been delivered, another 3,700 are under construction and there are another 4,000 units in the pipeline that have already gone through the development and review process. With roughly 20,000 Midtown residents today, it's projected that 13,000 new residents will call Midtown Atlanta home in the next few years based on the new development projects underway.
"Our residential growth since 2000 has been five times greater relative to the city of Atlanta overall," Green says.
One of the most anticipated projects in Midtown broke ground in late 2016, with the start of Coda, a 770,000-square-foot high-performance computing center and "Class T" technology hub designed to promote innovation and facilitate interactions between startups, Fortune 500 companies, university affiliates, researchers and students. The mixed-use development in Midtown Atlanta's Tech Square combines creative workplace design with cutting-edge research labs, communal spaces, industry event space, restaurants and retail concepts.
"The whole building is built for intentional collaboration, and it's really a new office model," Green says. "These companies are trying to tap the talent pool at Georgia Tech, which is really the mother ship of companies wanting to be in town and in its orbit."
---
A More Livable Community
Traditionally, CIDs have been founded around a single transportation improvement project, the success of which leads to more projects and more economic development. Increasingly, however, quality-of-life projects are taking center stage as part of a community's improvement plan, like PATH400.
PATH400 runs along Georgia 400. Once complete, the community will have access to a 5.2-mile greenway that connects neighborhoods, office and retail locations and provides a path for bicyclists and pedestrians. The path is a collaboration between Livable Buckhead, the PATH Foundation and the Buckhead CID.
"PATH400 is halfway complete," says Jim Durrett, executive director of the Buckhead CID. "Later this fall, construction will begin on East Paces Ferry, behind Lenox Mall, to transform it into a complete street for cars, bikes and pedestrians. It will also provide a connection to the PATH400 Greenway, which is on the other side of Georgia 400."
There are approximately 350 taxable parcels of commercial properties with an assessed value of $2.1 billion within the Buckhead CID's 2.5-square mile district. More than a dozen other projects are underway there, among them the Peachtree Road transformation, which began a decade ago and continues this year with phases three and four. The roadwork includes repaving and restriping, sidewalk improvements, bike lane additions, landscaped medians, decorative lighting and traffic signal upgrades. These projects represent a $65-million investment by the CID.
"How cars are able to navigate Peachtree is important, but it's equally important to create a more walkable environment," Durrett says. "We're also in the process of designing improvements to other roads to reduce bottlenecks and improve the flow of traffic."
The biggest project undertaken by the Buckhead CID, however, which also happens to be a quality-of-life project, is the development of a park above Georgia 400 and the Buckhead MARTA station.
"We spent a little less than $1 million and a little over a year developing the concept of the park, from design to the economics of it and a funding strategy," Durrett says. "Now the CID will begin to hand the project off to a 501(c)(3) that will be charged with continuing to pursue the funding for capital, maintenance and annual operating costs."
Durrett anticipates another two years of predevelopment work and then two years for construction.
"It's certainly a very heavy lift and a complicated project, but one we believe will be so impactful and important to Atlanta," he says. "This part of Atlanta is lacking a significant gathering place, and it's important we provide a place for the community to come together, and anybody who can get to a train station can get to this park quickly and easily."
---
Transit Differentiation
The Perimeter Community Improvement Districts (PCIDs) are in the middle of a big transition, and Executive Director Ann Hanlon was hired in mid-July to lead the forward progress.
"My hope is that we will be doing a strategic planning process over the next year and looking at how to strengthen our relationships with the municipalities within our borders," she says.
Hanlon, the former executive director of the North Fulton CID, says her new district has one big advantage over her former one: mass transit.
"We're unique in that we've got three heavy-rail MARTA [train] stations in the Perimeter, in total four MARTA stations [including bus], and I really think that bears exploring a little more," she says. "How do we take advantage of the transit we have, because it's a real differentiator between us and other areas of the state? I know in the other markets, they'd kill to have MARTA stations because of the connectivity [it] offers."
MARTA's not the only type of transportation the PCIDs support. The area is also home to one of the largest road projects the state has ever seen – the $800-million Georgia 400/I-285 improvement project. Construction started this year on the interchange upgrade that will bring new flyover ramps and connector-distributor lanes to the area, with the goals of increasing safety and decreasing traffic congestion. The PCIDs contributed $10 million to the project that should be complete in 2020.
While that project should also help with traffic in North Fulton, Beach says he'll introduce legislation next year to bring MARTA to Alpharetta.
"We are the champion, the advocate, for trying to get transit from the North Springs MARTA station to Windward Parkway," Beach says. "We want to get it expanded to Windward, and at this point, it's just a funding issue. We've done the environmental study and a lot of engineering work. We just have to figure out how to fund it, and I think this legislative session will play a part in that."
Wherever you look throughout Atlanta – north to south – CIDs are hard at work creating better places to live, work and play. The newest CID is Little Five Points (L5P) in Atlanta. It's unlike any other CID in Georgia, because it represents a relatively small commercial district, dominated by community advocates and oriented toward improving public, walkable spaces more than commerce or major transportation.
Plans include redesigning Findley Plaza in the heart of L5P. The project is being funded through the Renew Atlanta bond program, with additional funding to be provided through private fundraising efforts led by the CID and other community groups. Improvements are expected to be complete by next fall.
The South Fulton CID, meanwhile, has been working with governments in Fayette, Coweta and Fulton counties and the Georgia Department of Transportation to move forward with upgrades to one of the most congested interchanges south of Atlanta and secure funding to construct a partial cloverleaf interchange.
"The biggest thing we are working on is continuing momentum for the [Highway] 74/I-85 interchange," says Joddie Gray, South Fulton CID administrator, "finalizing design on a park-and-ride lot and conducting a multi-modal transportation study."
Significant freight traffic is mixed with commuters and other traffic throughout the day in the area, and that is expected to increase by more than 50 percent by 2040. The project should help accommodate those additional vehicles.
With an impressive roster of such projects underway and more on the drawing board, the metro CIDs are responding to residents' and businesses' demand for less dependency on cars and more walkable, bikeable and livable communities.