2015 Economic Forecast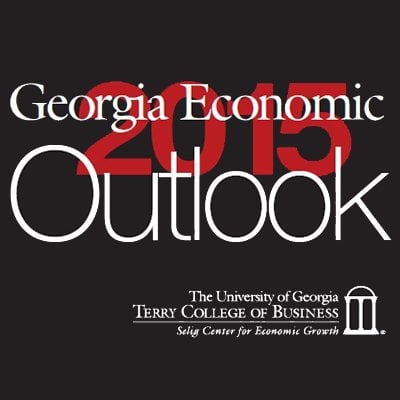 The University of Georgia's Terry College of Business unveiled the 2015 Economic Outlook Friday, Dec. 12, at a luncheon at the Marriott Marquis in downtown Atlanta. Douglas Handler, chief U.S. economist for IHS Global Insights, spoke about the national outlook, and Benjamin Ayers, dean of the Terry College, presented the Georgia forecast. In a break from recent tradition, there was pretty good news all the way around.
Handler not only offered a fairly upbeat national forecast, he made the audience laugh out loud – an unexpected treat! Here are a few of the highlights on the countrywide front.
2015 will be a noticeably better year than 2014, but still won't be a really good year.
The federal deficit is under control, a good thing, Handler says, but it means the Fed will raise interest rates next year – though not much. "The event will be about like taking a 2-year-old to get a flu shot. The anticipation is going to be more painful than the event."
The labor market added 321,000 new jobs in November, and 2.7 million jobs were added over the past year.
The inflation rate will be close to 0 percent next year.
"Lower energy costs will provide a big benefit to consumer wallets. We can expect gasoline prices to remain in the $2.50 per gallon range for the next few months – just in time for the holidays. In fact, he's forecasting sales of "SYDN," (Stuff You Don't Need), will be up 4 percent this holiday season."
Handler wrapped up with his Economists' Wish List for 2015. Maybe Santa will bring him – and us – some of these things that he says will improve our productivity and our economy:
Education – we need our students and our workforce to be generally literate, and they also need to be business and computer literate
Infrastructure – our country needs to invest in roads, ports, bridges and buildings. These are the foundations of a growing economy.
Technology – we need to improve Internet speed and security
On the whole, the economic picture in Georgia is even rosier than for the U.S. Here are a few of the things Ayers discussed:
The pace of economic growth will be faster in the Peach State than in the U.S., with 3.2 percent growth in Georgia GDP vs. 2.8 percent for the U.S.
Job growth will be 2.3 percent for Georgia as compared to 1.8 percent for the U.S.
Unemployment will remain higher in Georgia, compared to the rest of the nation, but will improve significantly, from 7.9 percent now to 6.9 percent a year from now. The U.S. rate will go from 5.8 percent now to 5.6 percent next year.
Wages will rise, but slowly, and be offset by higher rents and higher medical costs.
The continuation of two economic policies will be essential to fueling growth in the manufacturing, life-science and high-tech sectors in Georgia, says Ayers:
We must continue to develop a better-educated and highly skilled workforce that's capable of using the latest computer technologies. "Manufacturers are hiring people who are educated in and capable of using computer-aided construction and design systems. Access to a skilled workforce has become a more important factor in the site selection for manufacturing. And, when it comes to recruiting life-science and high-tech firms we believe that access to a skilled workforce is the single most important factor."
"We need to continue passing economic development legislation that has made Georgia more competitive than other states when it comes to landing economic development projects," Ayers says. "For example, in 2012, the Georgia legislature created a large-deal closing fund and sales tax exemptions for energy use in manufacturing." Since then, we've seen an increasing number of large relocation and expansion projects coming to the state, including Kubota's expansion in Gainseville that will bring about 650 jobs; and Baxter Pharmaceuticals new location in Covington that's bringing 1,500 jobs.
Learn more about Georgia's 2015 economic outlook in Georgia Trend's January 2015 Economy column by Jeffrey Humphreys.
– Karen Kirkpatrick
Photo Credit: Cover for Georgia Economic Outlook 2015, University of Georgia's Terry College of Business