Georgia Trend Daily – Aug. 21, 2023
Aug. 21, 2023 Augusta Chronicle
Erica Van Buren reports that Georgia Power declared on Friday that it will start loading fuel into the reactor core of Plant Vogtle Unit 4. Advocates say this marks a pivotal milestone toward startup and commercial operation of the second new unit at Plant Vogtle.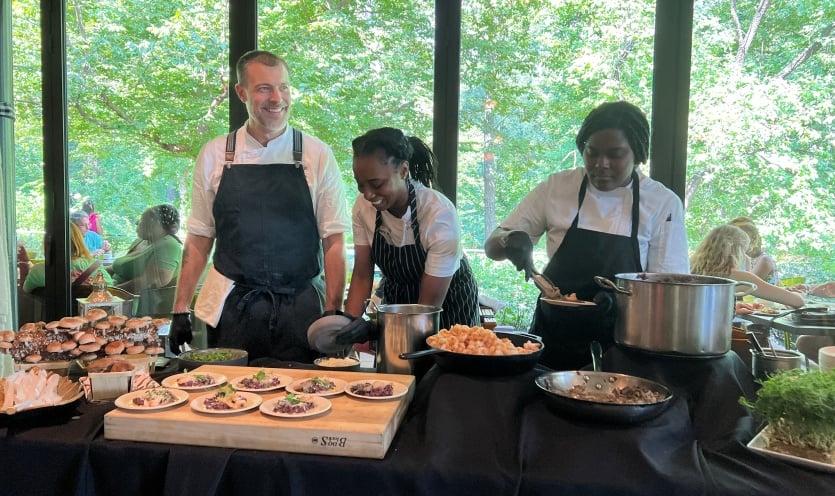 Aug. 21, 2023 Georgia Trend – Exclusive!
Sucheta Rawal reports, strolling through the beautiful sculpture gardens and orchid greenhouses at the Atlanta Botanical Gardens is a real treat any time of the year. Add in food stations serving locally grown produce prepared by Atlanta area chefs, live music and a friendly atmosphere, and it's a delight for all your senses.

Aug. 21, 2023 Atlanta Journal-Constitution
Zachary Hansen reports that the first building within a massive life sciences district at Georgia Tech recently finished vertical construction, setting the stage for startups to soon have new lab space. Trammell Crow Company, the institute's development partner on the 18-acre Science Square innovation district, announced Monday it topped out construction on the project's first building, a 13-story lab and office building.

Aug. 21, 2023 GlobalAtlanta.com
Trevor Williams reports that it took nearly 10 years, but Aventure Aviation is back on the Inc. 5000 list of the nation's fastest growing companies. The Peachtree City-based purveyor of airplane parts, the majority sold to markets overseas, achieved the feat for the fifth time by growing its headcount by 30 percent and leasing an additional 20,000 square feet of warehouse space.

Aug. 21, 2023 Rome News-Tribune
John Bailey reports that two companies looking to open new facilities in the Northwest Georgia Regional Industrial Park near Shannon expect to close on the property in the next few months. The industrial park is jointly owned by Floyd and Gordon counties.

Aug. 21, 2023 Saporta Report
Hannah E. Jones reports that in the Southeast, transportation and electricity are the highest carbon-emitting sectors. During a time of extreme weather and a worsening climate crisis, the Southern Alliance for Clean Energy (SACE) recently released the fifth edition of its annual report that tracks carbon emissions and remediation efforts in the region.

Aug. 21, 2023 Marietta Daily Journal
Hunter Riggall reports, for decades, the city of Marietta has sent nearly a fifth of the revenue it collects from its 8% hotel-motel tax to support the Cobb Galleria and Cobb Energy Performing Arts Center. Those days could be coming to an end, however, as city officials question how much Marietta benefits from subsidizing Cumberland's tourism facilities.

Aug. 21, 2023 Valdosta Daily Times
Malia Thomas reports that Valdosta City Council granted approval to the Valdosta-Lowndes County Airport Authority's request for a resolution authorizing the acceptance of a $625,010.84 grant from the Federal Aviation Administration. The grant will facilitate the design of a new general aviation terminal and the reconfiguration of general aviation parking at the Valdosta Regional Airport.

Aug. 21, 2023 The Current, GPB
Sofi Gratas reports that adults and kids in most of rural Georgia are enrolled in Medicaid at almost double the rates than those in cities, according to a new study from Georgetown University's McCourt School of Public Policy Center for Children and Families. That may put them at higher risk under Medicaid unwinding.

Aug. 21, 2023 Georgia Recorder
Aaleah McConnell reports that the supply of affordable housing units is at extreme lows in Georgia in the wake of the pandemic, leading to higher rents and greater homelessness among single adults and families. Advocates across the state are calling for action, although some proposed solutions – like calls to repeal Georgia's long-standing ban on rent control – have proven to be a nonstarter.

Aug. 21, 2023 The Center Square
T.A. DeFeo reports that Georgia lawmakers march toward a return to the Gold Dome in January, they're also looking at potential changes to the state's tax structure and credits, including the much-ballyhooed film tax credit. Sen. Chuck Hufstetler, R-Rome, chair of the state Senate Finance Committee, recently spoke with The Center Square about what lawmakers might consider.

Aug. 21, 2023 Atlanta Journal-Constitution
David Wickert reports that a federal judge in Atlanta temporarily blocked two provisions of Georgia election law but upheld two others in orders issued Friday. U.S. District Judge J.P. Boulee granted a preliminary injunction blocking election officials from imposing criminal penalties for violating a ban on food, drinks and other gifts to voters at the outer perimeter of voting lines.