Georgia Trend Daily – July 7, 2023
July 7, 2023 Fox 5 Atlanta
Staff reports that former President Jimmy Carter and human rights figure and mental health advocate Rosalynn Carter are celebrating 77 years of love and marriage Friday. Seventy-seven years ago Friday, a U.S. Navy midshipman from the small Georgia town of Plains, exchanged vows with a woman he'd met and fell in love with years earlier.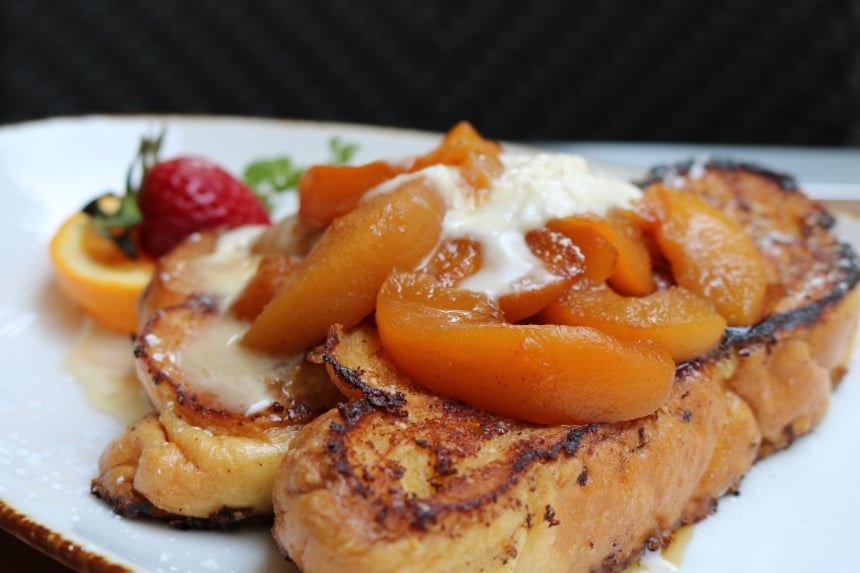 July 7, 2023 Georgia Trend – Exclusive!
Sucheta Rawal writes, each season here, and if you are like me, you probably end up buying more fresh fruit than you can eat. I often find my peaches ripen faster than I can consume them and rush to find new creative ways to use them.

July 7, 2023 Atlanta Journal-Constitution
Kelly Yamanouchi reports that now visible from the sky above Hartsfield-Jackson International Airport is a 65,000-square-foot array of solar panels on the south side of the airfield, helping to power DHL Express's budding Atlanta regional cargo hub. The solar array installed this year sits atop Cargo Building C, which the German delivery company uses to sort cargo, including packages flown in from its main Cincinnati hub.

July 7, 2023 GPB
Bob Pepalis reports that Marvin S. Arrington Sr., a retired Fulton County Superior Court Judge and former Atlanta City Council president, has died at age 82. His family said in a statement that Arrington died at home on Wednesday morning surrounded by his loved ones.

July 7, 2023 Macon Telegraph
Gautama Mehta reports, Middle Georgia's peach growers, who have been devastated by a harvest ruined by bad weather, have little in the way of financial recourse to offset their losses. The USDA's recent declaration that the spring freezes amounted to a natural disaster unlocked some relief in the form of disaster assistance loans for farmers.

July 7, 2023 Rome News-Tribune
Staff reports that the water systems in Rome and eight other Northwest Georgia communities have been awarded grants to help address lead service lines. Lead exposure can cause damage to the brain and kidneys and interfere with the production of red blood cells that carry oxygen to all parts of the body.

July 7, 2023 Capitol Beat News
Dave Williams reports that the University of Georgia has sold the largest undeveloped parcel on Lake Blackshear to an undisclosed buyer for $18.5 million. The money will go to benefit UGA's Warnell School of Forestry and Natural Resources.

July 7, 2023 The Center Square
T.A. DeFeo reports that the Atlanta City Council approved legislation to spend an additional $12 million on roads across the city. "We are investing in our infrastructure as we ensure that Atlanta is a city built for the future, ready to meet demands that growth and the unknown bring," Atlanta Mayor Andre Dickens said in an announcement.

July 7, 2023 GPB
Andy Miller reports that Centers for Disease Control and Prevention is reducing funding to states for child vaccination programs, according to an agency email obtained by KFF Health News. The funding cut "is a significant change to your budget," said the email to immunization managers, dated June 27 and signed by two CDC officials.

July 7, 2023 Dalton Daily Citizen, CNHI
Asia Ashley reports, while many public colleges and universities had already jettisoned affirmative action programs, the U.S. Supreme Court's June 29 ruling against factoring race in college admissions, leaves private, more selective, universities having to find new ways to meet diversity goals.

July 7, 2023 Georgia Recorder
Stanley Dunlap reports that Fulton County could dominate national headlines this summer if District Attorney Fani Willis files criminal charges against former President Donald Trump and his inner circle over alleged 2020 election interference. Law enforcement agencies have been informed by Willis that additional security around the downtown Atlanta courthouse could be necessary if charging decisions are announced within the next several weeks in a potentially historic case.

July 7, 2023 Atlanta Journal-Constitution
Tia Mitchell reports, fresh off a confirmation that she had been booted from a caucus of far-right members of Congress, U.S. Rep. Marjorie Taylor Greene said she is not going to change her ways. And in a subtle dig at her colleagues, the Rome Republican said she has more important things to worry about.