Ripple Effect
Investments around the state create huge economic development impacts.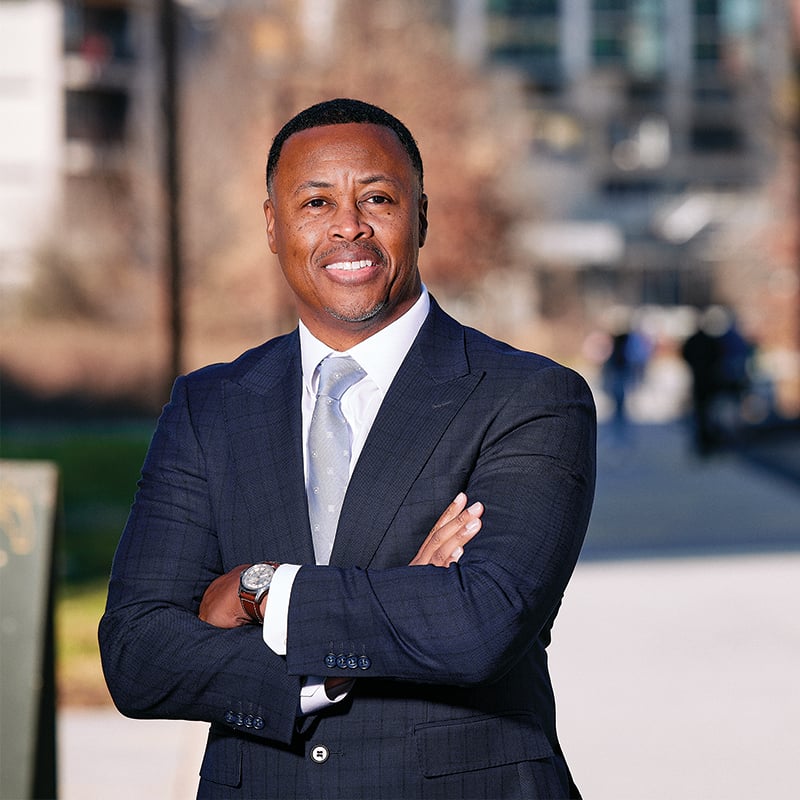 Some construction and redevelopment projects are much larger than themselves, as their impact expands in ripples around their original footprint. These transformational projects, typically mixed-use developments, rewrite the built environment around them entirely.
Around the state, a number of such projects are underway, at different stages of completion. To use a baseball analogy, some are rounding third and headed home, some are on second base and several are just stepping up to the plate. Collectively, the following examples illustrate the impact of a long-range vision, the power of complex public-private financing schemes – and the appeal of reducing the need for cars in our lives, at least to a degree.
---
No Car Required
If all goes as planned, seven years from now the Atlanta BeltLine will be complete. Using land that was primarily abandoned rail lines, the BeltLine will carry walkers and bikers on a 22-mile continuous loop around the city's core. An additional 11 miles of offshoot trails will link to neighborhoods, parks and public transit (in the form of light rail). In an already congested city projected to grow rapidly over the next several decades, those who live and work on or near the BeltLine will be able to do what is unthinkable today – live their daily lives without getting into a car.
"Within the next 24 months, we'll have 80% of the BeltLine completed or under construction," says Clyde Higgs, president and CEO of Atlanta BeltLine Inc. (ABI), the organization charged with the BeltLine's development. "This is a project that is transforming the city of Atlanta and it's showing other communities how to do it."
A mix of public and private funding has gone into what will ultimately be a $4 billion-plus project. It began with a tax allocation district (TAD) that directed tax dollars from increased property values into funding the trail. When those dollars fell short of expectations, the Atlanta City Council agreed to a Special Service District in 2021, where commercial and multifamily property was taxed at a higher rate. The project also gets a share of the half-penny sales tax approved by voters for MARTA. Another major financial source is private philanthropy, channeled through the Atlanta BeltLine Partnership Inc., the project's nonprofit arm whose board of directors is a who's who of Atlanta's corporate power structure.
Gentrification followed closely behind the first footstep and bike tire on the BeltLine, and that's the focus of much of the criticism of the project. ABI has several programs designed to shield original residents and legacy families from the economic impact of rising property values – things like rent subsidies or targeted zoning, which requires private developers to include a percentage of affordable housing in their projects. The goal was to preserve or create 5,600 units of affordable housing, and ABI staff says it's at 56% of that goal so far.
The BeltLine is both a transportation project and an economic development engine. And economic development is moving apace – witness the French warehouse robot manufacturer Exotec. The company chose Atlanta for its North American headquarters – which opened last year – for a variety of reasons but among the assets: the location near the BeltLine enables a bike-to-work option that is familiar to Europeans. BlackRock, Carbice, Heliox, Mailchimp and WPP are among other companies that have located offices near the BeltLine.
Attracting big businesses is not ABI's sole economic development focus. In 2022, it launched the pilot program for its small business incubator, BeltLine Marketplace, to give entrepreneurs access to the BeltLine's pedestrian traffic of 2 million people annually. Six architecturally designed shipping-container-like structures were placed along completed stretches of the BeltLine, and 217 applicants from under-represented entrepreneur groups competed for the affordable leases. The winners were four food vendors – including a vegan burger place – an infant apparel company and a seller of houseplants and accessories.
---
If You Build It…
Attract the talent and the business will follow. That's how Andrew Carnes, vice president of economic development for Partnership Gwinnett, explains the county's willingness to approve bond funding for the TAD that helped make the Exchange at Gwinnett possible.
"The way we do economic development in Gwinnett, you create a sense of place first, [then] the talent is attracted and then businesses follow the talent," Carnes says.
"This site was a vacant piece of land that offered a huge benefit if it could be developed. Now it is a mixed-use development strategically located between the Mall of Georgia and everything that is happening at the Gwinnett Stripers [the Atlanta Braves Triple-A farm team]," Carnes says.
"The site has 1,000 multifamily residential units, 460,000 square feet of retail and a hotel, and by and large the retail is complete," says Jeff Fuqua, principal of Fuqua Development, developer of the Exchange. "We have eight restaurants opening in 2023 and that will kind of complete the retail, although we do still have a brewery pad open [as of early January]."
The residential units are designed to be leased, not owner-occupied, and will rent at market rates, Fuqua says. Of the total units, 180 will be age-restricted for older adults.
A big part of the Exchange's sense of place will come from three separate playgrounds for adults, each with its own restaurant and bar. Topgolf offers stay-in-place golf without the course, while Andretti Indoor Karting and Games features electric go-karts. Pickle and Social is set to open this year to capitalize on the burgeoning popularity of pickleball.
Construction on the $350-million Exchange began in 2019, Fuqua says. He predicts construction will be complete by the end of the year, but the development goes beyond that. "Next to us, you have 1,000 residential units right across Laurel Crossing; down the road another 1,500 units are underway on or around the minor league baseball field. . . .Every site within two miles of us is in motion to be redeveloped. The halo effect is twice the value of our projects," Fuqua says.
---
Natural Magnet
River Street has been a leading tourist attraction for Savannah since the mid-1970s, when it arguably became the first of Savannah's historic assets to be monetized in support of the tourism industry. Now, two recent massive and unrelated projects at the eastern and western fringes of the street have taken River Street's redevelopment perhaps to its practical limits, with projects packing a combined investment of somewhere near $950 million.
Go upriver from the massive Plant Riverside development at West River Street's current limit and you'll soon run into Georgia Ports Authority's Ocean Terminal. Go east, past the not-quite-finished Eastern Wharf development, and you'll hit functioning riverfront industry and brownfield land. In short, these two bookending projects may be the last major Savannah developments on the mainland side of the Savannah River – although the shoreline of Hutchinson Island just across the river channel has both space and plans.
"River Street has been the No. 1 visitor attraction in Savannah for years and years and years and that's mostly due to a couple of things: The water is a natural magnet – people want to be by the water – and then you add to that the fact when you are by the water, you often get to see those incredibly large container ships close up traveling up and down the river," says Joe Marinelli, president of Visit Savannah. "River Street is changing the face of Savannah as a visitor destination as well as a commercial and residential destination. … If you extend the conversation across the river to the Hutchinson Island side, there is the potential of two or even three more hotels on that side of the river. The evolution of the Savannah River experience will be going on."
Hotelier Richard Kessler's Plant Riverside was in the works as early as 2012, redeveloping a decommissioned electrical plant. Parts of that building, including the two iconic smokestacks, form the central building of a three-building hotel complex, all under the JW Marriott flag. The bulk of the hotel opened in 2020, the final phase in 2021.
But it's more than a luxury hotel. Kessler is an avid collector, and the oversized lobby serves as a free public museum of sorts, displaying fossils and geodes and other natural curiosities he has accumulated. The multiple high-end shops are no surprise at a luxury hotel, and neither are the dozen or so restaurants – but the site's positioning as an entertainment venue is. There are indoor and outdoor concert venues, public spaces that host events like a free circus aerialist act, an annual Christmas market, concerts and an extension of River Street's festival scene. In fact, Plant Riverside may be luring locals back to the riverfront for entertainment after they've felt shouldered aside by hordes of tourists for years.
The Eastern Wharf development is anchored by the 193 rooms and suites of the Thompson Savannah, which sports a fine restaurant and a rooftop bar that offers a panoramic view of downtown. Additional restaurants and retail are not yet in place.
But the real difference at the eastern development is that it brings residential back to the river. For a long time, residences on River Street have been limited to isolated apartments or lofts in the upper stories of existing buildings. But now there are new options: luxury apartments at a development known as Riverworks and single-family residences including condos and traditional brownstones in Upper East River, a development of Patrick Malloy Communities. Advertised prices range from $600,000 to $4 million.
---
Powerful Attraction
Never underestimate the economic power of sports. What else could transform "a 50-acre hole in the ground generating zero revenue" (as Atlanta Mayor Andre Dickens described it at a groundbreaking last November) into a $50 billion, 50-acre sports and entertainment district full of housing, hotels, restaurants and stores?
The site known as "the Gulch" is a low-lying swath of parking lots and rail remnants that has long been an eyesore dividing Atlanta's east and west sides. Now, a $5 billion redevelopment is underway. The Lofts at Centennial Yards, with 162 units of residential and commercial space including a brewery, is already up and running, and last fall, an elaborate groundbreaking was held for a pair of 18-story towers, one to house a 292-key boutique hotel and the other a 304-unit apartment tower. Some 21,000 square feet of ground-level retail space will be divided between the two towers.
Those towers are rising near downtown's major arenas: Mercedes-Benz Stadium, where the Atlanta Falcons and Atlanta United play, and State Farm Arena, home of the Atlanta Hawks. The towers are expected to be finished and fully operational when Atlanta hosts the 2026 FIFA World Cup matches.
The project will go on from there, building toward a total of 8 million square feet of commercial and residential space, with 20% of the residential space devoted to affordable housing.
The master developer is Centennial Yards Company, which is a partnership between an affiliate of CIM Group and a group led by Tony Ressler, majority owner of the Hawks.
---
Live, Work, Play
Columbus is embracing the live/work/play concept in a 7.5-acre Uptown riverfront site known as Riverfront Place, the work of locally headquartered developer W.C. Bradley Real Estate. The company broke ground on the project's earliest phases in 2017 and has opened Hotel Indigo and the 226-unit apartment complex known as The Rapids at Riverfront Place and added a park.
The final phases of the project that will ultimately exceed $250 million were announced last spring. They include an office tower, where Synovus' headquarters will be the major tenant, and another 226 apartments.
Pace Halter, president and COO of W.C. Bradley Co. Real Estate, LLC, said the site was originally one of the biggest industrial sites in the country, with more than 2 million square feet of production space. It started out as a textile mill and went through multiple owners since the 1860s. A portion of the site was previously redeveloped in a separate W.C. Bradley apartment and condo project called Eagle & Phenix. The company redeveloped another section of the site into Riverfront Place.
"The original goal when we first started focusing on Uptown was very much geared toward trying to revitalize Uptown Columbus," Halter said. "Now it's a continually growing, changing urban core."
The river beside Riverfront Place is the Chattahoochee, which forms the border between Georgia and Alabama. Hotel guests, apartment dwellers and restaurant patrons, at least those on the river side of the development, can watch rafters and kayakers ply the river, which offers impressive rapids at times of high flow.
---
Keeping Visitors in Town
Annually, as many as 300 people a day set out for Cumberland Island National Seashore from a ferry dock in St. Marys. That's an attractive population that could be the foundation of a tourism industry – but it's business St. Marys and Camden County have been leaving on the table.
"We've never had the assets to keep them in St. Marys," explains James Coughlin, executive director of the Camden County Joint Development Authority (JDA).
But that's about to change, thanks to some creative maneuvering by the JDA and some ambitious plans by Atlanta-based Jacoby Development, which has a history of success with redevelopment of brownfield sites like Atlantic Station and the old Atlanta Ford plant's conversion into Porsche North American Headquarters.
The proposed $500 million development, Cumberland Inlet, is envisioned as an ecotourism project with vacation rentals and other accommodations, including camping, to attract Cumberland Island visitors.
The site is a 1,298-acre tract that once housed Gilman Paper Company. Between 900 and 1,000 jobs disappeared when the plant went bankrupt in 2002. Now, the buildings are as gone as the jobs and the site is primarily cleaned up.
"Back in 2017, [the JDA] started working on a marina permit after a feasibility study showed it would be an ideal use for that property," Coughlin said. The permit required approval from the Georgia Department of Natural Resources, the U.S. Army Corps of Engineers and others. The lengthy process ended in 2019 with the JDA securing its marina permit.
That drew Jacoby's interest – provided the rest of the land could be included in a deal. The JDA issued bonds to assist the company in purchasing the land in 2020 and the lengthy due diligence, planning and permitting process began.
Now, best-case scenario, the plans for Cumberland Inlet will move off the paper and onto dirt this month or next.