Peach Plate: Asian Comfort Food
Jinbei West in Peachtree Corners offers Japanese and Korean dishes via an upscale dining experience.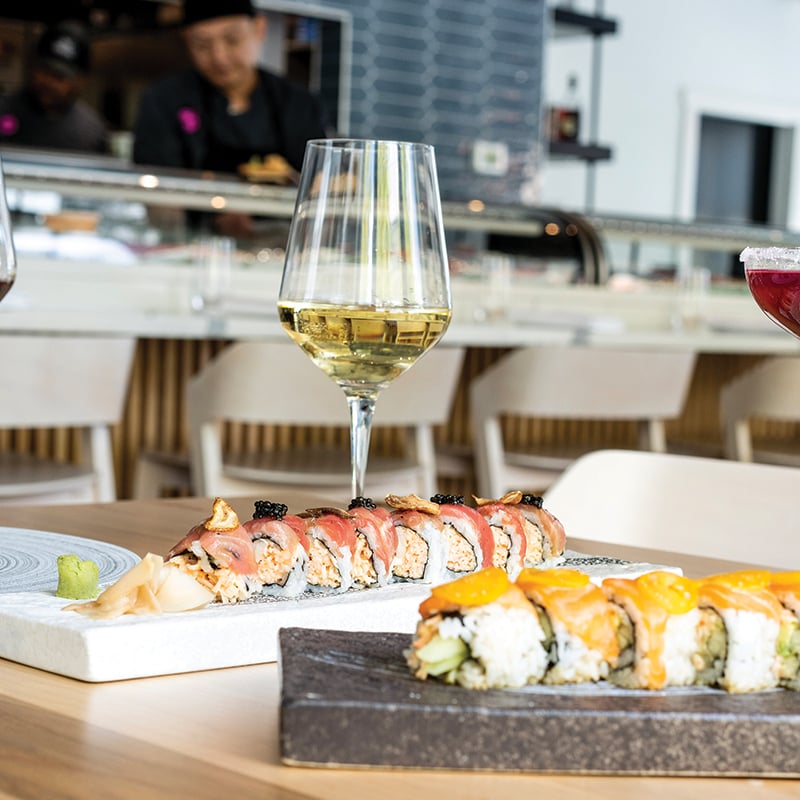 Peachtree Corners is bustling with new restaurants, and Jinbei West is one of the newest additions. The Town Center's two-acre green space and children's play areas attract families to shop, entertain and dine without having to go far out of the neighborhood.
A large glass-window front opens to the casual and minimalist-modern Japanese-Korean restaurant, which has seating for more than 40 guests at its blue-tile-backed sushi bar and custom-made light-brown wooden chairs and tables. Blank white walls, bright lights and gray floors in the 2,000-square-foot industrial space are a far cry from the stuffy Japanese-style izakaya gastropub that typically has dim lights, dark wood paneling and tight spaces. The neutral ambiance and simple décor at Jinbei West is designed to offer comfort to families looking for a high-end sushi experience.
Though the ambiance is impersonal and industrial, the food and service are anything but. Friendly servers patiently explain the Japanese and Korean comfort dishes (which primarily include fried foods, ramen and sushi).
After the success of a sister restaurant Yakitori Jinbei in Smyrna, which shot to fame after being featured on Diners, Drive-Ins and Dives, business partners chef G. Garvin (founder of LowCountry Restaurants) and Jae Choi opened the new Peachtree Corners location to offer a more upscale dining experience outside Atlanta.
The extensive menu offers a good variety to those who enjoy pork, beef and seafood. For appetizers, start with agedashi tofu to warm up your palate. Delicately fried soft tofu cubes come in a light dashi and soy broth, topped with seaweed strips and chopped scallions. Build your way up to chunks of sweet and crisp tempura-fried lobster toban with luscious brown butter and a hint of lemon, presented on a toban (ceramic skillet) with crackling flame.
Jinbei's KFC (Korean Fried Chicken) was one of Diners, Drive-Ins and Dives host Guy Fieri's favorites and you will see why. Eight large pieces of bone-in chicken are drenched in a proprietary-recipe coating of starches that steam the meat while retaining a thick, crisp coating when deep-fried. It is glazed with a sweet and spicy sauce of Korean gochujang (chili paste), ketchup and sesame seeds. Allow at least 20 minutes to prepare and keep some wet wipes handy!
If you haven't tried traditional ramen before, order katsu curry ramen, a playful, uncommon marriage of panko-breaded-and-fried pork cutlet with traditional Japanese curry. The master broth is made by extracting flavors of pork and chicken bone and marrow, which is an arduous three- to five-day cooking process. Smoky onion, pungent anchovy and sweet curry come together for a robust umami dish that makes for a satisfying comfort meal.
In the sushi section of the menu, there is classic nigiri, sashimi and maki. Specialty fish is flown in from Japan frequently, so ask for sushi specials. The bluefin tartare appetizer offers an exciting combination of soft, chopped raw bluefin, topped with creamy quail egg and diced crisp sweet Asian pear – a play on the Korean dish yukhoe. The Jinbei West maki roll is filled with a soggy salad of lump crab, shrimp, crab stick and mayonnaise, topped with salmon, golden berry, sweet citrus yuzu ponzu and truffle salt. It presents the idea of Japanese sushi with sweet and creamy Korean flavors.
Dessert options are limited to ice creams and a homemade green-tea crème brûlée with a bitter matcha flavor and a runny consistency.
Whether you order a rice bowl, ramen, sushi or tapas, you won't have any difficulty pairing a fitting drink. For a small restaurant, there's a rather large selection of Korean and Japanese beers, sake, soju and whiskey, as well as wine. For an innovative cocktail, try a refreshing sweet and tart lychee martini or a strong and smoky Statesman with Japanese Hatozaki whiskey and maple syrup.
The clean and family-friendly atmosphere, along with authentic food and drinks, make Jinbei feel like a modern suburban izakaya.