Head to Dahlonega for a chocolate crawl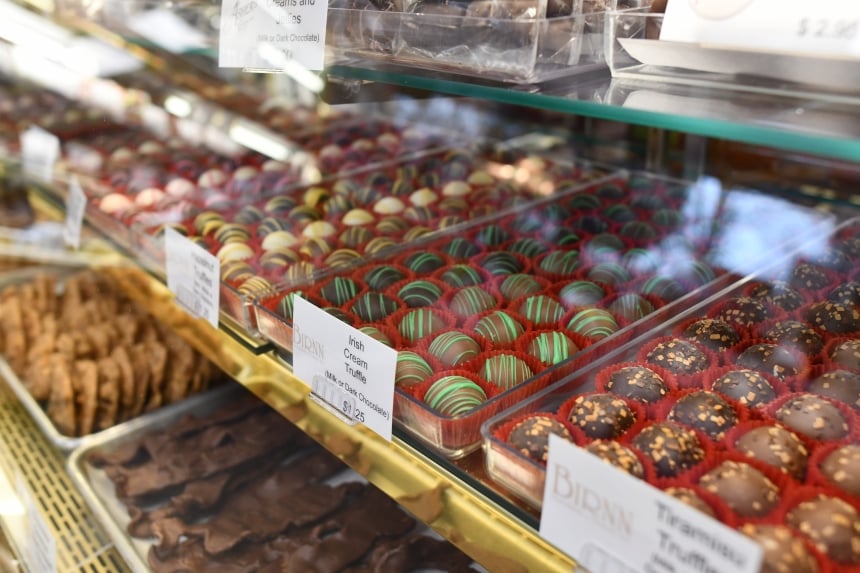 If you are like me, you have by now forgotten your New Year's healthy eating resolutions. If you want to throw caution to the wind, you can make an escape for the north Georgia mountains to satisfy your cravings while also getting some fresh air.
Dahlonega is especially fun to visit during its annual chocolate crawl festival, held March 6-12 this year. For a week, participating local candy makers, restaurants and cafes offer samples to everyone. Grown-ups and young ones are welcome, and many out-of-state visitors come to Dahlonega especially for the crawl.
One of the most iconic spots on the crawl is The Fudge Factory, which has been around since 1982 and pays homage to the town's gold-rush history. Take a bite out of the Dahlonega Nugget — pecans covered in homemade caramel dipped in chocolate – or choose from 75 kinds of hand dipped chocolates. My personal favorite is the creamy milk-chocolate-covered crispy graham crackers – a smores-like biscuit that is perfect with a cup of tea.
If you enjoy watching the candy-making process, stop by Paul Thomas Chocolates, known for their custom souvenir gold bars with pecans and raisins that reminds you of a fruit and nut chocolate bar. The chocolate-covered Oreos are also a kid favorite.
At Crown and Bear, you may feel like you entered a traditional English confectionery. Here you can try Maltesers Malt Balls and Cadbury Crunch candy bar, as well as shop for British stationary, kitchenware, linens, umbrellas, teapots and biscuits, crisps, scones and sausages.
Continue your stroll to an old-fashioned ice cream parlor, Connie's Ice Cream Parlor & Sandwich Shop for an indulgent banana split, then have a cup of "I'll Have What She's Having," a dark iced hot chocolate and chocolate truffle black tea blend at My Vintage Gypsy Teas & Magickal Makings, paired with decadent cookies and cakes from The Picnic Café and Dessertery.
With so many treats all in one area, Dahlonega offers a perfect day trip for families to dine, shop, walk and be entertained. The 3rd annual Dahlonega Chocolate Crawl will take place from March 6-12, 2023. While it is fun to visit the shops in person, they also sell their candies online.
Photo courtesy of Discover Dahlonega. Shown are chocolates at The Fudge Factory.
 Do you follow us? Find us on Linkedin, Facebook, Twitter and Instagram.