Political Notes: The Ups, Downs and In-betweens
New chair for the Georgia Legislative Black Caucus, posthumous honors for former U.S. Senators Johnny Isakson and Max Cleland, a commemorative stamp for former U.S. Rep. John Lewis and more.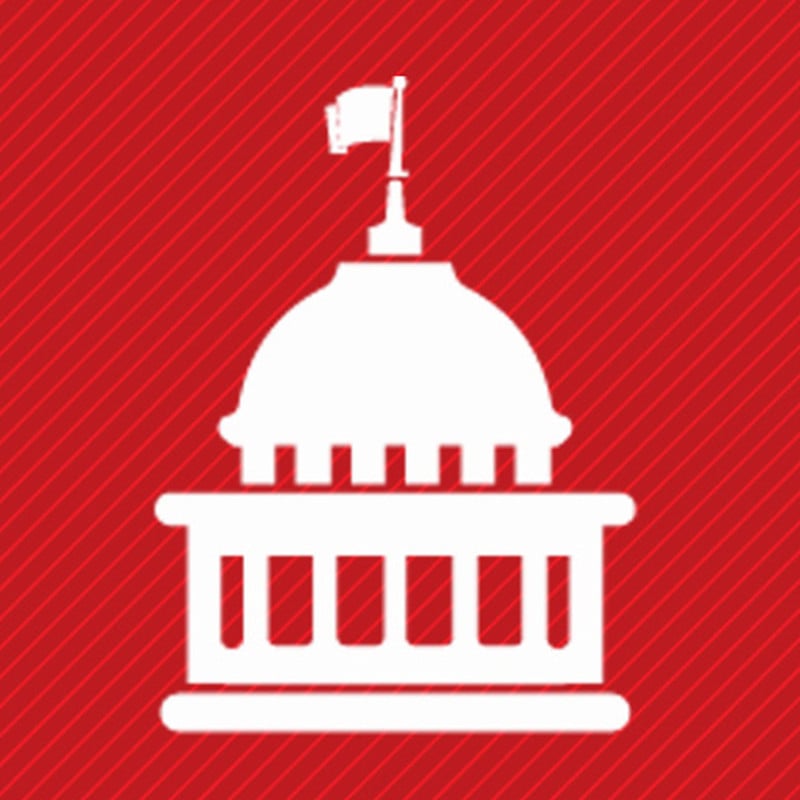 Black Caucus Chair: State Rep. Carl Gilliard (D-Savannah) is the new chair of the Georgia Legislative Black Caucus for the 2023-24 term. The caucus works to protect the general welfare of Black people, other people of color and disadvantaged citizens in matters of health, education, social and criminal justice, and economic empowerment.
The caucus, Gilliard said in a press release, "stands on the shoulders of giants like the 33 original Black legislators whose sacrifices paved the way for us to serve."
---
In Memoriam: Former Fourth District U.S. Rep. Elliott Levitas, a Democrat, attorney and the first Jewish member of Congress elected from Georgia, died in December at age 91. He is remembered as a champion of racial justice and an environmentalist.
He was elected to the Georgia House in 1965, where his first legislative act was to stand with four other White lawmakers to oppose an effort by House members to refuse to seat Black Civil Rights activist and Vietnam War opponent Julian Bond, who had been duly elected.
In Congress, Levitas worked to create and fund the Chattahoochee National River National Recreation Area as a unit of the national park system managed by the National Park Service.
Additionally, Georgia Court of Appeals Judge Clyde Reese, a former commissioner of the state Department of Community Health and the state Department of Human Resources, died at age 64 in December.
He was appointed to the appeals court by former Gov. Nathan Deal in 2016 and subsequently won election to a six-year term.
Reese was remembered by his colleague, Senior Judge Herbert Phipps, as "a kind, gentle and wise man who spoke when he had something to say, not just to say something. The world was a better place with him in it."
---
Voting Changes? Secretary of State Brad Raffensperger is among those advocating for some changes in the state's voting procedures – namely, eliminating runoff elections like the costly and contentious one in December that pitted Democratic Sen. Raphael Warnock against Republican challenger Herschel Walker for the second time in four weeks, producing a repeat of the initial result: more votes for Warnock than Walker.
Georgia is one only two states (Louisiana is the other) that requires runoffs in general elections. Georgia's runoff requirement is linked to its segregated past, when lawmakers sought to make it harder for Black candidates to win an election outright.
---
Posthumous Honors: Bipartisan efforts in Congress led by Georgia's two senators, Jon Ossoff and Raphael Warnock, resulted in the passage and signing of legislation to rename the Decatur VA facilities in honor of two late Georgia senators, one a Republican, one a Democrat.
The regional office becomes the Senator Johnny Isakson Department of Veterans Affairs Atlanta Regional Office; the hospital is now the Joseph Maxwell Cleland Atlanta Department of Veterans Medical Center.
Isakson, who died in 2021, served in the Senate from 2005 until 2019; he was a staunch advocate for veterans and chaired the Senate Committee on Veterans' Affairs for four years.
Cleland, a war hero who lost three limbs in Vietnam, led the U.S. Department of Veterans Affairs under President Jimmy Carter and later served as Georgia's Secretary of State and as a member of the U.S. Senate. He also died in 2021.
---
John Lewis Postage Stamp: The U.S. Postal Service is issuing a commemorative stamp this year to celebrate the life and achievements of the late icon of the Civil Rights Movement and former Fifth District U.S. Rep. John Lewis. He represented his Atlanta district for more than 30 years, until his death in 2020.
Lewis was a principal organizer of the 1963 March on Washington. He led the 1965 Selma-to-Montgomery March, during which he was severely injured, to oppose voting restrictions; it was a pivotal point in the Civil Rights Movement, leading to passage of the Voting Rights Act.
---
Rate Hike: Georgia Power customers will see a nearly $1.8 billion rate increase over the next three years, following approval by the state Public Service Commission (PSC) of a plan agreed to by the PSC staff and the power company. The final amount is less than the $2.9 billion the company asked for and more than the $529 million the PSC staff initially said was justified.
Along with the rate hike, the plan also maintains the current cap on the utility's pilot rooftop solar program. Solar industry companies and environmentalists were in favor of the cap being lifted.
The average Georgia Power customer will see a monthly increase of about $4 a month this year, with additional increases in the following two years.
Commissioner Lauren "Bubba" McDonald provided the only "no" vote on the plan.