Georgia Trend Daily – Jan. 31, 2023
Jan. 31, 2023 Georgia.org
Staff reports that Gov. Brian P. Kemp today announced SK Battery America (SKBA) has exceeded its hiring goal of 2,600 employees two years ahead of schedule for its two lithium-ion battery manufacturing facilities in Commerce, Georgia. The company met its goal at the end of 2022 and is further expanding its workforce to approximately 3,000 over the next year to meet the growing demand for electric vehicles.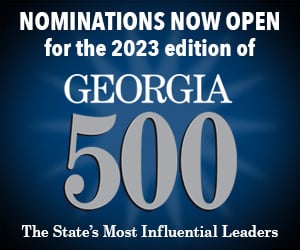 Jan. 31, 2023 Georgia Trend – Exclusive!
Staff reports that there's still time! Nominate an extraordinary leader to be included in our 2nd annual Georgia 500: The State's Most Influential Leaders. Spotlighting those responsible for economic development and local investment all across the Peach state, last year's incredible list showed us just how many people are working to make Georgia great.

Jan. 31, 2023 Atlanta Business Chronicle
Zach Armstrong reports that OA Logistics, a supply chain and storage company, will layoff 345 workers when it permanently closes two facilities 10 miles northwest of Savannah. The facilities, located at 550 Northport Parkway and 311 International Trade Parkway, will officially shut down on March 18, according to a notice sent to the Georgia Department of Labor through the Worker Adjustment and Retraining Notification Act.


Jan. 31, 2023 Marietta Daily Journal
Jake Busch reports that Greg Teague told the MDJ that one of his priorities as chair will be charting the chamber's course for "building Cobb's future," the theme of the group's strategic plan for the next five years. "We want to continue to be in that support role, advocate role, to where we're building Cobb up to be the best place to do business, and (Georgia) the best state to do business in all of the nation," he said.


Jan. 31, 2023 The Brunswick News
Hank Rowland reports that the federal government is giving Georgia an incentive to replace the ferry that has been transporting residents and visitors to and from Sapelo Island for almost two decades. The Georgia Department of Transportation received a $4 million federal grant toward the replacement of the diesel-powered Katie Underwood with an electric ferry.

Jan. 31, 2023 Cherokee Tribune
Ethan Johnson reports that Bruce Thompson, Georgia's new labor commissioner, says he's working to change the image of the Georgia Department of Labor. Thompson's first official day as labor commissioner for GDOL was Jan. 12. The commissioner was elected in November for a four-year term after defeating Democrat William Boddie.

Jan. 31, 2023 Griffin Daily News
Karen Gunnels reports that Senate Floor Leader Bo Hatchett, R- Cornelia, introduced Senate Bill 44 on Monday, a bill that addresses gang violence by creating a new offense for recruiting minors to gangs and establishes a mandatory minimum sentencing scheme for all gang offenses. "There is no place for gangs in Georgia, and passage of this vital legislation is a top priority," Hatchett said.

Jan. 31, 2023 GPB
Sarah Rose reports that Chuck Leavell has played in two of the most legendary rock and roll bands in history — the Allman Brothers and the Rolling Stones — is now hoping to shine a spotlight on Georgia's legendary music scene. A nonpartisan study group in the Georgia Legislature called the Joint Georgia Music Heritage Study Committee was assembled during the 2022 legislative session to assess how to expand and encourage the music industry to grow and invest in the state, as well as how to utilize and promote the state's vast music history.

Jan. 31, 2023 Georgia Recorder
Ross Williams reports that state lawmakers could soon consider a bill that experts say could prohibit the sale of Delta-8 THC, now readily available at Georgia health food stores and other retailers. Delta-8 is a compound found in small amounts in some types of hemp plant.

Jan. 31, 2023 The Center Square
T.A. DeFeo reports, coinciding with an uptick in gang violence in the state and mass shootings nationwide, state lawmakers are likely to consider gun legislation during this year's General Assembly session. Last year, Kemp signed Senate Bill 319, a "constitutional carry" measure allowing Georgians to carry guns without needing a state-issued license.

Jan. 31, 2023 Capitol Beat News
Dave Williams reports that U.S. Sen. Jon Ossoff, D-Ga., is asking the United States Forest Service to support two fiscal 2024 Land and Water Conservation Fund (LWCF) projects in Georgia. The proposed Dugdown Mountain Corridor project would build on a multi-state effort to connect the Paulding/Sheffield Forest areas northwest of Atlanta to the Talladega National Forest in Alabama.

Jan. 31, 2023 Atlanta Journal-Constitution
Greg Bluestein reports, dozens of the South's leading political figures urged President Joe Biden on Monday to select Atlanta as the site of next year's Democratic National Convention to "send a message to the base of our party that we will never take you for granted." More than 60 officials signed a letter saying that picking Atlanta for the prestigious event will "inspire Democrats in other competitive states to run, to organize, to fundraise and to volunteer in what is now truly fertile Democratic territory."