Last call: Nominations for the Georgia 500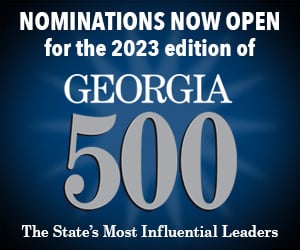 There's still time! Nominate an extraordinary leader to be included in our 2nd annual Georgia 500: The State's Most Influential Leaders.
Spotlighting those responsible for economic development and local investment all across the Peach state, last year's incredible list showed us just how many people are working to make Georgia great.
We hope you'll let us know who inspires you, by nominating them to be on the 2032 list. Nominations are open until the end of today, January 31, 2023. The next edition of the Georgia 500: The State's Most Influential Leaders will publish in November 2023.
Please nominate candidates who best reflect the innovation, vitality and success that is Georgia business. Nominations may include backup material such as resumes or letters of recommendation. Nominate someone today! Deadline: January 31, 2023, at 5 p.m.
 Do you follow us? Find us on Linkedin, Facebook, Twitter and Instagram.