Georgia Trend Daily – Jan. 19, 2023
Jan. 19, 2023 The Center Square
T.A. DeFeo reports that Georgia is the 6th best state to start a business, a new analysis reveals. WalletHub ranked The Peach State ahead of neighboring North Carolina (No. 11), South Carolina (16), Tennessee (17) and Alabama (28) but behind Florida (2). Nationally, Utah topped the list, followed by Florida, Texas and Colorado, while Alaska, Connecticut and West Virginia rounded out the bottom of the list.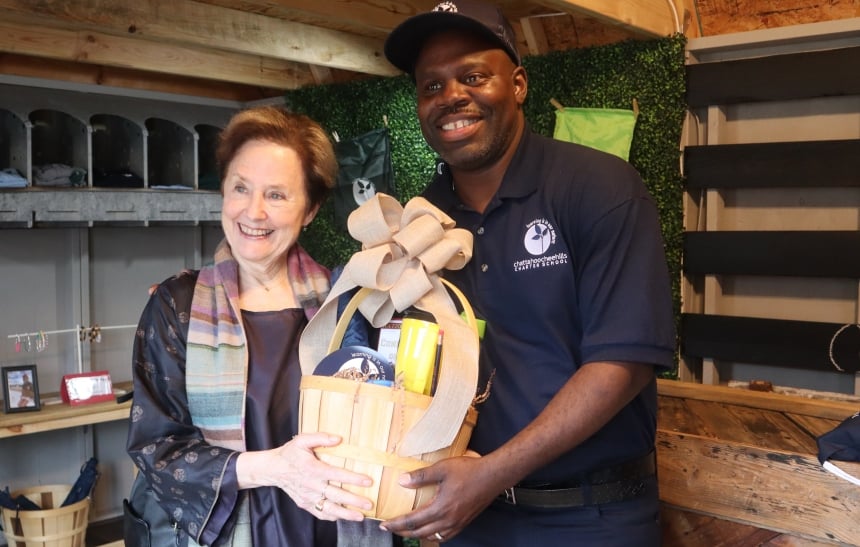 Jan. 19, 2023 Georgia Trend – Exclusive!
Sucheta Rawal reports, neat rows of Swiss chard and broccoli heads, towering bright yellow sunflowers and friendly chickens running around — that is not your typical school scene. But Chattahoochee Hills Charter School (CHCS), located in the city of Chattahoochee Hills in southern Fulton County, is an exception.

Jan. 19, 2023 Atlanta Journal-Constitution
Kelly Yamanouchi reports that as it faces criticism from the Teamsters union ahead of what are expected to be tough labor contract talks this year, UPS issued a jobs report Wednesday touting its wages and ways workers can build a career within the company. Negotiations between the International Brotherhood of Teamsters union and Sandy Springs-based UPS, which start in February, will be one of the most closely watched of 2023.

Jan. 19, 2023 Macon Telegraph
Micah Johnston reports that Macon's housing market, which experienced rising prices and falling sales last year, could continue to suffer in 2023, experts said. Economists at the University of Georgia's economic outlook last week said that Macon's housing market is in a position to lose some ground this year.


Jan. 19, 2023 Rome News-Tribune, Calhoun Times
John Druckenmiller reports that Rome/Floyd County ended 2022 with a surge of new jobs — in part because of Christmas holiday sales. But also way up year-over-year: first-time jobless claims. The workforce grew to 43,500 people, up 1,500 from a year earlier and 300 positions higher than a bountiful November, the latest state Department of Labor reports show.

Jan. 19, 2023 Savannah Morning News
Adam Van Brimmer reports that the Savannah Convention Center expansion remains a work in progress. The money to finish the project, though, continues to flow. Georgia Gov. Brian Kemp's 2024 budget proposal includes $8 million for furniture, fixtures and equipment for the larger exhibition hall.

Jan. 19, 2023 Augusta Chronicle
Abraham Kenmore reports that the state budget put forward by Gov. Brian Kemp for Georgia has proposed a significant item for the Medical College of Georgia — $105 million for a new electronic medical record system. The budget line describes the new records system as a way to support medical education and training at MCG.

Jan. 19, 2023 Georgia Recorder
Ross Williams reports that tough financial times could be ahead for the University System of Georgia, Chancellor Sonny Perdue said Wednesday before a joint budget committee. "We will commit to you that we're going to do our level best to do more with less," he said. "It's not gonna get any better for the next couple of years either."

Jan. 19, 2023 Valdosta Daily Times
Staff reports that Valdosta State University has received $750,000 in federal funding to help address the need for more teachers across South Georgia. The funds should help classrooms that "are overcrowded and school districts struggle to recruit certified professionals ready to develop and inspire young learners," university representatives said in a statement.

Jan. 19, 2023 The Current, ProPublica
Margaret Coker reports, in her mid-20s, Cordelius Brown thought she had found the perfect job. She was thriving as a store manager at TitleMax, a Savannah, Georgia-based company that dominates a segment of the state's subprime lending industry known as title lending.


Jan. 19, 2023 Albany Herald
Staff reports that Georgia House of Representatives' Committee on Assignments named State Representative Gerald Greene, R-Cuthbert, chairman of the House State Properties Committee. As the longest-serving member in the House, Greene has also been declared the honorary "Dean of the House" for this legislative term.

Jan. 19, 2023 Capitol Beat News
Dave Williams reports that the new head of the Georgia Department of Labor vowed Wednesday to overhaul an agency deluged with unemployment claims during the pandemic that resulted in a barrage of complaints over processing delays. "The Department of Labor has had an image problem," newly elected Commissioner of Labor Bruce Thompson told members of the state House and Senate Appropriations committees just six days after taking the oath of office.

Jan. 19, 2023 Atlanta Journal-Constitution
Mark Niesse reports that medical marijuana companies urged Georgia regulators Wednesday to quickly approve rules for production and distribution to registered patients, while skeptics of the drug asked for stronger protections against illegal use. The comments to the Georgia Access to Medical Cannabis Commission came during a meeting at Lanier Technical College in Gainesville to hear from the public before regulations are approved as soon as next week, a key step before dispensaries can open for the first time in Georgia.